Splinterlands - Is There FOMO?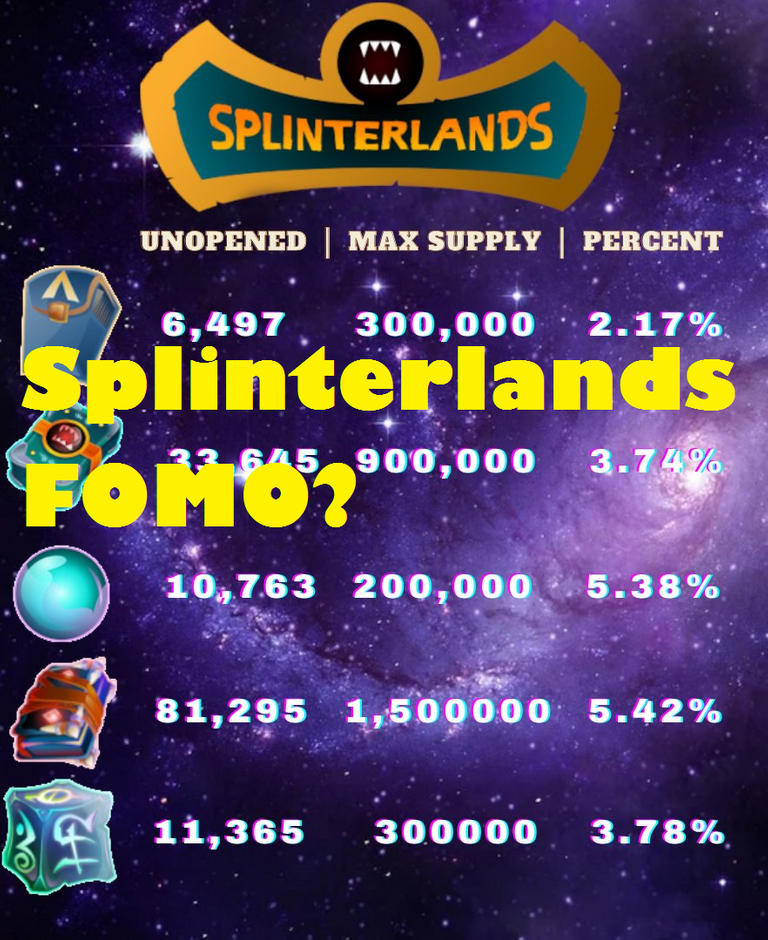 Like the old saying goes proof is in the pudding. Here we are with less than two weeks before Chao Legions presale begins and many Splinterlands players are thinking and planning on how to react. Speaking of which here is my personal opinion. Based on current conditions I am leaning toward selling my vouchers and saving my assets for the actual Chao Legions booster packs sales instead of the pre-sale.
Supply and Demand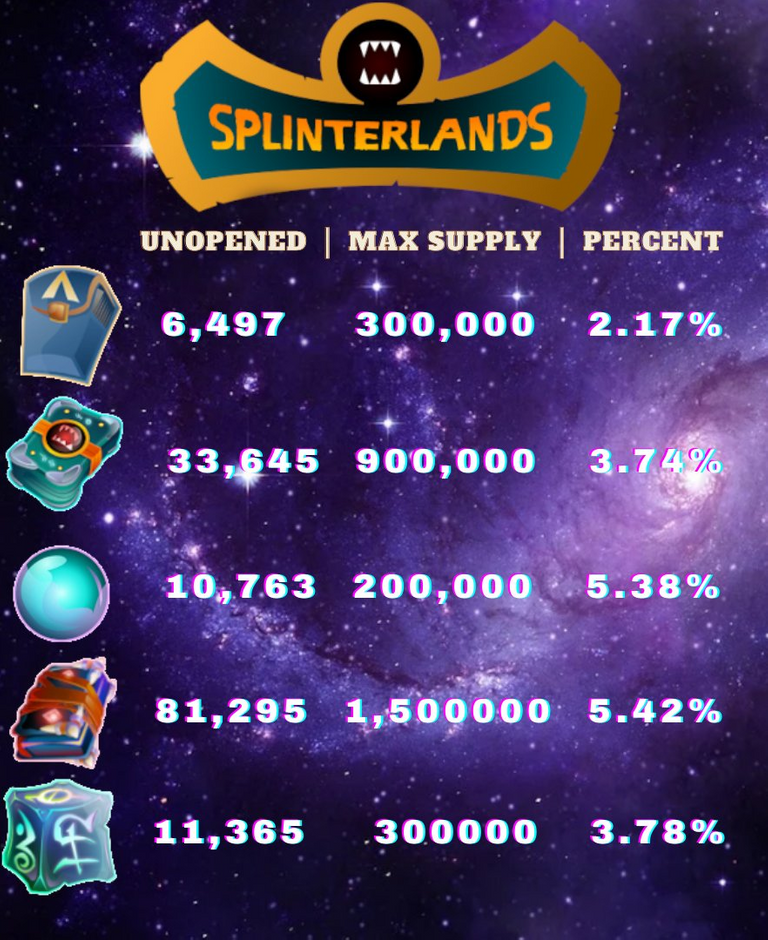 Directly from Splinterland's official twitter account twit post there is evidence that once packs have sold out that there are limited quantities left unopened. The only way to purchase a booster pack that has been sold out is through after market and the packs must be unopened. Stats like a little more than 2% alpha packs left unopened to a little under 5.5% of all untamed unopened these stats are proving there are very few packs in current supply. In total out of all unopened packs from all current editions there are less than 150k of packs. Supply is definitely limited.
Just by this stat I would say active Splinterland players from beginners to advance players or experienced to the inexperienced there are many players that wishes to own booster packs. The pre-sale will encompass 1 million packs but broken up in 30 day span. This means about 33,333 packs sold into the public each day for one month. That in itself is not a lot and having a fix starting price of $4 + 1 voucher per a pack the demand will likely be high.
With over the counter Untamed packs selling currently over $50 and Dice packs over $60 there is the potential to see Chao packs that are in the presale to be excessively higher than the initial fixed starting price.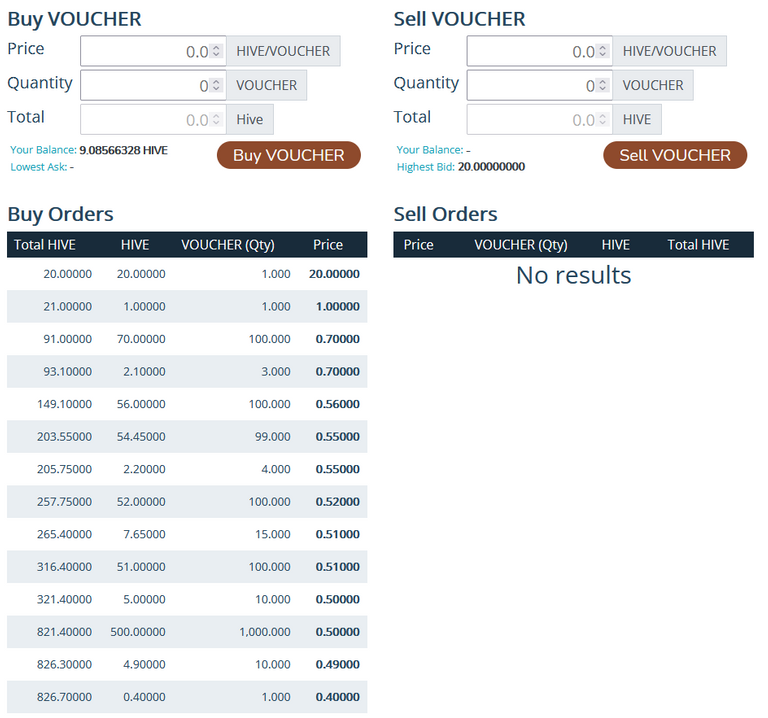 Although current vouchers are still to be release the demand can be seen from the bid side for them. There is currently 1 bid for a voucher at 20 hive, equivalent to close to $20 USD. This maybe a fluke as its only 1 voucher, but still worthy to take notice.
Fear of Missing Out AKA FOMO
There is not much to explain when it comes to the demand for booster packs. With current in game market all sold out the third party market has push resale value of the packs a lot higher than the initial cost.
The only way I can explain this is FOMO. The players who want packs because they never got their hands on one are at its all time high.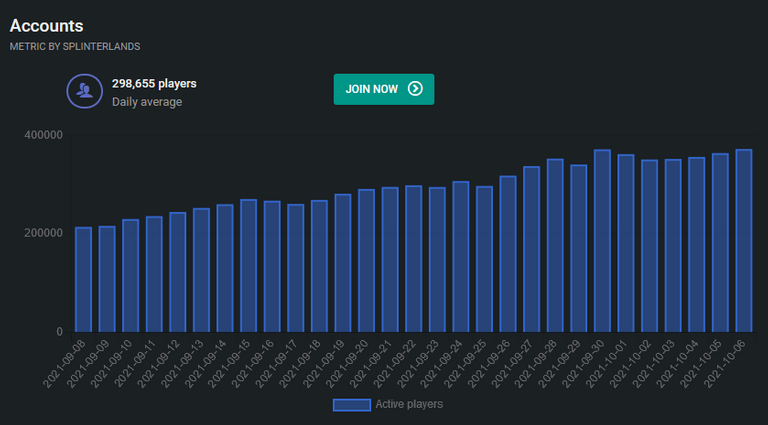 Chart of active players from Peakmonsters.com is showing close to 300k active users. Imagine how many of those active players are wanting to buy booster packs and or new cards? Likely all of them. The active players will only increase as the date to presale draws nears.
Conclusions
I have been playing Splinterlands for over two years and since I been playing for this long I can envision myself playing another few more years. This gives me faith to invest in the games' assets long term and willing to hold out longer. Hence with the current short supply of booster packs and high numbers of participants I prefer to stay away from the FOMO. I do not want to over pay for something now only to wait a few years to break even. Instead I have enough cards to keep me competitive in rank battles while also earn a decent passive income through renting unused cards.
I see it in the long run when Chao Legions officially arrives to Splinterlands there are 14 million more packs to sell and players buying than will be able to use them immediately in battles. The drawbacks are not having the opportunity to owning one of the packs before the launch and potential gains in promo cards and player's title name. However I believe if I play my cards right and hold on to my crypto until the actual pack sales I will have more to spend on buying more packs.
Curious what are your plans when it comes to the Chao Legion presale? Are you one that will FOMO or you patiently await for the actual card series launch date to purchase?
Until next time thanks for reading!!!
If you are interested to learn more about Splinterlands please go through some of my other posts. Order is from newest to oldest posts:
All You Want To Know About Reward Chests
Helpful Links for New and Veteran Players
Splinterlands Good Cards To Own
Splinterlands Rentals from a Lender Perspective
I have plenty of other cards for rent! Just go on peakmonsters and check out the market place and if you are curious what I offer here is a link:
If You have yet to take part in playing this great game called Splinterlands please click on my referral link. It is free but in order to earn real assets such as cards and token you would have to invest in a starter deck or purchase game cards. Join the discord to learn more. Good luck!

THANKS FOR READING! CONTINUE TO PLAY SPLINTERLANDS!

---
---