Splinterlands - More Than Just A Game?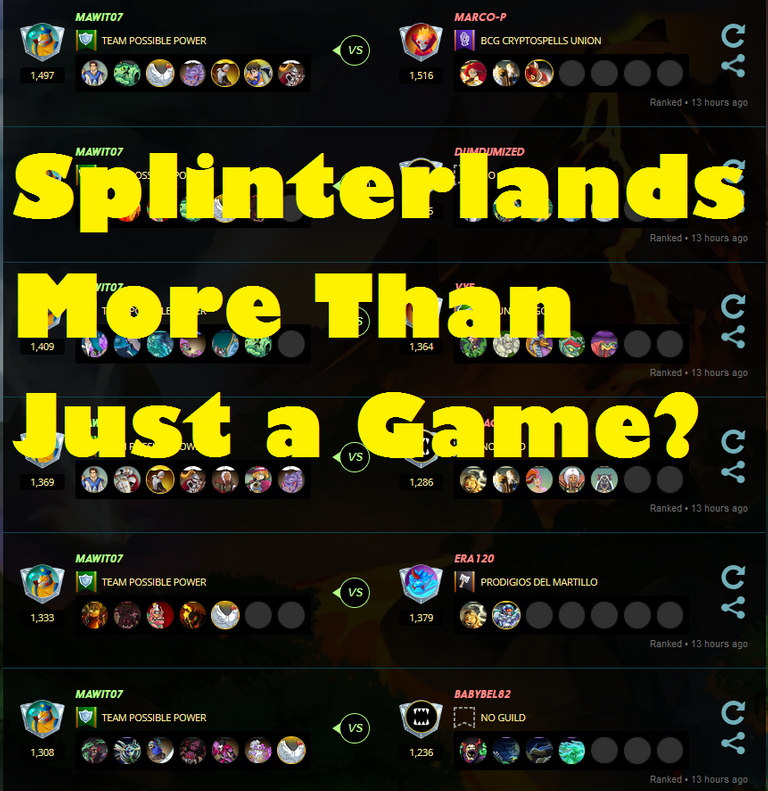 Yesterday during Splinterlands AMA there was a question that got me think a lot of what made Splinterlands such a great game. The question was formed somewhat like this:
What else is there to do in Splinterlands if a player has used up their Energy Recovery Bar for the day battling?
@Aggroed as the creator with his hectic schedule and plenty of answers to multiple questions responded the best he could given the allotted time. Yet to really answer that one has to take some time to explain most if not all that Splinterlands ecosystem has to offer.
Cards Cards Cards
Have you ever lost a battle and realize specifically it was because you did not have a specific card or cards when matched in battle? Sometimes its the wrong formation used while other times you simply wish you owned the card that was necessary to win?
Within Splinterland's ecosystem besides battling there is a gateway to buying, selling, delegating, and renting cards. It is all open market hence their are prices to them that fluctuate on a daily basis. The price movements depends on the day of the reward season to how many people trying to sell or rent out the cards. Players who wish to purchase or rent out specific cards needs to put in time to search for deals. To help with that 3rd party websites and Splinterland's main discord channel has rooms filled with traders, investors, and the likes always negotiating and offering different Splinterlands cards, assets, and the likes to exchange.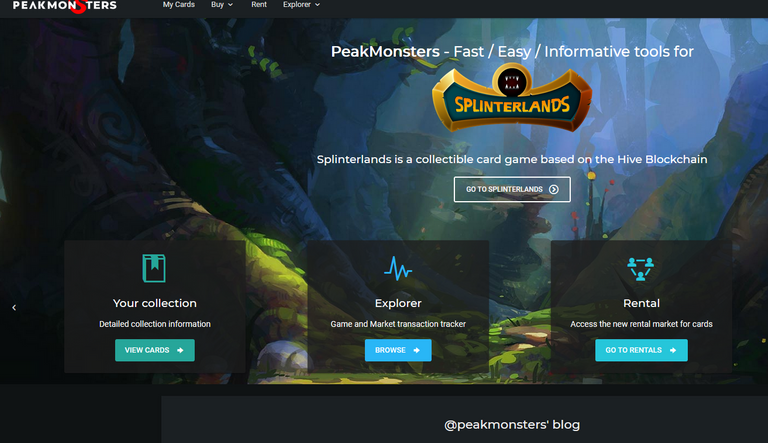 Peakmonsters.com is the go to website for renting Splinterlands cards. Over the years in conjunction with developers with Splinterlands the two entities has develop what we now have is a rental system where players can lend and rent out cards for a fixed daily DEC price. The price is set dependent on the owner's decisions and a card can be rented out from one day all the way to a year or 365 days!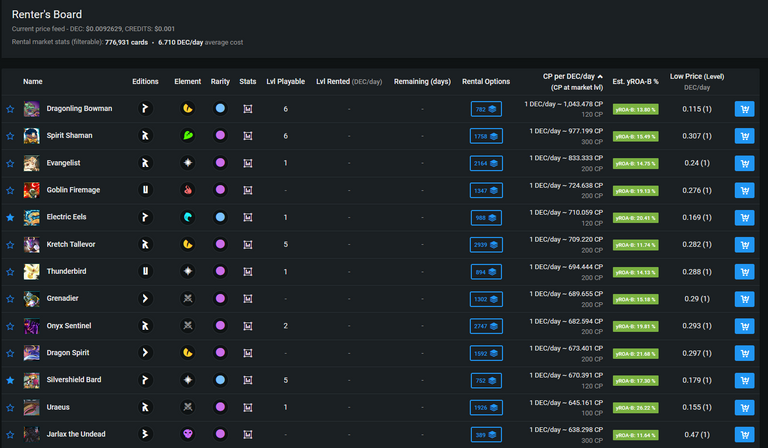 Players will have to go through the market in order to scout for rental deals on a daily basis as of now there is no bot scanner to track deals as they come through. Deals as in there are rental cards on the cheap relative to how many DEC per day for a card's collection power.
Speaking of bot scanner there are ones that spot for deals in purchase of cards. Inside Splinterlands discord channel there are plenty of chat rooms to find deals whether player is a a buyer or seller. Often some of the bulk purchases are best made through negotiating through these channels.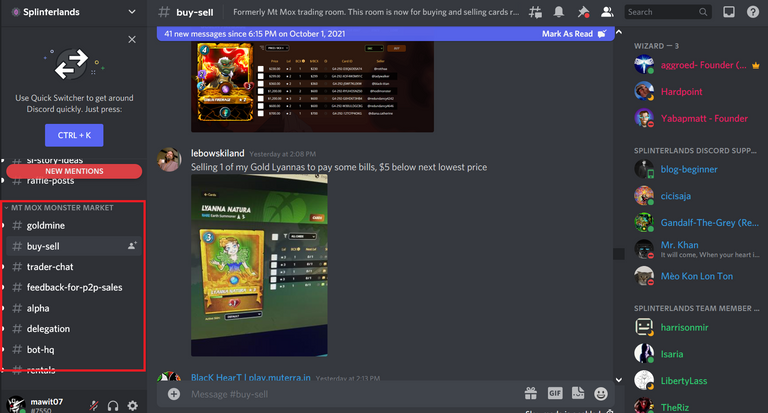 Players can ask for a medium to perform the exchange but recommendation is to be in the discord channel to familiarize yourself first. There are plenty of other things to do besides buying, selling or trading card.
Splinterlands Community
As mentioned Splinterlands has a official channel on discord but it is on multiple platforms. With these platforms there are Splinterlands players actively chatting about all sorts of stuff.

There is hive.blog that is the crust of where it all started. Splinterlands is a hive blockchain game while hive itself is a social media blockchain. Many players post their blog entries daily for upvotes earning Hive and HBD that can be used as currency to purchase Splinterlands Cards. I for one had been doing this for more than two years now and I do not even post daily.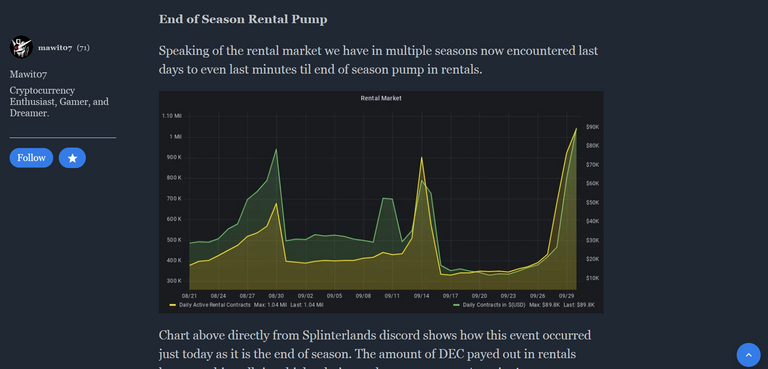 Above is a snapshot of what I use to blog on Hive. Ecency.com is my go to place but there is peakd.com and other websites to blog on Hive blockchain.
The associated tribe to Splinterlands to blog while still on the hive blockchain is Splintertalk.io. There you can blog and earn the token SPT that is associated to the in game token that earns points toward air drop of SPS tokens.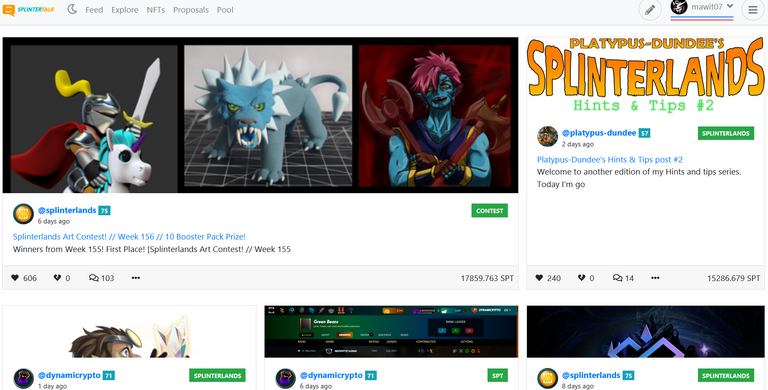 In splintertalk.io players can talk about anything related to Splinterlands and post it for upvotes to earn tokens that can be used to increase their card collection value.
Beyond hive blockchain there is social media platforms such as discord, twitter, telegram, facebook, youtube and twitch that Splinterlands has memebers following and socializing. Some of these platforms gives members who participate free in game cards and DEC token too. For instant Splinterland's official telegram channel provides daily random timed DEC token air drops.
Conclusions
There are so many other elements beyond the rank battles players who are well informed are doing. Beyond just battles and tournament, not to mention brawls, there are outside activities of the game that can help make the in game experience that much better. The Splinterlands community is a strong bunch and spread across multiple platforms. Take full advantage of using more than what the game has to offer will benefit you and spread the word of the game.
The potential of Splinterlands continues to expand daily beyond what is in game. Streaming of battles has now gain traction such as Youtube videos regarding Splinterlands is now a searchable topic with hundreds of videos. Twitch streaming live is also becoming a hit as more and more players are actively watching their peers play along and sharing experiences. The possibilities are endless. Do not just look as Splinterlands as just a game, but as a whole a great community to be apart of.
Until next time thanks for reading and hope to see you on the battlefield!!!
If you are interested to learn more about Splinterlands please go through some of my other posts. Order is from newest to oldest posts:
All You Want To Know About Reward Chests
Helpful Links for New and Veteran Players
Splinterlands Good Cards To Own
Splinterlands Rentals from a Lender Perspective
I have plenty of other cards for rent! Just go on peakmonsters and check out the market place and if you are curious what I offer here is a link:
If You have yet to take part in playing this great game called Splinterlands please click on my referral link. It is free but in order to earn real assets such as cards and token you would have to invest in a starter deck or purchase game cards. Join the discord to learn more. Good luck!

THANKS FOR READING! CONTINUE TO PLAY SPLINTERLANDS!

---
---