Splinterlands - My Card Additions For The Day....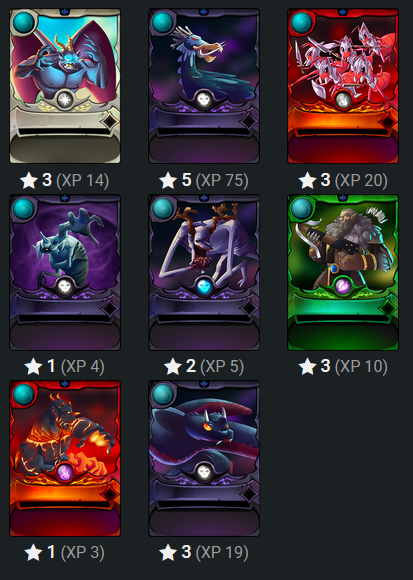 The new Splinterlands rewards system is rolling out very soon and now I am trying to add the commons and rares that I use often but do not own. That way I can increase my DEC yield for when playing rank battles. Lets take a look at my haul.
5 commons
The focus for today was the death splinter. Three commons out of the five I bought today are in the death splinter. This will help my card selections in future rank battles.
Meanwhile my favorite of the collection is Silent Sha-vi. I like it with its default sneak ability and decent attack as it gets leveled up.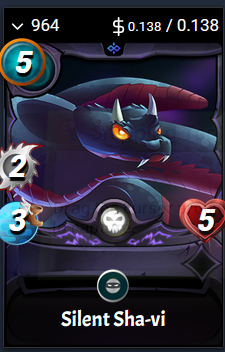 Epics...

I snatched a couple of epics to fill in my Chaos collection. I haven't look too deeply in them as far as usage but price point was within the range where it suited me.
My Progress

My overall Chaos collection is now over 41k collection power. It continues to grow steadily and I will expect to add more in the near future as the new rules set in and I continue to add to my collection.
Until next time thanks for reading!!!
https://images.ecency.com/p/HNWT6DgoBc1692QWn5trsLBYecSp3jKD1kzdmSDR4FGzPSXomkgLtisN5TzrwHTsD1D4ocqDPHpFztKzeH4ibh1vQVU3d3dSaB6VYJ1U3RdsSDi5spmdafX25ph.webp?format=webp&mode=fit
If you want to play splinterlands then SignUp Here
I have plenty of other cards for rent! Just go on peakmonsters and check out the market place and if you are curious what I offer here is a link:
If You have yet to take part in playing this great game called Splinterlands please click on my referral link. It is free but in order to earn real assets such as cards and token you would have to invest in a starter deck or purchase game cards. Join the discord to learn more. Good luck!

THANKS FOR READING! CONTINUE TO PLAY SPLINTERLANDS!

---
---