Splinterlands - My End of Season Rewards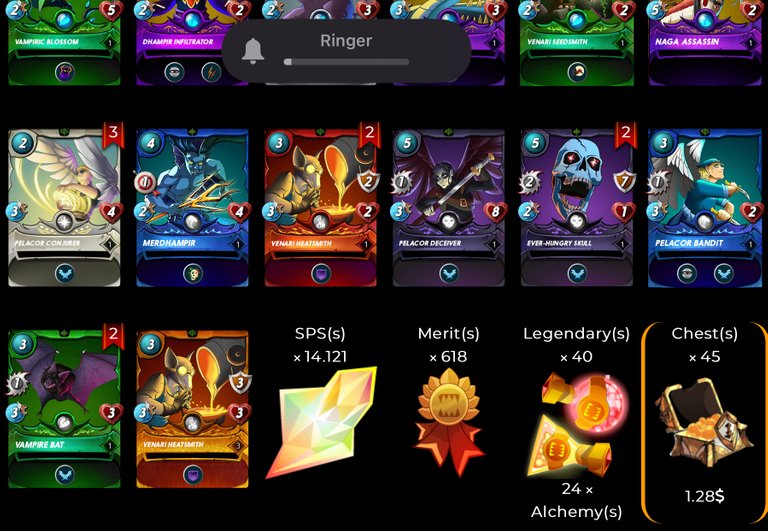 Another season ends but this time my rewards did not come in better. With the new sps rewards per battle and my pack of play I barely squeezed in a little over a dollar in total rewards. For those curious I got my overall end of seasons tally through the great folks over at splinters hare.info free of charge! You can look up your own season rewards or other players for free.
Getting back to my earnings I have drip significantly in both active and passive income. I am generating about 5 sps daily when playing battles and earning about 1.9k dec daily through rentals. I will admit I am not staying on top of the game as much as past seasons but hopefully this will change. I have work related schedule overwhelming me and taking care of the family. I am still able to login about 20 battles a day but rushing through most battles and not really playing with focus is making me have the poor performance.
In addition my card collection limited in chaos and untamed series has left me unable to partake in modern gameplay which is limiting me to only be able to earn through wild. I didn't add any cards from either chaos or untamed didn't help.
Conclusions
I play to budget more towards chaos and untamed cards so I have better chance of winning. Meanwhile I also plan to remove some cards from rental market so I can play and be competitive with using a wider range of cards.
Curious how you are doing in the game and the ways you are adjusting to the new Splinterlands updates?
Until next time thanks for reading!!!
https://images.ecency.com/p/HNWT6DgoBc1692QWn5trsLBYecSp3jKD1kzdmSDR4FGzPSXomkgLtisN5TzrwHTsD1D4ocqDPHpFztKzeH4ibh1vQVU3d3dSaB6VYJ1U3RdsSDi5spmdafX25ph.webp?format=webp&mode=fit
If you want to play splinterlands then SignUp Here
I have plenty of other cards for rent! Just go on peakmonsters and check out the market place and if you are curious what I offer here is a link:
If You have yet to take part in playing this great game called Splinterlands please click on my referral link. It is free but in order to earn real assets such as cards and token you would have to invest in a starter deck or purchase game cards. Join the discord to learn more. Good luck!

THANKS FOR READING! CONTINUE TO PLAY SPLINTERLANDS!

---
---