Splinterlands - My Weekly Battle Post With Angelic Mandarin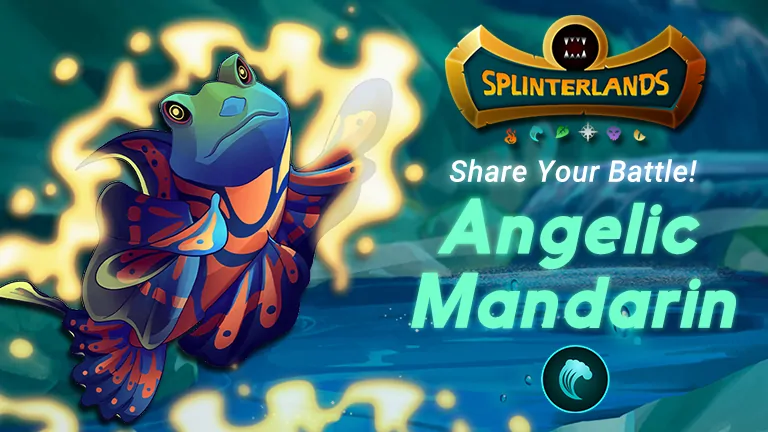 Angelic Mandarin with a first glance reminds me of Crustacean King.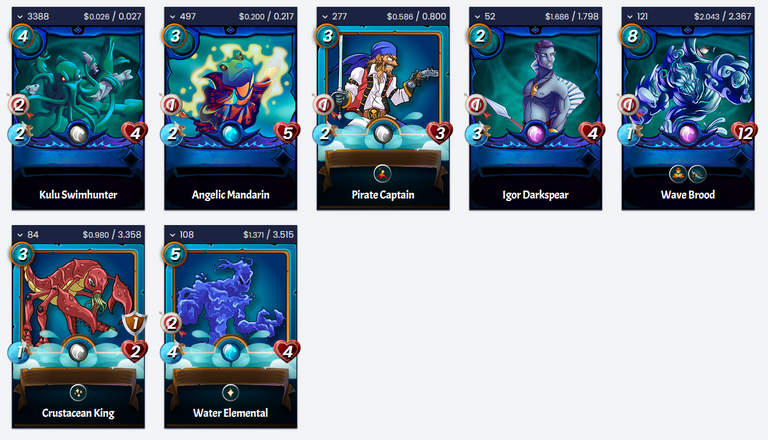 Both monsters have an ability to heal team members where Crustacean has tank heal and Angelic Mandarin has Triage. In addition both have similar stats with same attack in range.
In that case I have not purchased an Angelic Mandarin and will be reviewing a battle using Crustacean King.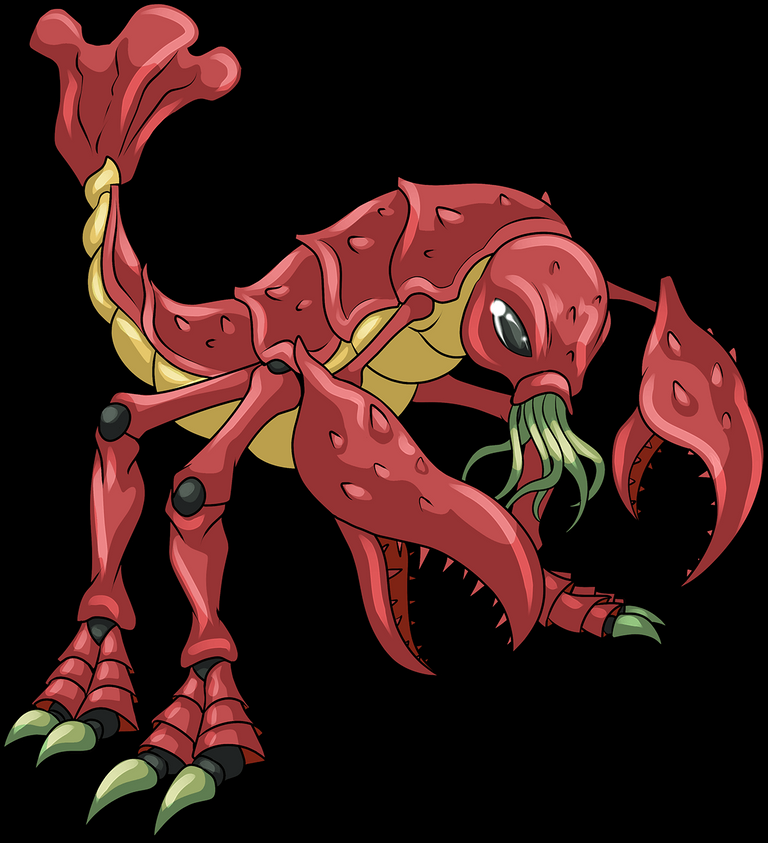 Battle Formations
The battle has 26 mana with a rule sets of Stampede and Odd ones. The odds ones forces the match to allow only odd number mana monsters therefore in reality the match was max out at 25 mana. Even with that all those limitation the match was a doggy dog fight as you will see.
My formation would be water splinter and lead off with Nerissa Tridawn followed up with Venari Wavesmith, Mischievous Mermaid and ending with none other than Crustacean King.
My opponent went with also water splinter and lead off with Disintegrator followed up with Tide Biter, Chaos Agent, River Hallondale, Merdaali Guardian, and finish up with Albatross.
Both formations appear to be creative in its own rights with my opponent mixing it up with different attacks and no attacking monsters. While on my side I was focus mostly on magic attacks with the exception of Crustacean King.
Round 1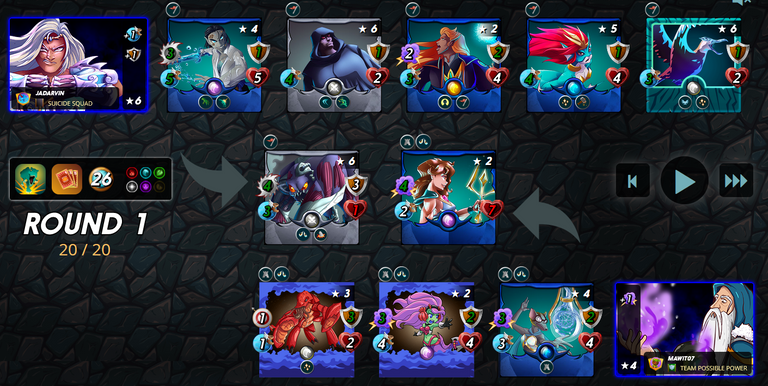 At the end of round 1 all monsters on both sides remained. However worth noting is opponent's Disintegrator had been resurrected.
Round 2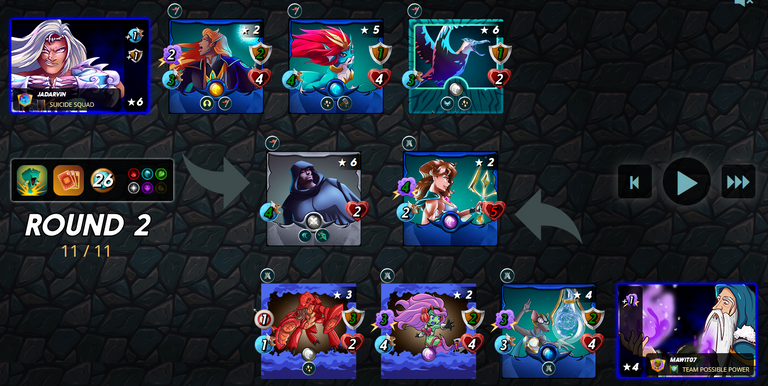 Round two is when things turn for the better for me. My opponent lost both Disintegrator and Tide Biter. Now it was 6 versus 4 with me having the advantage.
Round 3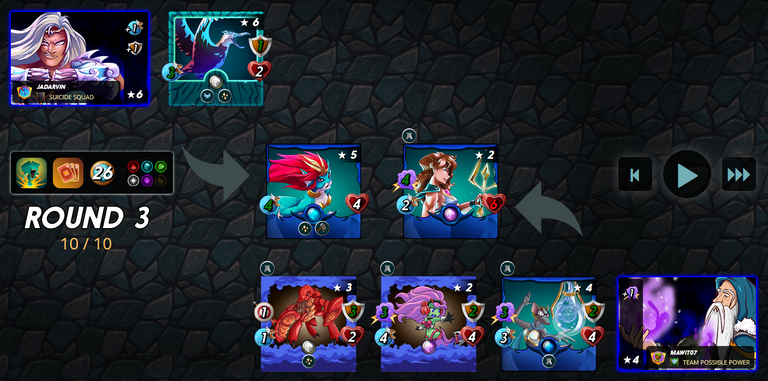 At end of third round it was clear I had the lead. My opponent this time lost Chaos Agent and River Hallondale. While I remained with six monsters. This ended up a six versus two setup.
Round 4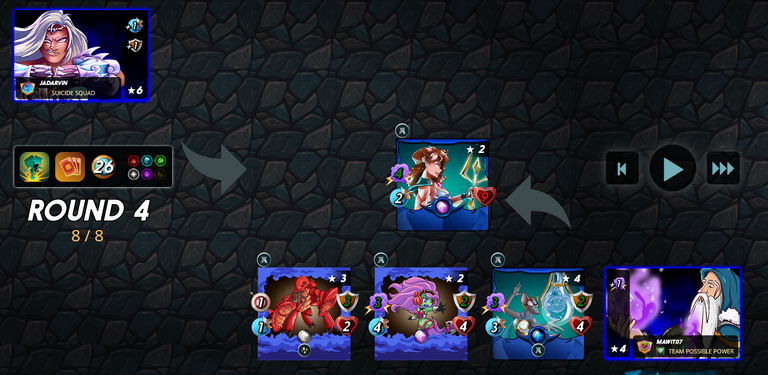 The end was really at round three but I needed four to knock out my opponent. The last two monsters had no attack and would only remain on the field for what became a full onslaught from my formation.
Conclusions
I think the main key to my victory came from Nerissa Tridawn and Crustacean King combination. With Tridawn initial health at 11 every time my King's heal ability executed my Tridawn recovered 3 health. This lead to my Tridawn enabling to withstand my opponent's attacks living it pretty much difficult to hit through.
If my opponent had just one monster that had sneak ability the match may have been closer. Knocking out the Crustacean King would have left my front Tridawn potentially being knocked out.
In the match I have found that healing in water splinter can be quite useful. I will look into Angelic Mandarin considering it has triage ability which can heal middle of the formation. This maybe good against opportunity or blast which can hurt the middle of the formation.
Until next time thanks for reading!!!
https://images.ecency.com/p/HNWT6DgoBc1692QWn5trsLBYecSp3jKD1kzdmSDR4FGzPSXomkgLtisN5TzrwHTsD1D4ocqDPHpFztKzeH4ibh1vQVU3d3dSaB6VYJ1U3RdsSDi5spmdafX25ph.webp?format=webp&mode=fit
If you want to play splinterlands then SignUp Here
I have plenty of other cards for rent! Just go on peakmonsters and check out the market place and if you are curious what I offer here is a link:
If You have yet to take part in playing this great game called Splinterlands please click on my referral link. It is free but in order to earn real assets such as cards and token you would have to invest in a starter deck or purchase game cards. Join the discord to learn more. Good luck!

THANKS FOR READING! CONTINUE TO PLAY SPLINTERLANDS!

---
---