Splinterlands - Peakmonster's Renting and Lending NFTs

Over the years of playing Splinterlands I have stashed away multiple level 1 cards and gold foil that I do not use in battles. Instead I keep them in hopes for price appreciation but along the way the developers were able to create a lending / borrowing of NFTs and it provided all Splinterlands players the opportunity to earn passive income or the opportunity to play the game at a lower entry fee. Today we look at my day to day process of my NFT rentals and the steps to making it mostly a passive income.
Peakmonster's Rental Setup

Over on Peakmonsters near the beginning of its infancy they developed a rental system for Splinterlands cards using the internal game's delegation process. There were many flaws to it but at the time renting out NFTs were still somewhat brand new.
In time however Peakmonsters would collaborate with Splinterlands to develop a separate process for NFTs to be rented out while separate from delegation. This ended up being a great way for long term holders of Splinterlands assets to earn a passive income.
I have personally used Peakmonster's rental system since it first got started and over time it has gotten updates and changes that has made it one of the best rental systems I have ever used in the cryptocurrency space.
How To Setup NFTs For Rent

Once you signed in on Peakmonsters.com and under the "My cards" tab you see all your cards in your collection. The process of renting out your cards is very simple from here. Using the filter tools you want to select "NO" on rents.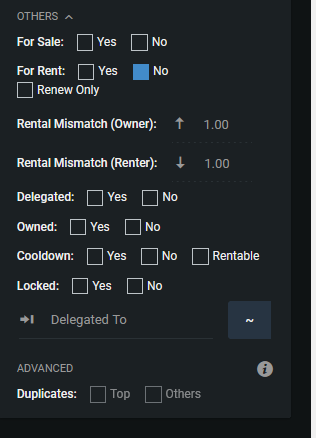 If its your first time setting up cards to rent out this won't help you in consolidating cards for rent. Instead you may want to filter your collection based on card edition and rarity.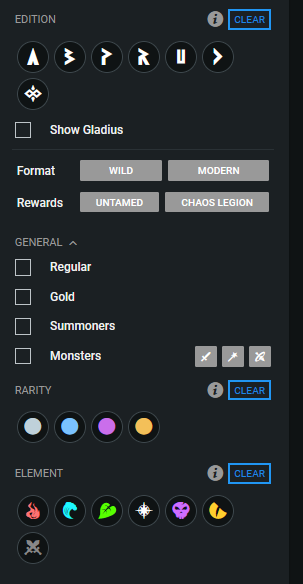 This will take some time to first setup but after the first time to update the rental prices it would be much easier and less time consuming. For instance I have a little over 1,000 cards available but a lot of them are common cards. I would filter editions and then gold foil cards to find ones I do not use often to rent out.
I select "No" on delegated which will filter out cards that I can rent out. The gold foil series cards that are no rented out and not delegated will be listed and below is my example.

Any card with a purple timer means owner of the card last use and can not be rented out. This is good because in peakmonsters you can easily see which cards you use and which you do not. For the example above my Pelacor Bandits are not used so I will select those to rent out.

Once the cards are selected I will click on the number with stack NFTs icon and a new expanded list of commands will appear. From there select the "rent".

From there a new window popup and the list of cards I can rent out are shown.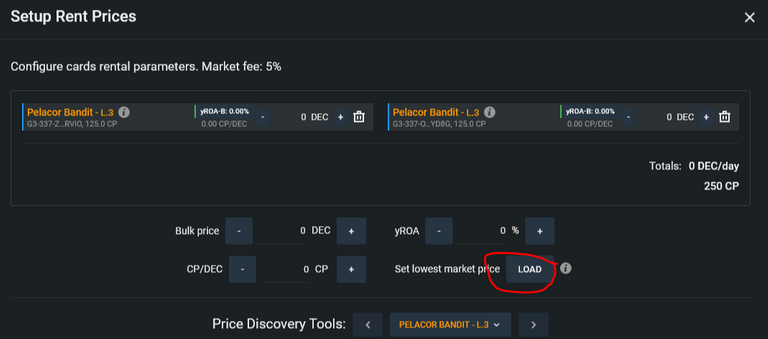 I prefer to have the cards rented out therefore rather than throwing a random price to rent I would select "load" which automatically loads the current lowest price for card on the market for rent so I have best chance to rent out my card at current prices.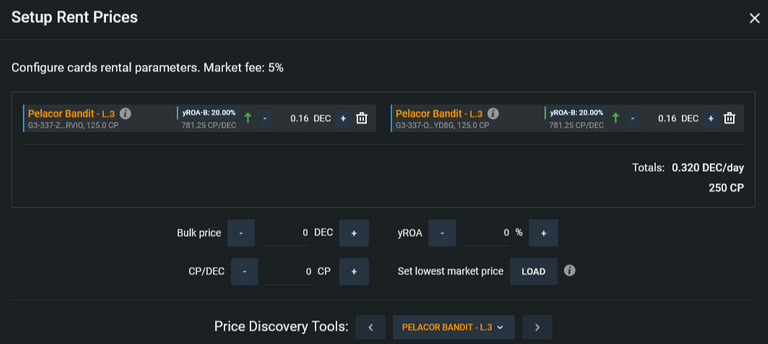 You will see that the Pelacor Bandits automatically have their prices updated from snapshot above after clicking "load". Note Peakmonsters can take up to 400 cards at one time to load current lowest rental prices. It will take a minute or two to load the prices but it is only a few clicks to execute.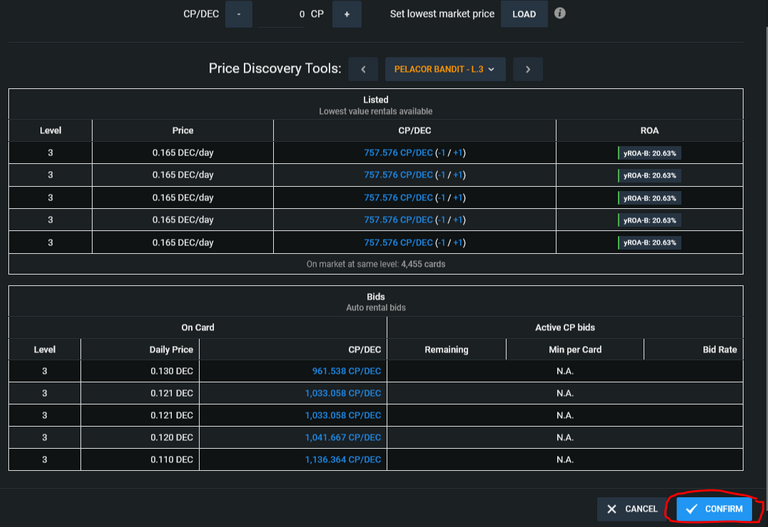 Once you have completed the rental prices on all cards in the same window scroll down and select "confirm". With that peakmonsters will automatically update the cards to rent out at specific prices I listed them at.
Updating Rental Prices
On a day to day basis I will have cards that are unable to rent out.

Like right now I have over 700 DEC rental price of cards not rented. I would on a day or two adjust my cards that are not rented by using the filters cards rented "yes" and cards delegated "no".

Immediately Peakmonsters will consolidate to my collection of cards that are not rented out but are out in the rental market.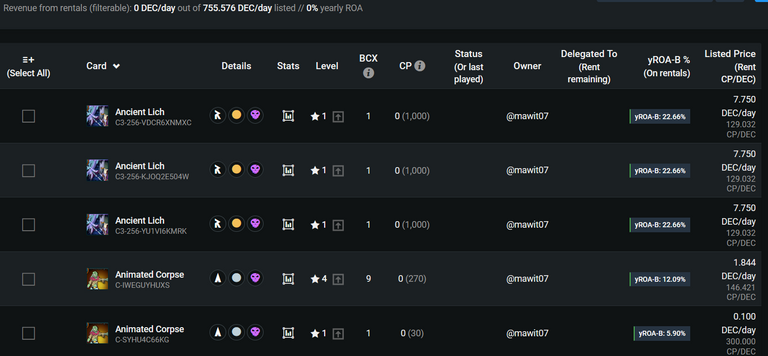 I then select all the cards and revise the rental prices of the not rented cards by a couple of clicks.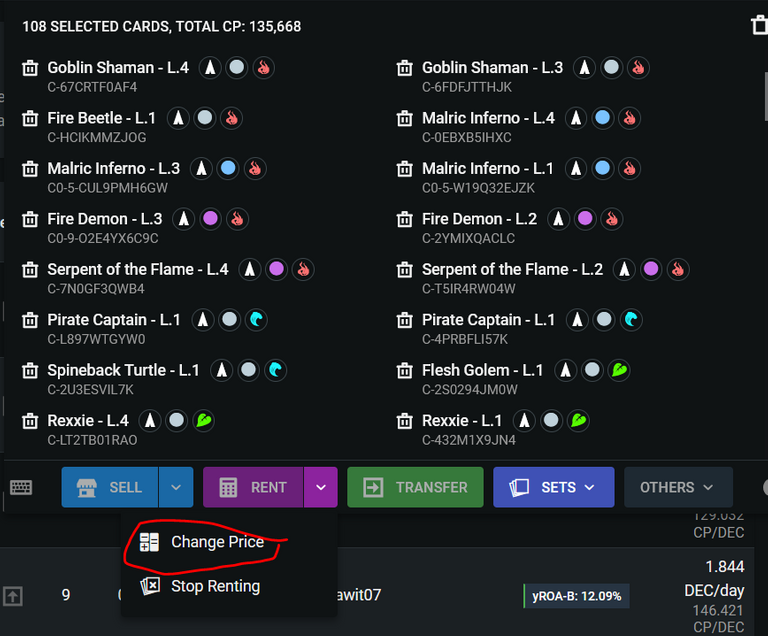 With that I then do the same thing as before in the new window listing the cards and click "load". The cards rental prices will adjust to the lowest value per current market prices.

It took about 30 seconds but once the cards were repriced the total rental income drop to under 670 DEC where it originally started at 750 DEC. I click confirm and the cards are updated with new rental prices.
I do this when I see a lot of my cards not renting out as the day to day rental prices changes according to the market.
Conclusions
The rental NFTs on Splinterlands has come a long way since it first started and I like it a lot as to where it is currently. It is not perfect but it is creating a path toward earning passive income through holding NFTs long term.
A few things worth mentioning is when a card is rented out and the renter uses the card in battle you will see a light purple time next to the card on Peakmonsters.

This means the card can not be rented out again until 24 hours after the renter last use the card even if the rental has ended. Only when a card has no cool down timer next to it can the card be rented.
Also cards the owner of the card are using also requires a 24 hours cool down before it can be rented out. If the owner has used the card the timer is in dark purple. Note owner cool down when occurring will not allow owner to setup rental price to rent card out until the cool down time has expired.

Hopefully this post has been of some help to you for knowing how to use the rental market. For those experienced players if you know any other hidden tricks or neat ways to use the rental market let me know with a comment as this will help everyone who reads this post.
Until next time thanks for reading!!!
https://images.ecency.com/p/HNWT6DgoBc1692QWn5trsLBYecSp3jKD1kzdmSDR4FGzPSXomkgLtisN5TzrwHTsD1D4ocqDPHpFztKzeH4ibh1vQVU3d3dSaB6VYJ1U3RdsSDi5spmdafX25ph.webp?format=webp&mode=fit
If you want to play splinterlands then SignUp Here
I have plenty of other cards for rent! Just go on peakmonsters and check out the market place and if you are curious what I offer here is a link:
If You have yet to take part in playing this great game called Splinterlands please click on my referral link. It is free but in order to earn real assets such as cards and token you would have to invest in a starter deck or purchase game cards. Join the discord to learn more. Good luck!

THANKS FOR READING! CONTINUE TO PLAY SPLINTERLANDS!

---
---