Splinterlands - Protect Your Keys To Protect Your Assets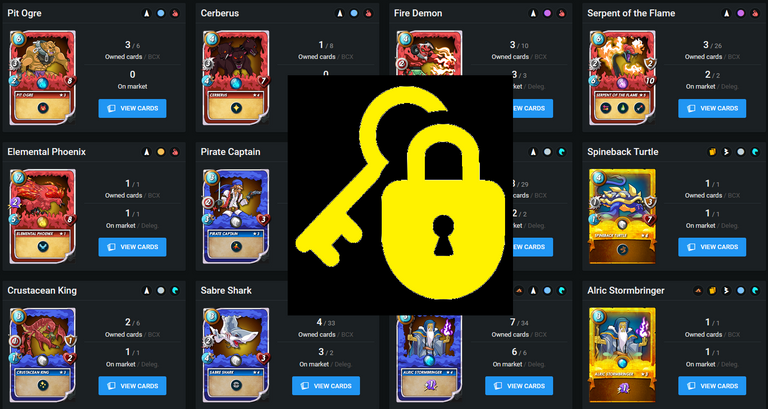 Since there have been many new players joining Splinterlands recently I thought it would be a good post to write about what key codes are and why they are important to players. Players can then become aware of how to protect their Splinterlands accounts. It would be horrible to have players who are new and enjoy playing the game only to have their accounts hacked or stolen.
Hive
We will start at the very core of where Splinterlands operates. Splinterlands runs on the hive blockchain. For users who are unaware they can review transactions of Splinterlands through www.hiveblocks.com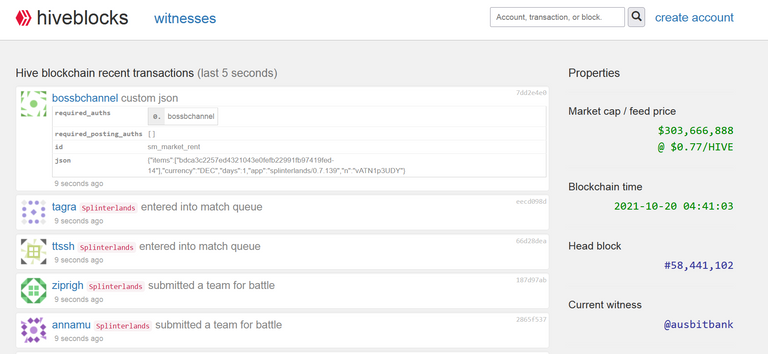 Snap shot above is the site's front page where it lists current activities. Often when users are on this page they will find multiple Splinteralnds transactions.
Hive is the native token that can be earned and traded on the Hive Blockchain. Hive.blog is the portal where users can publish blog posts about anything they so please to write or video about. The whole function of hive.blog is to be a social media platform for users to write and curate content. All actions done on hive.blog is tracked on the Hive Blockchain as transactions.
In order to post and curate on hive.blog users must have enough RC. Hive developers' definition of RC:
RCs are non-transferable credits that accrue to each Hive account based on how much Hive Power (HP) it has. An account spends RC when it transacts on the Hive blockchain. ... In other words, as the stockpile goes down, accounts will have to pay more RCs to use the remaining resources.
When a person stakes Hive in their account it turns into Hive Power (HP). In addition to Hive token there is the HBD token. HBD is a stable token that is design to match the value of $1 USD per HBD.
The takeaways here regarding Hive is that players who signup an account directly in Splinterlands is actually making an account name on hive blockchain. In turn this gives the players an account on hive.blog. By default there is about 10 hp delegated to any new account to produce RC. With insufficient RC players may not be able to perform battles. They are required to add more HP in order for continue battling. Remember all activities on Splinterlands is recorded and tracked on Hive Blockchain.
Hive Account Passwords
Lets focus on hive.blog's access to users' passwords. In hive.blog once signed in user can access their wallets through a link to a separate site called wallet.hive.blog/@user_name.

Hive developers had separated the user's wallet from hive.blog in order to better protect users wallets. All you need to know is that in order to see or change your passwords you would have to go through wallet.hive.blog and click on your avatar. A drop down menu will open and select "Change Password".
A new page will load and inside there are tabs click "Keys & Permissions"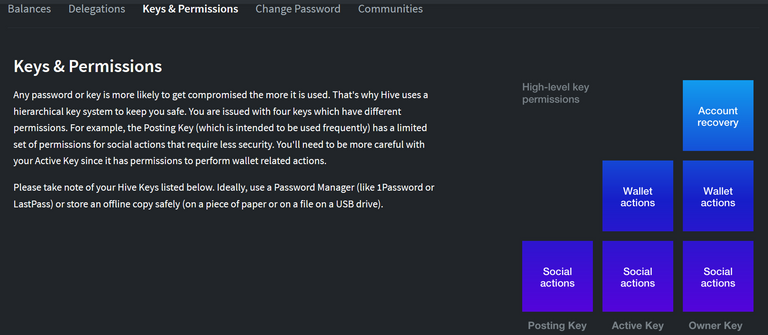 Inside every Hive account are three keys / passwords that you as the owner of the account have to archive and protect. Each one has its own use and level of security.

The jest of posting key is this can be used in any hive portals if you choose to blog post on platform. For instance on a public computer you can put in the posting key on hive.blog in order to write and post. This is the lowest level key / posting.
If this key is stolen the user's wallet is still safe from hacker as the posting key does not have access to wallet.

This key when provided in hive.blog user can then post and have access to their hive wallets. This key must never be shown to others or there is potential of funds in their wallets to be stolen.

This key does all that of Active Key and more. More as in to reset account keys / passwords one has to know their owner's keys. This key must never be shown to others or the user's entire account can potentially be stolen.
You maybe wondering how come in Splinterlands you do not see these keys anywhere? This is due in part that the Splinterlands holds on to the user's owner key when the account is made. Splinterlands will only deliver the owner key if player asks usually via email. You will need to ask if you intent to do more than just playing Splinterlands.
Login Information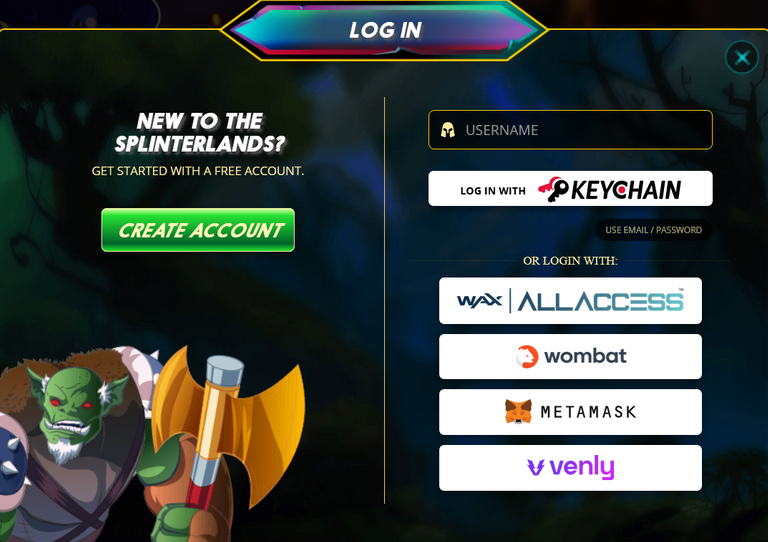 There are several ways to login to one's user account as shown in screen shot above. However we are focusing mainly on using Hive Keychain or user's email/password to access their own account.
Hive Keychain is an app that basically only needs one password to control all three of user's Hive keys. This speeds up sign-in into hive.blog and even Splinterlands game its self. I highly recommend having Hive Keychain just to make life easier.
Conclusions - Protecting Keys
Now you have a better understanding of your keys it is important to save them in a guarded place. Therefore do not ever share the active and owner keys with anyone if you do not want to lose your Splinterlands account.
In addition while in game if you do not use Hive Keychain you will have to input your account email and password. Both email and password are chosen by end user.
Hopefully after reading this post you have a better knowledge of hive keys and be vigilante in protecting them to avoid the danger of having your account stolen.
Until next time thanks for reading!!!
If you are interested to learn more about Splinterlands please go through some of my other posts. Order is from newest to oldest posts:
All You Want To Know About Reward Chests
Helpful Links for New and Veteran Players
Splinterlands Good Cards To Own
Splinterlands Rentals from a Lender Perspective
I have plenty of other cards for rent! Just go on peakmonsters and check out the market place and if you are curious what I offer here is a link:
If You have yet to take part in playing this great game called Splinterlands please click on my referral link. It is free but in order to earn real assets such as cards and token you would have to invest in a starter deck or purchase game cards. Join the discord to learn more. Good luck!

THANKS FOR READING! CONTINUE TO PLAY SPLINTERLANDS!

---
---