Splinterlands - Regal Peryton (Share My Battles)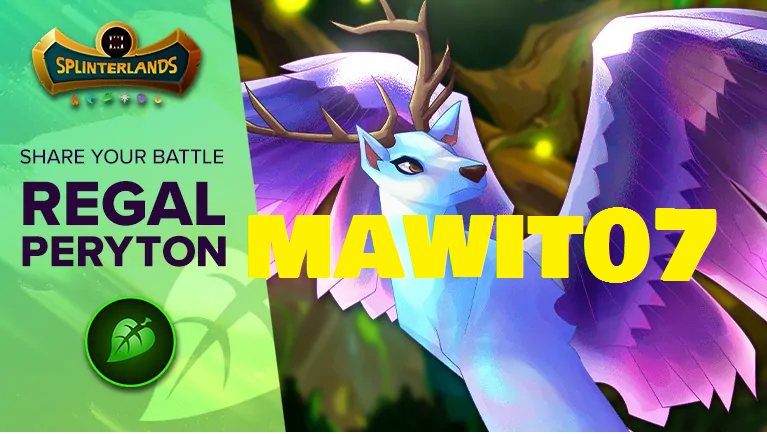 When the magic summoner Obsidian came out I knew I had to collect a lot more magic monsters in the earth splinter. Any magic boost summoner will have a lot of good attention and same with Obsidian.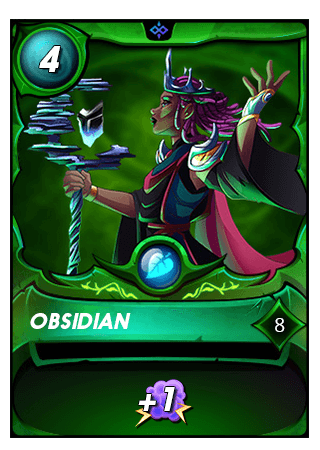 Within the past month I was able to purchase my own max level Obsidian and since then I have enjoy incorporating magic formations with my earth splinter. Regal Peryton being one of the many chaos cards I have yet to purchase appears to be a decent magic attacker.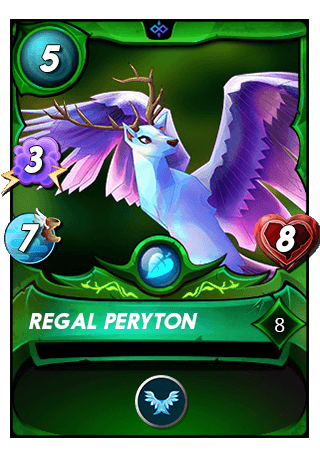 I dream of getting a max level version of the card like the one above by saving liquidity to purchase the card about a week ago, but recently most chaos cards that were max level at lowest price per BCX were bought. I was not lucky to obtain a max level Regal.
With that being said the following battle is using the spell book version of Regal Peryton, which is a level 1 card.
Battle Formations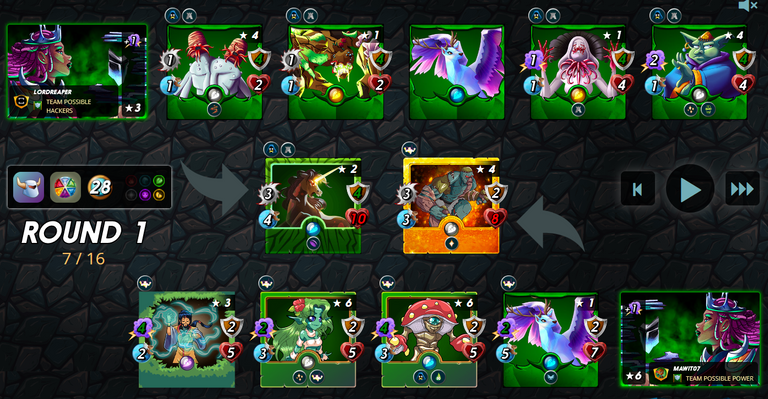 An earth to earth battle it is! The battle had limited to only use of earth, death and dragon splinters. In addition a low 28 mana with rule sets of Armored Up and Taking Sides.
With the Armored Up rule set I felt using magic would nullify it. My opponent apparently felt the same. As we went into the match it would appear my overdue investments would pay off since majority of my cards were higher level than my opponent.
My Formation
I went with Flesh Golem as my tank. Anyone who has played Splinterlands since the beginning would know Flesh Golem is a great tank card. Next up was no other than Regal Peryton then followed up with Mushroom Seer, Wooden Nymph and ending with Magi of The Forest. The low mana count and Taking Sides rule set sort of forced me to go with 5 monsters in the formation. In addition majority other than the summoner and one monster being chaos the rest from legacy sets.
My Opponent's Formation
My opponent went with Unicorn Mustang which I consider as an excellent choice to fend of magic monsters. Remember Taking Sides forced us not to be able to use cards like Prismatic Energy. They follow up with Mycelic Morphoid, Fungus Fiend, then none other Regal Peryton, followed by Queen Mycelia and ended with Goblin Psychic. I noticed all but the tank monster were from Chaos set, which was opposite of how I selected my cards. In all likelihood this was done because my opponent did not have legacy cards to use.
Round 1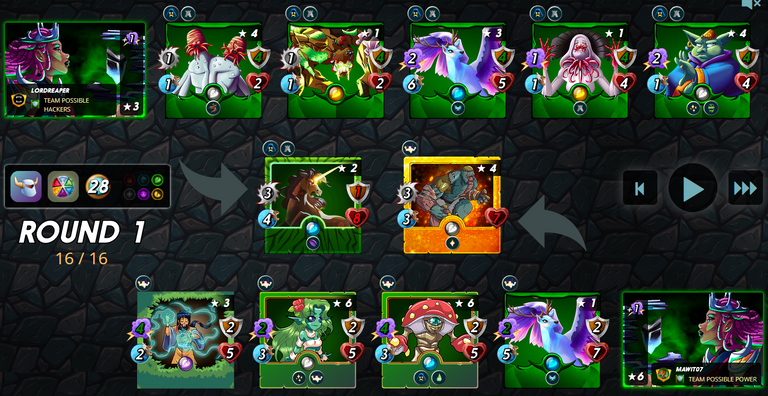 At the end of round one it pretty much was a stalemate. My Golem held his ground while their Mustang was able to reduce magic attacks.
Round 2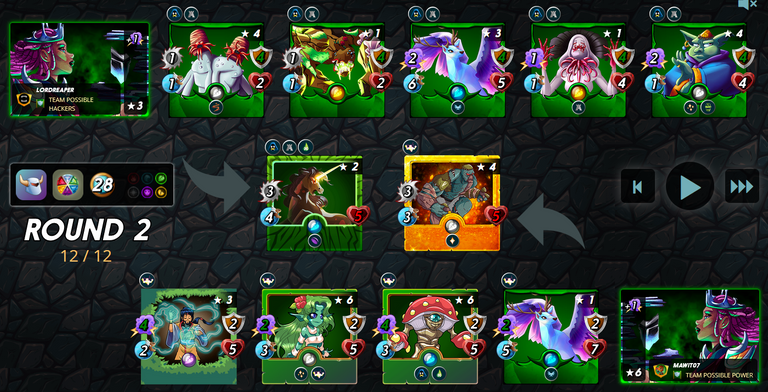 Again at end of round 2 it was neck and neck. Both tank monsters have a health of 5 while the remaining formation not really touched.
Round 3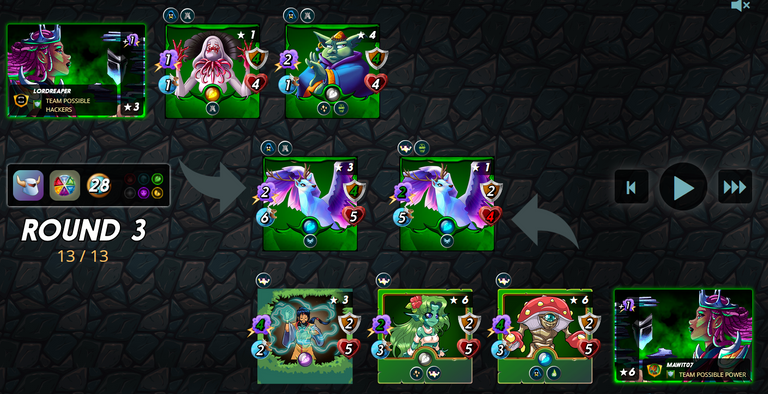 From round 2 to round 3 the matches turns in my favor. It first starts with my opponent being able to knock out my Golem. Yet after that my formation was able to not only knock out Mustang but also Morphoid and Fiend. It was clear the low health was a weakness in my opponent's formation. if they had put both Morphoid and Fiend further back in the formation they may have lasted longer, but then again melee attack would not occur in the rare formation.
Round 4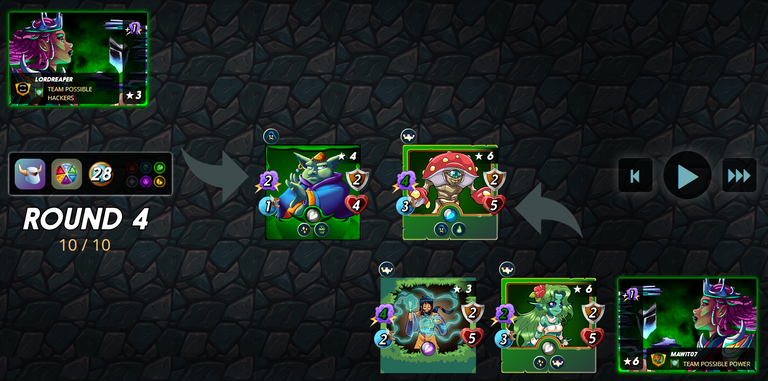 By round 4 my opponent was able to knock out my Regal Peryton but not before I hand knocked out their Regal Peryton and Queen Mycelia. Boy was this a great trade off as the match at end of round 4 was three against 1 in my favor.
Round 5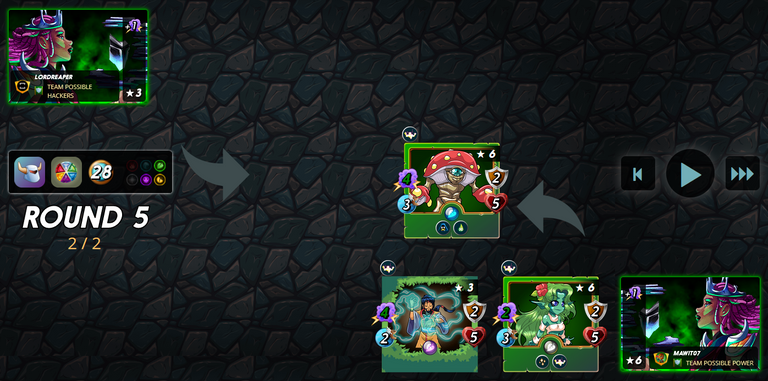 A fast close out against Goblin Psychic and I win the match.
Conclusions
It was very apparent as the match progressed that my formation leaning mostly magic would come out on top. Four out of five monsters were magic while my opponent had only three out of six. The summoner Obsidian boosted magic attack with me having both Mushroom and Magi at 4 magic, a very rare high magic attack for any monster.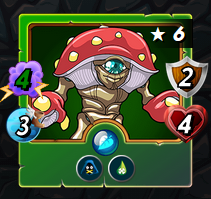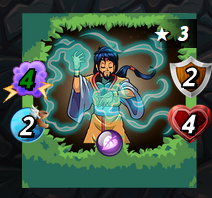 With magic attack typically monsters' health is not that high it was shown in the match. For me though Regal Peryton even at level 1 had the highest in health for any magic attacking monster on the field at 7. A boost from my Wooden Nymph help a bit in the stat.
It turned out Regal Peryton would be a good enough tanker once it was in lead position with that amount of health. I can only imagine how much better my formation would be if I actually had a max level Regal set in the formation.
Overall I really like Regal Peryton when focusing on matches with magic attack. The high health relative to being a magic monster allows it to stay in the battle just long enough to make some form of contribution. I will be waiting patiently for the next sale of a max level Regal at reasonable price to pounce on.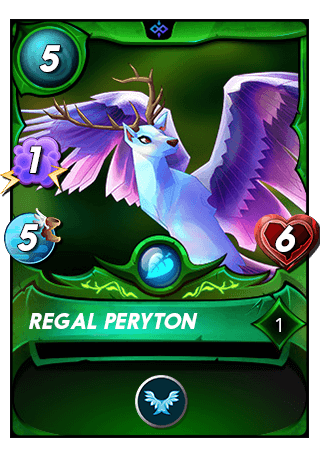 Until next time thanks for reading!!!
https://images.ecency.com/p/HNWT6DgoBc1692QWn5trsLBYecSp3jKD1kzdmSDR4FGzPSXomkgLtisN5TzrwHTsD1D4ocqDPHpFztKzeH4ibh1vQVU3d3dSaB6VYJ1U3RdsSDi5spmdafX25ph.webp?format=webp&mode=fit
If you want to play splinterlands then SignUp Here
I have plenty of other cards for rent! Just go on peakmonsters and check out the market place and if you are curious what I offer here is a link:
If You have yet to take part in playing this great game called Splinterlands please click on my referral link. It is free but in order to earn real assets such as cards and token you would have to invest in a starter deck or purchase game cards. Join the discord to learn more. Good luck!

THANKS FOR READING! CONTINUE TO PLAY SPLINTERLANDS!

---
---