Splinterlands - Splintertools Is A Must Use!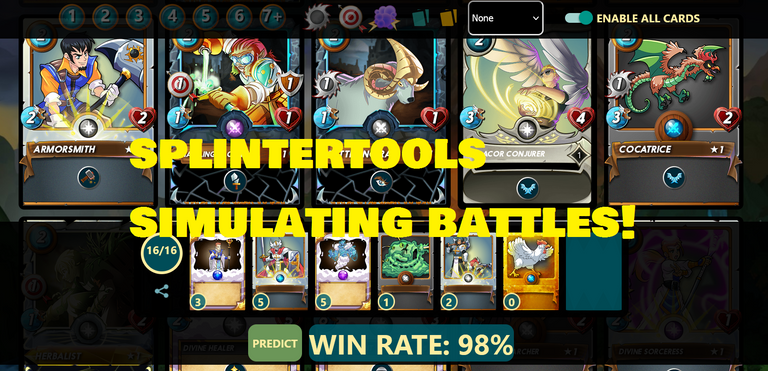 Two days ago I talked about Barron's Tool Box that I had basically overlooked for quite a while. As a gamer of Splinterlands where ever I see a new tool that can give me an edge in play I want others to have the same. What better way than to have healthy competition for all players. Today's post we look at another 3rd party website dedicated to help players simulate Splinterlands matches.
https://ecency.com/@splintertools/posts
Overview of Splintertools
From appearance of the hive account splintertools seem to have been introduce less than three months ago. This still seems very hidden from players as the splintertools hive account not very active. I went through the site and was pretty impress with what it can do. Although I would wish the graphic interface would be a bit more user friendly it is still easy to learn and quite useful.
On the website you can either do train or battle simulations. You do not need to sign in train but do need hive keychain for battle. To run simulations in train you only need in game user name. For battles you are required to pay 2 Hives for one month subscription. For the sake of this post and experiencing the tool I bought a month subscription. You can see what I see by reading on in this post. I will use my own in game name to show examples here.
In training I can see all my battles that I fought in game show up.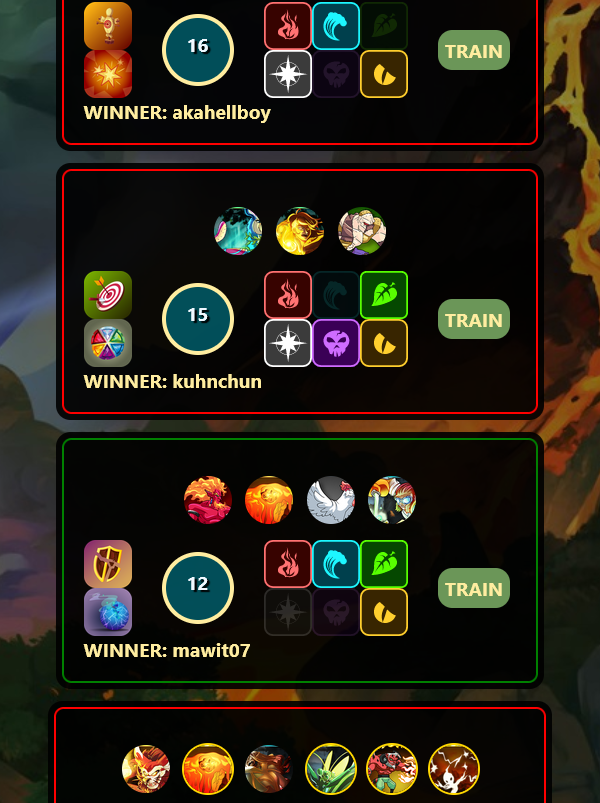 I went with a battle that I lost against summoner Yodin Zaku to see what I could have done better and if possible win. Note I do not have the summoner in my deck so odds of me winning were not in my favor.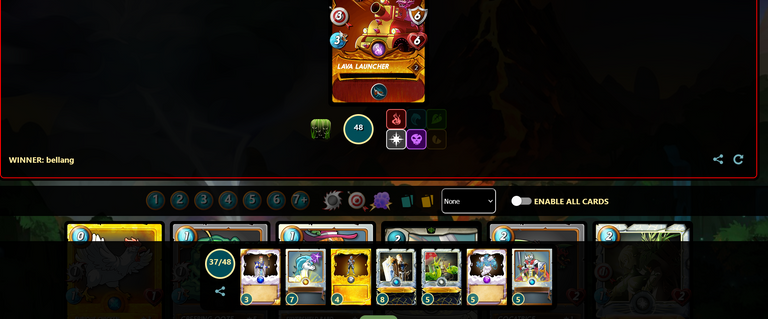 Once I go into the battle through train the graphics are a bit off but scrolling down I get to see my formation and my opponent. What is interesting behind the formations are my library collection of cards. As I use life splinter all the available cards for that match depending on rule sets I was able to select and reconfigure my battle formation.

Since I was not able to win with the above formation I tried a different strategy.

Through trail and error of moving life splinter cards that I had available in the match I was able to raise my odds of winning the match from zero percent to 67%. All I was doing was going through my library selecting cards to replace with what I had in my formation and I was able to arrange what position I wanted each card.
I tried rearranging the formation a bit more and can back with the same formation as 67% win rate however for some reason the second go around it was predicting 61% win rate? Maybe some sort of bug but still neat to see it simulating chances of winning.

In any case I thought I would try to actually run this formation in battle.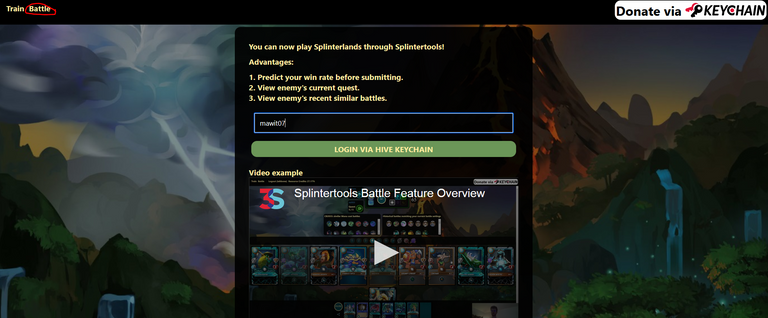 Back on the home screen I would select battle and enter my in game name.
It is here I pay my 2 Hives to get a month subscription.

After payment I stayed on the waiting for payment screen for about a minute. The page automatically refreshed with instructions: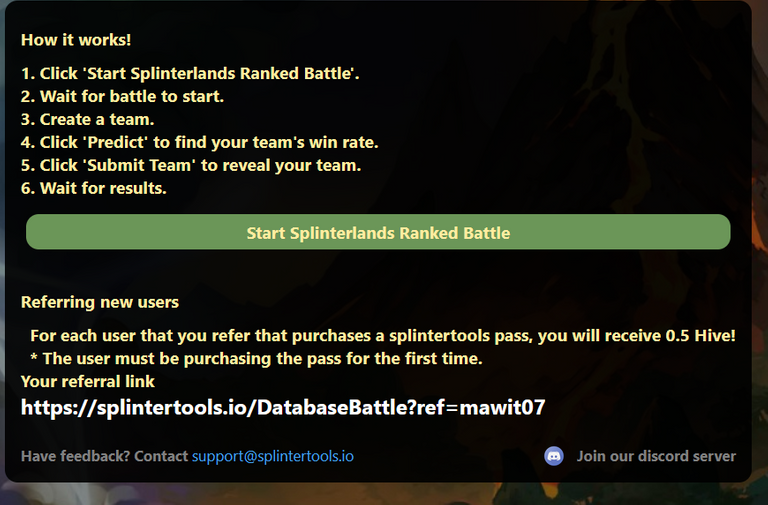 If you are interested in using the pass you can use my referral code. Only works if its your first time using Spintertools. I get back 0.5 Hive.
https://splintertools.io/DatabaseBattle?ref=mawit07
I'll send back the 0.5 Hive if you use my referral and comment of this post. So you get a discount on your first try ;)
I ran a match through battle without watching the video tutorial but learn very quickly how awesome the information was.

The battle interface is different than the official game however it was a real match taking place. I had the three minute countdown going and had to setup formation. What is very surprising to me is that I was able to see the formations of my opponent and myself of the last five battles.
In addition as I start constructing my formation and notice the prediction win rate would rise as I switch and added cards to formation. What I could not figure out was where there predicted win rate was being calculated from since my opponent's formation was not visible at the time. In the end I ran out of time and had only a 50% chance win rate. I went with the formation and lost. Here is the battle link:
https://splinterlands.com?p=battle&id=sl_2a82ac175db1c36b51163c862c450bdb&ref=mawit07
What is cool though is I was able to setup the formation on an interface outside that of Splinterlands which I did not know was possible. Furthermore the Splintertools interface is quite useful as it has more information to help guild in creating formations compare to the standard in game of Splinterlands.
Right after the match the site refreshes to the training page and I can reconfigure my formation to learn how to beat the same formation next go around. I experimented a bit and found a winning formation based on Splintertools.

Look forward to seeing magic again as it appears my death splinter is more of a viable choice to use. Never did I think it would be as such without Splintertools!
I took more test run with battles....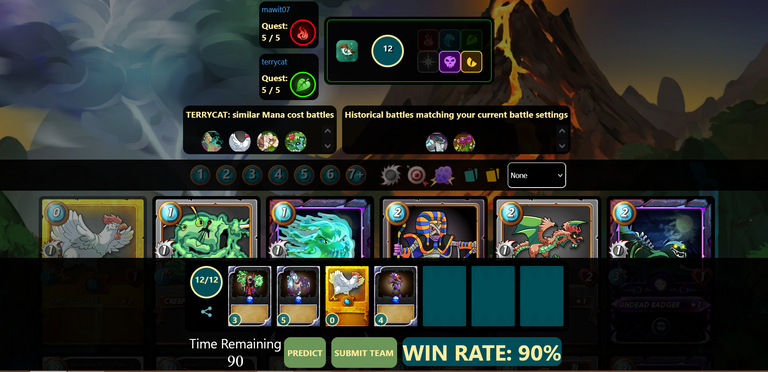 Scrolling through my cards I went with death splinter and a trio of monsters due to lack of mana being 12. Prediction for battle was a 90% win rate.
https://splinterlands.com/?p=battle&id=sl_f4871684425a2aecea2c789384a15ad8
I won the battle!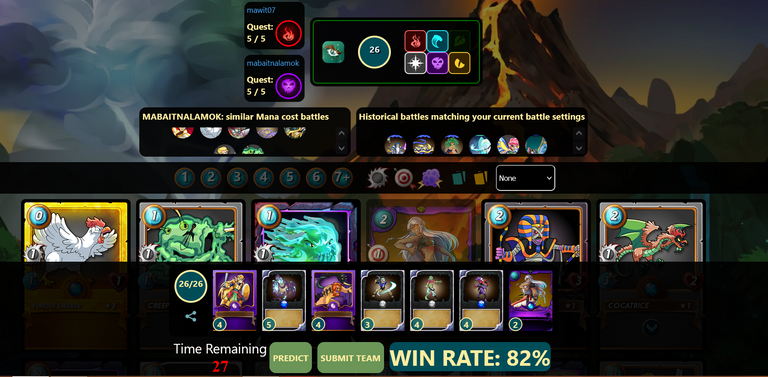 This battle with a 27 mana cap is a little bit more intricate. I went with dragon splinter mixed in with death to get a decent win rate of 82%. I lean toward death because I saw my opponent's commonly used formations based on similar rule sets and mana count leaned more toward life and fire formations.
https://splinterlands.com/?p=battle&id=sl_26a604193f5c59a4fe74e97d6ce1ec54
I never stood a chance when I reviewed the battle. So it is somewhat clear that even if a win rate of 82% it was not really that high of odds in my favor.
Conclusions
Lets look at the good items first. There is the training portion where players can compare past battle with different formations to predict odds of winning. I would lend toward a win rate of 90% - 100% as best bet that the revised formation would win. Any below appears still somewhat of a toss up. Need to run more real matches to see.
In the battle screen it is impressive with the new info that I have when setting up formation. I get to see my opponent's previous formations that has similar mana count and my own previous formations. In addition if my opponent had finish their quest or not. Then there is me inputting my formation and adjusting accordingly based on win rate that automatically updates as I add and subtract a card. Overall additional guidance in helping me setup my formations.
Now on to some to do list items. In battles the benefit of playing a real match using a new interface outside of Splinterlands seems to have some drawbacks. For one finding cards in formation is not as easy as in game. Scrolling through monsters cards and using the in game filter is decent but there appears to not be enough screen view to easily go through the cards. It would be helpful somehow have the formation lineup and the information of previous battles stayed in place while the selection of cards was still visible at all times. When I scroll down searching for cards I lose the view of my opponent and my own previous formations list. I have to scroll all the way back up to see the previous formations.
In addition when setting up formation it is not easy to shift monster cards positions once in place. We have to remove the card that we don't want and place a different card in its place. This takes up valuable time as in game we can shift the lineup much easier by clicking the positioning of the card which enables us to move its placement from there.
Even with the drawbacks I still feel players of the game should still try out the website tool. At the very least test out the train tab to get a better feel on how to play formations. Before the use of this tool I mostly use the same cards for each splinter that I often see in game. Instead experimenting formations with this tool allows me rethink how I setup formations and use of cards.
Again to use battle you need to invest 2 Hives per a month subscription. If its your first time use then apply my referral link and comment you used it. I will send back to you 0.5 Hive.
https://splintertools.io/DatabaseBattle?ref=mawit07
Until next time thanks for reading!!!
If you are interested to learn more about Splinterlands please go through some of my other posts. Order is from newest to oldest posts:
Splinterlands - Securing Your Cards From Hackers
All You Want To Know About Reward Chests
Helpful Links for New and Veteran Players
I have plenty of other cards for rent! Just go on peakmonsters and check out the market place and if you are curious what I offer here is a link:
If You have yet to take part in playing this great game called Splinterlands please click on my referral link. It is free but in order to earn real assets such as cards and token you would have to invest in a starter deck or purchase game cards. Join the discord to learn more. Good luck!

THANKS FOR READING! CONTINUE TO PLAY SPLINTERLANDS!

---
---