Brawl Summary #06 - Tier 4 and Tier 3 | YGG GAP Summary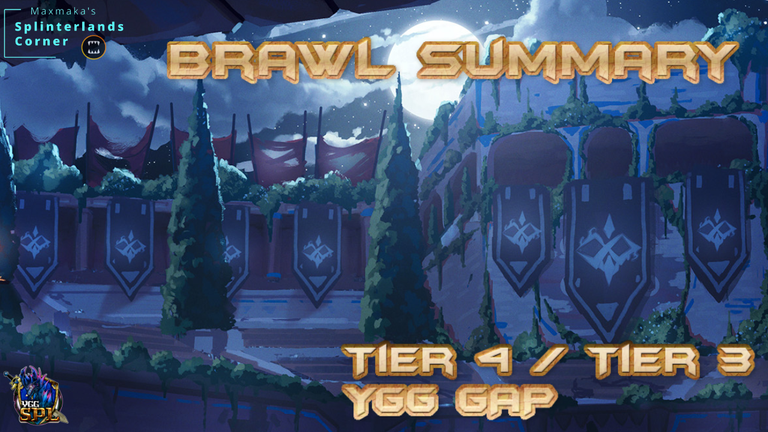 Hey Splinterlanders :)
It has been a while since we got some Brawls Summary. Last time we had some shuffle among my YGG guild to jump to tier 4. Because of the new GAP season, we decided to drop to Tier 3 to get better performance. Overall as I mentioned in the previous article Brawl needs some game feature updates, I hope we got it after the land release.
Of course for all data stats I will use a very useful and simple tool . You can check the full summary and more details here.
Today our main focus is on Immortal Gods 4 guilds, where I play Tier 4 Brawl on Silver Modern Tier, but we also check my YGG guild account performance, which is important for the new GAP season.


Tier 4 isn't the easiest tier for a medium power guild as IG4. Usually, other Tier 4 guilds have more advantages with high-level buildings and usually with players with larger collections. It's not easy when your opponent has a speed buff and more mana to use, but we try our best and still, it's more profitable than tier 3.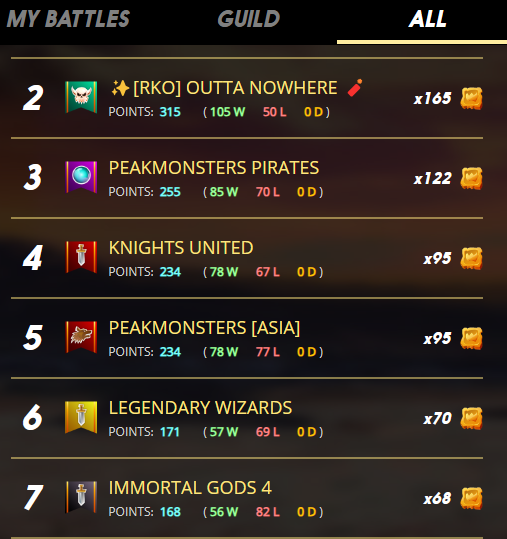 We were in 7th position for that brawl, we were only 1 win to get tied to the next contender. Top guilds are out of our range, but still, the middle position is not so bad.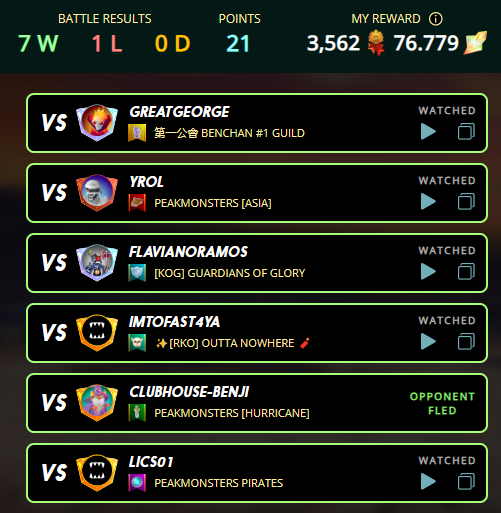 I think it's the first time when I have got a really good score. Usually, my performance is around 50%, but this time my only loss was to a very good player and content creator, you can see that battle below :)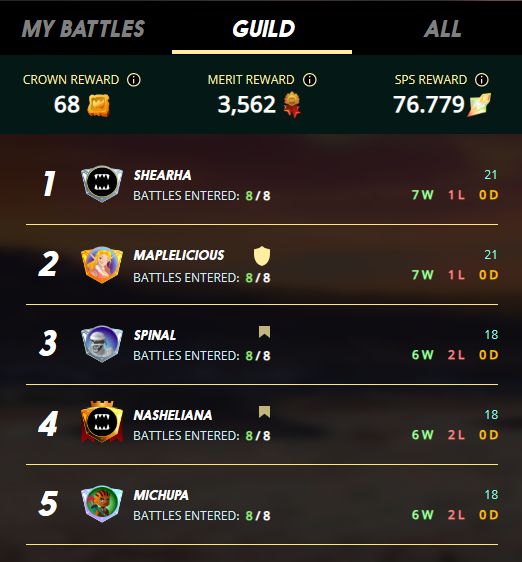 Even though our top players have nice scores, it's not so easy for every tier: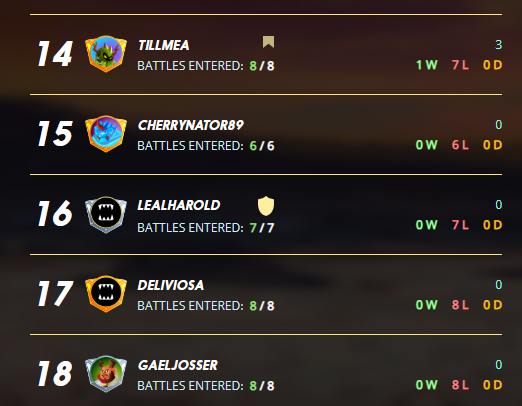 Let's go for some updates around YGG Fighting Illini: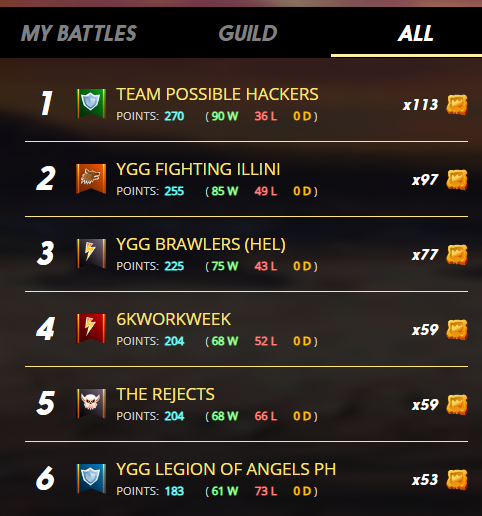 If I'm not mistaken those four tier 3 brawls will be included in GAP Season 4 stats. Unfortunately, the last brawl wasn't best best score, but overall it is not so bad. We have very good players here, so it will be not easy to fight for top positions, but fortunately, it's enough to have 60% winrate.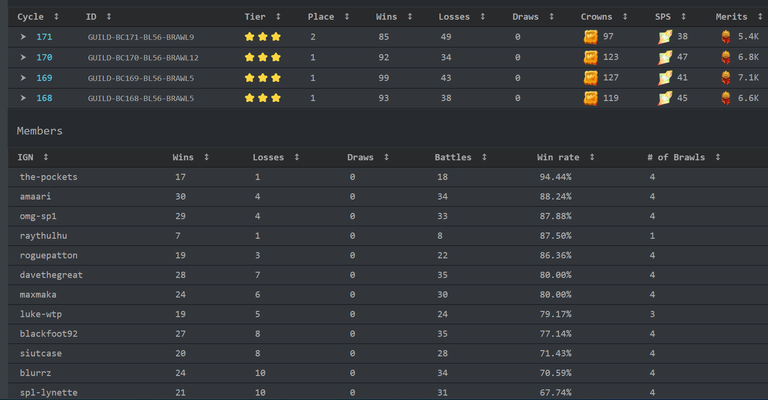 For today's battles, we have some nice comparisons around two setups with Kelya and Possibilus, and one Earth mirror battle but with different summoners.

The first battle, we had quite an interesting Earth battle when the opponent went nice counter with Reflect Magic from Failed Summoner and thorn damage from Mylor. Additionally, we got return fire as a ruleset. Fortunately Failed Summoner was only first level, and wasn't enough to kill any of my magic damage units. And recently I like Jini Guise more and more and that double armor Protect skill was so crucial here. We got some luck with misses around blind ability, but overall it was a nice setup, which was much more powerful than the opponent's one.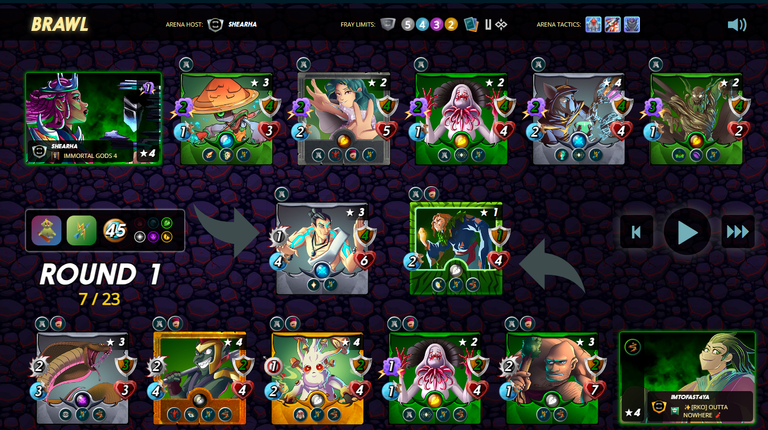 The second battle , and the third battle is very interesting because, from a ruleset perspective, Possibilus seems much better choice in opportunity ruleset. I have some luck here with some of the speed differences, we got some misses here. The opponent got a very powerful team with a martyr buff, and even with some trample damage still was not enough to kill our team. Usually, I think when the armor is not restricted Keyla is usually a better choice, but as we can see below, not always :).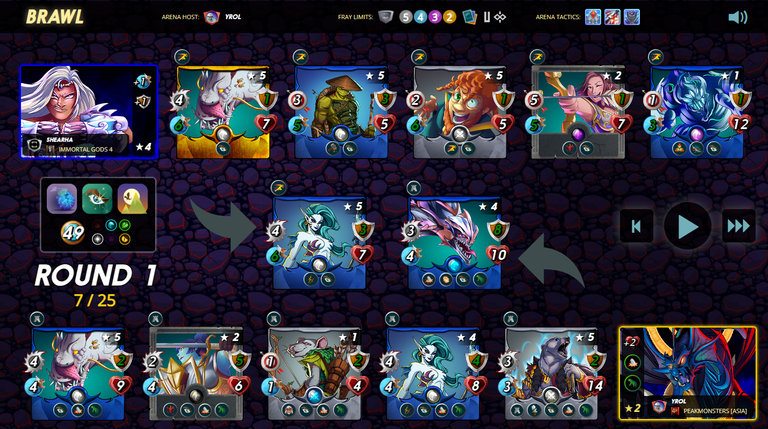 The last battle , quite similar to that above, the big change is the opportunity ruleset, which is not present here. If I had to bet on it, definitely I would say that in the above fight Possibilus team should have a much better chance of winning. Our opponent is a very good player and content creator @hawks21. Even at first, we got some advantages, but later this double striker and opportunity units started killing our units so fast. Both team was quite similar, the biggest difference was Summoner, and I was really surprised here, that Possibilus was better than Kelya. I have to note that.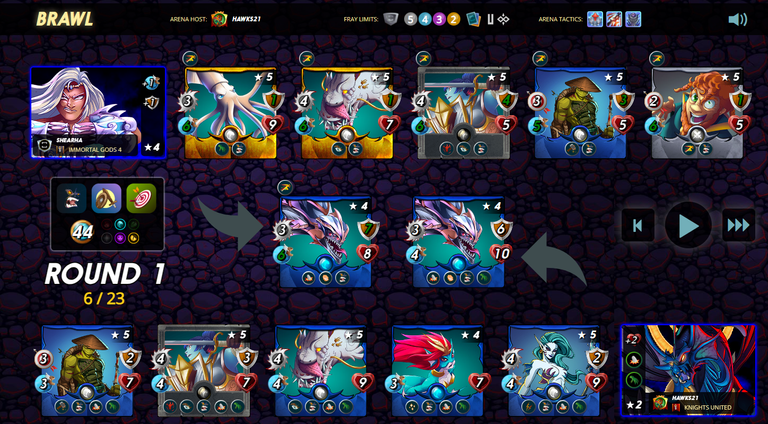 I don't want to complain more about brawls, I'm waiting patiently for land release and I hope to see some updates there. Fortunately, the YGG Gap season started so I have more incentive to play brawls with my highest focus
The last brawl wasn't the best, but always there is some chance to just lose the match, Sometimes is luck, sometimes bad setup. Life happens :).
On the other side, my performance for Tier 4 is getting better, and I hope I will cross that 50% barrier. And how are you guys doing in Brawls?

I hope you like this kind of summary and battle presentation. More strategy analysis, discussion, and prediction games you can find on my Wednesday Splinterlands.tv stream. You can check the schedule here
If you have any comments, please do not hesitate. Do you think I could improve anything just tell me :)

If you wish to try out Splinterlands you can use my reference link.
Thumbnails and other pictures borrowed with permission from the Splinterlands team or made in Cooltext

Previous articles:
---
---