End of Season Summary - New Strategy, New Rating System, Rating inflation issue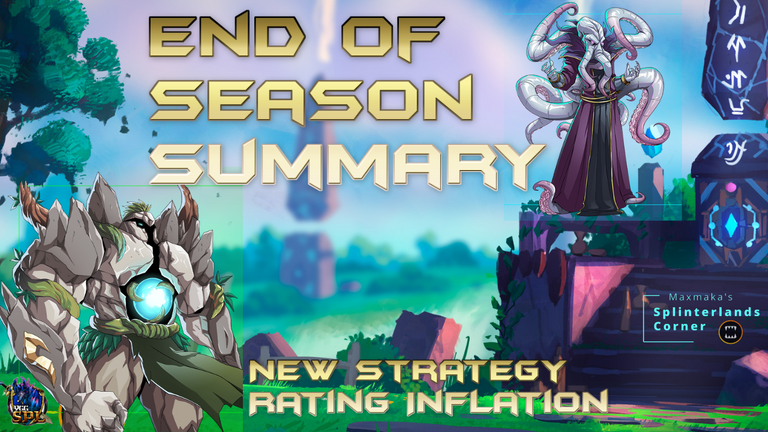 Hey Splinterlanders,
It's been a while since the last end of season summary. I think now it's one of the best occasion to do it. As I mentioned before, I split my asset between several accounts to be more effective. With the new changes in the rental system, I had to figure out a new approach, because renting lower level cards become unprofitable.
So yes, I think I became the farmer :) My farm isn't big before I played semi-manual on two accounts, and usually by myself with the rental account. Now I extended that to two more lower level accounts from the cards which were used for rental before.
One more thing, a detail that becomes quite annoying to my strategy is the new rating system. Unfortunately because of rating inflation, it's not unusual to hit the higher league with lower level cards. Before I find the way even after hitting diamond league to get back to silver after the end of the season. Now, sometimes it is not possible, because of the low collection power required for modern leagues. It is so before you had to rent CP to get higher and higher, now you want to find a way to lower it :).
So, I couldn't manage to come back to silver on my main account, so I started the season in the gold league already. It means that I will have limited access to some of the lower league tournaments.
Another thing, which I made differently than in the previous season, I choose two different end of seasons chests, for one account I stay in gold, and for another, I advance to diamond. I'm writing this before the chests opening, so I still don't know which strategy will be more effective. Of course, there is a lot of rng involved, but it could be a good comparison to people who wonders which chests are the best :)

Enough talk, let's jump to chests opening, a thing which most people like so much :D



As you can see the main battle is between Maxmaka and Konewka account, which are quite similar. Still, I (with some bot help) manage to get more Season Points for Maxmaka account, so the comparison could not be like 1 to 1, but let's check how much better are diamond chest versus gold.
Both lower level accounts play only for the last 3 days of the season with mostly only Chaos Legions plus rewards cards, not even max for bronze league. As you will see later the results are impressive.


My main account, the ladder I usually leave for bot, it doesn't make any sense to fight manually versus 1-2 bcx bots up to diamond rating. I hope dev team finally will find the solution to solve this problem. Collection is still not great, I rely mostly on Chaos Legion cards, some of older modern and some of rented Riftwatchers key card. My main account for tournaments up to silver league. I try to play all available to me, unfortunately with new changes in this season I wont be able to play brozne ones. Here you can read whole generated report , below eos chests and season summary: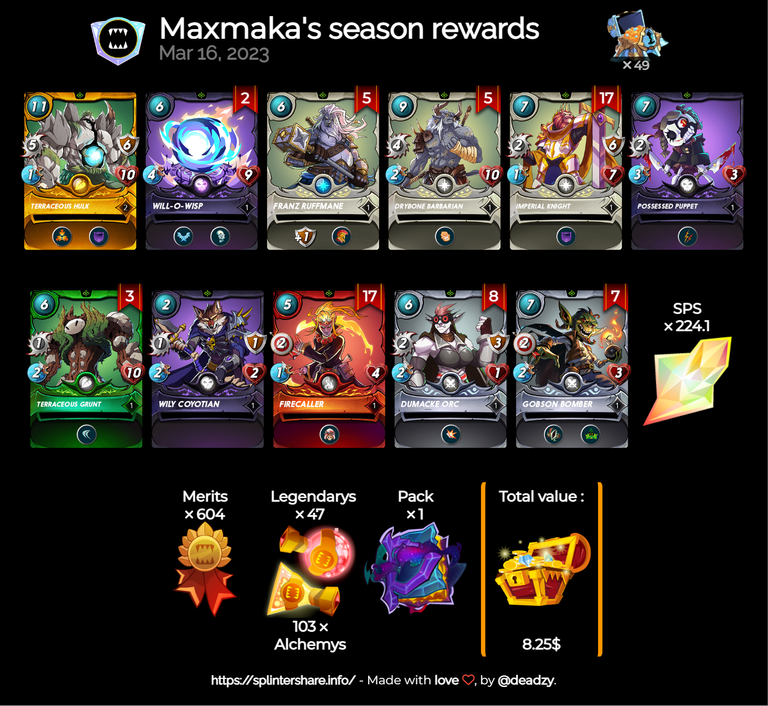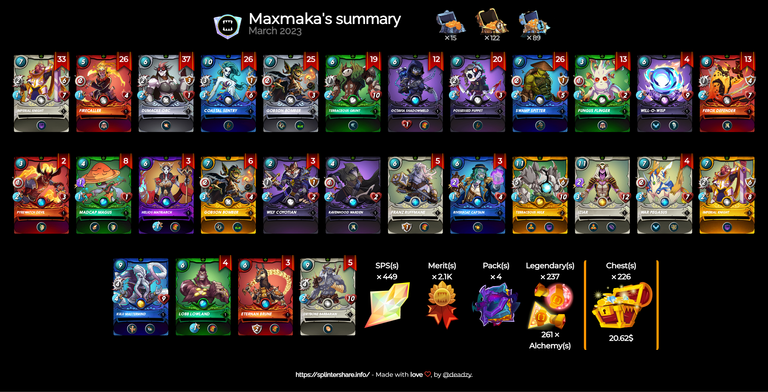 Plenty of cards, nice amount of SPS and gold foil legendary, I definitely cannot complain :).


My secondary account is still mostly Chaos Legion. For sure lower collection power overall, but unexpectedly I'm able to get a better place in a few tournaments compared to a better Maxmaka account :(. Here I was able to drop CP to stay in Gold 2 at the end of the season, so I would have access to all tournaments. I still think the tournament system should be changed, now it's a mess, but maybe it's not good place to talk about it. Raport here, and summaries: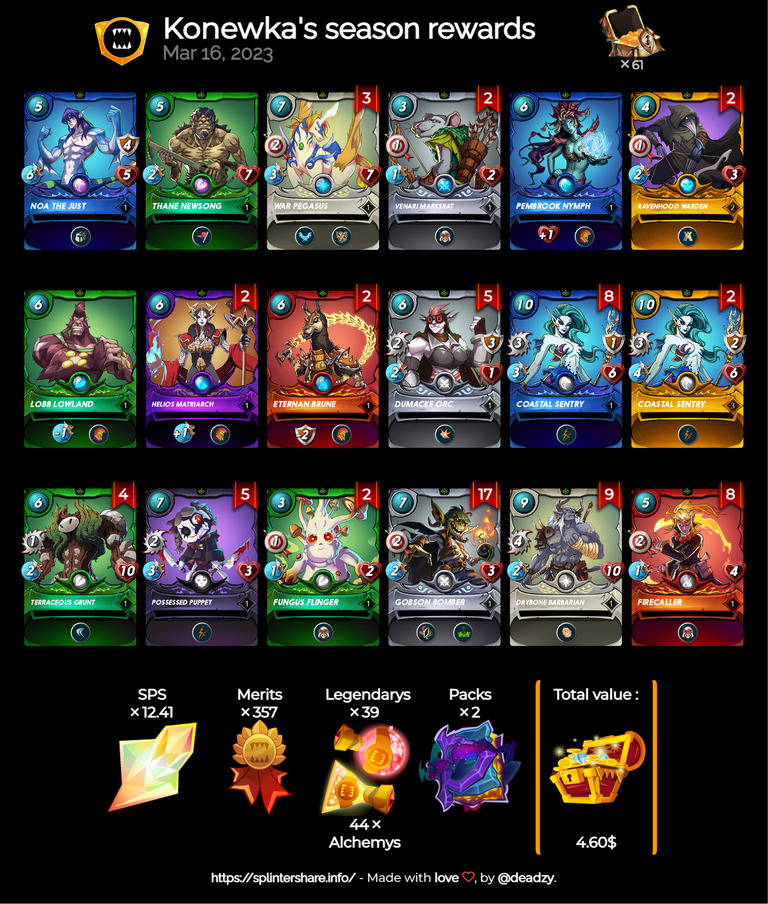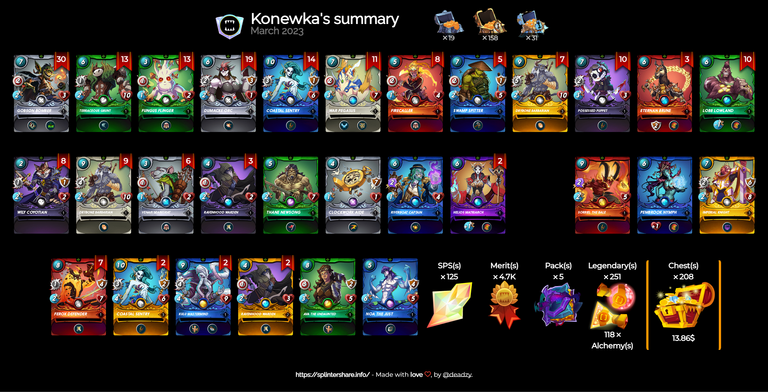 For sure is worse than Diamond chests, but overall still not bad. I mentioned overall this account got like 20% fewer Season Points, so less relatively less chest in comparison to Maxmaka.


Rental account, I usually rent cards to play brawls, so depend of circumstances I play 4-6 days a season. Unfortunatly due to the terrible dec/SPS ratio full rental play is no more profitable. I try to stay within budget to reach the champion league with lower costs. I really miss high level play with all cards available, where I could easily compete in even the highest level of tournaments. I hope there will be still an occasion. Full report here, and chests summary: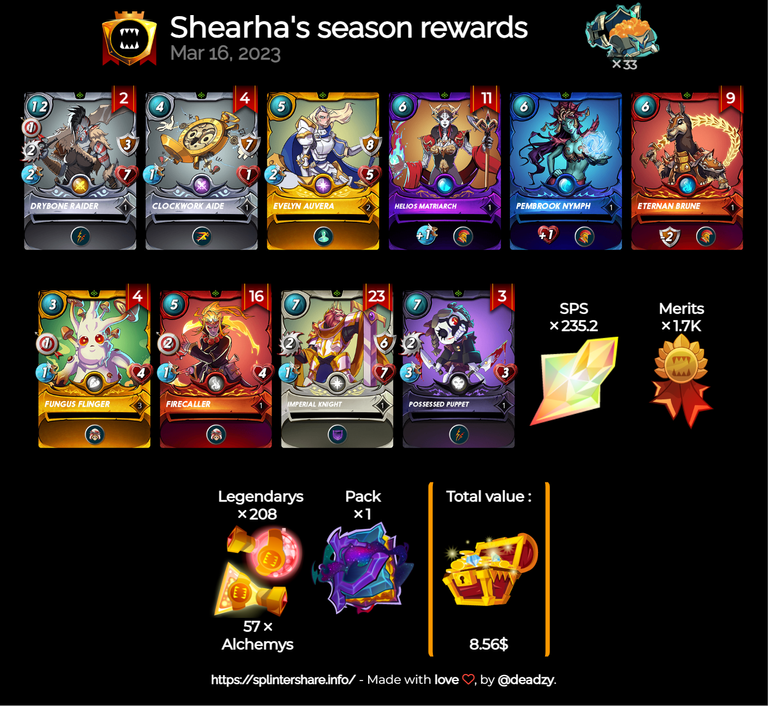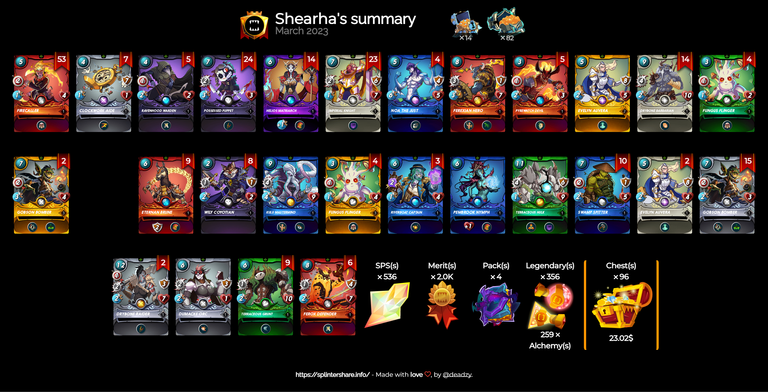 Champion's chest are always disappointing :( You always hope to get some SPS jackpot, multiply of gold foil legendaries, but at the end it usually average and not worth effort compare to lower league when you just can easily win with 1 BCX bots. :(

First time in this season I run two more lower level bot's accounts. They worked only for 3 last days of the season , but with only not even full brozne Chaos Legion cards, were able to reach Diamond 3 and Gold 1 rating. For sure something is wrong here :).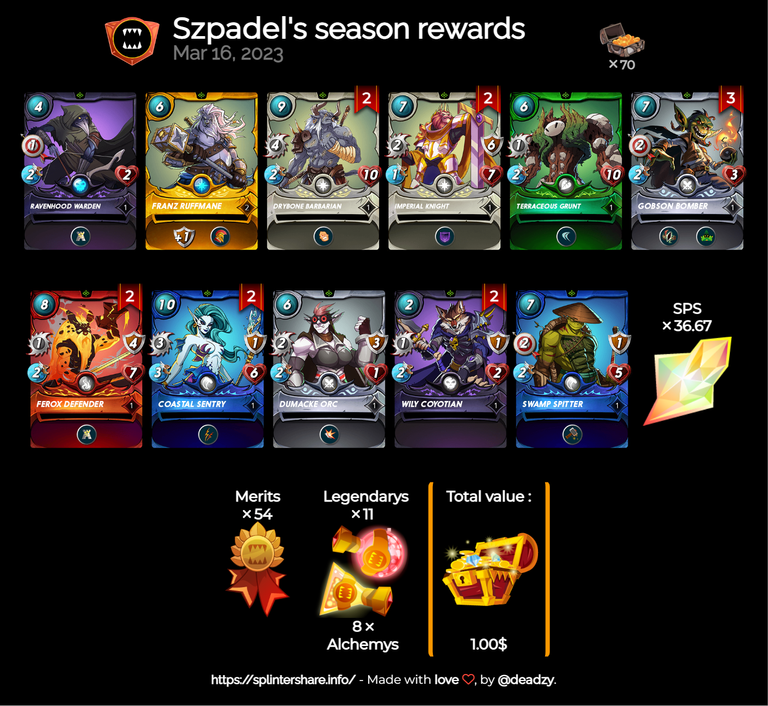 It was only 3 days of working, we will see how they preform for whole season. We got some nice addition of summoners and good martyr cards. And i think it was brozne SPS jackpot - 36 SPS in 1 chest ;).


That will be all :). I hope some of this data could give some hints to people who still wondering which league should they choose and how to manage the collection. Unfortunately all those new changes with rating system, maybe not so bad overall, working against my strategy. But I think the main problem is rating inflation. Even with the brozne level account is not a problem to reach diamond level rating, this is huge issue. I'm really waiting for a finally a good solution for this, and of course, tournaments, which from my perspective as a mainly tournament player, it's even worse. :) @weirdbeard seems to have very interesting ideas, but nothing was implemented yet, and it seems that nobody even cares (except the players ;) ). Ok there was some salt at the end, if you have any comments it that matter please do not hesitate to write below.

If you like this kind of content check my Monday and Wednesday Splinterlands.tv stream. If I only have chance I try to open gladius packs, chaos legion packs, season chest and anything which I currently have :)
You can check the schedule here

If you wish to try out Splinterlands you can use my reference link.
All images used in this article are open source. Thumbnails borrowed with permission from the Splinterlands team or made in Cooltext.

Previous articles:
---
---