Strategy Corner #30- Melee Mayhem Ruleset - Melee or not to melee ? :)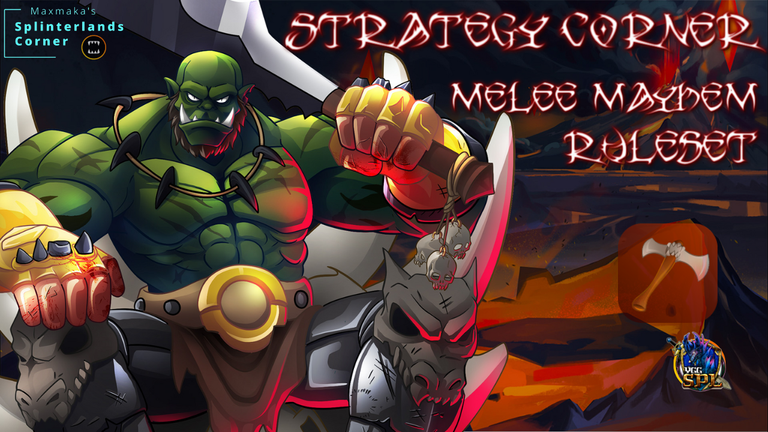 Heya Splinterlanders :)
For a few weeks for our Strategy Corner article, we usually had some ruleset that limited our collection for the battle, sometimes drastically, sometimes with some twists. Today I think we can say it is the opposite, With Melee Mayhem we can use it efficiently with more monsters than in the normal ruleset, but as always you need to be careful. But firstly let's see the description and we can talk more about some available strategies.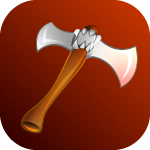 Description:
Melee units can attack from any position.
Prime use case for melee units with Bloodlust.
Abilities take precedence where targeting is concerned.
Firstly, the description of the ruleset in the game is not perfect, sometimes you get just general information which does not give you all the information you need. The best way to read the full description as above from the game documentation at least once. You can check all here.
I seriously encourage you guys to check this site, even more advanced players could find something interesting there.
We can use melee monsters in every position, but when and how we can use them efficiently? That could be tricky, because, usually players try to get some very solid defense in the first position against physical damage. There are some really powerful melee monsters and when you can use them from the backline and not worry about protecting them that could be a huge deal. I'm thinking here about the double striker, monsters with protect ability, or any other more supportive melee monster which now you can play in more safe positions. Of course, as I mentioned, if the opponent tries to predict that and uses some solid defender, sometimes the better option is just to avoid playing any melee monster :). That surprising setup won me a lot of games :) For today we got another solid line-up, I will explain it in battle section.


Today's battle is not a fire team line-up. I tried to find any battle with Grum, but it is not so simple :). The fire team usually is just too weak :). So as always, we got Immortalis the King battle, with some interesting choices, and maybe some mistakes :). Let's check our setup: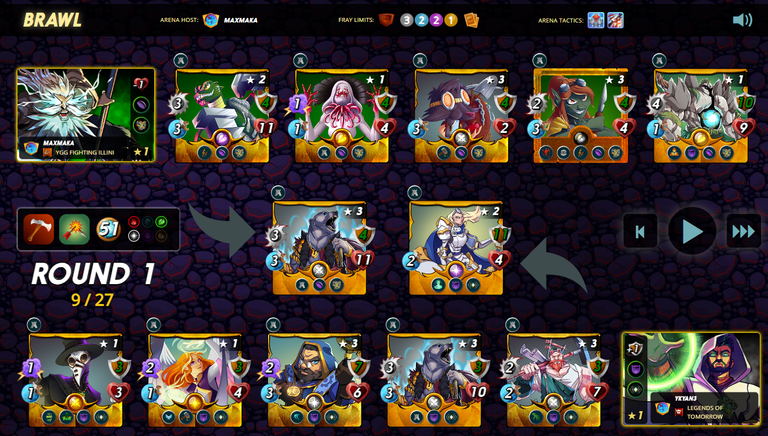 For my setup, I used some nice combo that sometimes can surprise the opponent: taunt monster with void armor and support unit with repair. Hulk is slow but with some additional armor is so hard to destroy, Of course just one shatter could be enough, that's why I say we got armor meta and you always need to consider playing some units to counter it. Additionally, we got a very powerful double striker and of course Queen Mycelia, must have in almost every Earth setup.
For the opponent team, it's a mix of magic and melee monsters, The overall setup is nice, with Rathe there is more armor and void armor ability which isn't so much important here. Let's see how had right :)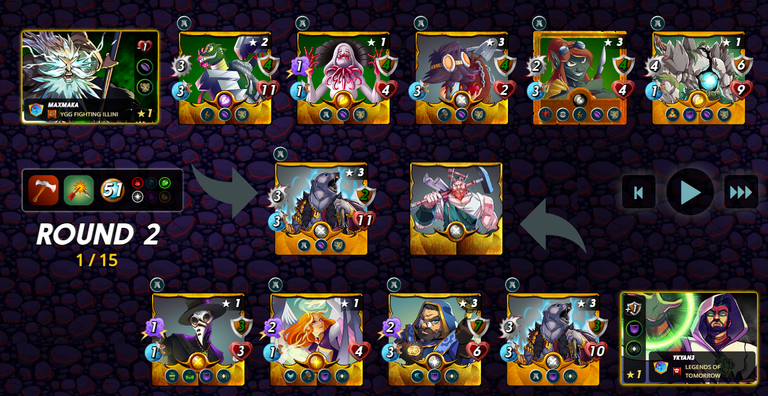 Round 2, Shatter is so great here, We used only 3 attacks to kill the tank unit with 11 armor. Hulk lost only a few points of armor, so it is looking so promising. Ketralba, unfortunately, misses once, Overall having different targets in that situation wasn't the best idea.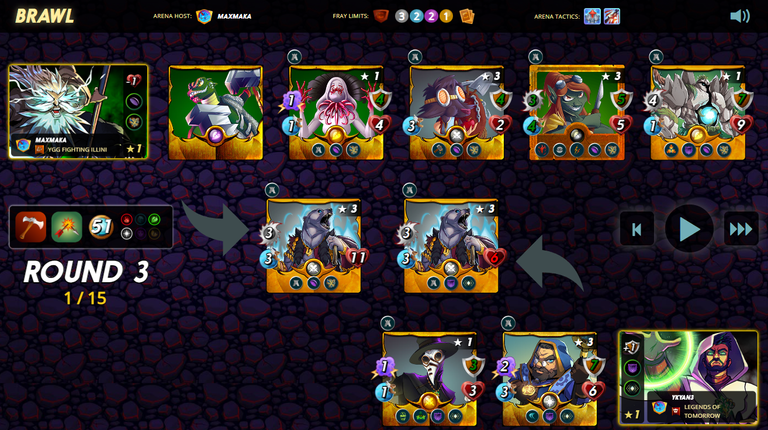 Round 3, our team is so solid, this time Ketralba didn't miss and eliminated
Adelade Brightwing, so no more repair for the opponent. of course, our main front damage dealer did a great job, killed another unit and the Bear is so close to death as well.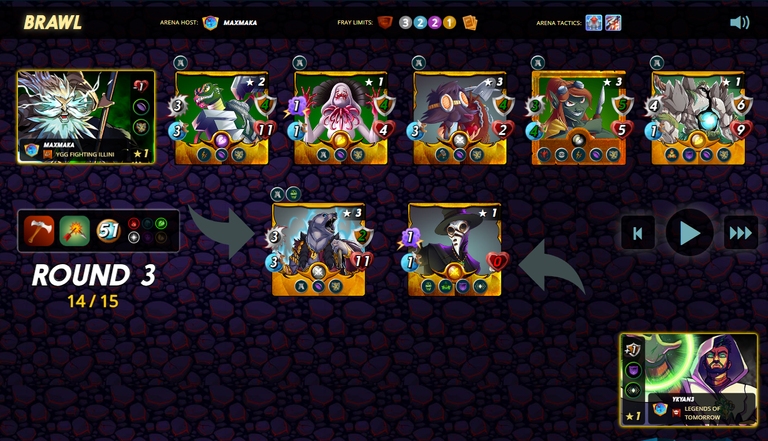 Round 3 - Final Blow, That was really quick, I hadn't expected so fast battle and so a big advantage from our team. Ketralba with speed and damage boost hadn't any problem with hitting the target, Grund is a killing machine, and Bear just finished the work :). Fast and clean :)


It was so quick battle. I think the first one for all Strategy Corner series, which ended in 3rd round :). And of course, MVP is Immortalis here, but we talk about him so many times, so today we focus on some interesting melee monsters that could be useful in that ruleset. The opponent team was not bad, but shatter and double strikers are so powerful. We analyze that fight in my Prediction Stream on Splinterland.tv channel, and I still don't know if Ketralba should be here, any thoughts ?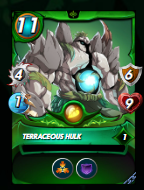 TERRACEOUS HULK
, seems so slow and only playable in reverse speed ruleset. But I think he is still quite solid even if he cannot hit any targets :). I like to use some resilient Taunt monster that could do some damage, and survive quite a long time. That way you could in a controlled method split the damage between the tank and the taunter. I think with Hulk better options are to use armor repair because his HP isn't the strongest advantage :)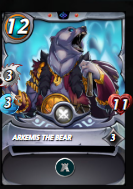 ARKEMIS THE BEAR
I like Bear more and more, and I think it's another appearance in Core Section for that card. But we cannot miss him, as additional armor from Protect ability is so strong for that ruleset. And if you can use Arkemis the Bear in a other position than the first (which wasn't the case in today's fight at least on my side) is even better :) Very solid melee monster, and on a higher level halving could be very useful ability.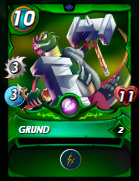 GRUND
, I remember that card as I think one of the first cards I wrote an article about. And nothing has changed from that time, Grund is a beast, with that shatter ability from Immortalis, he can destroy anything. And Melee Mayhem works even better for him than for Bear, because he still is quite fragile without any defense abilities. Pure power, quite fast, and always worth considering for Earth team.


Melee Mayhem is quite an interesting ruleset, it adds some more puzzles to our battles and you need to be more flexible with your setup. Sometimes you can be totally countered by very heavy physical defense, sometimes you can completely surprise the opponent with no melee setup. The above battle shows an additional feature of Immortalis the King, shatter is usually great in very heavy armor meta, and that void ability gives you so much protection against magic. I think that more hybrid defense is necessary to accomplish better result in Splinterlands, for sure in higher stake matches.

I hope you like this kind of battle and strategy presentation. More strategy analysis, discussion, and prediction games you can find on my Wednesday Splinterlands.tv stream. You can check the schedule here
If you have any comments, please do not hesitate. Do you think I could improve anything just tell me :)

If you wish to try out Splinterlands you can use my reference link.
Thumbnails and other pictures borrowed with permission from the Splinterlands team or made in Cooltext

We continue our game from the previous week, today new battle, new card to win :).
I come to some idea, I hope you will like them and participate. Every week I will publish one battle, and your goal is to point out the first victim of the battle and who will be the winner. This game is exactly the same as my prediction game which I run on my Wednesday Splinterlands.tv stream. I know that not everyone can attend the stream, so I hope you will still have fun in that way. More about the rules can be read here.
Among all participants who get the correct answer, I will randomly (probably on my Wednesday stream) choose one winner.
The prize of the blog prediction game for the lucky winner will be the epic card: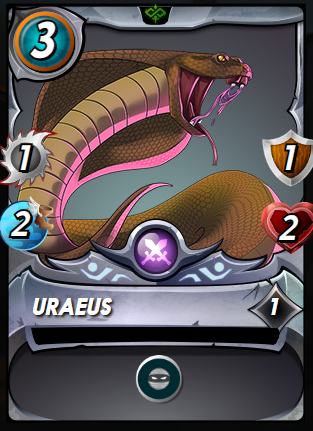 Here we got the battle: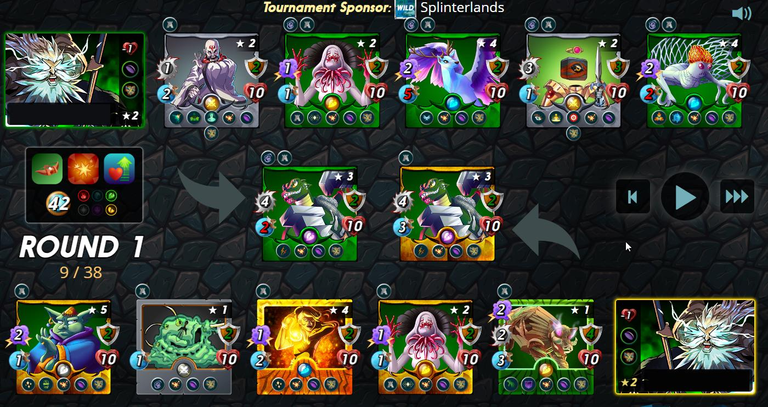 Game instruction:
Try to point out which monster will die first on the battlefield and who wins the battle
t - top player
b - bottom player
number - order counting from the first position
Examples:
t2b = monster on the second position of top player dies first, the bottom player wins
b6t = monster on the sixth position of bottom player dies first, the top player wins
t3t = monster on the third position of top player dies first, the top player wins


Previous articles:
---
---