Strategy Corner #31 - Noxious Fumes Ruleset - Not only Forgotten One Ruleset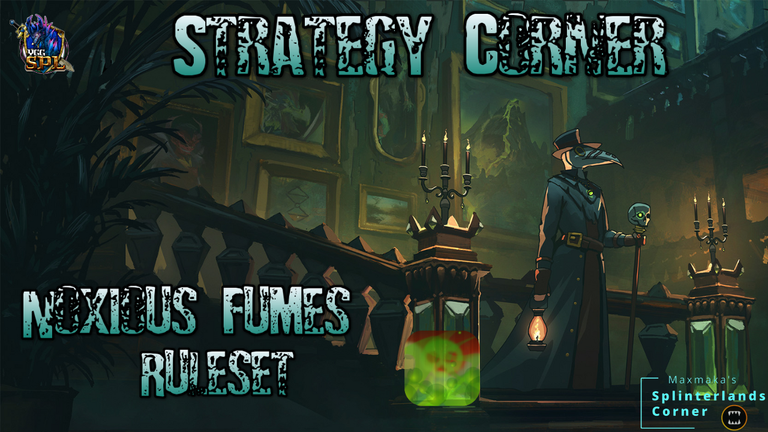 Hiya Splinterlanders :)
We can't help but notice that we're having a pretty quiet period right now for all Splinterlands ecosystem. I will not explain why, everybody knows :). Fortunately for the last few Battle Mage Secret cycle, we got a more interesting ruleset, and today it is not an exception. Noxious Fumes is either loved or hated, but you cannot say it is boring. Let's see the definition: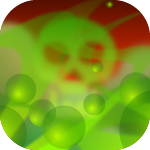 Description:
All units are Poisoned at the start of the game.
Units with Immunity are not poisoned.
This is a one-time application - units that are cleansed, resurrected or rebirthed will not be re-applied with poison.
Enrage is triggered by Poison application.
Firstly, the description of the ruleset in the game is not perfect, sometimes you get just general information which does not give you all the information you need. The best way to read the full description as above from the game documentation at least once. You can check all here.
I seriously encourage you guys to check this site, I put all the links related to specific abilities above. I think even more advanced players could find something interesting there.
We have plenty of links above to check, so it means that the ruleset is not so simple, and we can arrange several strategies. For sure one of the most useful abilities is Immunity and Cleanse. Usually, they are the must to survive enough to even have a chance to win the battle. Interestingly fire team is very popular for this, because of the very strong card with Immunity - Forgotten One. White has Kralus, but that card is quite expensive for rent so you cannot see it very often. And of course, as I always say for martyr meta, those cards are amazing here, They die quite fast, because of Poison damage and boost your best monster probably with Immunity. We can analyze more card examples, but you know that I prefer to show real fights and analyze the real setups. So let's jump to the battle.


Today's battle is quite an interesting wild silver tournament match. It is not common for me to play recently wild tournaments, because of a change in the rating system, that's why it's nice to see older cards and check if recent ones still can beat them.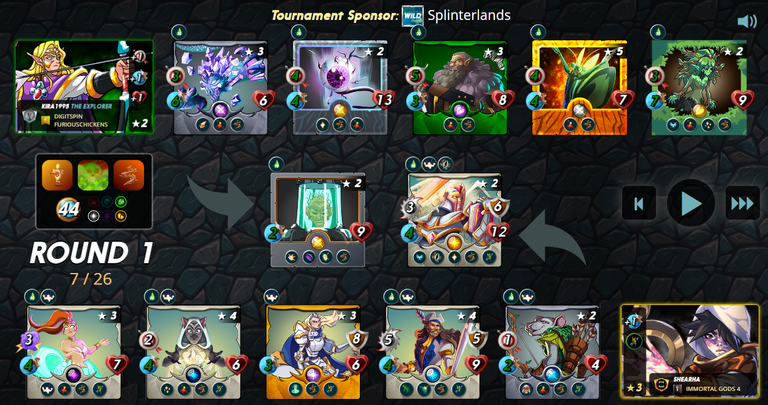 The opponents choose a very strong range setup with Prince Rennyn as a summoner. We got one self-heal and tank heal from Spirit of the Forest. For sure damage output is great, fortunately, we got Snipe ruleset which could be a good thing for our team. And yes our team, overall looks much less powerful, we got martyr buff, some heal, and one immunity monster. Let's check if it is enough :)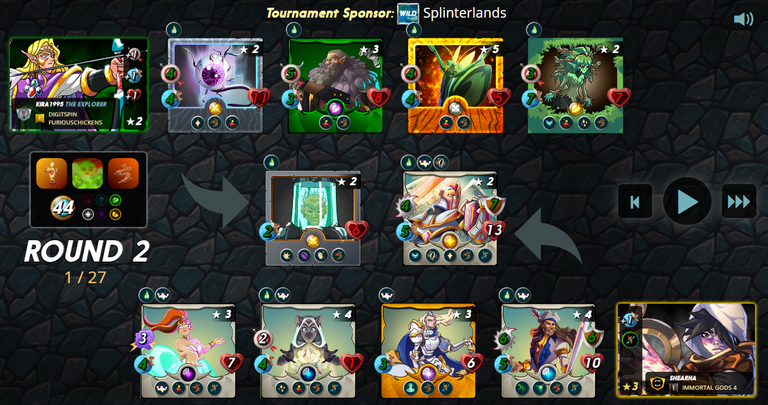 Round 2, oh I totally forgot about our summoner: Ilthain with that Return Fire ability makes the range team so fragile :). We lost our martyr cards which was a good thing, opponent lost his one Scatter monster which is even better, we want to save our melee team as long as we can.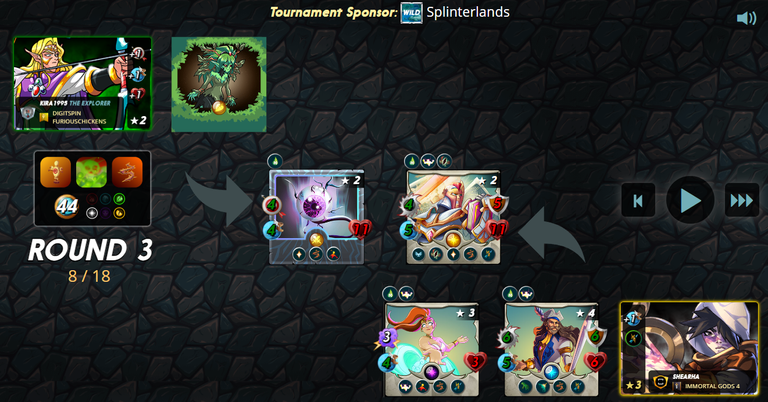 Round 3, things happen fast, poison damage and return fire damage were crucial things. Both teams lost a few units, mostly range and magic from the backline. Our front is strong, both units weren't been targeted and the healing ability from Uriel does the job here.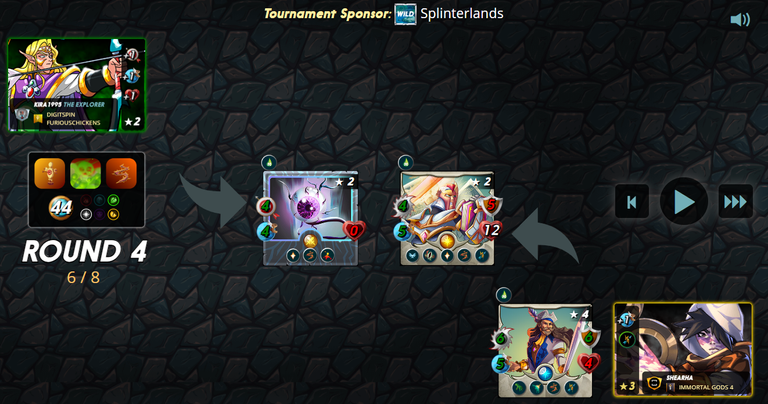 Round 4 - final blow - Spirit of the Forest was a strong card here, but it could survive so much damage every round, Fortunately, our melee team was almost untouched by the enemy and only got some poison damage, it was enough to deal the final blow.


Definitely, I have to say that we got quite a big luck with summoner choice, which counters the full opponent's team. I wonder what the battle could look like with a different one, but still, I think that could be the win for us, maybe much harder. Snipe ruleset made a lot of difference here as well, and I think for the opponent not using the martyr card as a first target was a mistake. Let's check our core team choice: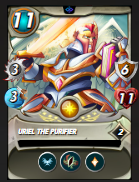 URIEL THE PURIFIER
, I think it is just single good card with Recharge ability. Some of the rest are still playable, but quite far to say they are good. Uriel is nice with some specific ruleset, and Noxius Fumes is one of it. Heal is strong, because of very high health points. And surprisingly recharge is sometimes useful to kill strong heal units in one hit. Definitely the card you should always consider for Noxius Fumes or Earthquake ruleset for life team.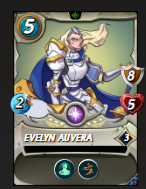 EVELYN AUVERA
this is quite new card from soulbound rewards set. I'm still not sure how useful it could be, but I try to play it more and more and the results are not so bad. The thorn damage in today's fight wasn't useful, but Immunity was for sure. In higher leagues that card seems even stronger with additional Reflection Shield ability and later Inpire. Dont oversleep about it :)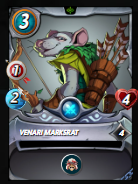 VENARI MARKSRAT
, I put Marksrat here, because it's the neutral card with martyr ability, but all of those cards are so useful now. It definitely the martyr meta and you need to just be prepared. Noxius Fumes is the perfect ruleset to get those buffs easy and early. You don't rely on the opponent's damage, you can arrange your team in a very effective way to give the buff to your strongest units. So my advice: remember about dispel :)


I like Noxious Fumes ruleset, I heard from other players that it should be removed from the game, it's not funny, etc. From my perspective, it changes the dynamic of the battle so far, that it becomes more interesting. You cannot just apply normal strategy, and even when you have a lower mana match, where Forgotten One shines the most, usually you still try to use some tricks with cannon folder or any other smaller monster to give him as much advantage.
And what do you think about it? Hate or love it?

I hope you like this kind of battle and strategy presentation. More strategy analysis, discussion, and prediction games you can find on my Wednesday Splinterlands.tv stream. You can check the schedule here
If you have any comments, please do not hesitate. Do you think I could improve anything just tell me :)

If you wish to try out Splinterlands you can use my reference link.
Thumbnails and other pictures borrowed with permission from the Splinterlands team or made in Cooltext

We continue our game from the previous week, today new battle, new card to win :).
I come to some idea, I hope you will like them and participate. Every week I will publish one battle, and your goal is to point out the first victim of the battle and who will be the winner. This game is exactly the same as my prediction game which I run on my Wednesday Splinterlands.tv stream. I know that not everyone can attend the stream, so I hope you will still have fun in that way. More about the rules can be read here.
Among all participants who get the correct answer, I will randomly (probably on my Wednesday stream) choose one winner.
The prize of the blog prediction game for the lucky winner will be the epic card: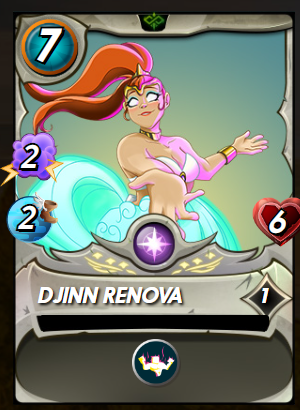 Here we got the quite old battle with Noxious Fumes ruleset: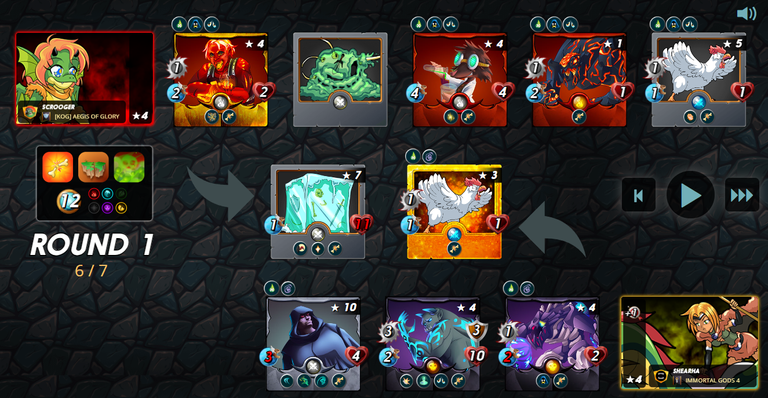 Game instruction:
Try to point out which monster will die first on the battlefield and who wins the battle
t - top player
b - bottom player
number - order counting from the first position
Examples:
t2b = monster on the second position of top player dies first, the bottom player wins
b6t = monster on the sixth position of bottom player dies first, the top player wins
t3t = monster on the third position of top player dies first, the top player wins


Previous articles:
---
---