The Big Boss Kulu Mastermind - Social Media Challenge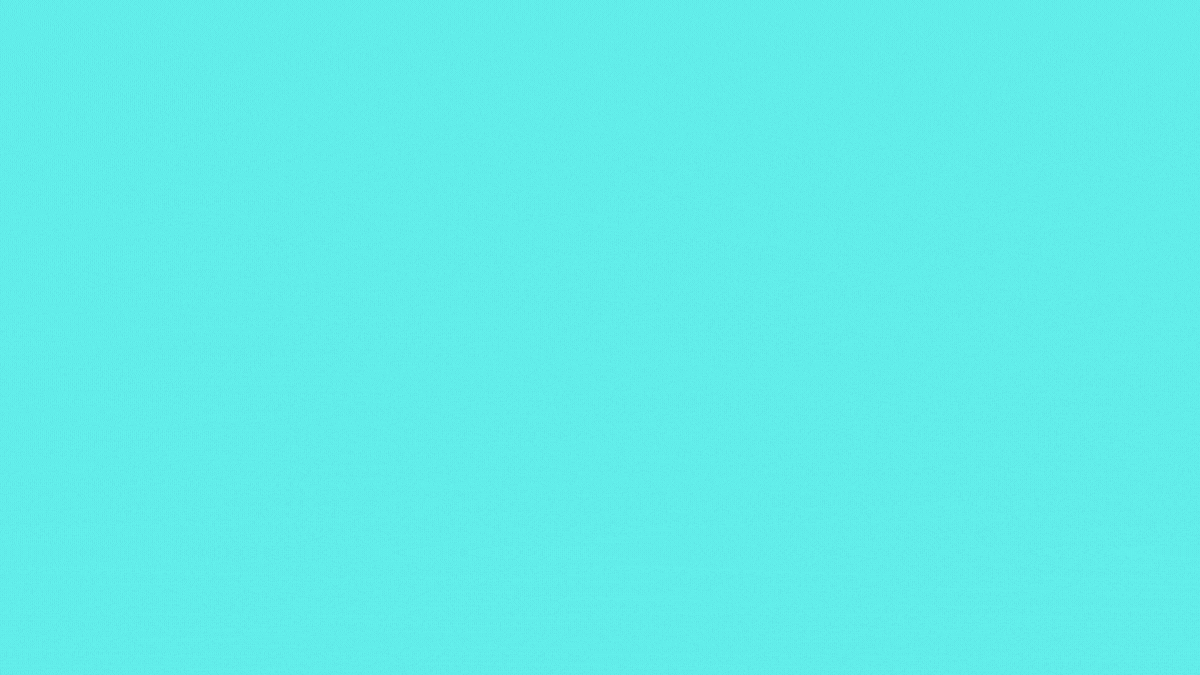 Hello everyone, back again in my post about Splinterlands. The splinterlands non-cards market began to fluctuate after land 1.0 was released. Several types of land plots experience price justification. I have one plot which after I claim is only of type common without special. I don't think so lucky this time. LOL
Splinterlands is one of the games that has survived in the midst of a long bear market. Even some games that were booming are now being abandoned by some players. Even though I was only a small player in Splinterlands, I really enjoyed it.
On this occasion I would like to share my battle experience with a legendary monster from a water unit named Kulu Mastermind. This post is my second post which discusses this monster. I like him and I can win the battle in turkey even though my enemy uses a higher level monster.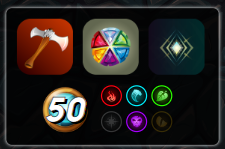 Based on battle preparation, we can used mana cost up to 50. At this point, i can use big monster as much as possible. There is 4 avaiable unit that is fire, water, earth and death unit. Based on the rules. First we have malee mayhem, this rule make all monster with malee available attack from every position. Second rule is no neutral unit its mean we just have 1 element that we choose. The last rule is amplify, all monster have amplify ability. So, here is my lineup.
My Lineup
| Possition | Card | Strategy |
| --- | --- | --- |
| Summoner | | First of all, i choose water unit to fight in battlefield. Kelya Frendul is my fav summoner in water element because he can give +1 speed and +1 armor to each freindly monsters. Kelya Frendul is also the most expensive rare summoner in the chaos legion edition, keeping this summoner is the best way to invest in cards. |
| 1st Possition | | In the first position, i put Diemonshark level 4 as a tanker and attacker because at this level he has trample and enrage ability. Diemonshark is a rare monster from chaos legion edition belongs to water unit. |
| 2nd Possition | | Djinn Oshannus is the first card that i bought when the price around $30 and up to now i do leveling up to level 3 and i have some bcx in my items. As a legendary monster, Djinn Oshannus have magic damage and void ability. This card so power full on magic rules. |
| 3rd Possition | | Moving on the next position, i put Coastal Sentry because she look powerfull with high malee damage and double strike ability make her stronger. I have this card at level 5 and i hope i can combine up to max level on gold foil edition. |
| 4th Possition | | Baakjira level 3 + trainee ability could be the deathest combination in the battlefield. Baakjira is a legendary monster from chaos legion edition belongs to water unit. As a legendary, he has so huge health point and so much ability to make him look awesome. Im pretty lucky i have this monster at level 3. |
| 5th Possition | | I choose Kulu Mastermind in this position because he can provide damage to monsters that have no damage around him. I have Kulu Swimhunter just 2 bcx so i just used this monster ar level 1. I so excited when i got this one. |
| 6th Possition | | Moving in the last position, i put Noa the Just as a soulbone rewards and i just have 1 bcx. At level 1, this monster have rust ability to remove armor each my enemy monster. He also have 6 speed can increase the miss on the opponent's attack. |
That is my lineup in the battle field, so lets we look how they perform. Please click this Link to see full battle or you can see the gift bellow.
Round 1
In this round each summoner and monsters give their buff and debuff to each monsters. My opponent using Possibilus the Wise and can give all their monsters give trample ability. This match malee vs malee so in this battle, can my strategy be victorious? In this round, i lose my Diemonshark after Coastal Sentry with huge malee damage plus trample ability. In the end of this round i have 5 more monsters in battlefield.
Round 2
In this round, i like to see Deeplurker get miss when he attack Noa the Just because Noa the Just have 7 speeds. my enemy took Baakjira, but he couldn't attack and only became a tanker. In this round, I defeated Baakjira, which belonged to my enemy. in this round Coastal Sentry is very dangerous and can uproot my monsters again. In the end of this round, each of us have 4 monsters in battlefield.
Round 3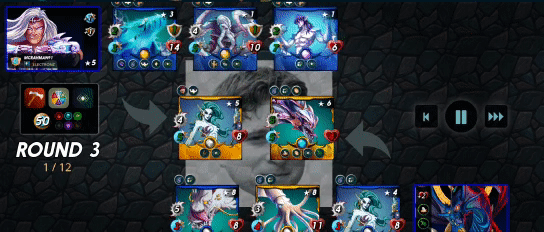 In this third round, once again Coastal was able to take down one of my monsters and destroy the armor of the monster in the next position. After my Coastal Sentry collapsed, when my three mainstay trio showed a very solid position. to see it, you can look at the next period. End of this round me and my opponent each have 3 more monsters left.
Round 4
My Baakjira is in a very difficult position to be defeated by my opponent's Coastal Sentry. Plus Deeplurker's attack gets a miss once again, and this is why this position is my mainstay in battle. In the end of this round, i still have 3 monsters and my opponent just have 2 more monsters.
Round 5-7
I combined all three rounds, namely rounds 5-7 in one gif, because each round's fight is very short. When getting attacked, Baakjira can heal himself because he has the ability to heal and he has a very large health point. This makes my opponent's attacks meaningless. Finally i got win in round 7 and i still have 3 more monster left in battlefield.
Conclution
in this battle, I can conclude that Kulu Mastermind will be very useful when in battle Malee can attack from all directions. In the Water unit there are monsters that don't have an attack but have lots of very useful abilities like Baakjira and Noa the Just.

Thank you for visiting my post, feel free to vote or comment on my post. If you want to play awesome game lets join by click this link.
---
---