A guild member wants to donate a lot to buildings... why there's a better way.. at least for our guild.
I have an awesome new recruit @Greeneyedwitch who is looking to donate half of his DEC to the guild and put it in a building.
Admittedly its not much and it would be a wonderful gesture but in the end not overly useful.

This is my recruit .. just recently Bronze 1 and willing to give the Guild his 5 hard earned DEC.
To you whales out there, don't scoff. It's hard to win DEC in Bronze 2. 5 DEC is like 50 battles won!
However, if he puts 5 DEC into any building it will be burnt and be useless to him and still take a long time to get that building built.
Second option: Use that DEC to purchase SPT! Stake it. Then Upvote other members posts!
1. Sell the DEC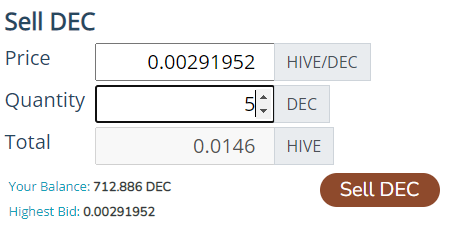 2. Buy the SPT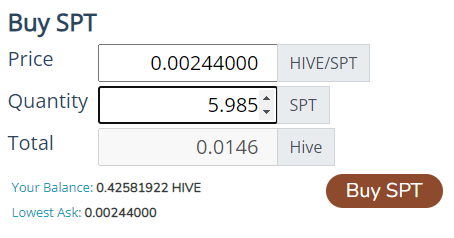 3. Stake that SPT

4. Upvote a guild members post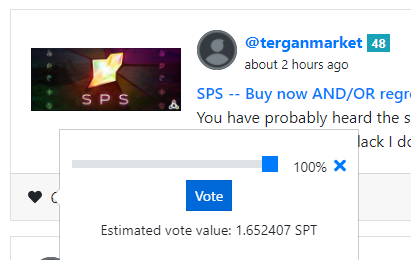 5. Both you and the poster share the reward
In this case I get 0.8 SPT for voting and my guild mate gets 0.8 SPT for posting.
Sure. 5 SPT barely even registers for now but if it becomes a habit of staking, posting, and curating then all posting guild members are going to be getting SPT which they can LATER donate to the guild.
I want my guild members to succeed and help each other way more than I want a donation to a building. In the end it helps everyone so much more.
Of course our guild Merchants Guild is a little different. We have our own GLD token where members (or anyone else) can purchase a token now which I invest into SPS, DEC or Card to hold onto now and grow it until I can purchase a building all at once.
Side note: Purchasing HIVE tokens and powering them up works just as well, but the percent reward is lower and its way more expensive. However, it does give more hive power for ability to post more :)
---
---