Resource Credits and Hive Power. A primer for a new guildmate and anyone else who's interested.
Okay there @Greeneyedwitch.
You asked "Why do my resource credits go down when I stake my HIVE."
Good question. Usually you would expect them to go up when you stake your HIVE to HIVE POWER!
Let's do a quick runthrough on my account and see what's happening along the way.
First where am I at right now: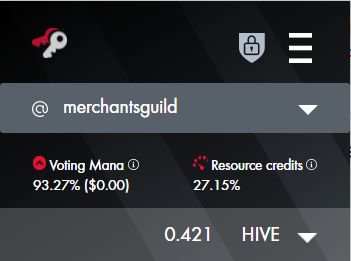 Or the same information from hiveblocks.com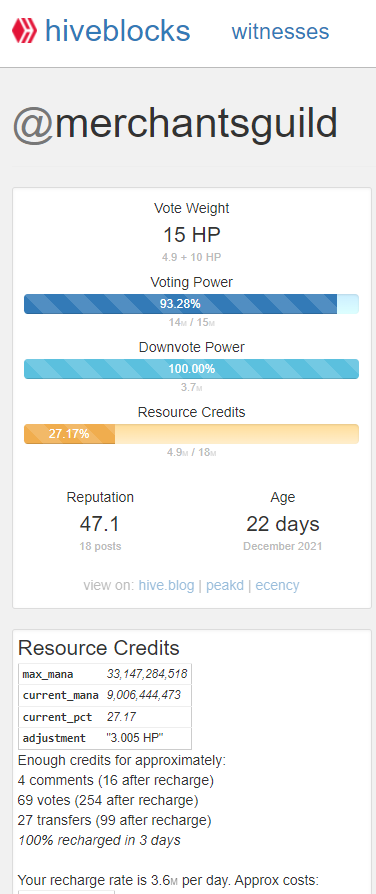 As you can see I have 27.15% resource credits and I have 0.421 HIVE. What happens if I stake just a tiny bit of hive. Lets say 0.05 HIVE.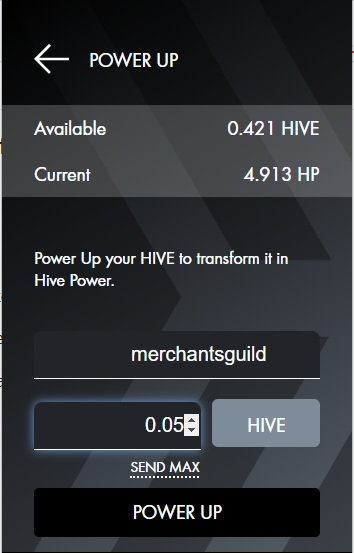 and my resource credit percentage goes down!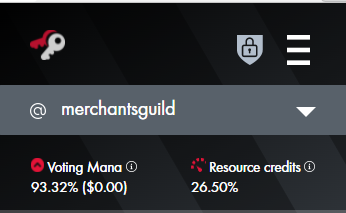 I'm only at 26.5% but what if I look closer :)

Yup. Down to 26.5%
BUT lets look at maximum mana and current mana
At first it was 33,147,284,518 with current mana at 9,006,444,473
in the second : 33,239,780,395 with current mana at 8,813,868,460
Notice that the MAXIMUM Mana has gone up but the CURRENT Mana went down
What happened? Well. I had to SPEND Mana in order to convert my regular Hive to Hive Power

So I lost some of my mana for now.
But I made my maximum mana pool bigger so my ability to hold mana went up, my recharge rate went up, and I'll be able to do more in the future.
Just remember that EVERY transaction you make on the Hive network costs Mana. Posting on Splintertalk, playing a battle in Splinterlands, Delegating a card, Upvoting a post, and even staking your HIVE. It ALL costs mana. In the end though a bigger MANA POOL means you can do more and your upvotes will be worth more.
Hope that's helpful
---
---