Splinterlands: The Merchants Guild and the Guild (GLD) coin
If you found this post I hope you either a member of the Merchant's Guild, a prospective member of the guild, or someone curious about the Guild (GLD) coin.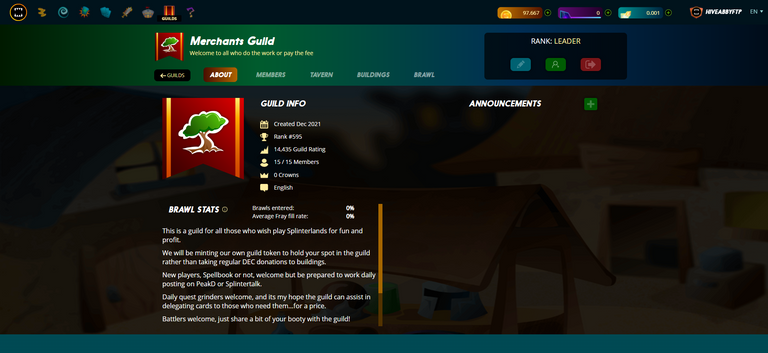 That's us. The Merchant's Guild.
Current Rank : 595

Those are all the people who have purchased Guild (GLD) coin. Special thanks to @pewsplosions and @carnificina who became our first contributing members.
I'm not really counting the other contributors because they are family accounts or alt accounts.
@tergan604 is my main battling account
@terganftp was my first attempt at a pay nothing account (except spellbook). Now its my oldest sons account.
@tergan is my youngest sons account. He didn't want to play just invest.
@terganmarket is the account I used as a primarily investment account.
@hiveabbyftp is my truly free to play account where I started with nothing and blogged my way to a spellbook, SPT and SPS. It will also be my voice and leader in The Merchants Guild.
@merchantsguild is an account which will post on behalf of the Guild. Be Guild trainer and I didn't want anyone else to take the name :)
What is the GUILD coin and why does it exist?
I created the guild coin because I hated the idea of members donating to the Guild and having their hard earned DEC being burnt to build guild buildings. It especially galled me having members burn their coins for the Guild because this is meant to be a starter guild where newcomers can learn the ropes before moving to a more robust guild. I didn't want anyone losing out by donating to the Guild but also knew donations were crucial to growing the guild.
My solution was the Guild coin. I am asking all members to purchase small amounts of GLD from the hive-engine and hold them while they are members of the guild. All proceeds from the sale of GLD will be invested in Splinterlands to produce an income. The income will be used to fund buildings with the intention that the principal invested will be returned when members leave the guild.
Currently all the HIVE that I received from GLD sales has been used to purchase and stake SPS. The vouchers that I receive will be used to purchase even more SPS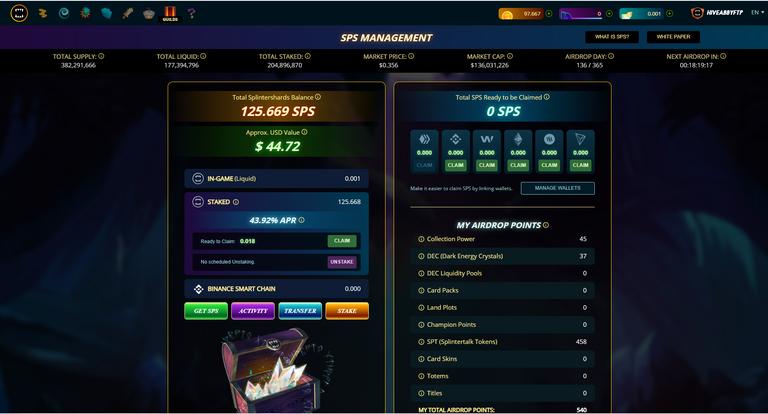 As you can see current contributions are worth $44.72 in SPS. If you have a keen eye you will also notice that I'm receiving SPS airdrop from the SPT I have earned. Those SPT will be staked so I can curate guild members posts to give them a little bit of value and grow those SPT for the Guild's value as well.
---
---