A perfect battle!! [EN/PT]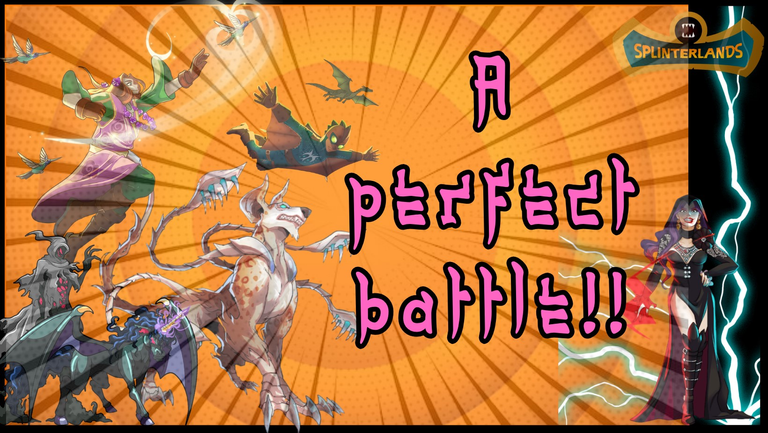 Ultimamente, eu tenho tentado encontrar uma estratégia focada em esquiva. Um dos monstros base para essa estratégia é o Coeurl Lurker, que direciona todos os ataques para si. Se todos os monstros atacam ele, eu posso adicionar outros monstros que trabalhem em função dele, e com mais suporte, consigo recuperar sua vida, escudo e etc., melhorando seu tempo em campo.
Porém, nem sempre isso vem dando certo. Para a estratégia funcionar, é preciso que muitos fatores estejam em sintonia, e é difícil encontrar uma composição perfeita. A quantidade de mana precisa ser boa, e algumas regras não podem estar presentes.
Eu venho fazendo alguns testes e observando algumas estratégias usadas por meus oponentes. Essas ações são importantes quando queremos reformular algum plano e encaixar alguma ideia. Recentemente, eu venho tentando combinar o monstro Coeurl Lurker com o summoner Brighton Bloom. Esse summoner pode adicionar ainda mais poder de esquiva a minha estratégia, então estou gostando dos resultados.
Além do summoner e dos monstros para darem suporte, é importante encontrar outros monstros para aumentar ou diminuir a velocidade em campo. Não dá para priorizar isso e deixar de lado monstros ofensivos. Já tentei e não funcionou tão bem. Mas se, em algum caso, existir essa possibilidade, é interessante usar.
Bem, há alguns minutos atrás, eu fiz uma batalha muito boa, e esse foi o motivo de eu estar aqui escrevendo este conteúdo. Nessa batalha, eu consegui equilibrar todas as necessidades dessa minha estratégia de uma forma que fui muito superior ao meu adversário. Observe que ele estava com um time muito forte! Essa batalha foi interessante, pois eu consegui utilizar as regras muito bem ao meu favor e fiz algumas escolhas que foram altamente eficazes. Eu gostei da forma como tudo aconteceu nessa batalha e vai ser um bom entretenimento para você, nessa manhã de domingo :)

Observe essa imagem e assista a batlha: Batalha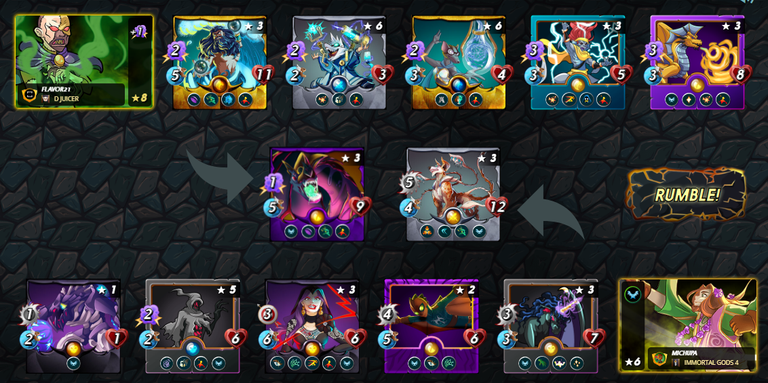 Agora alguns pontos:
A regra Earthquake estava em vigor nessa batalha e Brighton Bloom adiciona a habilidade Flying para todos os meus monstros. Ela foi eficaz para aumentar a esquiva de Coeurl Lurker e também para evitar que todos os meus monstros levassem dano ao final da batalha.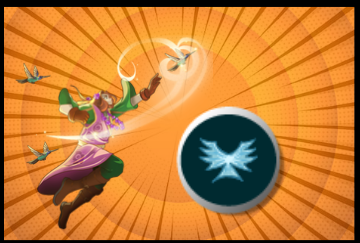 Observe que meu segundo monstro recupera a vida de Coeurl Lurker toda rodada, aumentando as chances dele ficar mais tempo em campo.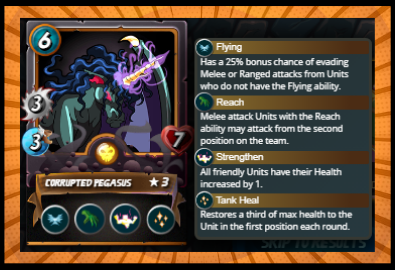 Boogeyman diminui a velocidade e escudos dos monstros inimigos.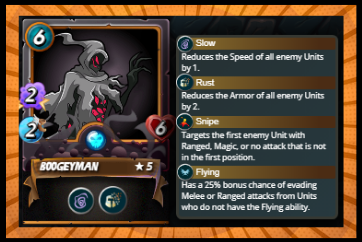 Lira the dark e Dragon Jumper retiram a habilidade Flying de monstros inimigos e fromam um combo muito intenso com a habilidade Opportunity.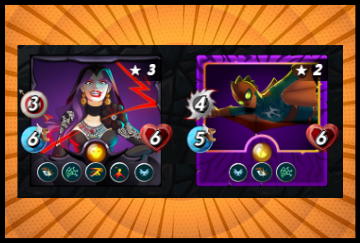 É interessante notar como tudo se encaixou perfeitamente nessa batalha. Essa é uma amostra grátis de estratégias que você pode usar, mas como disse antes, é preciso estar atento as condições da partida e encontrar formulas para que as estratégias possam ser eficazes.
Obrigado por ler até aqui e passar um pouco de seu tempo com minhas palavras. Até a próxima!

[EN]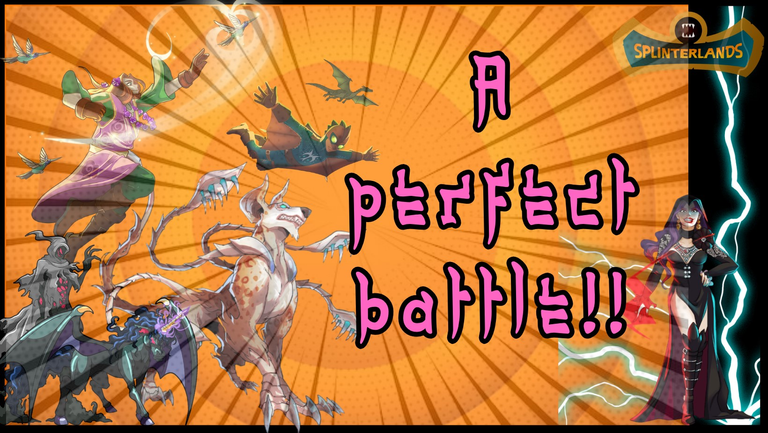 Lately, I've been trying to find an avoidance-focused strategy. One of the base monsters for this strategy is Coeurl Lurker, which directs all attacks towards itself. If all the monsters attack him, I can add other monsters that work for him, and with more support, I can recover his life, shield, etc., improving his time on the field.
However, this does not always work out. For the strategy to work, many factors need to be in sync, and it is difficult to find a perfect combination. The amount of mana needs to be good, and some rules cannot be present.
I've been doing some testing and looking at some strategies used by my opponents. These actions are important when we want to reformulate some plan and fit some idea. Recently, I've been trying to combine the Coeurl Lurker monster with the Brighton Bloom summoner. This summoner can add even more dodging power to my strategy, so I'm liking the results.
In addition to the summoner and monsters to support, it is important to find other monsters to increase or decrease speed on the field. You can't prioritize this and set aside offensive monsters. I've tried it and it didn't work so well. But if, in any case, this possibility exists, it is interesting to use.
Well, a few minutes ago, I had a really good battle, and that's why I'm here writing this content. In this battle, I managed to balance all the needs of my strategy in a way that I was far superior to my opponent. Note that he was with a very strong team! This battle was interesting, as I was able to use the rules very well to my advantage and made some choices that were highly effective. I liked the way everything went down in this battle and it will be good entertainment for you this Sunday morning :)

Watch this screenshot and watch the battle: Battle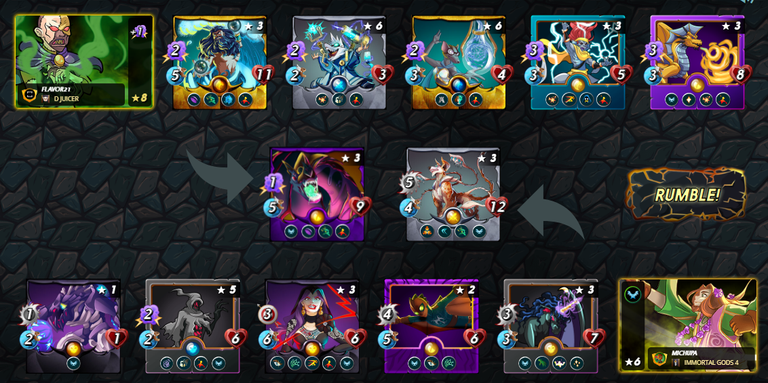 Now some points:
Earthquake rule was in effect in this battle and Brighton Bloom adds Flying skill to all my monsters. It was effective in increasing Coeurl Lurker's dodge and also preventing all my monsters from taking damage at the end of the battle.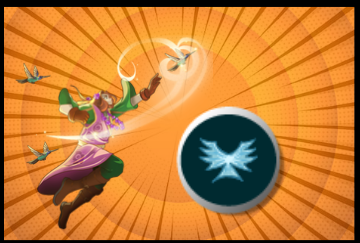 Note that my second monster heals Coeurl Lurker every round, increasing its chances of staying on the field longer.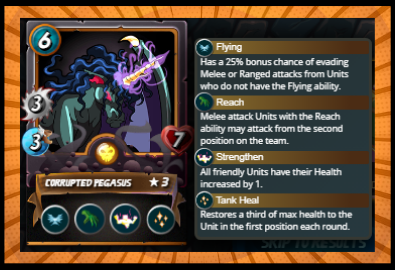 Boogeyman decreases the speed and shields of enemy monsters.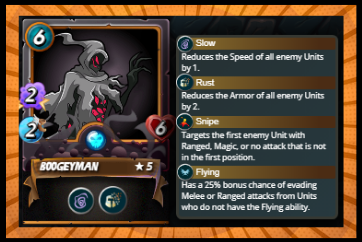 Lira the dark and Dragon Jumper remove the Flying skill from enemy monsters and form a very intense combo with the Opportunity. skill.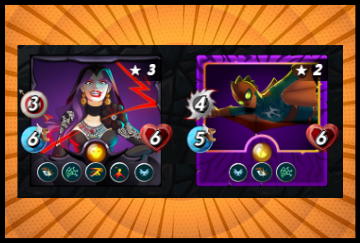 It's interesting to note how everything came together perfectly in this battle. This is a free sample of strategies you can use, but as I said before, you need to be aware of the conditions of the match and find formulas so that the strategies can be effective.
Thank you for reading this far and taking some time with my words. To the next!

---
---