Abilities to attack points of vulnerability! [PT/EN]
[PT]
Olá Splinters, bem vindos de volta!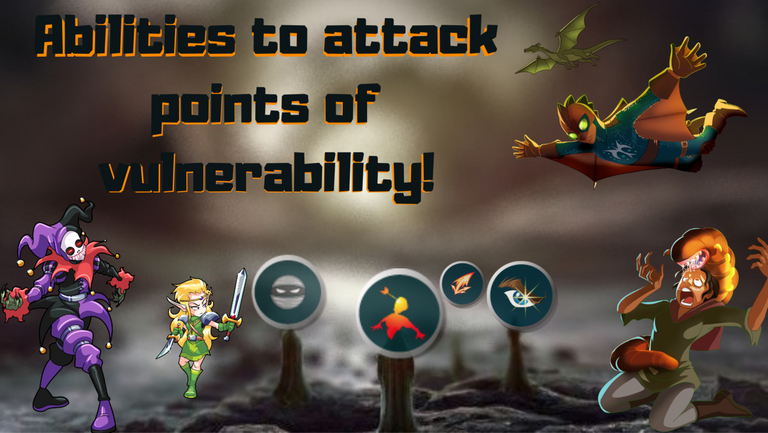 Splinterlands é um jogo de estratégia do qual os jogadores devem observar as melhores oportunidades pra tirar aproveito. Existem muitas habilidades em que um jogador iniciante deve compreender e qual função elas desempenham dentro de uma partida, no inicio tudo é um pouco confuso, tenha paciência e estude para se tornar um bom jogador!
Monstros que não possuem uma habilidade específica para atacar vão atacar o primeiro monstro do campo inimigo, geralmente bons tanks devem ser escolhidos para essa função justamente para aguentar a maioria dos ataques. Mas existem habilidades que dão a para alguns monstros a possibilidades de atacar outros pontos, outras posições do lado inimigo que não seja a primeira e é sobre isso que vamos falar hoje!
Introdução
Usar monstros com habilidades que permitem atacar outras posições no campo de batalha é elemento surpresa para as batalhas, se não existisse essa possibilidade seria muito previsível o que poderia acontecer e bastaria proteger nosso tank a todo custo para que uma batalha fosse mais, digamos tranquila.
Com monstros atacando outras posições devemos nos preparar e posicionar muito bem cada monstro para nos precaver de possíveis ataques. Claro, algumas posições da linha de trás são mais fáceis de prever ou de saber que vão ser atacadas, um belo exemplo é a habilidade Sneak

que atacará o último monstro e defender essa posição ou deixar um monstro mais resistente é o que normalmente vamos fazer. Porém, temos a habilidade SCATTERSHOT

que atacará um monstro aleatório em campo, quanto a isso pouco podemos fazer para nos defender.
Hoje vou dizer sobre 4 tipos de habilidades que podem atacar posições alternadas ao tank, vamos conferir:

SNEAK
Alveja o último monstro da linha de trás inimigo.
Essa é uma habilidade comumente encontrada em batalhas, monstros com habilidade Sneak vão atacar o último monstro da linha de trás e para se proteger desses ataques é bom ter algum monstro com boa velocidade (aumenta a possibilidade de esquiva) e/ou com a habilidade Dodge e Flying. Monstros que tenham escudos ou uma quantidade de vida relevante também são boas opções.
Abaixo vamos encontrar todos os 28 monstros que possuem a habilidade Sneak em seus respectivos leveis e edições: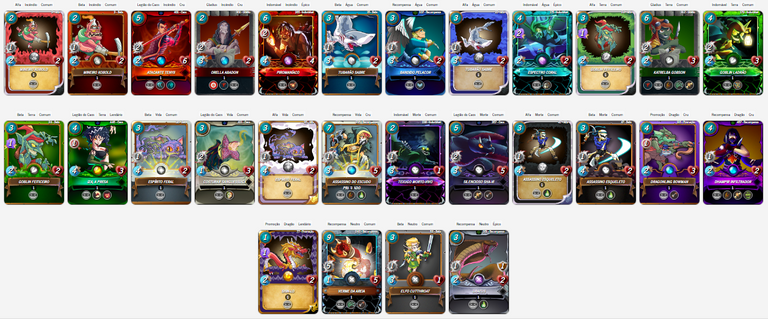 SCATTERSHOT
Os ataques deste monstro atingem um alvo inimigo aleatório.
Um monstro com essa habilidade vai atacar um monstro aleatório em campo e dificilmente conseguimos traçar alguma estratégia com base nisso. Porém se de alguma forma a habilidade Blast * estiver presente com esse ataque é uma boa forma de causar dano a monstros desavisados, pouco podemos fazer para nos proteger de tal ataque e para quem ataca nem sempre pode ser uma muito eficiente e dispersar ataques ao invés de concentra-los pode não ser muito eficiente.
* Blast : Causa dano adicional a monstros adjacentes ao monstro alvo.
SCATTERSHOT é uma habilidade recentemente lançada em Splinterlands e apenas 5 monstros possuem essa habilidade:

Source


OPPORTUNITY
Monstros com a habilidade Opportunity podem atacar de qualquer posição e terão como alvo o monstro inimigo com a saúde mais baixa.
Monstros com essa habilidade vão mirar os monstros mais fracos em campo e essa é uma ótima "oportunidade" para eliminar monstros em campo. Se monstros fracos são eliminados é passo um passo mais perto da vitória e menos uma preocupação para nos atormentar.
O ponto negativo é que monstros que são usado apenas para "tampar buraco" vão atrair esse tipo de ataque e fará desperdiçar ataques, por outro lado essa também é uma boa forma de se defender caso seu inimigo use essa habilidade em algum de seus monstros. Fica ai a dica para você!
Abaixo vamos encontrar todos s monstros que possuem essa habilidade:


Source


SNIPE
Tem como alvo monstros inimigos com ataque à distância, magia ou nenhum ataque que não estejam na primeira posição.
Essa habilidade é uma boa oportunidade para mirar em monstros específico da linha de trás, combos de monstros com habilidades iguais é muito eficiente em derrubar monstros de uma posição específica e essa é uma boa escolha quando usamos mais monstros com a habilidade Snipe, derrotar um monstro que não seja do ataque melee na linha de trás mais rápido pode ajudar muito seu time, principalmente se esse monstro der algum suporte ao time adversário.
Abaixo todos os monstros que possuem essa habilidade em seus respectivos leveis:


Source
Claro que depois de falar bem detalhadamente sobre cada uma dessas habilidades eu vou escolher uma batalha do qual explorei especificamente uma delas, vamos conferir?


Para essa batalha, temos duas regras e algumas limitações de elementos, apenas o elemento dragão e terra podem ser usados. 60 de mana a disposição e uma boa liberdade para escolher monstros para a partida que tivessem um teto de custo até 4.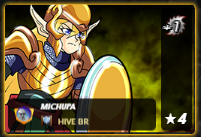 Summoner
Como apenas dois elementos foram disponibilizados eu escolhi um que faz parte dos dragões e que potencializam ataque melee. Assim meus monstros com esse tipo de ataque entrará em campo potencializados em pode de fogo, uma escolha ofensiva eu optei.
Estratégia, Chuva de ataque Sneak!

Uma estratégia que eu sempre dou prioridade em minhas batalhas é sempre canalizar a maioria dos ataques em um ponto do campo inimigo. Nessa partida, como eu tinha uma boa quantidade de monstros disponíveis para isso, essa foi a minha escolha: concentrar meus ataques no último monstro inimigo!
Dessa forma eu poderia abrir caminho e se meu oponente não estiver muito preparado para essa chuva de ataques em um lugar não muito convencional, essa seria uma vitória fácil!
Claro, assista essa partida para saber o que aconteceu, clicando aqui.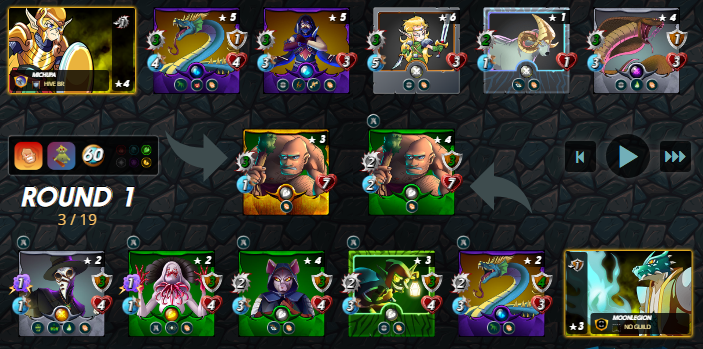 Um bom jogador deve se preparar para as batalhas, estudar as possibilidade e encontrar os melhores caminhos para a vitória é pensar como seu oponente, ser agressivo em pontos vulneráveis e nunca ser previsível. Hoje essa foi a minha contribuição para que você entenda um pouco mais sobre Splinterlands e aprender sobre algumas habilidades nunca será em vão, pode acreditar no que estou falando!
Por aqui eu encerro este post, obrigado por ler até aqui e passar um pouco do seu tempo com minhas palavras e pensamentos. Até a próxima!

[EN]
Hello Splinters, welcome back!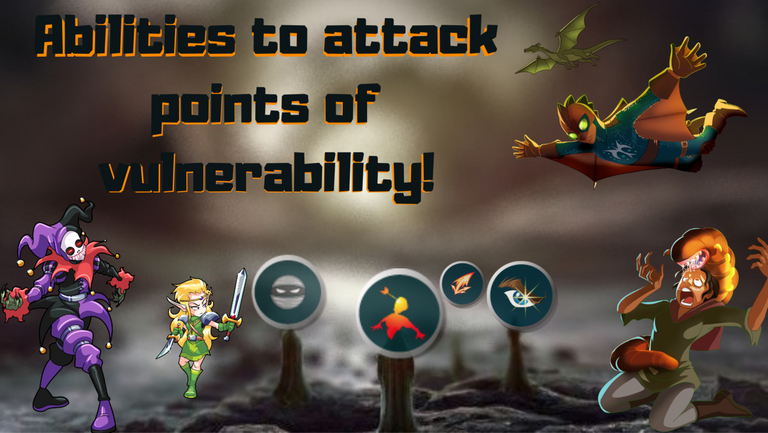 Splinterlands is a strategy game that players should watch for the best opportunities to take advantage of. There are many skills that a beginner player must understand and what role they play within a match, at first everything is a little confusing, be patient and study to become a good player!
Monsters that don't have a specific ability to attack will attack the first monster on the enemy field, generally good tanks should be chosen for this role precisely to withstand most attacks. But there are abilities that give some monsters the possibility to attack other points, other positions on the enemy side than the first one and that's what we're going to talk about today!
Introduction
Using monsters with abilities that allow you to attack other positions on the battlefield is an element of surprise for battles, if this possibility did not exist, what could happen would be very predictable and it would be enough to protect our tank at all costs for a battle to be more, let's say, peaceful.
With monsters attacking other positions, we must prepare and position each monster very well to guard against possible attacks. Of course, some backline positions are easier to predict or know that they will be attacked, a nice example is the skill Sneak

which will attack the last monster and defending that position or making a monster more resistant is what we usually do. However, we have the ability SCATTERSHOT

that will attack a random monster on the field, there is little we can do to defend ourselves.
Today I'm going to tell you about 4 types of skills that can attack alternate positions to the tank, let's check it out:

SNEAK
Targets the last monster in the enemy's back row.
This is a skill commonly found in battles, monsters with Sneak skill will attack the last monster in the back row and to protect yourself from these attacks it is good to have some monster with good speed (increases the possibility of dodging) and /or with the Dodge and Flying skills. Monsters that have shields or a relevant amount of health are also good options.
Below we will find all 28 monsters that have the Sneak ability in their respective levels and editions: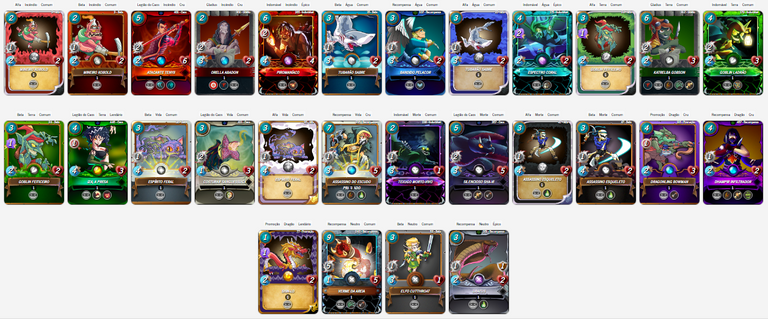 SCATTERSHOT
This monster's attacks hit a random enemy target.
A monster with this ability will attack a random monster on the field and we can hardly draw any strategy based on that. But if somehow the Blast * ability is present with this attack is a good way to damage unsuspecting monsters, there is little we can do to protect ourselves from such an attack and for those who attack it may not always be a very efficient and dispersing attacks rather than concentrating them may not be very efficient.
* Blast : Deals additional damage to monsters adjacent to the target monster.
SCATTERSHOT is a newly released skill in Splinterlands and only 5 monsters have this skill:

Source


OPPORTUNITY
Monsters with the skill Opportunity can attack from any position and will target the enemy monster with the lowest health.
Monsters with this ability will target the weakest monsters on the field and this is a great "opportunity" to eliminate monsters on the field. If weak monsters are eliminated it's a step closer to victory and less of a worry for us to act.ment.
The negative point is that monsters that are only used to "plug hole" will attract this type of attack and will waste attacks, on the other hand this is also a good way to defend yourself if your enemy uses this ability on any of your enemies. monsters. Here's the tip for you!
Below we will find all the monsters that have this ability:


Source


SNIPE
Targets enemy monsters with ranged attack, magic, or no attacks that are not in first position.
This skill is a good opportunity to target specific monsters from the back row, combos of monsters with equal skills is very efficient in taking down monsters from a specific position and this is a good choice when using more monsters with the **Snipe skill **, defeating a non-melee monster in the back row faster can help your team a lot, especially if that monster supports the opposing team.
Below all monsters that have this ability in their respective levels:


Source
Of course, after talking in detail about each of these skills I'll choose a battle from which I specifically explored one of them, let's check it out?


For this battle, we have two rules and some element limitations, only dragon and earth element can be used. 60 mana available and a good freedom to choose monsters for the game that had a cost cap of up to 4.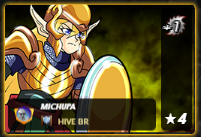 Summoner
As only two elements were available I chose one that is part of the dragons and that enhance melee attack. So my monsters with this type of attack will enter the field empowered in fire power, an offensive choice I chose.
Strategy, Sneak Attack Rain!

One strategy I always prioritize in my battles is to always channel most attacks into one point on the enemy's field. In this match, as I had a good amount of monsters available for this, this was my choice: focus my attacks on the last enemy monster!
That way I could open the way and if my opponent isn't very prepared for this shower of attacks in an unconventional place, this would be an easy victory!
Sure, watch this match to find out what happened, clicking here.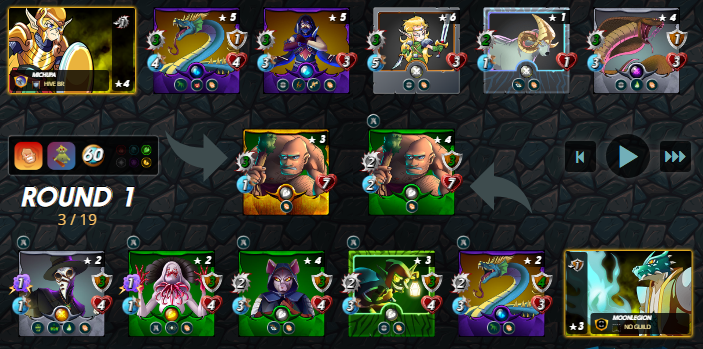 A good player must prepare for battles, study the possibilities and find the best paths to victory is to think like his opponent, be aggressive in vulnerable points and never be predictable. Today this was my contribution for you to understand a little more about Splinterlands and learning about some skills will never be in vain, believe me!
This is the end of this post, thanks for reading this far and spending some of your time with my words and thoughts. To the next!



---
---