BATTLE MAGE SECRETS - Earthquake! [PT/EN]
[PT]
Olá Splinters, bem vindos de volta!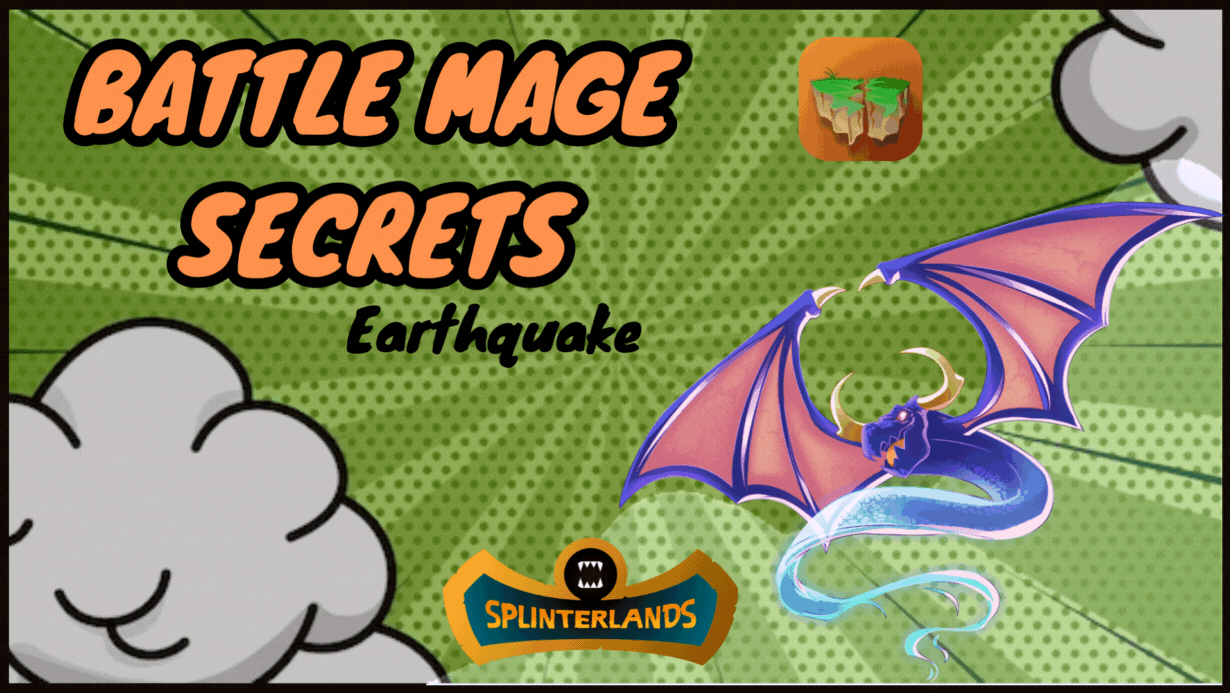 Em nossas batalhas vamos nos deparar com as mais diversas variáveis e as regras de batalha é a que mais interfere diretamente coma dinâmica e também com a característica de cada monstro. Devemos escolher os melhores monstros para cada situação e algumas dessas situações são tão determinantes que influência diretamente em nossas escolhas.
Sabemos que devemos nos adaptar para as regras de batalha, pois cada uma delas tem suas particularidades. Estar preparado e ter opções é uma boa forma de conseguir um bom desempenho.
Em algumas ocasiões, as regras de batalha vão ser uma dificuldade a mais em nossos combates. Mas o que podemos fazer quanto a isso? A melhor resposta seria usar isso de uma forma que conseguimos tirar alguma vantagem. As dificuldades vão ser enfrentadas igualmente por você e seu oponente, seu objetivo, é fazer que a dificuldade seja o seu aliado. Claro que apenas falar é fácil, mas quando estamos diante do obstáculo é que as coisas ficam difíceis. A melhor forma melhorar nossos embates é batalhas muito e adquirir experiência próprias sobre cada situação.
Hoje vamos falar sobre a regra Earthquake!

Antes de mais nada, precisamos saber o que essa habilidade afeta em nossas batalhas certo?
Simples: Monstros que não possuem a habilidade Flying recebem 2 de dano no final de cada rodada.
Então, sabemos que monstros não detentores dessa habilidade vão sofrer danos extras cada rodada que se passar. Isso significa que você não deve usar monstros com essa habilidade? Isso é você que decide, mas se caso decidir usar monstros que não sejam Flying, você precisa saber que algumas habilidadess serão úteis para de proteger ou minimizar contra esse dano extra.
Monstros com a habilidade Protect, Heal, Scavenger e Shield, serão bons para ter em campo caso você não possua muitos monstros Flying, não é o ideal, mas serão bem úteis em te ajudar a lidar com essa regra.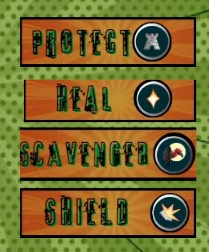 Uma de suas melhores escolhas caso não possua monstros Flying para lidar com essa é regra é transformar todos os seus monstros em Flying, a Summoner Brighton Bloom dará essa pequena ajuda! Ela dará a habilidade Flying para todos os seus monstros e é uma ótima escolha para as batalhas que tem como regra Earthquake!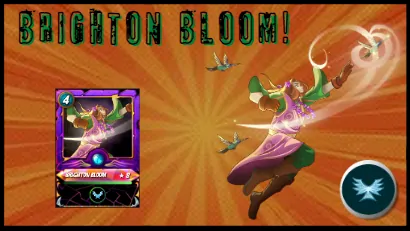 As vantagens de usar essa summoner em suas batalhas é que você terá a liberdade de escalar qualquer monstro para seu duelo e ele não tomará dano, ele terá a habilidade Flying. Além disso. seus monstros terão maiores possibilidades de esquivar quando o monstro atacante não tiver essa habilidade. Por ser um summoner do elemento dragão, você poderá contar com monstros de outros elementos. Uma boa escolha!
Summoner que adiciona escudos também é uma boa alternativa, já que os danos causados por Earthquake são do tipo melee e vão para nos escudos.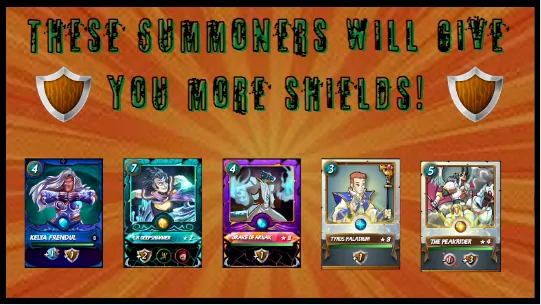 Ter escudos será uma boa escolha na maioria de nossas batalhas e usa-los em batalhas com a regra Earthquake também será de muita utilidade.
Até aqui você se informou em como se proteger com a regra Earthquake mas e se você quiser surpreender seu oponente?
Se Earthquake é uma regra que ambos os jogadores terão que enfrentar, é provável que seu oponente pense em se defender disso assim como você. Boas habilidades que serão úteis para sabotar o inimigo é Rust e Snare.
A summoner VERA SALACIA é uma alternativa interessante que poderá tirar a habilidade Flying de qualquer monstro inimigo.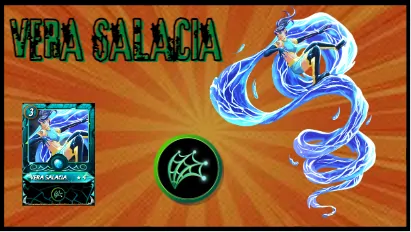 Agora que você já sabe um pouco mais sobre como lidar com essa regra de batalha, que tal uma batalha na íntegra?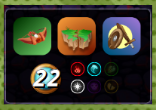 Essa foi uma batalha realizada no último brawl e as regras além de Earthquake são que monstros ranged podem efetuar seus ataques mesmo estando na primeira posição e monstros épico e lendários não podem ser usados. A quantidade de mana é 22, uma quantidade baixa que me obriga a escolher monstros de baixo custo.
Summoners:
Eu e meu adversário escolhemos summoner que adicione escudos e isso será de boa utilidade contra a regra em vigor por pelo menos alguns rounds.

Minha escalação:
| Monstros | Objetivo: |
| --- | --- |
| | Meu tank inicial é de baixo custo mas que poderia lidar facilmente com qualquer tipo de ataque. É um monstro sólido que aguenta bastante dano. |
| | Meu segundo monstro é uma espécie de tank secundário que poderia aguentar alguns danos e por um custo muito baixo. Ele é flyng e poderia ficar vivo por boa parte da batalha enquanto seu objetivo não chegar. |
| | Um monstro de baixo custo e com bom ataque que será eficaz ofensivamente. Possui habilidade Flying e será útil por isso também. |
| | Como essa é uma batalha de Brawl, eu posso escolher um monstro da edição Gladius e vocês sabem as qualidades que um monstros dessa edição possui. |
| | Esse é o monstro de principal força ofensiva de meu time, ele será responsável por matar monstros inimigos! |
Round por round!
Nesse primeiro round, apenas algumas ações não muito emocionantes aconteceram e monstros inúteis acabaram caindo primeiro. A boa noticia é que dei os primeiros passos para matar o tank inimigo.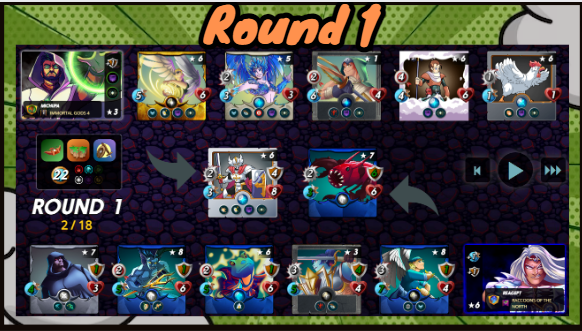 Já no segundo round eu consigo eliminar o tank adversário e seu monstro Sneak que estava me causando problemas vai para a primeira posição. Dessa forma eu consigo lidar com ele mais facilmente.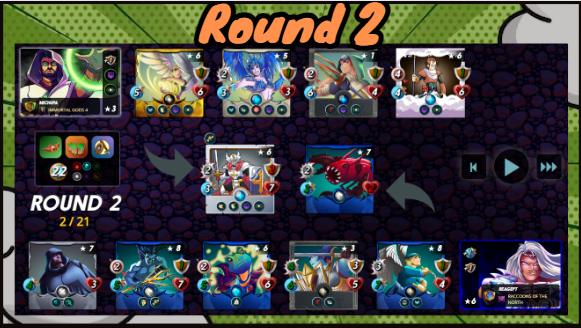 O meu adversário está em certa desvantagem por possuir apenas um monstro com a habilidade Flyng e agora que estamos chegando na reta final da batalha, esse erro está saindo caro pra ele. Seus monstros estão a cada rodada mais fracos, porém eu ainda preciso lidar com seu monstro Gladius que conseguiu acumular uma grande quantidade de poder durante a partida.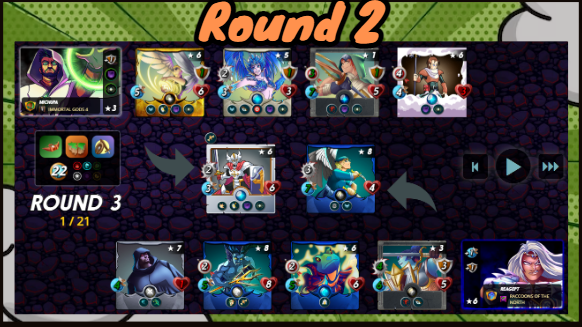 Por fim, depois de alguns rounds meu time consegue derrubar todos os monstros inimigos. Meu tank secundário se mostrou eficiente e me provou que fiz uma escolha inteligente ao escala-lo.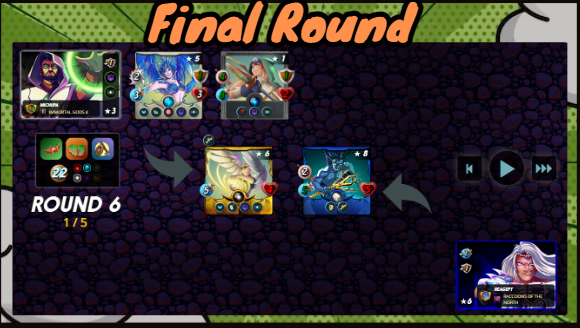 E por é isso! Obrigado por passar um pouco do seu tempo com minhas palavras e até a próxima!

[EN]
(Google Translator)
Hello Splinters, welcome back!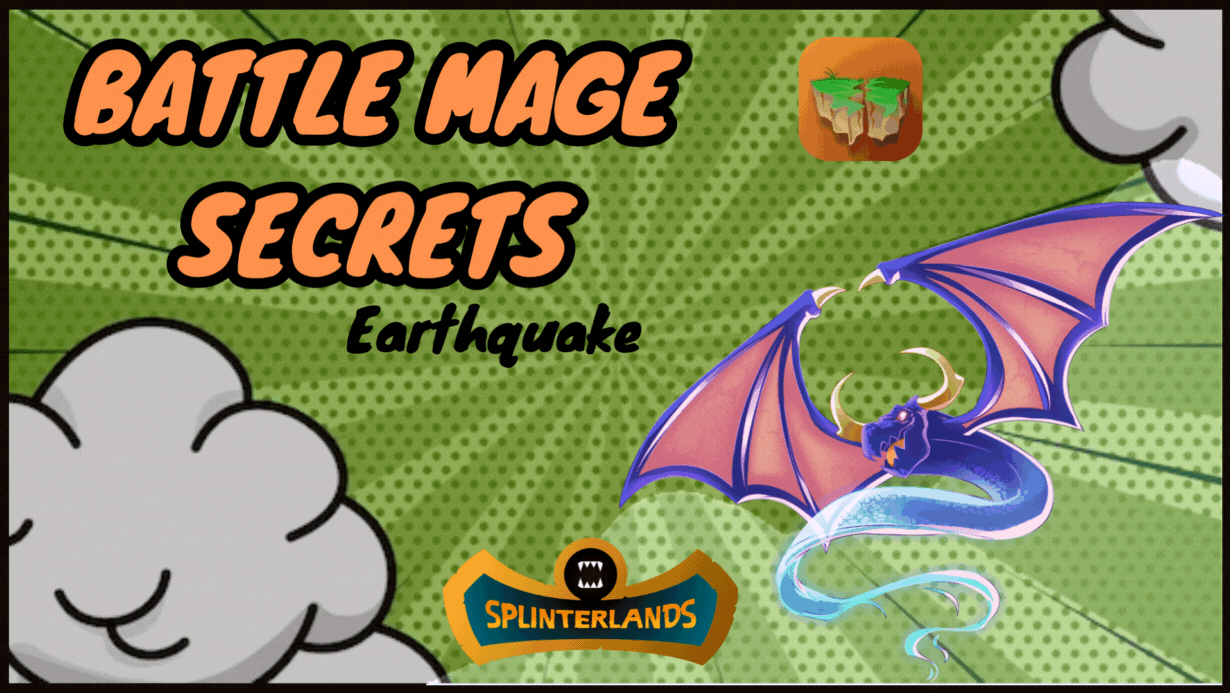 In our battles we will come across the most diverse variables and the battle rules are the one that most directly interfere with the dynamics and also with the characteristics of each monster. We must choose the best monsters for each situation and some of these situations are so decisive that they directly influence our choices.
We know that we must adapt to the rules of battle, as each one of them has its particularities. Being prepared and having options is a good way to perform well.
On some occasions, the battle rules will be an extra difficulty in our combats. But what can we do about it? The best answer would be to use it in a way that we can take advantage of. Difficulties will be faced equally by you and your opponent, your goal is to make difficulty your ally. Of course, just talking is easy, but when we are faced with an obstacle, things get difficult. The best way to improve our clashes is to fight a lot and acquire our own experience about each situation.
Today we're going to talk about the Earthquake rule!

First of all, we need to know what this skill affects in our battles, right?
Simple: Monsters that don't have the Flying ability take 2 damage at the end of each turn.
So, we know that monsters that don't have this ability will take extra damage every round that passes. Does that mean you shouldn't use monsters with this skill? That's up to you, but if you decide to use monsters other than Flying, you need to know that some skills will be useful to protect or minimize against that extra damage.
Monsters with the ability Protect, Heal, Scavenger and Shield, will be good to have on the field if you don't have many Flying monsters, it's not ideal, but they will be very useful in helping you dealing with this rule.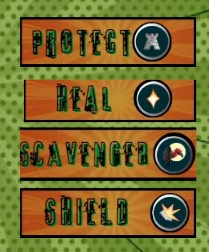 One of your best choices if you don't have Flying monsters to deal with this rule is to turn all your monsters into Flying, the Summoner Brighton Bloom will give this little help! It will give the Flying ability to all your monsters and is a great choice for battles that have Earthquake as a rule!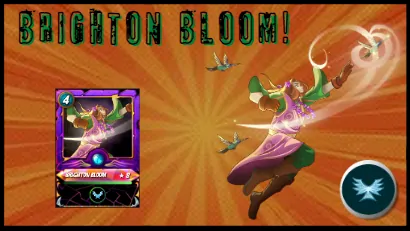 The advantages of using this summoner in your battles is that you will have the freedom to use any monster for your duel and it will not take damage, it will have the Flying skill. Furthermore. your monsters will have more chances to dodge when the attacking monster doesn't have that ability. As a summoner of the dragon element, you will be able to count on monsters of other elements. A good choice!
Summoner that adds shields is also a good alternative, since the damage caused by Earthquake is melee type and goes to shields.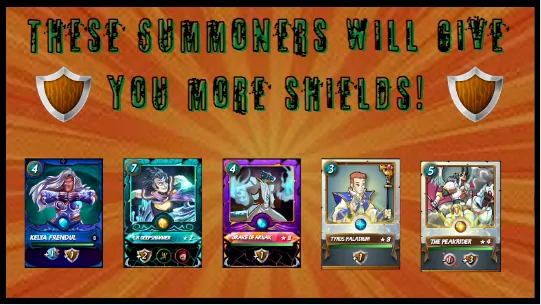 Having shields will be a good choice in most of our battles and using them in battles with the Earthquake rule will also be very useful.
So far you've learned how to protect yourself with the Earthquake rule, but what if you want to surprise your opponent?
If Earthquake is a rule that both players will have to contend with, chances are your opponent will think about defending against it just as you will. Good skills that will be useful to sabotage the enemy are Rust and Snare.
The summoner VERA SALACIA is an interesting alternative that can remove the Flying ability from any enemy monster.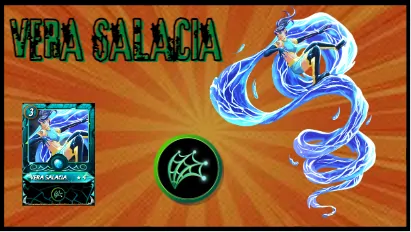 Now that you know a little more about how to handle this battle rule, how about a full battle?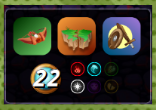 This was a battle held in the last brawl and the rules other than Earthquake are that ranged monsters can perform their attacks even in first position and epic and legendary monsters cannot be used. The amount of mana is 22, a low amount that forces me to choose low-cost monsters.
Summoners:
Me and my opponent chose summoner that adds shields and this will be of good use against the current rule for at least a few rounds.

My lineup:
| Monsters | Purpose: |
| --- | --- |
| | My starting tank is low cost but could easily deal with any type of attack. It's a solid monster that takes a lot of damage. |
| | My second monster is a kind of secondary tank that could take some damage and for a very low cost. He is flyng and could stay alive for a good part of the battle until his objective arrives. |
| | A low-cost monster with good attack that will be effective offensively. It has Flying ability and will be useful for that too. |
| | As this is a Brawl battle, I can choose a Gladius edition monster and you know the qualities that a Gladius edition monster has. |
| | This is my team's main offensive force monster, it will be responsible for killing enemy monsters! |
Round by round!
In that first round, only some not very exciting actions happened and useless monsters ended up falling first. The good news is that I took the first steps towards killing the enemy tank.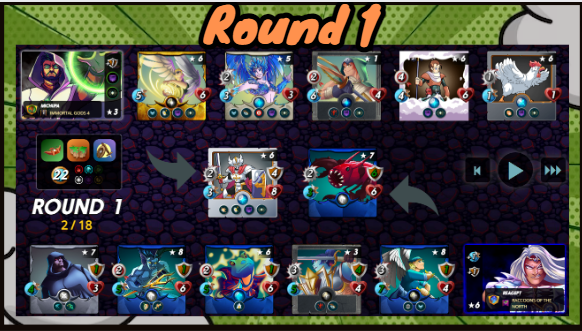 Already in the second round I manage to eliminate the opposing tank and his Sneak monster that was causing me problems goes to the first position. That way I can deal with him more easily.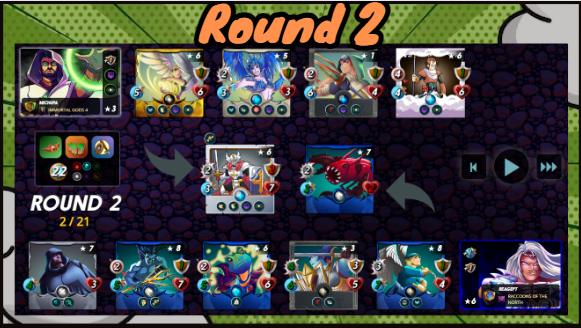 My opponent is at a certain disadvantage because he only has a monster with the Flyng ability and now that we are reaching the final stretch of the battle, this mistake is costing him. His monsters are getting weaker every round, but I still need to deal with his Gladius monster that managed to accumulate a large amount of power during the match.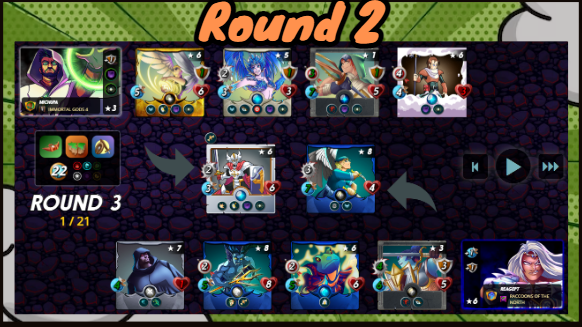 Finally, after a few rounds my team manages to take down all the enemy monsters. My secondary tank proved to be efficient and proved to me that I made a smart choice in scaling it.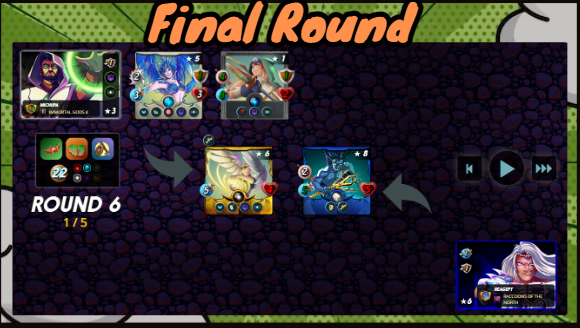 And that's why! Thank you for spending some of your time with my words and until next time!*
---
Credits:
Thumbnail background image: Source
Image editor: Canva
Screenshots taken from the game Splinterlands
---
Click on the image and use my referral link!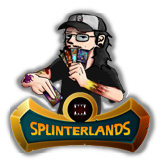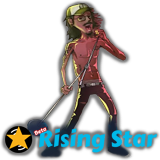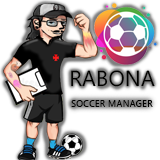 ---
---
---
---

---
---
---

---
---