Cool Battle - Speed Vs Melee attack! [PT/EN]
[PT -BR]
Olá Splintermaniácos, bem vindos de volta!!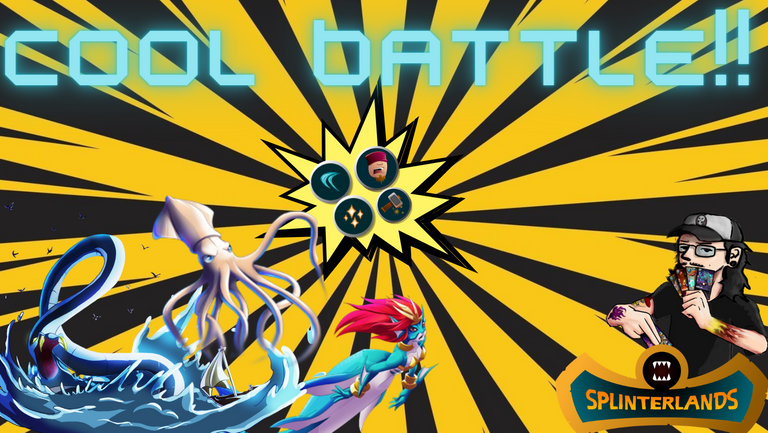 Em cada batalha precisamos decidir qual tipo de estratégia vamos usar, o que vai definir quais serão as melhores é exatamente as adversidades que vamos encontrar em cada uma delas. Essas adversidades, que trazem mais dinâmica para as partidas, são as regras de batalhas, quantidade de mana disponível e até mesmo quais elementos estarão disponíveis.
Usar a criatividade e se colocar no lugar do inimigo para imaginar o que ele faria, são bons caminhos a serem usados. Ser ousado e tentar algo novo? Jogar na retranca com medo do que pode acontecer ou simplesmente escolher as melhores cartas e ir com tudo!?
Bom, cada jogador tem sua própria maneira de lidar com o que encontra pela frente e hoje eu gostaria de fazer um conteúdo rápido sobre uma batalha que achei legal :)
Vem comigo!

Essa é uma batalha em que basicamente é velocidade vezes força. Meu oponente optou por um summoner que adicionasse +1 de ataque melee aos seus monstros e dessa forma ele entraria em campo com uma força ofensiva potencializada. Pelo outro lado eu escolhi ir com velocidade e escudo cedidos pelo summoner Kelya Frendul. Minha principal estratégia usando esses adicionais é aumentar minha capacidade defensiva.

Pensando nas boas possibilidades de esquivar de ataques, escolhi 2 monstros que tivessem habilidades propícias para essa essa intenção e um terceiro que daria um pouco mais de proteção aos aliados: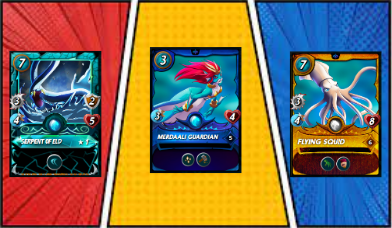 SERPENT OF ELD: Foi o tank que eu escolhi para essa batalha. Poderia usar sua habilidade Dodge juntamente com sua boa quantidade de velocidade para desviar de ataques.

MERDAALI GUARDIAN: Esse seria o principal suporte para o time curando o tank e reparando escudos que fossem destruídos.

FLYING SQUID: Seria meu tank substituto, porém, sua habilidade Blind foi o que me motivou escala-lo para essa partida. Assim os monstros do outro lado teriam ainda mais dificuldade em acertar meus monstros.

Uma das regras dessa partida é que monstros perderiam as habilidades Sneak e Snipe e a outra regra é que apenas monstros de custo ímpar poderiam ser usados. 21 de mana é o teto limite para essa partida.
Com recursos limitados é hora de você conferir a batalha:
Alguns pontos devem ser mencionados:
Observe que meu time obteve uma sinergia muito boa e que cada habilidade foi importante para que as coisas dessem certo.

Meu oponente, mesmo com uma força ofensiva devastadora, quando conseguia acertas seus ataques, rapidamente escudos e vida eram restaurados do meu monstro atacado.

A velocidade me deu mais chances de esquivas e esse foi um fator fundamental.

Concentrei meus ataques nos mesmo lugar, visto que minha capacidade ofensiva era limitada.
O que poderia dar errado?
Se meu adversário usasse monstros com ataque mágico, com certeza essa minha estratégia não seria muito útil. Os escudos foram importante para preservar a vida de meu monstro de alguns ataques.
E essa foi a batalha de hoje! Espero que tenham gostado. Obrigado por passar um pouco do seu tempo com minhas palavras e até a próxima!!

[EN]
Hello Splintermaniacs, welcome back!!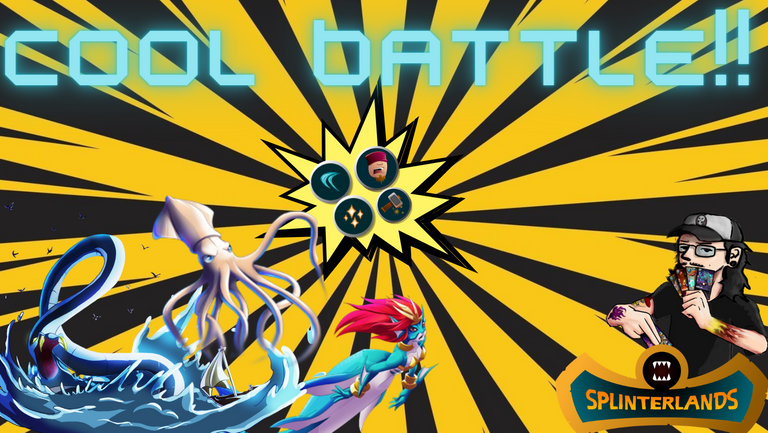 In each battle we need to decide which type of strategy we are going to use, what will define which will be the best is exactly the adversities that we will find in each one of them. These adversities, which bring more dynamics to the matches, are the rules of battles, the amount of mana available and even which elements will be available.
Using creativity and putting yourself in the enemy's shoes to imagine what he would do are good paths to use. Be bold and try something new? Playing in the boom afraid of what might happen or just pick the best cards and go all out!?
Well, each player has their own way of dealing with what's ahead and today I'd like to make a quick content about a battle that I thought was cool :)
Come with me!

This is a battle where it's basically speed times strength. My opponent opted for a summoner that would add +1 melee attack to his monsters and that way he would enter the field with a boosted offensive force. On the other hand I chose to go with speed and shield provided by summoner Kelya Frendul. My main strategy using these add-ons is to increase my defensive ability.

Thinking about the good possibilities of dodging attacks, I chose 2 monsters that had abilities conducive to this intention and a third that would give a little more protection to allies: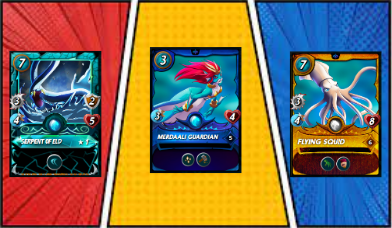 SERPENT OF ELD: It was the tank I chose for this battle. It could use its Dodge ability along with its good amount of speed to dodge attacks.

MERDAALI GUARDIAN: This would be the main support for the team healing the tank and repairing shields that were destroyed.

FLYING SQUID: It would be my replacement tank, however, his ability Blind was what motivated me to select him for this match. That way the monsters on the other side would have even more trouble hitting my monsters.

One of the rules of this game is that monsters would lose Sneak and Snipe abilities and the other rule is that only odd-cost monsters could be used. 21 mana is the cap for this match.
With limited resources it's time for you to check out the battle:
A few points should be mentioned:
Note that my team had very good synergy and that each skill was important for things to work out.

My opponent, even with a devastating offensive force, when he managed to hit his attacks, shields and health were quickly restored from my attacked monster.

Speed ​​gave me more chances to dodge and that was a key factor.

I concentrated my attacks in the same places, since my offensive capacity was limited.
What could go wrong?
If my opponent used monsters with magic attack, surely this strategy of mine would not be very useful. The shields were important to preserve my monster's health from some attacks.
And that was today's battle! I hope you enjoyed. Thank you for spending some of your time with my words and until next time!!


---
---