Cool Battle - The power of dragons!
Olá Splinters, bem vindos de volta!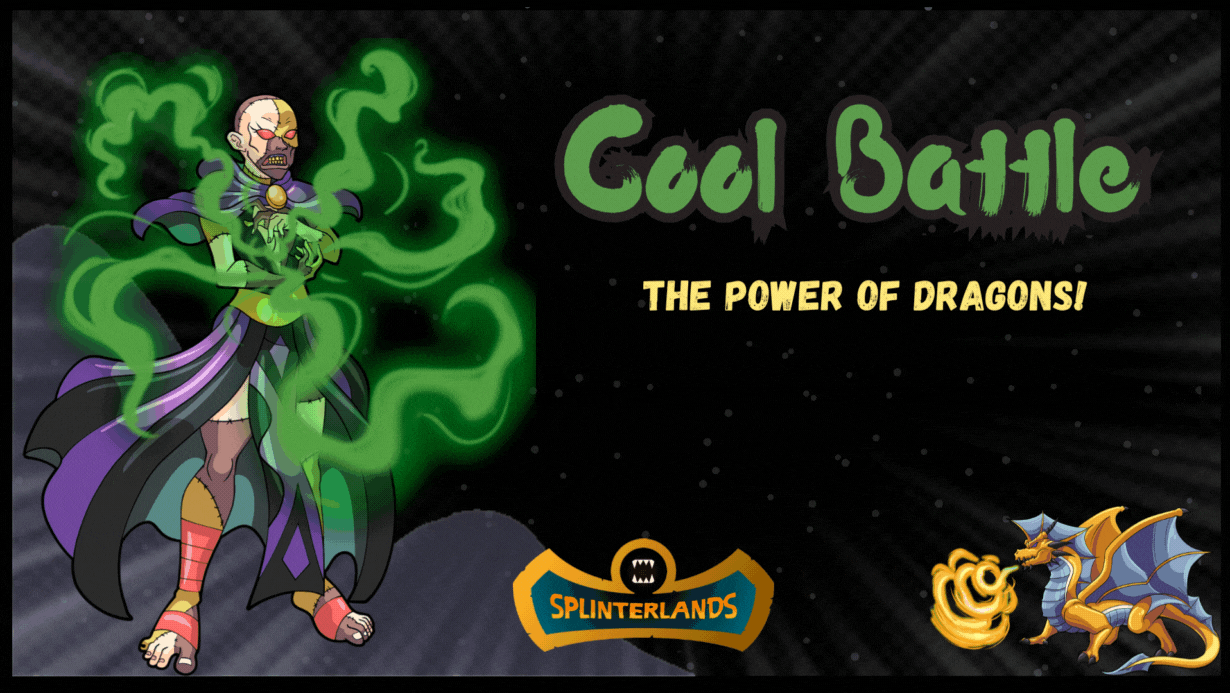 Depois do fim da última temporada, eu fiquei alguns dias sem jogar Splinterlands, gosto de dar uma pausa para curar a ressaca das jogatinas. Bem, nessa volta eu quis ousar um pouco fora da minha zona de conforto, já faz muito tempo que eu sempre alugo as mesmas cartas e não tenho explorado estratégias novas ou monstros e summoners diferentes.
Dessa vez eu sai um pouco de dentro da minha caixa e aluguei um summoner do elemento dragão, aquele que adiciona ataque mágico para os monstros. Eu venho observando que alguns jogadores vem usando alguns combos muito interessantes contra mim em algumas batalhas e baseado nisso, eu também aluguei alguns monstros para compor esse deck de dragão mágico.
Fiz 50 batalhas nesse últimos dois dias e estou impressionado o quanto que uma cartas adicionais ao meu deck que costumo alugar tem desiquilibrado as partidas e claro, o deck de dragão tem se consagrado de uma maneira que realmente me impressionou. Consegui muitas vitórias com esse deck e separei uma delas para fazer esse conteúdo de hoje, vem comigo!
Nessa batalha, apenas monstros de custo ímpar poderiam ser usados e a escolha do elemento dragão foi muito eficiente já que poderia somar força com outro elemento, além do elemento neutro. A escolha do summoner do elemento para aumentar o ataque mágico foi definitivo para ter um time mais forte, pois eu poderia ter escolhido o elemento água, porém os melhores monstros que lá estão, possuem custo de mana par. As outras regras de batalha não interfiram tanto no meu jogo e a quantidade de mana foi muito boa para escolher monstros poderosos e de custo mais alto!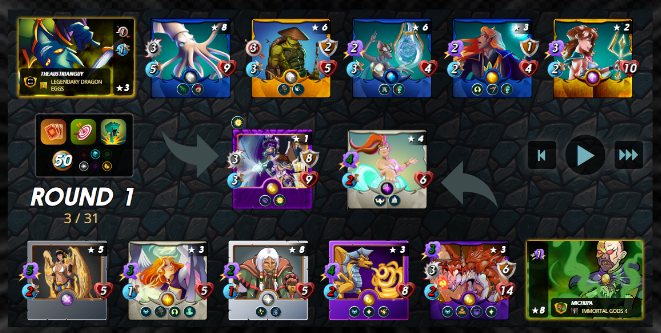 Alguns pontos a serem observados:
Ao todo, meu time possui 21 de dano mágico por rodada, uma verdadeira potencia que dificilmente meu adversário iria suportar por muito tempo.

Eu adicionei alguns monstros de suporte estrategicamente. Um monstro iria curar o tank. O tank iria curar o monstro da linha de trás e o escudo seria regenerado a cada rodada do monstro com a habilidade Taunt.

Apesar do meu time possuir uma quantidade muito grande ofensividade, também consegui encaixar uma linha de defesa muito boa que foi difícil de ser quebrada pelo meu adversário. Esse equilíbrio em um patamar mais elevado, foi o principal fator para ter conquistado essa vitória ainda no quarto round.
Posso dizer que essa foi uma batalha com uma composição quase perfeita, sem muitos erros e com pontos muitos fortes na defesa e no ataque. Difícil encontrar uma composição que possa adicionar tanto ao time e foi por isso que de agora em diante, essas cartas do elemento dragão estarão presentes no meu deck!
E por aqui eu encerro este post. Espero que tenham gostado!

[EN]
Hello Splinters, welcome back!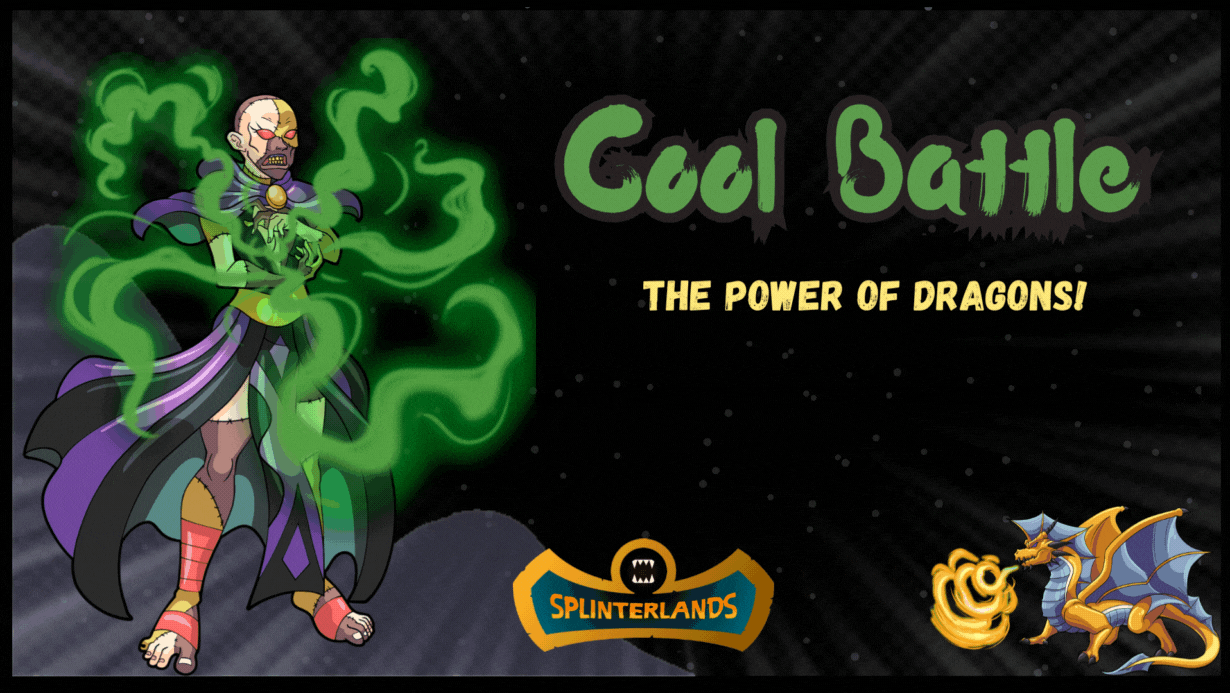 After the end of the last season, I didn't play Splinterlands for a few days, I like to take a break to cure my gaming hangover. Well, this time around I wanted to venture a little outside my comfort zone, it's been a long time since I've always rented the same cards and I haven't explored new strategies or different monsters and summoners.
This time I got out of my box a little and rented a dragon element summoner, one that adds magical attack to monsters. I've been noticing that some players have been using some very interesting combos against me in some battles and based on that, I also rented some monsters to compose this magical dragon deck.
I've done 50 battles in the last two days and I'm impressed by how much an additional card to my deck that I usually rent has unbalanced the games and of course, the dragon deck has become established in a way that really impressed me. I achieved many victories with this deck and I separated one of them to make this content today, come with me!
In this battle, only odd-cost monsters could be used and the choice of the dragon element was very efficient as it could combine strength with another element, in addition to the neutral element. The summoner's choice of the element to increase the magical attack was definitive for having a stronger team, as I could have chosen the water element, but the best monsters there have an even mana cost. The other battle rules didn't interfere that much with my game and the amount of mana was very good for choosing powerful, higher-cost monsters!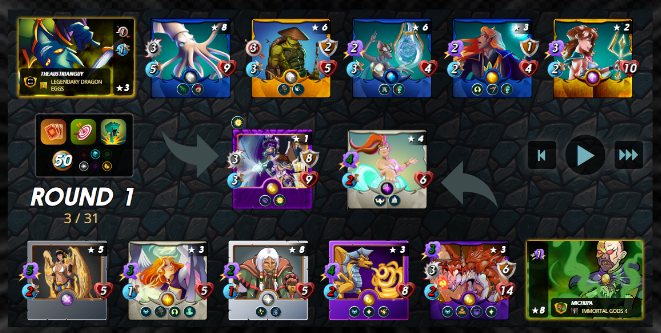 Some points to note:
In total, my team has 21 magical damage per round, a real power that my opponent would hardly be able to support for a long time.
I added some support monsters strategically. A monster would heal the tank. The tank would heal the back row monster and the shield would be regenerated every turn of the monster with the Taunt skill.

Despite my team having a very large amount of offense, I also managed to put together a very good line of defense that was difficult for my opponent to break. This balance at a higher level was the main factor in achieving this victory in the fourth round.
I can say that this was a battle with an almost perfect composition, without many mistakes and with very strong points in defense and attack. It's difficult to find a composition that can add so much to the team and that's why from now on, these dragon element cards will be present in my deck!
And here I end this post. I hope you enjoyed!

---
---