Cool Battle! - Undermining the enemy forces [PT/EN]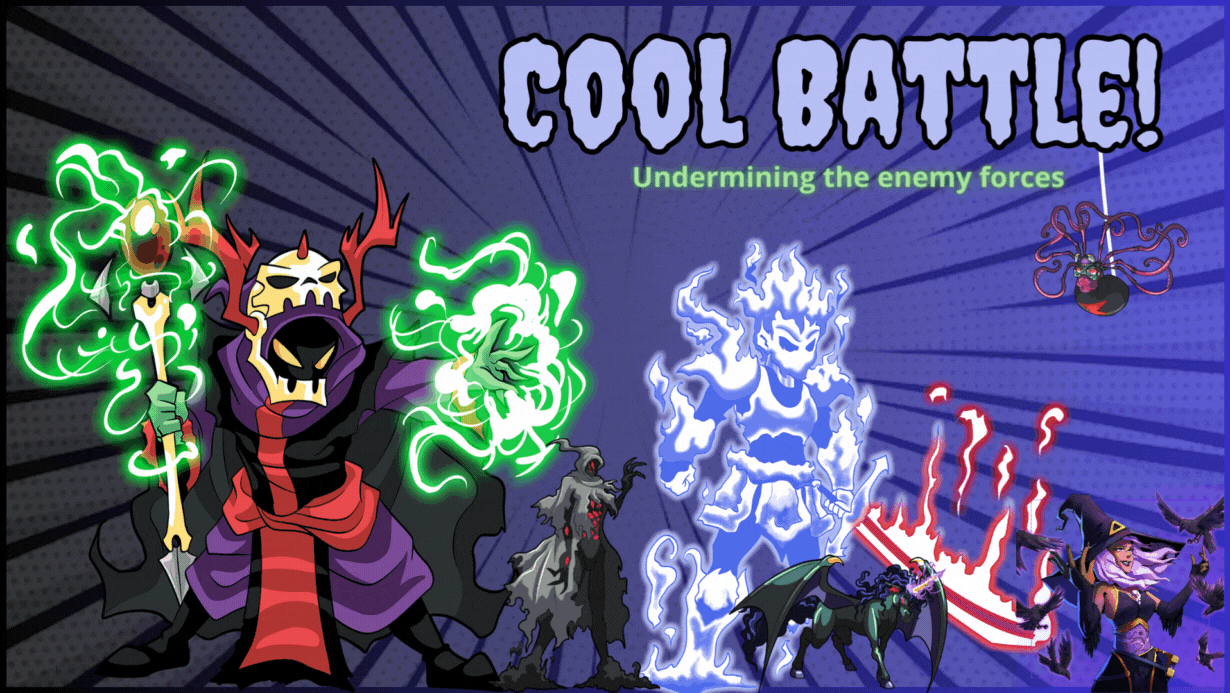 [PT]
Olá Splintermaniácos, bem vindos de volta!
Hoje é dia de mais um Cool Battle e trouxe uma batalha sobre o elemento morte. Nessa batalha eu mostro o quanto esse elemento pode ser eficaz em minar as forças inimigas!
Eu considero esse elemento uma das melhores opções quando não temos a mínima ideia do que fazer. Não são todas batalhas que estamos inspirados a trazer uma estratégia incrível. Também existe a possibilidade de estar limitado por um regra e não saber muito o que fazer, nesse caso, apenas enfraqueça seu adversário!
No elemento Morte temos muitas opções de summoners para chegar enfraquecendo o adversário em algum quesito, principalmente os ataques! Ainda podemos contar com uma grande variedade de monstros especialistas em tirar algo do outro lado do campo. Juntando esses monstros travessos com o summoner, você já sabe o que pode acontecer. Se delicie com a maldade haha!
Sem mais delongas, vamos ver como foi essa batalha!


As regras de batalha eram apenas duas: sem escudos, sem cura. 49 de mana é algo considerável, eu tinha recursos o suficiente para construir uma boa estratégia, mas eu estava sem ideia do que fazer, as regras não me deram uma dica do que eu poderia fazer! Aaaah, talvez ue estava apenas sem inspiração mesmo haha!
Apenas 2 elemento estavam disponíveis e eu não queria usar o elemento fogo, já tinha feito uma sequencia de uso com o summoner Malric Inferno. Se eu usasse isso de novo seria muito previsível, uma presa fácil para meu adversário counterar!
Então pensei: " acho que vou ferrar com meu adversário"
E se você quer ferrar com alguém nesse jogo, o elemento morte é o ideal, certo? Foi então que escolhi minha estratégia: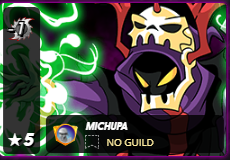 No elemento morte, eu tinha 3 bons summoners disponíveis, cada um para enfraquecer um diferente tipo de ataque. Escolhi enfraquecer o ataque melee, afinal, o elemento fogo também é uma potência nesse tipo de ataque e eu precisava me precaver disso.
Ok, para não perder as contas vamos somar os debuffs. Já começamos tirando 1 de ataque melee do adversário heim!
| Status | Quantidade retirada |
| --- | --- |
| Ataque Melee | 1 |
Depois de escolher o summoner, um tank é meu próximo passo.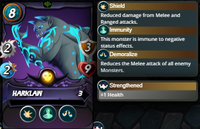 Harklaw é muito interessante ter no campo de batalha, principalmente em situações em que não são permitidos escudos e todos os monstros ficam mais expostos. Ele possui a habilidade Shield, vai receber menos danos inimigos ( exceto ataque mágico).Além desse benefício, ele vai retirar mais um pouco de ataque melee adversário.
| Status | Quantidade retirada |
| --- | --- |
| Ataque Melee | 2 |
Depois do tank, é a vez da line up.

Da direita para esquerda ( já que eu estava ocupando a posição inferior do campo)
A quantidade de mana disponível era boa e eu consegui escolher monstros de custo alto que poderiam me ajudar na intenção de enfraquecer o adversário. Como você pode observar na imagem acima, 4/5 monstros tiraram algum status do oponente.
Assim ficou nossa tabela final de de debuffs:
| Status | Quantidade retirada |
| --- | --- |
| Ataque Melee | 3 |
| Ataque Ranged | 1 |
| Ataque Mágico | 1 |
| velocidade | 1 |
Qualquer tipo de ataque estava defasado, o time estava pronto e era a hora da batalha ( finalmente!)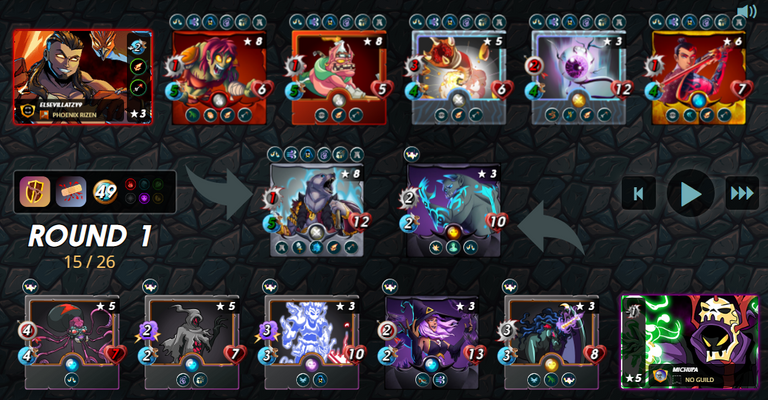 Meu adversário não usou um summoner que aumentasse o status de monstros melee como eu imaginava, alavancou a quantidade de velocidade de seu time. Isso é realmente assustador, seria difícil eu conseguir acertar sempre os ataques de monstros melee e ranged.
Por sorte ele estava enfraquecido, o que me deu mais tempo em jogo para tentar acertar meus ataques.
Um detalhe engraçado é a quantidade de debuffs em cima dos monstros:

Bom, não foi uma batalha fácil mas eu ganhei. Você pode assistir clicando aqui
Essa foi a batalha de hoje, obrigado por ler até aqui!

[EN]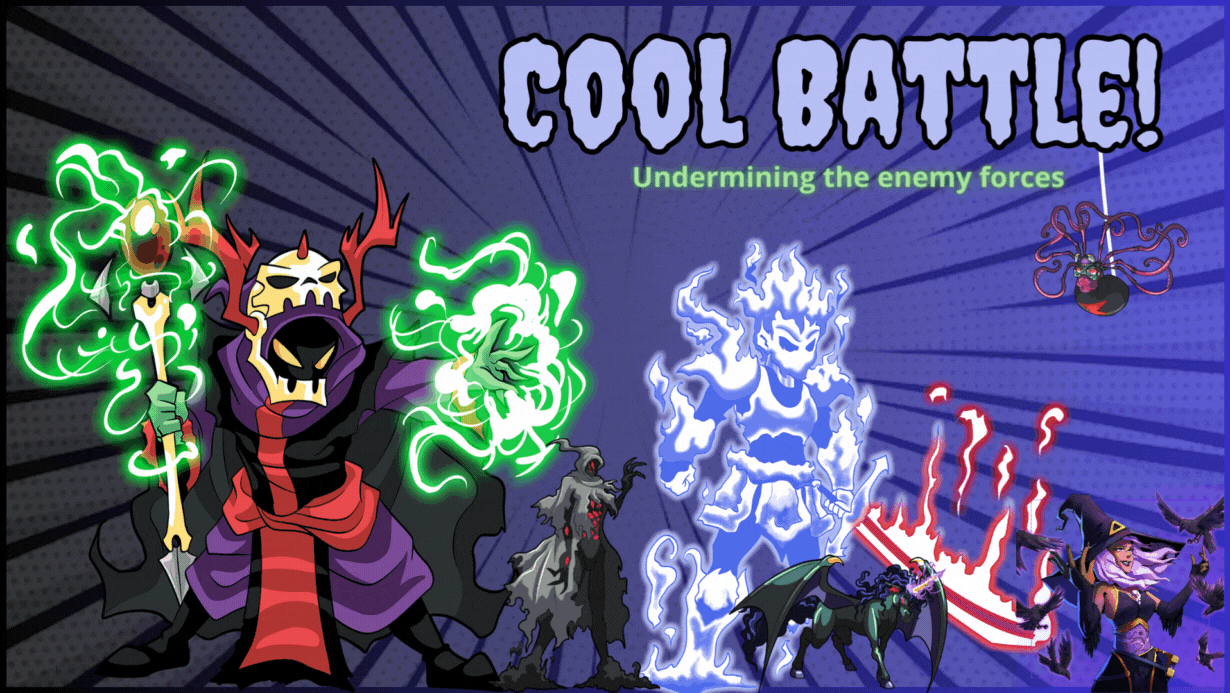 Hello Splintermaniacs, welcome back!
Today is another Cool Battle day and it brought a battle over the element of death. In this battle I show how effective this element can be in undermining enemy forces!
I consider this element one of the best options when we have no idea what to do. It's not every battle we're inspired to bring incredible strategy. There is also the possibility that you are limited by a rule and don't know much what to do, in which case, just weaken your opponent!
In the Death element, we have many options for summoners to arrive at weakening the opponent in some respect, especially the attacks! We can still count on a wide variety of monsters specializing in taking something from the other side of the field. Putting these mischievous monsters together with the summoner, you already know what can happen. Delight in the evil haha!
Without further ado, let's see how this battle went!


There were only two rules of battle: no shields, no healing. 49 mana is considerable, I had enough resources to build a good strategy, but I had no idea what to do, the rules didn't give me a hint of what I could do! Aaaah, maybe I was just uninspired haha!
Only 2 elements were available and I didn't want to use the fire element, I had already made a sequence of using it with the summoner Malric Inferno. If I used it again it would be too predictable, easy prey for my opponent to counter!
So I thought: "I think I'm going to screw my opponent"
And if you want to screw someone in this game, the death element is ideal, right? It was then that I chose my strategy: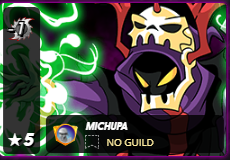 In the death element, I had 3 good summoners available, each to weaken a different type of attack. I chose to weaken the melee attack, after all, the fire element is also a power in this type of attack and I needed to be careful about that.
Okay, so we don't lose count, let's add the debuffs. We've already started taking 1 of the opponent's melee attack huh!
| Status | Withdrawn quantity |
| --- | --- |
| Melee Attack | 1 |
After choosing the summoner, a tank is my next step.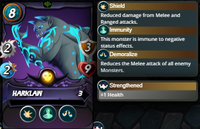 Harklaw is very interesting to have on the battlefield, especially in situations where shields are not allowed and all monsters are more exposed. He has the Shield skill, he will receive less enemy damage (except magic attack). In addition to this benefit, he will remove some more enemy melee attack.
| Status | Withdrawn quantity |
| --- | --- |
| Melee Attack | 2 |
After the tank, it's the line up's turn.

From right to left (since I was occupying the bottom position of the field)
The amount of mana available was good and I was able to choose high cost monsters that could help me with the intention of weakening the opponent. As you can see in the image above, 4/5 monsters took away some stat from the opponent.
This is how our final table of debuffs was:
| Status | Withdrawn quantity |
| --- | --- |
| Melee Attack | 3 |
| Ranged Attack | 1 |
| Magic Attack | 1 |
| speed | 1 |
Any type of attack was out of date, the team was ready and it was time for battle!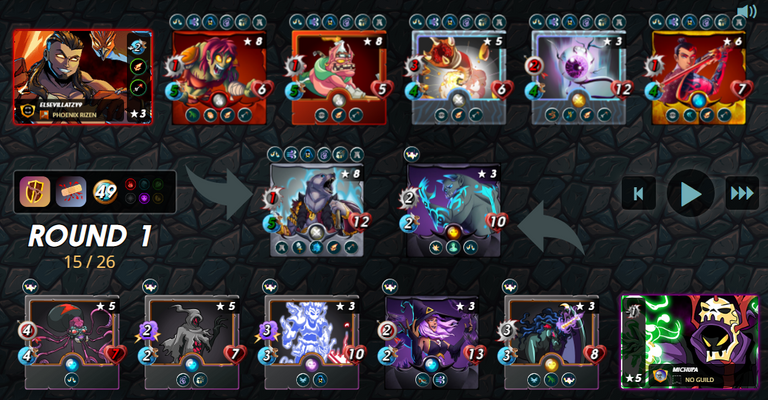 My opponent didn't use a summoner that increased the stat of melee monsters as I imagined, it leveraged the amount of speed on his team. This is really scary, it would be difficult for me to always hit melee and ranged monster attacks.
Luckily he was weakened, which gave me more game time to try to land my attacks.
A funny detail is the amount of debuffs on monsters:

Well, it wasn't an easy battle but I won. You can watch it by clicking here
That was today's battle, thanks for reading this far!

---
---