Double Strike one skill twice as good! [PT/EN]
[PT]
Olá Splinters, bem vindos de volta!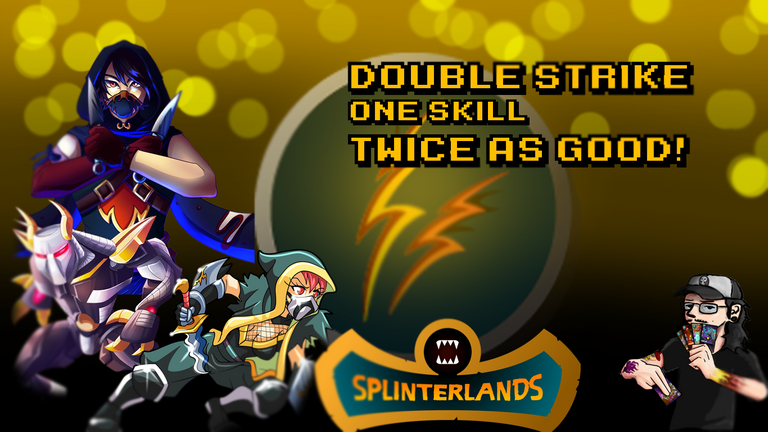 Splinterlands é um jogo de cartas e a estratégia é a nossa melhor ferramenta para ganhar partidas, conhecer as cartas, suas habilidades e estar habituado com as regras de batalha é fundamental para alcançar bons resultados dentro de uma partida. Sempre devemos estar preparados para toda a dinâmica existente e as possibilidades de uma batalha nunca ser igual a outra é muito grande.
Ao jogar Splinterlands existem algumas habilidades das quais vão ser fundamentais para ajudar a ganhar uma partida e hoje eu gostaria de falar um pouco sobre a habilidade Double Strike.

Essa é uma habilidade que permite um monstro atacar por duas vezes seguidas e torna o monstro portador dessa habilidade uma verdadeira maquina de guerra com um poder ofensivo muito grande. Uma das melhores formas de potencializar essa ofensividade é explorar um aumento do ataque que o monstro possui através de buffs de um summoner ou até mesmo por habilidade de outro monstro em seu lado do campo. Por exemplo:





Se de alguma forma conseguirmos escalar essas 3 cartas em uma batalha, Silvershield Assassin (level 5) iria ter seu ataque aumentado em +2 indo para 4 no total. Se ele pode atacar duas vezes por ter a habilidade Double Strike daria no total 8 de dano dividido em duas parcelas de ataque.
Outro exemplo e que fica ainda mais interessante é a carta The Vigilator que possui dois tipos de ataque: Ranged e Melee. Porém se essa carta esta na linha de trás não poderá usar seu ataque melee, se estiver na frente não poderá usar seu ataque ranged. Mas como em algumas regras de batalhas as coisas podem mudar, ao se deparar com as regras Super Sneak, Equal Opportunity ou Close Range esse monstro poderá atacar 4 vezes. Então com essa possibilidade de atacar tantas vezes dentro de uma regra de batalha que da liberdade de ataque em qualquer posição, juntamente com um summoner que possa potencializar seus dois tipos de ataque, algo incrível pode acontecer e The Vigilator se tornará uma verdadeira máquina mortífera!





Claro que precisaríamos de algumas condições específicas para que isso acontecesse, mas não seria lindo?
Bom, Double Strike é uma boa habilidade não só pelo seu fator ofensivo que proporciona para o monstro que tem, ele coloca mais presença de ataque por menos espaço. Em partidas de muita mana a maioria dos espaços são preenchidos e somos limitados a 6 slots para monstros e se um monstro que ataca duas vezes preenche aquela lacuna é como se estivéssemos otimizando nosso espaço/ monstro.
Existem até o momento 12 cartas com essa habilidade (incluindo cartas da edição Gladius) que podemos encontras em essa habilidade em seus respectivos leveis:

Se você busca por poder ofensivo essa é uma ótima habilidade para ter em algum de seus monstros na hora de uma batalha, temos uma boa variedade de monstros para poder escolher em mais diversos custos de mana e diferentes elementos, por exceção do elemento fogo. O elemento dragão é o que mais possui essa habilidade em seus monstros no total de 4.

DHAMPIR INFILTRATOR é uma carta recém lançada que possui Double Strike. Uma carta de apenas 4 de custo que também tem a habilidade Sneak. Nesse momento essa carta está no mercado por apenas $0,07 centavos em sua versão regular e acredito ser um ótimo preço pra uma carta com ótimos atributos.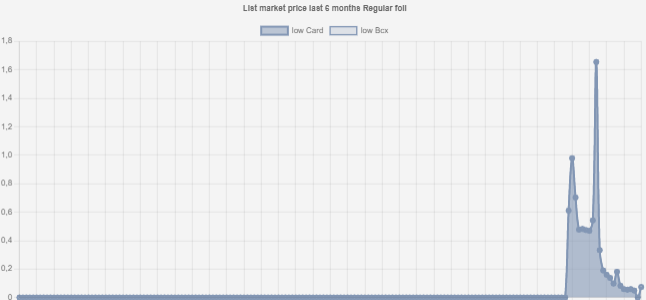 Agora vamos ver um pouco disso em uma batalha?


Nessa batalha temos uma regra que é preciso tomar bastante cuidado: Explosive weaponry em que todos os monstros adquirem a habilidade Blast. Com essa regra ativa é sempre importante selecionar monstros rápidos e com escudos e boa quantidade de vida, além de posicionar muito bem os monstros mais fracos. 58 de mana é uma quantidade muito boa para a estratégia que eu estava em mente: colocar monstros com Double Strike para explorar mais ainda a habilidade Blast que iriam obter pela regra de batalha.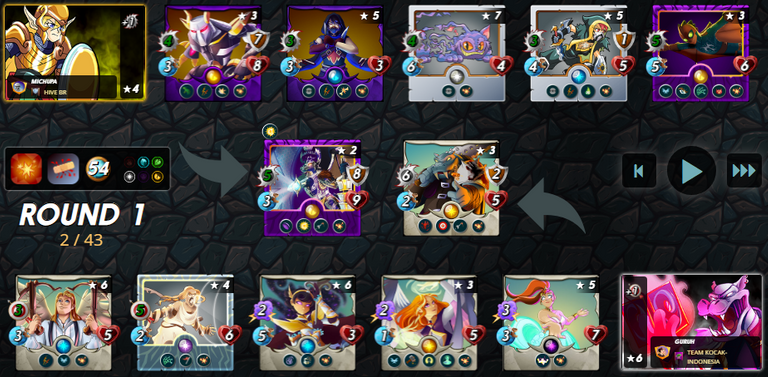 Claro que eu optei por monstros com ataque melee para serem potencializados pelo summoner que me daria +1 desse ataque para todos os monstros. Meu foco para essa partida foi o último monstro da linha de trás inimiga com 3 monstros para fazer esse trabalho mas 5 ataques no total graças ao Double Strike.
Depois que selecionado o último monstro da linha de trás inimiga, meu próximo alvo seria o tank com outro Double Strike vindo da minha segunda posição através da habilidade Reach. E por último um monstro com a habilidade Opportunity para pegar os monstro mais fraco adversário e assim fazer resvalar dano nos monstros adjacentes. Vamos ver como foi essa partida?
Como nessa partida a quantidade de mana disponível era uma boa quantidade para preencher todos os espaços, ter monstros que atacam mais de uma vez é uma ótima forma de ter vantagem ofensiva e essa estratégia eu acredito ser muito boa para algumas ocasiões, e você oque acha?
Essa foi uma partida muito interessante em termos estratégicos apesar dos monstros serem muito fortes e isso facilitar também na hora da batalha. Precisamos entender a fazer uma leitura antes das batalhas, saber qual melhor posição para determinado monstro e usar as habilidades certas para a regra de batalha.
E por aqui eu encerro este post, espero ter ajudado de alguma forma ou que tenha trago algum entretenimento, obrigado por passar um pouco do seu tempo com minhas palavras, até a próxima!

[EN]
Hello Splinters, welcome back!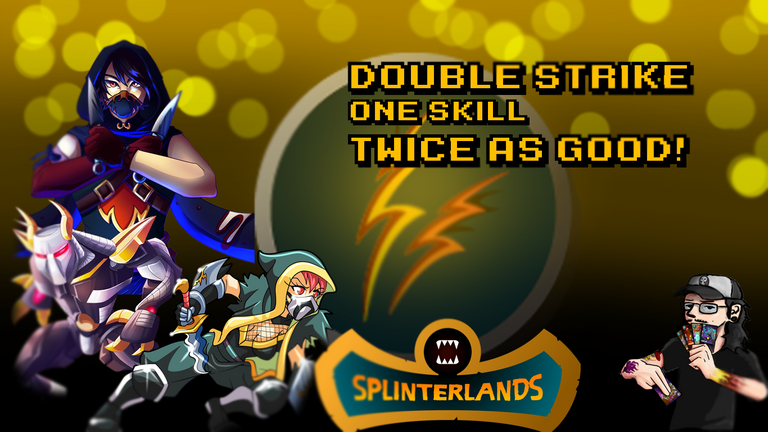 Splinterlands is a card game and strategy is our best tool to win matches, knowing the cards, their skills and getting used to the rules of battle is essential to achieve good results within a match. We must always be prepared for all the existing dynamics and the possibilities of a battle never being the same as another is very great.
When playing Splinterlands there are some skills that are going to be fundamental to help you win a match and today I would like to talk a little bit about the skill Double Strike.

This is an ability that allows a monster to attack twice in a row and makes the monster that has this ability a true war machine with very great offensive power. One of the best ways to leverage this offensiveness is to exploit an increase in the attack that the monster has through buffs from a summoner or even from another monster's ability on its side of the field. For example:





If we somehow manage to scale these 3 cards in a battle, Silvershield Assassin (level 5) would have its attack increased by +2 going to 4 in total. If he can attack twice by having the Double Strike skill it would do a total of 8 damage divided into two attack portions.
Another example that is even more interesting is the card The Vigilator which has two types of attack: Ranged and Melee. However, if this card is in the back row, it cannot use its melee attack, if it is in the front, it cannot use its ranged attack. But as in some battle rules things can change, when faced with the Super Sneak, Equal Opportunity or Close Range rules this monster can attack 4 times. So with this possibility of attacking so many times within a battle rule that gives freedom to attack in any position, along with a summoner that can leverage its two types of attack, something incredible can happen and The Vigilator if will become a real killing machine!





Of course, we would need some specific conditions for that to happen, but wouldn't it be beautiful?
Well, Double Strike is a good skill not only for its offensive factor it provides for the monster it has, it puts more attack presence for less space. In high mana games most of the spaces are filled and we are limited to 6 monster slots and if a monster that attacks twice fills that gap it's like we are optimizing our space / monster.
There are so far 12 cards with this ability (including cards from the Gladius edition) that we can find in this ability in their respective levels:

If you're looking for offensive power this is a great skill to have on any of your monsters at the time of a battle, we have a good variety of monsters to choose from in more different mana costs and different elements, with the exception of the fire element. The dragon element is the one that most has this ability on its monsters in total of 4.

DHAMPIR INFILTRATOR is a newly released card that features Double Strike. A 4-cost card that also has the Sneak ability. Right now this card is on the market for only $0.07 cents in its regular version and I believe it's a great price for a card with great attributes.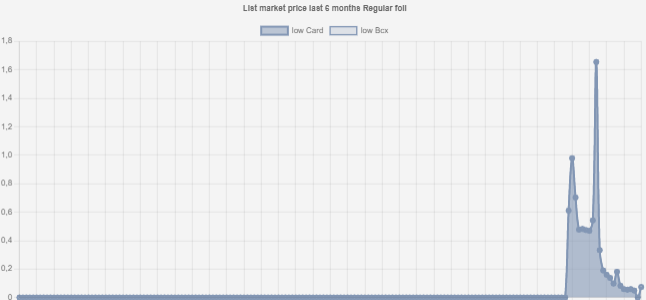 Now let's see some of that in a battle?


In this battle we have a rule that you have to be very careful about: Explosive weaponry in which all monsters acquire the ability Blast. With this rule active, it is always important to select fast monsters with shields and a good amount of health, in addition to positioning the weakest monsters very well. 58 mana is a pretty good amount for the strategy I had in mind: placing monsters with Double Strike to further exploit the Blast ability they would get by the battle rule.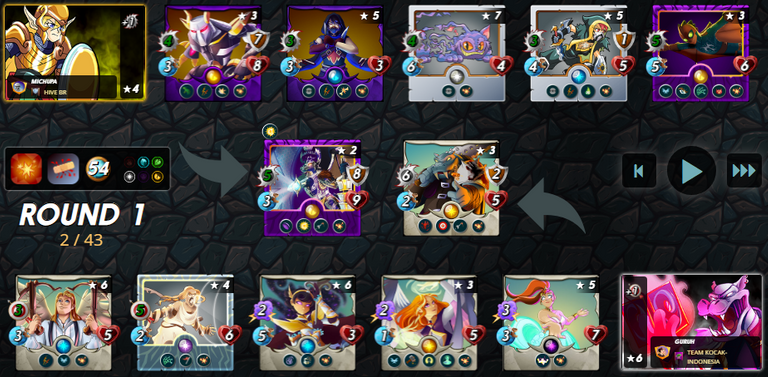 Of course I opted for monsters with melee attack to be powered by the summoner which would give me +1 of that attack for all monsters. My focus for this match was the last monster in the back row with 3 monsters to do this job but 5 attacks in total thanks to Double Strike.
After I selected the last monster in the enemy's back row, my next target would be the tank with another Double Strike coming from my second position via the Reach skill. And finally a monster with the ability Opportunity to catch the weakest opponent monsters and thus do damage to adjacent monsters. Let's see how this match went?
As in this game the amount of mana available was a good amount to fill all the spaces, having monsters that attack more than once is a great way to have an offensive advantage and this strategy I believe is very good for some occasions, and what do you think? ?
This was a very interesting game in terms of strategy despite the monsters being very strong and this also makes it easier for battles. We need to understand how to do a reading before battles, know which position is best for a given monster and use the right skills for the battle rule.
And here I end this post, I hope I have helped in some way or that I have brought some entertainment, thank you for spending some time with my words, until next time!



---
---