Expectations for Chaos Legion General Sale

(EN / PT-BR)
We are nearing the general sale of Chaos Legion Packs and there are many expectations surrounding this event. A good number of players are very eager to purchase Packs, as there will be no need for a voucher for such a purchase. I have high expectations of this and believe in a very large volume of sales, as the vouchers have limited large quantities of Packs to be sold. However, the question arises, how will the market behave in this general sale?

Well, I am not here to predict or tell you what might happen, because if I did that I would be trying to predict something that is out of my hands. I will just state my opinion in face of this scenario that I believe that is coming.
In my opinion, it will be a time of good opportunities for players who are at the beginning of their journey and want to have a competitive deck and Power for higher leagues. I believe that for a while there will be even more devaluation of the cards as it has already been happening and this can become more intense. On the other hand, there are a good number of people waiting for this, which can make the market have a certain balance.
My strategy for this moment will be to buy specific cards for some decks and complement them with what I already have. This way I can make my investment more efficient by taking advantage of a supposed devaluation of the cards and I will have a ceiling for my investment with an end goal.
For those who will try their luck buying the Packs and risk a valuable card, this will also be a good scenario since there will be no need to have a Voucher. The chances of getting a valuable card are very small, but the more Packs you buy, the more likely you are to get one. Right now, the cheapest Foil Gold legendary card on the market is going for $171,00 dollars, approximately, was it a good investment to spend $4,00 dollars on a pack? I believe it was.
For players who can't afford to put a lot of money into a foil gold card by buying it on the market, this will be the best way to get it, but the chances are high that it won't happen.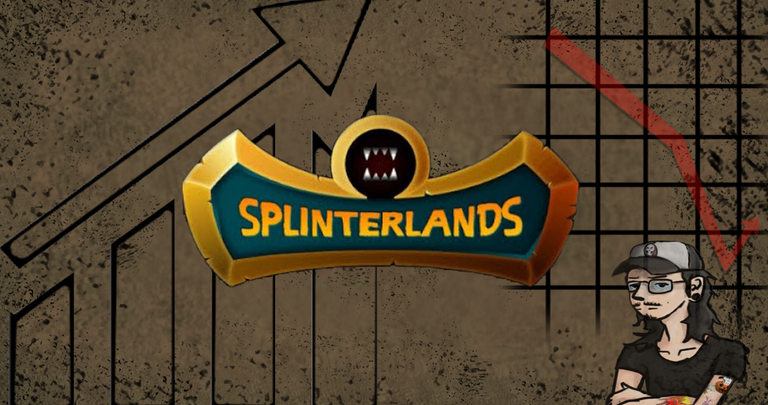 SPS
SPS played a significant role during the pre-sale of the packs and that until then you could only get vouchers while your SPS was in Stake.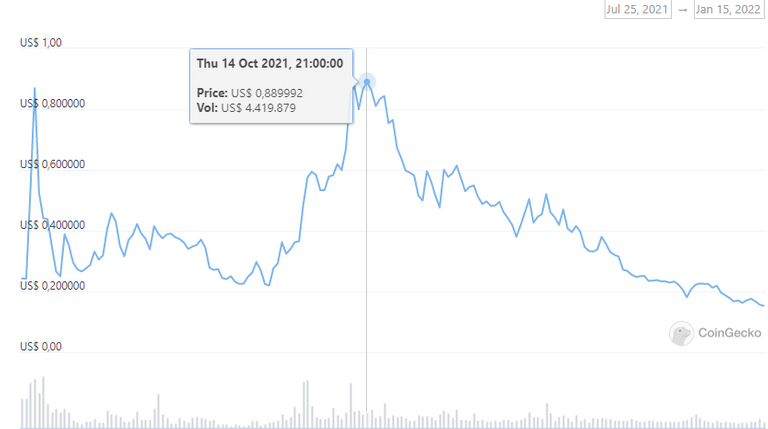 Source: Coingecko
As we can see, for quite a while where expectations were raised in mid-October last year, this remained on an uptrend for quite a while. Without much use within the game for now, after its peak it came losing value since then with a helping hand from the Bear Market we are experiencing. We look forward to the governance token of the biggest game on the Hive Blockchain having more functions and uses.
Rewards:
We have noticed that lately it is not one of the best times in rewards when we win a match, low DEC values come into our hands, however, despite the dissatisfaction of players in some groups I participate I see this with good eyes. And in the logic that I see, this situation is simple, less rewards less DEC on the market being dumped, I think this can help the token to have a higher value again in some time.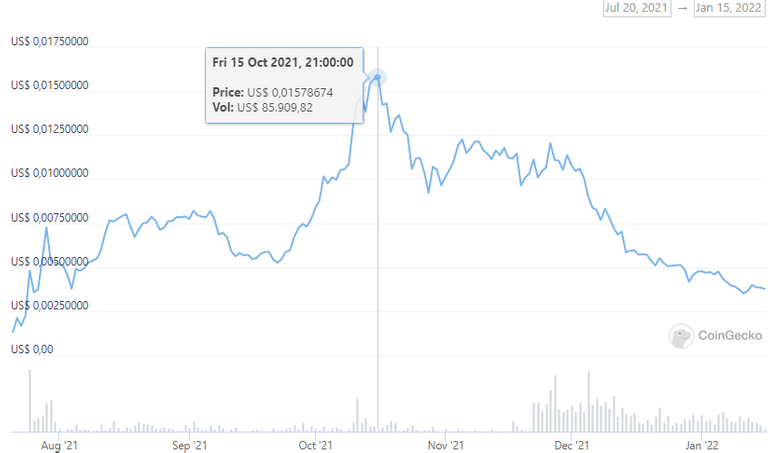 Source: Coingecko
I believe that these "lean periods" that we are going through will be a kind of "sieve" and only players who really believe in the project will remain, after a moment of hype that the NFT gaming world goes through.
I remain firm and although it is a game that already has a considerable existence, I believe we are just at the beginning of something great, even greater than the game we know now.
---
---
---
Estamos perto da venda geral dos packs Chaos Legion e existem muitas expectativas em volta deste acontecimento. Boa parte dos jogadores estão muito ansiosos para adquirir Packs, pois não haverá necessidade de algum voucher para tal aquisição. Tenho grandes expectativas acerca disto e acredito em um volume de venda muito grande, tendo em vista que os vouchers limitaram que grandes quantidades de Packs fossem vendidos. Entretanto, surge o questionamento, como será o comportamento do mercado nessa venda geral?

Bom, não estou aqui para prever ou falar o que pode acontecer, pois se eu fizesse isso estaria tentando prever algo que está fora do meu alcance. Vou apenas dizer a minha opinião diante desse cenário que acredito estar por vir.
Na minha opinião, será um momento de boas oportunidades para jogadores que estão no início da jornada e querem ter um deck competitivo e Power para ligas mais altas. Creio que por um período haverá ainda mais desvalorização das cartas como já vem acontecendo e isso pode se tornar mais intenso. Em contrapartida, existe um bom numero de pessoas esperando por isso, o que pode fazer com que o mercado tenha de certa forma um equilíbrio.
A minha estratégia para esse momento será comprar cartas específicas para alguns decks e complementar com o que já tenho. Desta forma, eu deixo meu investimento mais eficiente aproveitando uma suposta desvalorização das cartas e terei um teto para meu investimento com um objetivo final.
Para aqueles que vão tentar a sorte comprando os packs e arriscar uma carta valiosa, esse também será um bom cenário tendo em vista que não haverá necessidade de possuir Voucher. As chances de conseguir uma carta que seja valiosa é bem pequena, porém quanto mais Packs adquiridos maior será a probabilidade de conseguir. Nesse momento, uma carta lendária Foil Gold mais barata no mercado está saindo por $171,00 dólares, aproximadamente, foi um bom investimento ter gastado $4,00 dólares em um Pack? Acredito que sim.
Para os jogadores que não tem condições de estar colocando uma boa parte do seu dinheiro em uma carta dessas comprando pelo mercado, essa será a melhor forma de conseguir, mas as chances são altas de isso não acontecer.
SPS
O SPS teve um papel significativo durante a pré-venda dos packs e que até então só era possível adquirir vouchers enquanto seus SPS estivessem em Stake.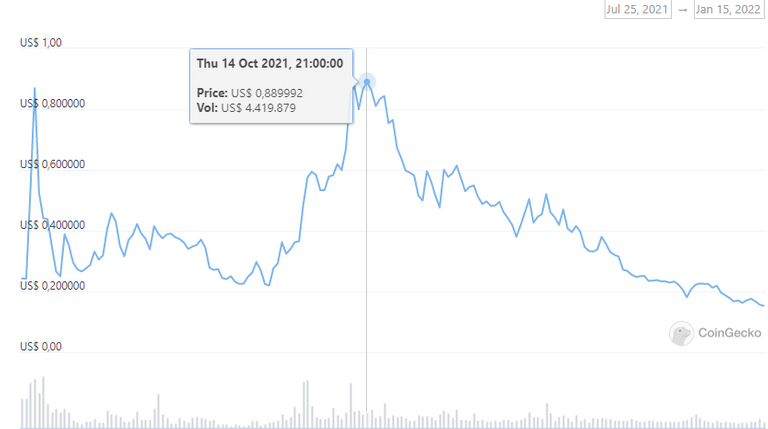 Fonte: Coingecko
Como podemos ver, durante um bom tempo onde expectativas foram criadas em meados de outubro do ano passado, isto se manteve em tendência de alta por um bom tempo. Sem muita utilidade dentro do jogo por enquanto, depois de seu pico veio perdendo valor desde então com uma ajuda do Bear Market que estamos vivendo. Aguardamos ansiosos para que o Token de governança do maior jogo da Blockchain Hive tenha mais funções e utilidades.
Recompensas:
Notamos que ultimamente não está sendo um dos melhores momentos em recompensas quando ganhamos uma partida, valores baixos de DEC chegam em nossas mãos, porém, apesar da insatisfação de jogadores em alguns grupos que participo eu vejo isso com bons olhos. E na lógica que enxergo, essa situação é simples, menos recompensas menos DEC no mercado sendo despejado, creio que isso pode ajudar que o Token volte a ter um valor maior daqui a algum tempo.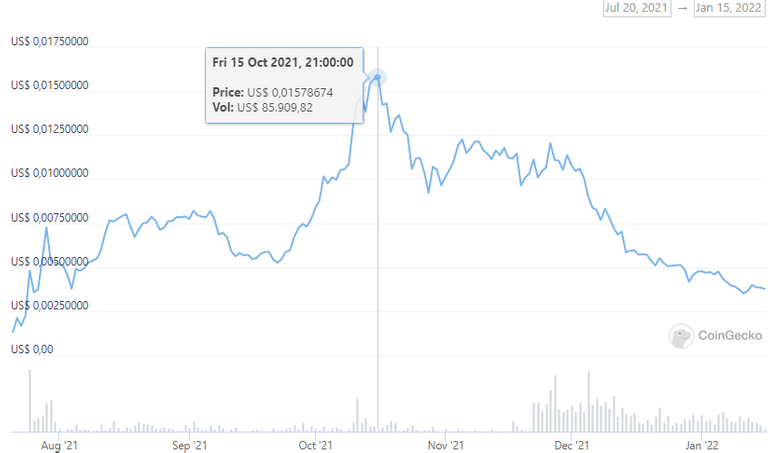 Fonte: Coingecko
Acredito que esses períodos de "vaca magra" que estamos vivendo será uma espécie de "peneira" e ficarão apenas jogadores que realmente acreditam no projeto, depois de um momento de hype que o mundo dos jogos NFT passaram.
Continuo firme e apesar de ser um jogo que tem uma existência já considerável, acredito que estamos apenas no começo de algo grandioso, ainda mais do que o jogo que conhecemos agora.

---
---