EXPLODING RATS - don't underestimate them! [PT/EN]
[PT]
Olá Splinters, bem vindos de volta!!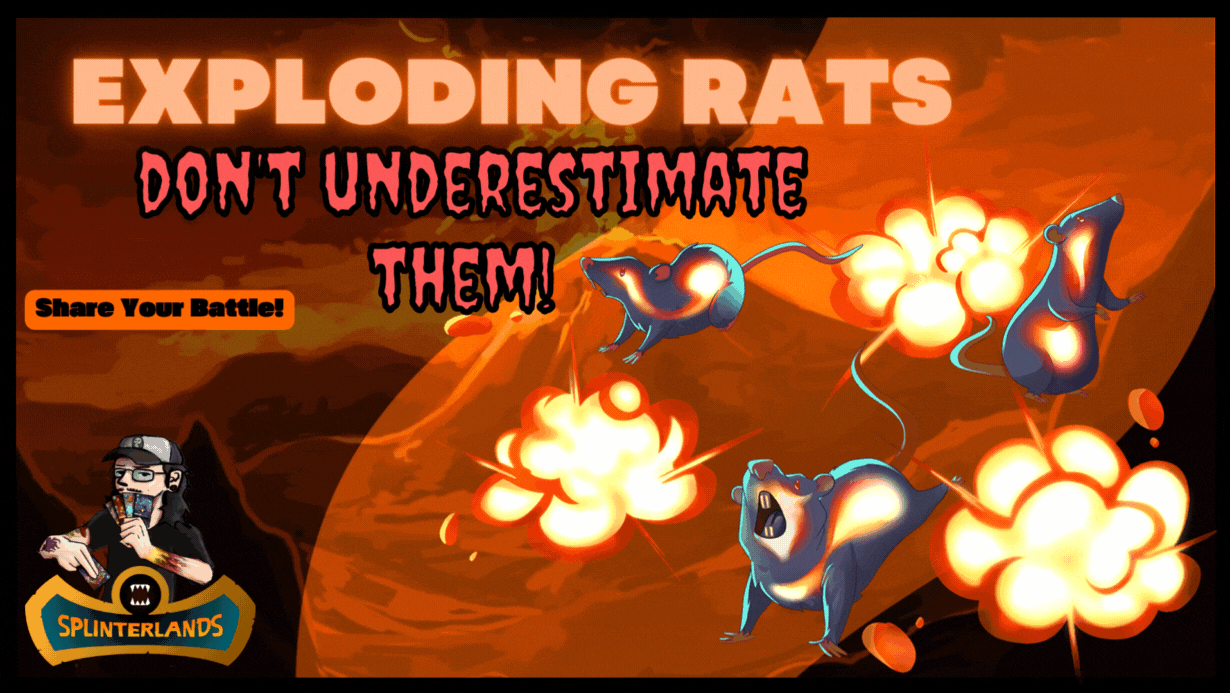 Nossas batalhas em Splinterlands é recheada de desafios, cabe a nós encontrar os melhores caminhos para se sobressair diante das variedades de obstáculos e dificuldades que vamos encontrar numa partida.
Alguns monstros conseguem ser bem empregados na maioria das batalhas, mas ocasiões em que devemos escolher com sabedoria cada monstro do nosso time, pois, algumas características vão ser melhor aproveitadas dependendo da regra e quantidade de mana. Monstros que normalmente podem ser subestimados, pode ser o desiquilíbrio entre a vitória e a derrota. O nosso objetivo como jogador de Splinterlands é identificar a melhor opção para cada situação.
Hoje vamos falar sobre EXPLODING RATS, um monstrinho fácil de ser encontrado em nossos baús de recompensa, talvez um pouco subestimado, mas que pode render boas jogadas em estratégias corretas e ocasiões propícias!

Esse é um monstro raro que pertence ao elemento Fogo. Possui ataque melee mas não possui alguma habilidade como Sneak, Reach ou Opportuniy que o permita atacara de outra posição a não ser na primeira. Então, naturalmente esse é um monstro que deve ser usado na primeira posição para que possa executar seus ataques.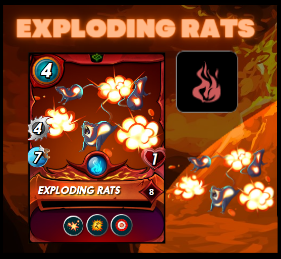 Entretanto, esse é um monstro frágil, possui - e sempre vai possuir, independente do level -, apenas 1 de vida. Mas sua alta velocidade vai permitir que na maioria dos casos ele ataque primeiro, assim sendo ele poderá desferir seu ataque, que é notável. Sua grande velocidade também permite que ele possa se esquivar de ataques melee e ranged, um monstro rápido como esse tem boas chances de consegui fazer isso.
EXPLODING RATS também possui boas habilidades, que são determinantes para que esse monstro seja uma boa opção dependendo das variantes que vamos encontrar na partida. Vamos falar sobre cada uma delas a seguir:

BLAST
Causa dano adicional aos Monstros adjacentes ao monstro alvo.
Essa é sua habilidade inicial, uma das habilidades mais ofensivas que temos em nossos monstros. EXPLODING RATS tem ataque alto, podendo resvalar nos inimigos adjacentes uma boa quantidade de dano. Claro que com o poder adicional que um summoner que agrega ataque melee para os monstros, esse dano fica ainda maior!

REDEMPTION
Quando este Monstro morre, ele causa 1 de dano a todos os monstros inimigos.
Essa é uma habilidade que ele adquire quando atinge o nível 5. Uma habilidade ideal para tirar Divine Shield ou até mesmo em partidas de pouca mana em que temos alguns monstros mais fracos em campo.

TRUE STRIKE
Os ataques deste monstro não podem errar.
Talvez essa seja a habilidade mais redundante. Esse monstro já possui uma boa velocidade, então terá maiores chances de acertar seu ataque. Será mais eficiente quando enfrentar habilidades voltadas para esquiva.
Apesar de EXPLODING RATS ser um monstro muito ofensivo, é muito frágil. Como devemos usa-lo de maneira inteligente em nossas partidas, algumas regras de batalhas vão beneficiar o seu uso, fazendo-o ser ainda mais eficiente:

Como o maior ponto fraco de EXPLODING RATS é sua quantidade de vida, ao nos depararmos com a regra de batalha Equalize, esse problema vai estar resolvido. Ele terá a mesma quantidade de vida que o monstro com a maior vida em campo.

Essa regra de batalha permite que monstros melee ataquem mesmo estando na segunda posição. Assim sendo, o nosso monstrinho frágil estará melhor protegido no meio de outros monstros.

Uma boa ocasião para usar EXPLODING RATS, já que ele possui apenas 4 de mana. Se estiver no nível 5, ainda poderá dar mais danos nos monstros inimigos, que possivelmente serão monstros mais frágeis de vida por conta do pouco custo de mana e talvez até eliminando alguns.
Claro que em outras regras de batalhas, dependendo da ocasião, também pode ser bem empregado como por exemplo Equal Opportunity ou Super Sneak, que terá a mesma funcionalidade de Melee Mayhen. Também pode pode ser usado em regra que adiciona Divine Shield se ele já estiver no nível 5.
São muitas possibilidades, tudo vai depender da disponibilidade, e claro, da sua visão de oportunidade!

EXPLODING RATS nesse momento, é o montro raro mais barato no mercado, custando um pouco menos de $0,01. Olhando como jogador de Splinterlands, esse é um bom momento para conseguir esse monstro em seu poder máximo, está muito barato. Podemos encontra-lo também em sua versão gold por apenas $0,75. Um monstro gold que dá ao jogado 500 de power e ajudará a alcançar ligas maiores.
Falando como um especulador, acredito que essa carta vai demorar muito tempo a ter um preço que seja relevante. Não acredito que tenha uma demanda muito alta. mas por outro lado, como essa carta custa tão pouco, basta que ela custe apenas $0,02 para conseguir 100% de lucro. Um lucro de apenas 1 centavo que precisaria ser em uma escala muito grande para que realmente tenha alguma relevância financeira. E nem precisamos falar novamente sobre a demanda para que isso realmente aconteça.
Mas nuca se sabe o que o futuro nos reserva, não custa nada gastar alguns centavos agora para, quem sabe, colher algum fruto no futuro.
De acordo com o site Splintercards, esse é o histórico de preços de EXPLODING RATS nos últimos meses:
Regular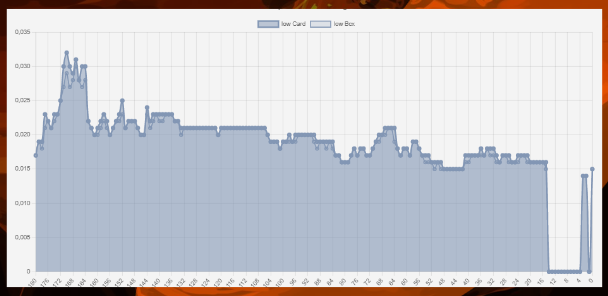 Gold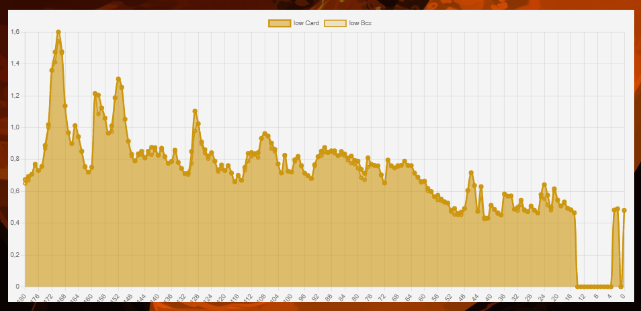 ---
Chega de números e gráficos, vamos para a batalha!


Essa é uma partida em que temos apenas 15 de mana para escalar nosso monstros, portanto, monstro com pouca mana são boas opções para preencher bem cada lacuna. A primeira regra de batalha é Up to Eleven, que aumenta os danos passivos de algumas habilidades e entre eles, Blast do nosso monstro EXPLODING RATS será melhor aproveitado. A outra regra de batalha é Fire & Regret, que retorna dano de ataques ranged, então eu evitei usar monstros com esse tipo de ataque.

Eu escolho um summoner que potencializa os monstros com ataque melee. Como a maioria dos meus monstros possuem esse tipo de ataque, eu vou me beneficiar dessa ajudinha extra. Meu oponente escolhe um summoner que adiciona Divine shield aos monstros, mas como EXPLODING RATS possui a habilidade REDEMPTION, essa vantagem será facilmente retirada de meu oponente.
Essa foi a minha escalação:
| Monstro | Objetivo |
| --- | --- |
| | A grande estrela da noite. Foi escolhida por suas habilidade que serão bem exploradas nessa batalha! |
| | Usei esse monstro na segunda posição sabendo que logo ele iria para seu lugar de origem, com o benefício de ter sua vida aumentada de acordo que monstros fossem morrendo, sendo assim, ele chegaria com mais força defensiva para suportar ataques. |
| | Foi escolhido por ter pouca mana, bom ataque e ainda deixar o alvo envenenado. |
| | Escolhido pelo seu custo zero. Posicionado na última posição para dar um pouco mais de proteção para o time de ataques Sneak. |
---
EXPLODING RATS entra em campo como o primeiro monstro a atacra, e logo de cara, ja tira a proteção do primeiros monstros e consegue se esquivar de alguns ataques. Esse primeiro round nada muito emocionante acontece.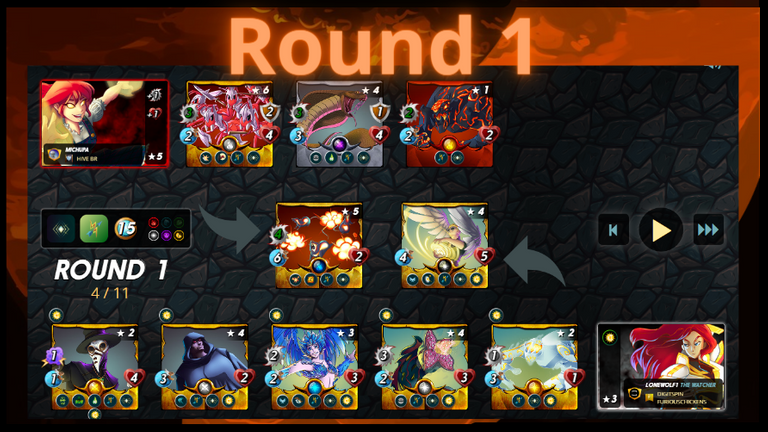 É aqui no segundo Round que as coisas realmente funcionam como eu esperava. Primeiro, EXPLODING RATS consegue eliminar dois monstros e é morto por um monstro inimigo, mas antes de dar adeus, sua habilidade REDEMPTION entra em cena, retirando a proteção adversária e deixando tudo mais fácil.
Meu tank principal desce para a primeira posição com bastante vida e pronto para encarar os ataques que estavam por vir.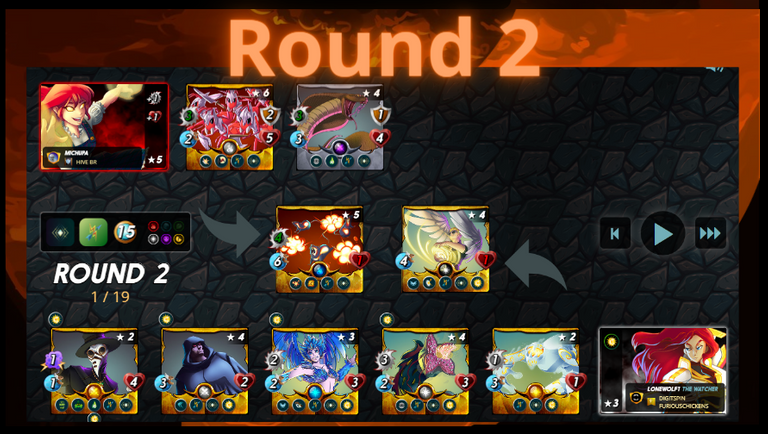 Chegamos no último roundo com a vitória encaminhada a nosso favor. Sem muito poder de fogo e com sua defesa defasada, meu adversário apenas assistiu seus monstros serem aniquilados um a um.
Essa foi uma batalha em que cada monstro teve um papel fundamental e uma sinergias que fez tudo dar muito certo. Usei as habilidades de uma maneira em que eu tivesse benefício e anulei boa parte da estratégia de meu adversário.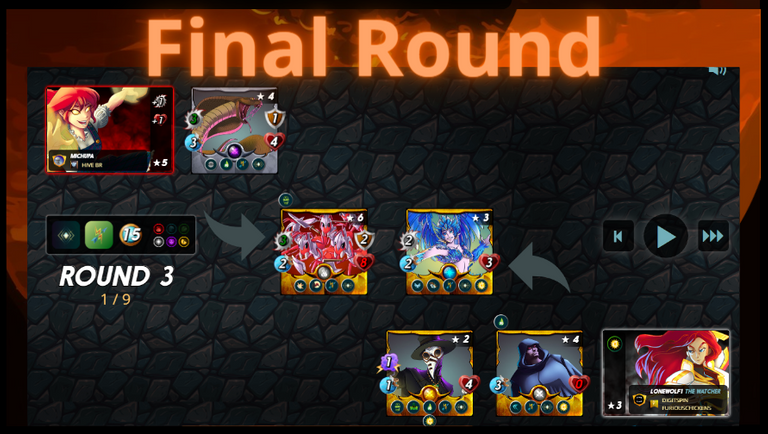 E por aqui eu encerro este post. Obrigado pr passar um pouco do seu tempo com minhas palavras e até a semana que vem!!

[EN]
Hello Splinters, welcome back!!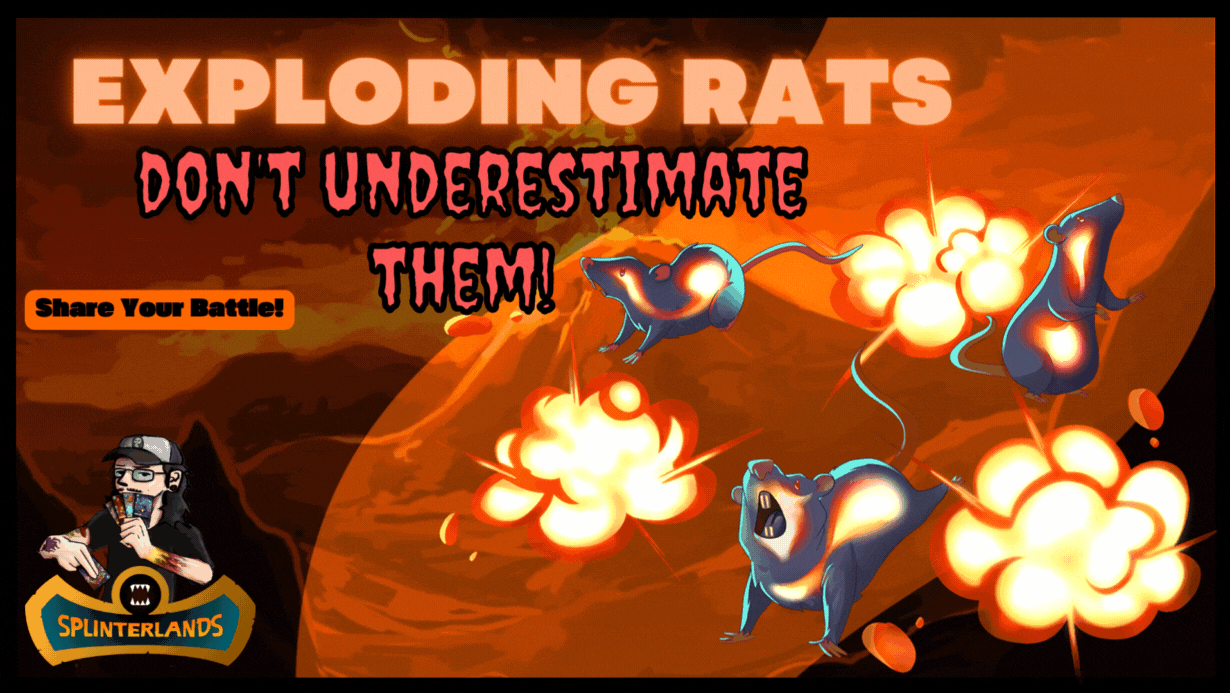 Our battles in Splinterlands are full of challenges, it's up to us to find the best ways to excel in the face of the variety of obstacles and difficulties that we will encounter in a match.
Some monsters manage to be well used in most battles, but there are occasions when we must choose each monster on our team wisely, as some characteristics will be better used depending on the rule and amount of mana. Monsters that can usually be underestimated, can be the imbalance between victory and defeat. Our goal as a Splinterlands player is to identify the best option for each situation.
Today we are going to talk about EXPLODING RATS, a little monster that is easy to find in our reward chests, maybe a little underestimated, but that can yield good plays in correct strategies and propitious occasions!

This is a rare monster that belongs to the Fire element. It has a melee attack but doesn't have any skills like Sneak, Reach or Opportuniy that allow it to attack from another position than the first one. So naturally this is a monster that must be used in first position so that it can execute its attacks.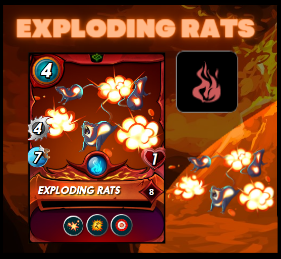 However, this is a fragile monster, it has - and will always have, regardless of the level -, only 1 life. But his high speed will allow him to attack first in most cases, so he can deliver his attack, which is remarkable. Its great speed also allows it to dodge melee and ranged attacks, a fast monster like this has a good chance of being able to do this.
EXPLODING RATS also has good abilities, which are decisive for this monster to be a good option depending on the variants that we are going to find in the game. Let's talk about each of them below:

BLAST
Deals additional damage to Monsters adjacent to the target monster.
This is their starting skill, one of the most offensive skills we have on our monsters. EXPLODING RATS has high attack, being able to slide a good amount of damage on adjacent enemies. Of course, with the additional power that a summoner that adds melee attacks to monsters, this damage is even greater!

REDEMPTION
When this monster dies, it deals 1 damage to all enemy monsters.
This is a skill he acquires when he reaches level 5. An ideal skill to take Divine Shield or even in low mana matches where we have some weaker monsters on the field.

TRUE STRIKE
This monster's attacks cannot miss.
Perhaps this is the most redundant ability. This monster already has good speed, so it will have a better chance of hitting its attack. It will be more efficient when facing dodge-oriented skills.
Although EXPLODING RATS is a very offensive monster, it is very fragile. As we must use it intelligently in our games, some battle rules will benefit its use, making it even more efficient:

As the biggest weakness of EXPLODING RATS is its amount of life, when we face the Equalize battle rule, this problem will be solved. It will have the same amount of health as the monster with the highest health on the field.

This battle rule allows melee monsters to attack even in second position. Therefore, our fragile little monster will be better protected in the midst of other monsters.

A good time to use EXPLODING RATS, as he only has 4 mana. If you are at level 5, you can still do more damage to enemy monsters, which will possibly be more fragile monsters due to the low cost of mana and maybe even eliminating some.
Of course, in other battle rules, depending on the occasion, it can also be well employed.such as Equal Opportunity or Super Sneak, which will have the same functionality as Melee Mayhen. It can also be used in a rule that adds Divine Shield if it is already at level 5.
There are many possibilities, everything will depend on availability, and of course, on your vision of opportunity!

EXPLODING RATS right now, it's the cheapest rare monster on the market, costing just under $0.01. As a Splinterlands player, this is a good time to get this monster at full power, it's so cheap. We can also find it in its gold version for just $0.75. A gold monster that gives the player 500 power and will help you reach higher leagues.
Speaking as a speculator, I believe this card will take a long time to get a relevant price. I don't think it has a very high demand. but on the other hand, as this card costs so little, it only costs $0.02 to get 100% profit. A profit of just 1 cent would need to be on a very large scale for it to really have any financial relevance. And we don't even need to talk about demand again for this to actually happen.
But you never know what the future holds for us, it doesn't hurt to spend a few cents now to, who knows, reap some fruit in the future.
According to the Splintercards website, this is the price history for EXPLODING RATS over the last few months:
Regular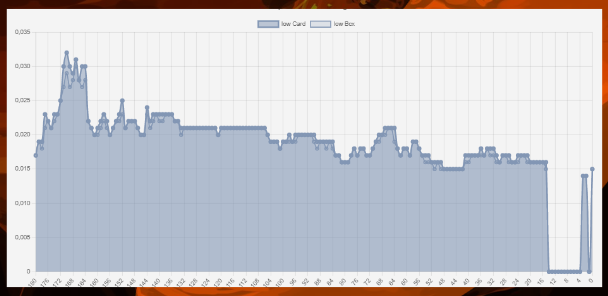 Gold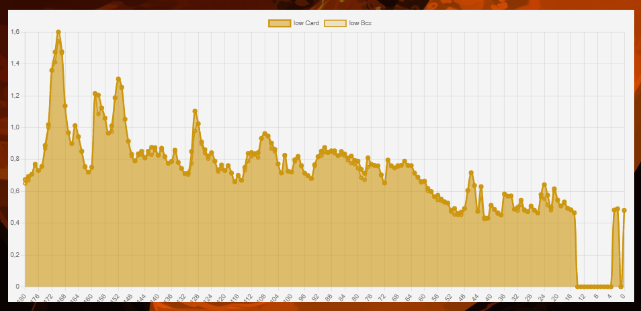 ---
Enough with the numbers and graphs, let's go to battle!


This is a match where we only have 15 mana to scale our monsters, so low mana monsters are good options to fill each gap well. The first battle rule is Up to Eleven, which increases the passive damage of some skills and among them, Blast from our monster EXPLODING RATS will be better used. The other battle rule is Fire & Regret, which returns damage from ranged attacks, so I avoided using monsters with that type of attack.

I choose a summoner that empowers monsters with melee attack. Since most of my monsters have this type of attack, I will benefit from this little extra help. My opponent chooses a summoner that adds Divine shield to monsters, but as EXPLODING RATS has the REDEMPTION skill, this advantage will be easily taken away from my opponent.
This was my lineup:
| Monster | Purpose |
| --- | --- |
| | The big star of the night. It was chosen for its abilities that will be well explored in this battle! |
| | I used this monster in second position knowing that it would soon go to its place of origin, with the benefit of having its health increased as monsters died, so it would arrive with more defensive strength to withstand attacks. |
| | He was chosen because he has little mana, good attack and still leaves the target poisoned. |
| | Chosen for its zero cost. Placed in the last position to give a little more protection to the Sneak attack team. |
---
EXPLODING RATS enters the field as the first monster attacks it, and right away, it already removes the protection of the first monsters and manages to dodge some attacks. That first round nothing very exciting happens.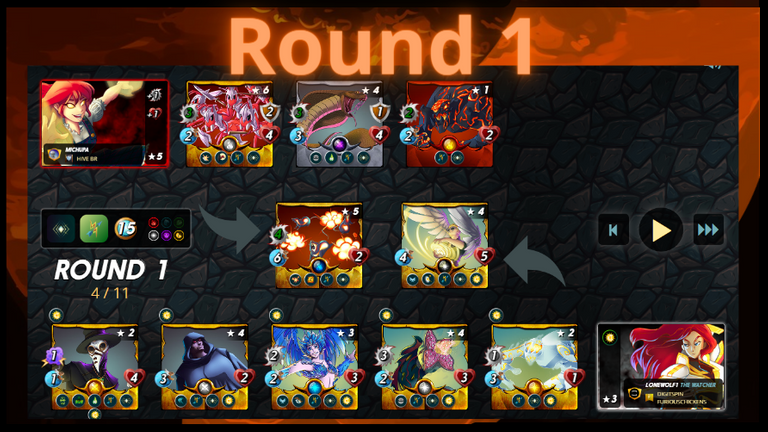 It's here in the second round that things really work out as I'd hoped. First, EXPLODING RATS manages to eliminate two monsters and is killed by an enemy monster, but before saying goodbye, his skill REDEMPTION comes into play, removing the opponent's protection and making everything easier .
My main tank drops to the first position with a lot of health and ready to face the attacks to come.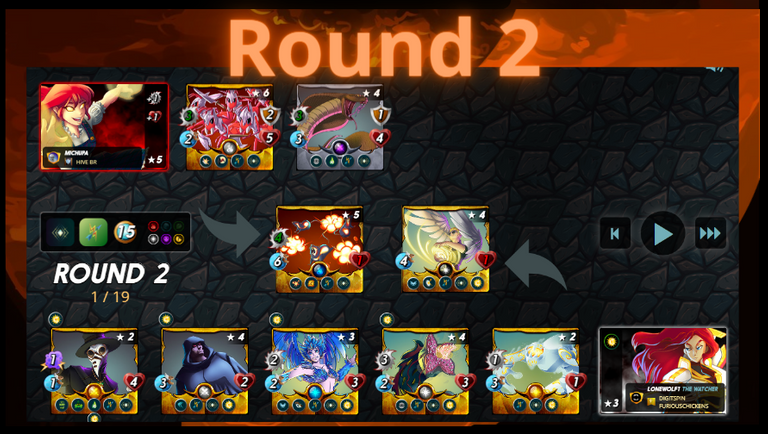 We arrived in the last round with the victory in our favor. Without much firepower and with his defense lagged, my opponent just watched his monsters being annihilated one by one.
This was a battle in which each monster played a key role and synergies that made everything work out very well. I used the skills in a way that I benefited from and nullified much of my opponent's strategy.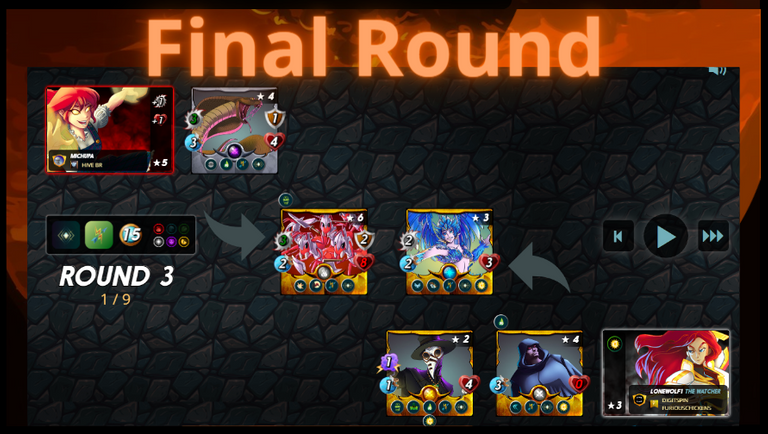 And here I end this post. Thank you for spending some of your time with my words and see you next week!!
---
Click on the image and use my referral link!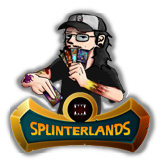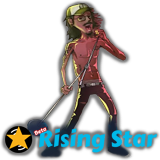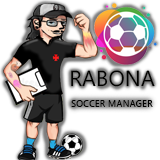 ---
---
Credits:
Thumbnail background image: Source
Image editor: Canva
---
---

---
---