HARKLAW, your best friend at the right times![PT/EN]
[PT]
Olá Splinters, bem vindos de volta!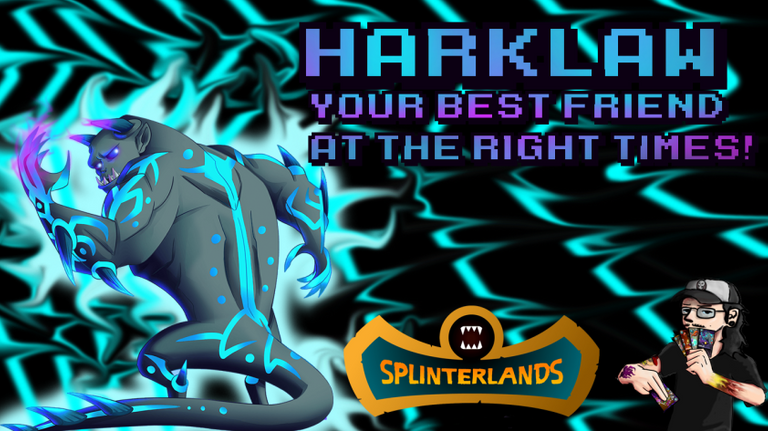 Chegamos em mais uma semana de desafio, trazer nossas batalhas para que outros jogadores possam apreciar é sempre muito divertido e agregador ao nosso conhecimento. Falar da carta em destaque é uma forma de aprender um pouco mais a cada semana e colocar nosso ponto de vista é enriquecedor em termos de conhecimento para toda a comunidade. Eu gosto muito de ver o que meus amigos de combate acham sobre uma determinada carta!
Hoje eu decidi falar sobre o monstro HARKLAW!!
Essa é uma carta lendária do elemento morte, muita poderosa e que possui habilidades úteis para as nossas batalhas. Essa também é uma carta especial para mim pois foi a primeira e única (por enquanto, eu espero) lendária gold foil que tirei em baú, foi de muito ajuda nesse meu início de jornada em Splinterlnds ao somar 12,500 de Power e me ajudar a disputar as ligas mais altas. Mas chega de falar de mim e vamos ao que realmente interessa!


Esse é um monstro específico para a função de tank, essa posição exige dos monstro que sejam resistentes a ataques, HARKLAW além de possuir uma boa quantidade de escudo e muita vida ainda possui uma excelente habilidade logo no seu primeiro nível: Shield

Shield level 1
Dano reduzido de ataques corpo a corpo e à distância. O dano de ataque é reduzido pela metade (arredondado para cima), exceto o ataque 1 que causa 0 de dano. Reduz o dano de Espinhos para 1 de dano.
Sua habilidade inicial é uma ótima oportunidade para que os monstros inimigos causem menos danos mas ao alcançar leveis maiores sua capacidade de se tornar uma carta ainda mais útil é realmente maior através de outras habilidades:

Immunity
Este monstro é imune a efeitos de status negativos

Demoralize
Reduz o ataque corpo a corpo de todos os monstros inimigos -1 no ataque corpo a corpo, não pode ser menor que 1
Claro que além de de suas preciosas habilidades seus atributos também são incontestáveis e a cada level acima alcançado esse monstro fica cada vez mais forte!

HARKLAW é um monstro importante para ter em nossa coleção e hoje ele esta muito acessível financeiramente, enquanto essa carta estiver sendo "printed" seu preço eu acredito que pode se estabilizar na casa de $1,00 dólar, mas eu não gostaria de ficar sem algumas dessa carta pois acredito muito que depois que ela não estiver mais disponível nas recompensas seu preço ira aumentar.
De acordo com o site Splintercards essa é o histórico de preços dos últimos meses em sua forma regular e gold:
Regular: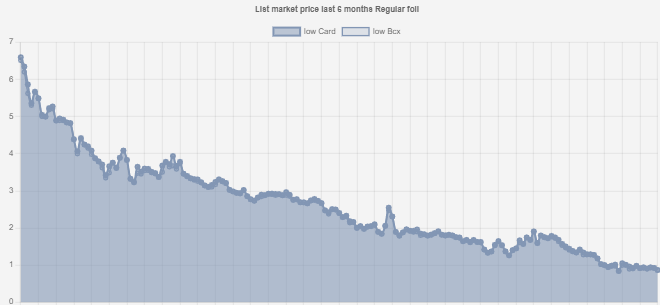 Gold: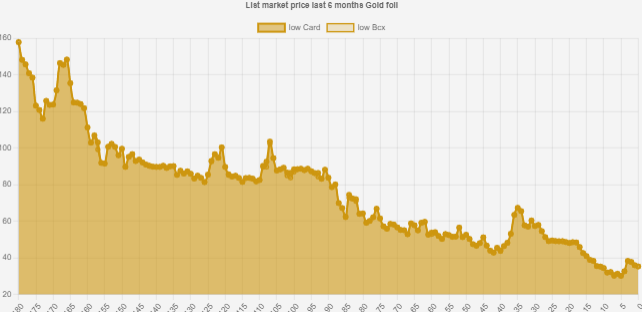 Conclusões finais:
HARKLAW não é uma carta que possui apenas pontos fortes, ele não é tão eficiente enfrentando monstros que possui ataques mágicos, sua habilidade Shield é inútil contra esse tipo de ataque. Outra ponto negativo que acaba sendo um fator indireto é que ele concorre posição com outros tanks que também são realmente incríveis como por exemplo CURSED WINDEKU e Haunted Spirit. Mas essa é uma concorrência saudável, que é que não gosta de ter tantas boas opções a disposição!?
Eu gosto de utilizar o HARKLAW em algumas regras de batalhas específicas, em especial na regra Noxious Fumes em que todos os monstros em campo ficam infectados, como o possuo no level 3 sua habilidade Immunity se torna especialmente eficaz. Acho que posso demonstrar um pouco disso na batalha abaixo, vamos conferir?



Nessa batalha temos Temida regra de batalha Noxious Fumes do qual todos os monstros ficam envenenados, monstros que se curam ou possuem a habilidade Immunity são apreciados pois diminuem o prejuízo na saúde causado por essa regra. Temos apenas 13 de mana para escalar o time e essa é uma quantidade que nos deixa bastante limitado, mas eu já tinha em mente o que poderia utilizar.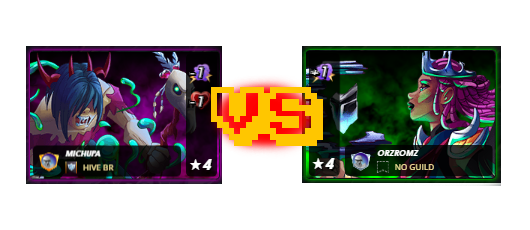 Eu escolhi o summoner THADDIUS BROOD para me auxiliar com seus debuffs nos monstros inimigos, diminuir o ataque mágico é sempre divertido mas o que seria mais útil é tirar um pouco de vida dos monstros do outro lado para que a regra de batalha fosse mais esmagadora. Meu adversário usou um summoner que aumenta o ataque mágico, por fim das contas estávamos mais ou menos empatados.
Para essa partida essa foi a equipe escalada:
| Card | Objetivo |
| --- | --- |
| | Foi escolhido para começar na primeira posição e fazer com que meu adversário desperdice algum ataque, com o custo de apenas um de mana foi ideal para encaixar na equipe. |
| | Custo zero para ser convocado, essa carta é útil em partidas de baixa mana quando não temos tantos recursos. Se posso escalar e tenho espaço pode servir para puxar algum ataque e poupar outros monstros mais importantes. |
| | A estrela da noite. Tudo dependia do quanto esse monstro pudesse permanecer em campo. Suas habilidades para essa partida serão fundamentais para que eu saia vitorioso. |

Round 1
Meu adversário adotou uma estratégia bem similar com a minha. Ao invés de um monstro com imunidade ao veneno, ele preferiu um monstro que pudesse se curar. Muitos monstros fracos em campo e com dois protagonistas prontos para se enfrentarem, vamos acompanhar esse desfecho.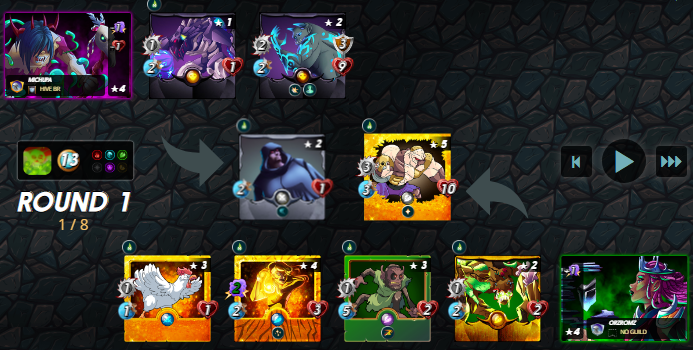 ---
Round 2
Depois do veneno levar todos os monstros coadjuvantes, chegou a hora desse dois gigantes se enfrentarem. Quem será que leva a melhor? Cura ou imunidade?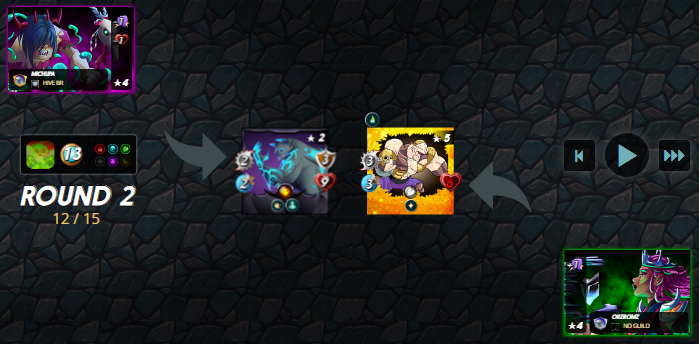 ---
Round Final
Depois de 5 rounds desses dois grandões se batendo, HARKLAW levou a melhor. Imunidade se mostrou mais eficiente nessa ocasião mas também não podemos esquecer levamos menos dano de ataque por conta da habilidade Shield. Essa foi uma boa batalha e meu oponente fez uma escolha inteligente, talvez em outra ocasião essa teria sido uma estratégia funcional.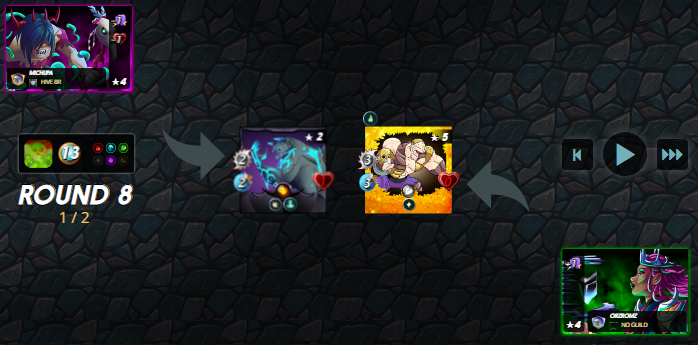 Se você quiser assistir essa batalha em seus mínimos detalhes basta clicar aqui!
E por hoje é isso, muito obrigado por ler até e passar um pouco do seu tempo com minhas palavras. Espero que tenha se divertido junto comigo e aprendido algo, até a próxima semana!

[EN]
Hello Splinters, welcome back!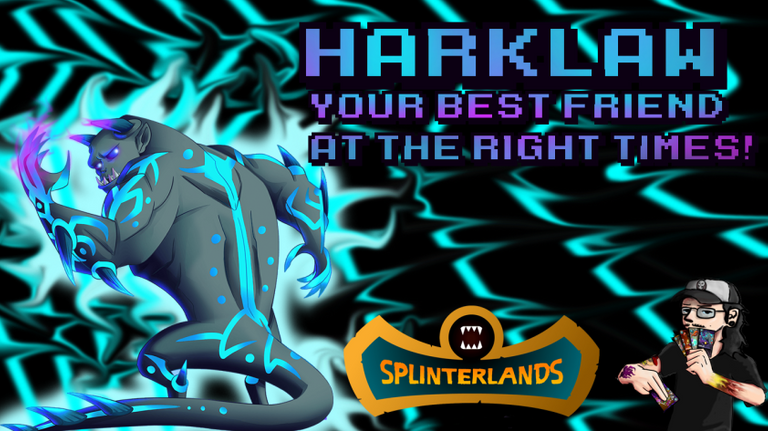 We arrived in another week of challenge, bringing our battles for other players to enjoy is always a lot of fun and aggregator to our knowledge. Talking about the featured letter is a way to learn a little more each week and putting our point of view is enriching in terms of knowledge for the whole community. I really enjoy seeing what my combat friends think about a particular card!
Today I decided to talk about the monster HARKLAW!!
This is a legendary card of the death element, very powerful and that has useful abilities for our battles. This is also a special letter for me because it was the first and only (for now, I hope) legendary gold foil that I took in a trunk, it was very helpful in my beginning of my journey in Splinterlnds when adding 12,500 of Power and help me play in the higher leagues. But enough about me, let's get to what really matters!


This is a specific monster for the tank role, this position requires monsters to be resistant to attacks, HARKLAW in addition to having a good amount of shield and a lot of life, it still has an excellent ability at its first level : Shield

Shield level 1
Reduced damage from melee and ranged attacks. Attack damage is halved (rounded up), except for attack 1 which does 0 damage. Reduces Thorns damage to 1 damage.
Its initial skill is a great opportunity for enemy monsters to do less damage but as it reaches higher levels its ability to become an even more useful card is actually greater through other skills:

Immunity
This monster is immune to negative status effects

Demoralize
Reduces the melee attack of all enemy monsters -1 on melee attack, cannot be less than 1
Of course, in addition to its precious skills, its attributes are also undeniable and with each level above reached, this monster gets stronger and stronger!

HARKLAW is an important monster to have in our collection and today he is very affordable, while this card is being "printed" its price I believe it can stabilize around **$1.00 ** dollar, but I wouldn't want to be without some of this card as I strongly believe that after it is no longer available in rewards its price will increase.
According to the website Splintercards this is the price history of the last few months in its regular and gold form:
Regular: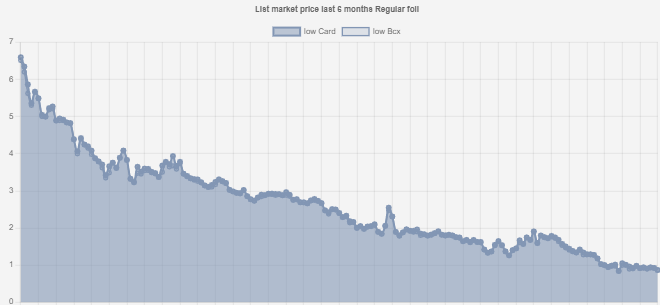 Gold: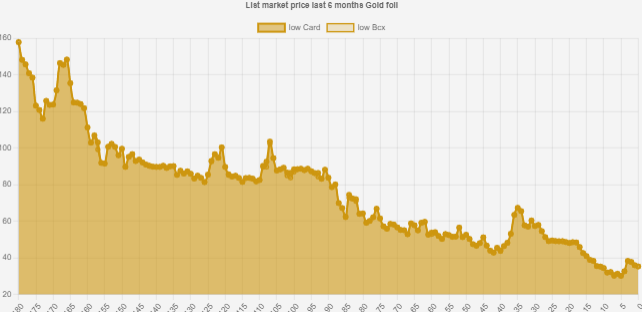 Final conclusions:
HARKLAW is not a card that only has strengths, it is not so efficient against monsters that have magic attacks, its ability Shield is useless against this type of attack. Another negative point that ends up being an indirect factor is that it competes for position with other tanks that are also really amazing like CURSED WINDEKU and Haunted Spirit. But this is healthy competition, who doesn't like having so many good options available!?
I like to use HARKLAW in some specific battle rules, especially in the Noxious Fumes rule where all monsters on the field are infected, as I have it at level 3 its ability * Immunity* becomes especially effective. I think I can demonstrate some of that in the battle below, shall we check it out?



In this battle we have Dreaded Noxious Fumes battle rule from which all monsters get poisoned, monsters that heal themselves or have the Immunity skill are appreciated as they decrease the health damage caused by this rule . We only have 13 mana to scale the team and that's an amount that leaves us very limited, but I already had in mind what I could use.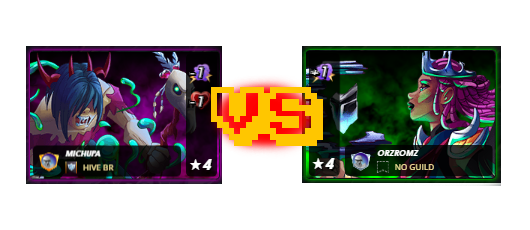 I chose the summoner THADDIUS BROOD to help me with his debuffs on enemy monsters, lowering the magic attack is always fun but what would be more useful is to take some life from the monsters on the other side so that the battle rule was more overwhelming. My opponent used a summoner that boosts magic attack, in the end we were more or less even.
For this match this was the team selected:
| Card | Purpose |
| --- | --- |
| | It was chosen to start in first position and make my opponent waste some attack, with the cost of only one mana it was ideal to fit in the team. |
| | Zero cost to summon, this card is useful in low mana games when we don't have as many resources. If I can climb and have space, it can serve to pull some attack and spare other more important monsters. |
| | The Evening Star. It all depended on how long this monster could stay on the field. Your skills for this match will be critical for me to emerge victorious. |

Round 1
My opponent adopted a very similar strategy to mine. Rather than a monster with poison immunity, he preferred a monster that could heal itself. Many weak monsters on the field and with two protagonists ready to face each other, let's follow this outcome.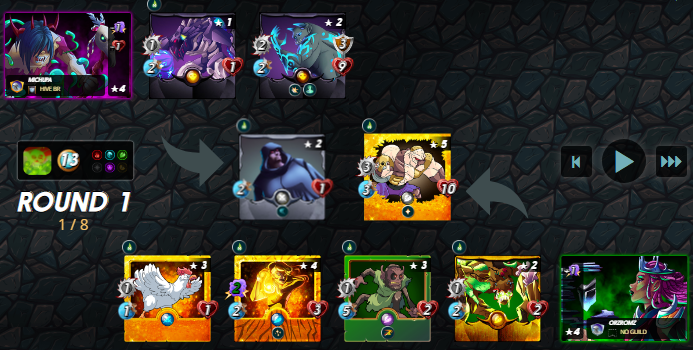 ---
Round 2
After the poison took all the supporting monsters, it's time for these two giants to face each other. Who will win? Cure or immunity?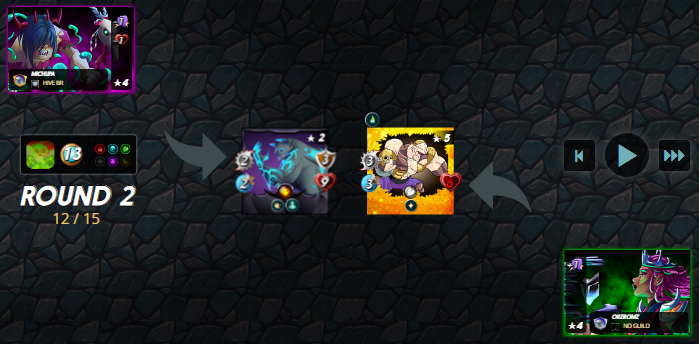 ---
Final Round
After 5 rounds of these two big guys hitting each other, HARKLAW got the better of it. Immunity proved to be more efficient on this occasion but we also cannot forget that we took less attack damage due to the Shield ability. This was a good battle and my opponent made a smart choice, perhaps on another occasion this would have been a working strategy.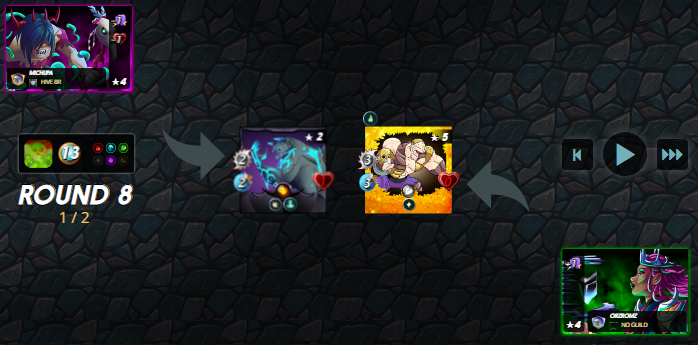 If you want to watch this battle in its smallest details, just click here!
And that's it for today, thank you so much for reading up and spending some of your time with my words. Hope you had fun with me and learned something, see you next week!



---
---