Share Your Battle - Gem Meteor
[PT]
Olá Splinters, bem vindo de volta!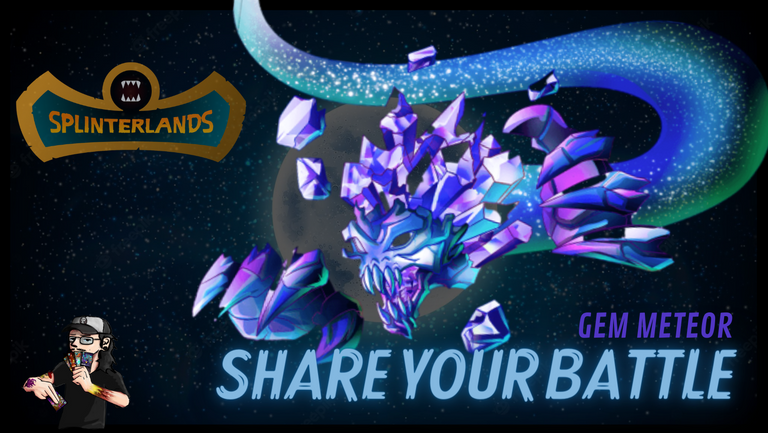 Periodicamente precisamos testar novos monstros, isso nos ajuda a aumentar o nosso leque de conhecimento quanto mais opções podere3m ser testadas, maiores as chances de descobrir novos combos ou soluções para as variáveis de uma batalha.
Semanalmente, Splinterlands lança um desafio sobre um determinado monstro. Esse desafio semanal é uma bela oportunidade jogar com cartas que talvez não temos o hábito, e também uma ótima maneira de saber a opinião de outros jogadores.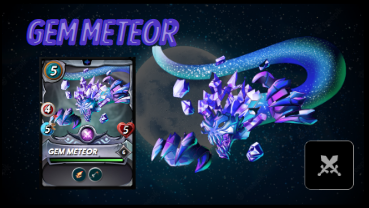 Para essa semana, temos GEM METEOR como o centro de nossas atenções!!

Esse é um monstro épico do elemento Neutro. Por ser desse elemento, GEM METEOR tem a vantagem de poder somar forçar com outros elementos, suprir alguma carência ou até mesmo complementar alguma estratégia. Tem uma boa sinergia com summoners que alavancam seu ataque Ranged como por exemplo General Sloan, Selenia Sky.
GEM METEOR tem como principal característica sua boa quantidade de vida e velocidade. Monstros com ataque ranged naturalmente são posicionados nas ultimas lacunas do time, essas duas qualidade citadas acima fazem que GEM METEOR possa ser útil para desviar ou aguentar alguns ataques de monstros com a habilidade Sneak.
Além de seus atributos físicos, possui duas habilidades:

SCATTERSHOT
Os ataques deste monstro atingem um alvo inimigo aleatório.
Essa habilidade pode infligir dano a um inimigo aleatório mesmo que ele esteja protegido por outro monstro com a habilidade Taunt. Muitos jogadores não acham que essa seja uma boa habilidade, por dispersar o poder de fogo em áreas diferentes. Porém, com uma boa estratégia da para criar alguns hits interessantes.

PIERCING
Se o dano de ataque melee ou ranged exceder a armadura do alvo, o restante causará dano à saúde.
Uma boa habilidade para evitar que ataques sejam desperdiçados em escudo e ainda sim causar dano. Essa habilidade é adquirida quando GEM METEOR alcança o nível 5.
Concluindo:
Para ser sincero, eu nunca usei GEM METEOR em minhas batalhas até o dia de hoje. É difícil dar uma opinião concreta sobre sua usabilidade. Não é um monstro que me chama muita atenção seja por seus atributos ou por suas habilidades medianas. Sempre existe uma oportunidade para aprender e dar uma chance para monstros que não costumo usar, hoje foi a vez de GEM METEOR e até que esse não é um monstro muito ruim. Seu ponto negativo é ter um custo relativamente alto para poucos benefícios.

Nesse momento GEM METEOR é um dos monstros épicos da edição Chaos Legion mais baratos no mercado. Por ser um monstro neutro, que geralmente tem um valor mais alto que outros elementos por conta de seus benefícios, esse monstro não esta muito em hype para os jogadores de Splinterlands. Talvez falte alguma sinergia com outras cartas ou ele realmente não tem muitas qualidades que possa causar desejo em potenciais compradores.
Segundo o site Splintercards, esse é o preço de GEM METEOR nos últimos meses em sua versão regular e gold:
Regular
Gold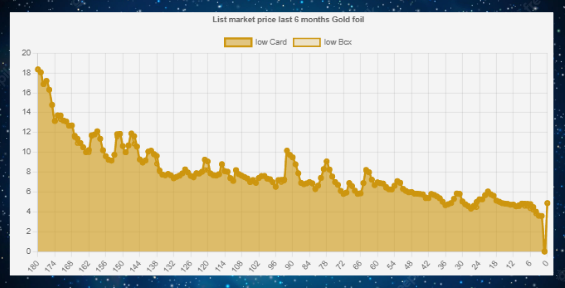 ---
Nesse momento, podemos encontrar a versão regular de GEM METEOR à $0,43 e em sua versão gold por $4,88. Talvez um bom momento para conseguir algumas de suas cópias? Só você poderá responder essas perguntas, afinal, você que é dono do seu dinheiro.
Agora chega de gráfico e números, vamos para a batalha!


Para essa batalha temos 52 de mana disponível para escolher nossos monstros. Essa é uma quantidade muito boa, pois da a liberdade de não precisar racionar. A primeira regra de batalha da a habilidade Snipe para todos os monstros que não tenha ataque melee. Também temos a regra em que todos os monstros ganham Magic Reflect, monstros com ataque mágicos são naturalmente evitados em partidas com essa regra.

Meu adversário escolhe um summoner que aumenta o ataque de todos os monstros rangeds enquanto eu escolho tirar atributos adversários. Eu escolho esse elemento pois acredito que teria maior potencial em meus monstros.
Essa foi a minha escalação:
| Monstro | Objetivo |
| --- | --- |
| | Para a primeira posição, um tank com a habilidade Thorns e uma boa quantidade de vida para suportar a maior quantidade de dano. |
| | Escalado por sua alta possibilidade de esquiva para possíveis ataques que podem vir de Snipes. |
| | Foi escolhido para atacar o último monstro da linha de trás inimiga e talvez deixa-lo envenenado. |
| | A grande estrela da noite foi selecionada para essa partida como um teste de sua utilidade. Se ir bem nessa batalha poderá ser usada em outras batalhas? Talvez. |
| | Escolhido por possuir um bom ataque. Como não pode errar seus ataques por conta de sua habilidade, eu acredito que foi uma boa escolha para essa partida. |
| | Para fazer um combo de ataque Sneak e possuir um bom ataque, esse monstro foi escolhido para essa partida. Colocado na última posição por possuir também uma boa quantidade de vida e velocidade, que poderá ajudar em alguma possível esquiva. |

Nesse primeiro round, consegui derrubar o tank adversário, porém, meu adversário conseguiu ressuscita-lo através de uma habilidade de um de seus monstros. Eu tive minha primeira baixa e agora para o segundo round, minha meta é destruir o tank adversário novamente.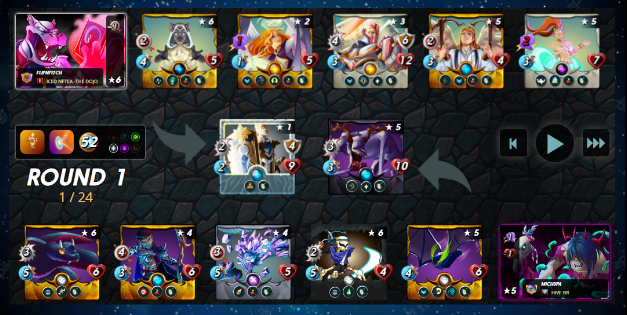 Nesse segundo round eu tive muitas baixas de monstros importantes. Não será fácil ganhar essa partida, porém eu consegui matar o tank adversário e o caminho ficou um pouco melhor.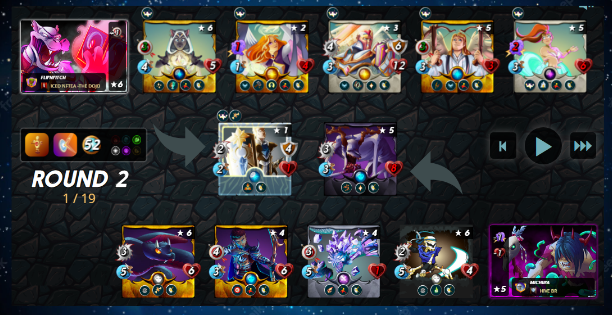 Aqui, eu já tive um desempenho muito melhor. Consegui derrubar suas principais forças ofensivas e consigo respirar mais tranquilamente. Está sendo sendo uma partida equilibrada e ainda não da para saber que vai sair vitorioso.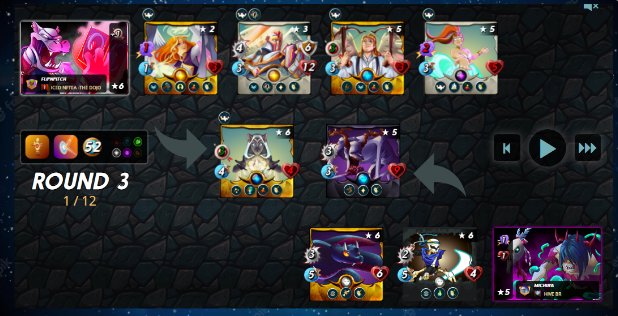 Depois de 7 rounds finalmente essa partida chega ao fim. Meu adversário terminou com um monstro muito bom defensivamente e ofensivamente. Eu tinha dois monstros frágeis para enfrenta-lo, porém com uma força ofensiva maior. Eu fui vitorioso, mas essa foi uma partida muito equilibrada!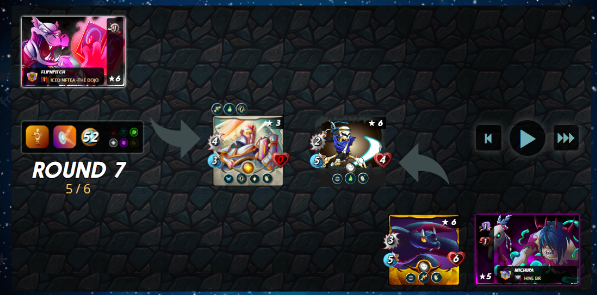 E por aqui eu encerro este post. Obrigado por passar um pouco do seu tempo com minhas palavras e pensamentos. Ate a próxima!

[EN]
Hello Splinters, welcome back!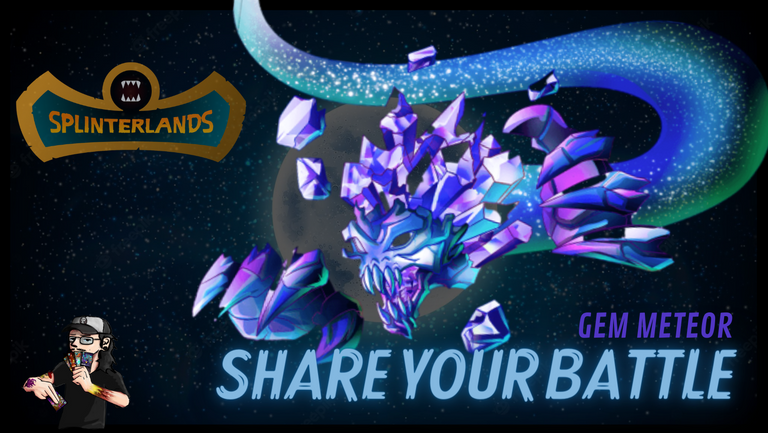 Periodically we need to test new monsters, this helps us to increase our range of knowledge, the more options that can be tested, the greater the chances of discovering new combos or solutions for the variables of a battle.
Weekly, Splinterlands issues a challenge on a certain monster. This weekly challenge is a great opportunity to play with cards we might not be used to, and also a great way to get feedback from other players.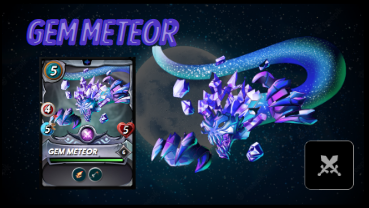 For this week, we have GEM METEOR as the center of our attention!!

This is an epic monster of the Neutral element. Because it belongs to this element, GEM METEOR has the advantage of being able to add strength to other elements, fill some need or even complement some strategy. It has good synergy with summoners that leverage its Ranged attack such as General Sloan, Selenia Sky.
GEM METEOR has as its main feature its good amount of life and speed. Monsters with ranged attack are naturally positioned in the last gaps of the team, these two qualities mentioned above make GEM METEOR useful to deflect or withstand some attacks from monsters with the skill Sneak.
In addition to its physical attributes, it has two abilities:

SCATTERSHOT
This monster's attacks hit a random enemy target.
This skill can inflict damage to a random enemy even if it is protected by another monster with the Taunt skill. Many players don't think this is a good skill, as it spreads firepower to different areas. However, with a good strategy you can create some interesting hits.

PIERCING
If melee or ranged attack damage exceeds the target's armor, the rest will deal health damage.
A good ability to prevent attacks from being wasted on a shield and still dealing damage. This skill is acquired when GEM METEOR reaches level 5.
Concluding:
To be honest, I never used GEM METEOR in my battles until today. It's hard to give a concrete opinion about its usability. It's not a monster that calls my attention either for its attributes or for its average abilities. There is always an opportunity to learn and give a chance to monsters that I don't usually use, today it was GEM METEOR and it's not a bad monster. Its negative point is that it has a relatively high cost for few benefits.

At the moment GEM METEOR is one of the cheapest epic monsters in the Chaos Legion edition on the market. Being a neutral monster, which usually has a higher value than other elements due to its benefits, this monster is not much in hype for Splinterlands players. Maybe it lacks some synergy with other cards or it really doesn't have many qualities that could cause desire in potential buyers.
According to the website Splintercards, this is the price of GEM METEOR in the last few months in its regular and gold version :
Regular
Gold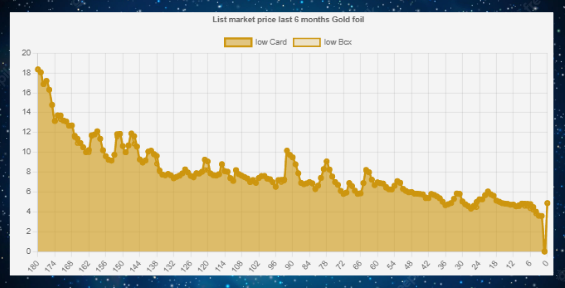 ---
At the moment, we can find the regular version of GEM METEOR at $0.43 and in its gold version for $4.88. Maybe a good time to get some of your copies? Only you can answer these questions, after all, you own your money.
Now enough with the graphs and numbers, let's go to battle!


For this battle we have 52 mana available to choose our monsters. This is a very good amount, as it gives you the freedom to not need to ration. The first battle rule gives the Snipe ability to all monsters that don't have a melee attack. We also have the rule where all monsters gain Magic Reflect, monsters with magic attack are naturally avoided in games with this rule.

My opponent chooses a summoner that increases the attack of all ranged monsters while I choose to take away opponent's attributes. I choose this element because I believe it would have the most potential in my monsters.
This was my lineup:
| Monster | Purpose |
| --- | --- |
| | For the first position, a tank with the Thorns skill and a good amount of health to withstand the most damage. |
| | Scaled by its high possibility of dodging possible attacks that can come from Snipes. |
| | It was chosen to attack the last monster in the enemy's back row and maybe leave it poisoned. |
| | The big star of the night was selected for this match as a test of his usefulness. If it does well in this battle can it be used in other battles? Perhaps. |
| | Chosen for having a good attack. As he cannot miss his attacks due to his skill, I believe he was a good choice for this match. |
| | To make a Sneak attack combo and have a good attack, this monster was chosen for this match. Placed in the last position because it also has a good amount of life and speed, which can help with any possible dodging. |

In that first round, I managed to knock down the opposing tank, however, my opponent managed to resurrect him through a skill of one of his monsters. I had my first kill and now for the second round, my goal is to destroy the opposing tank again.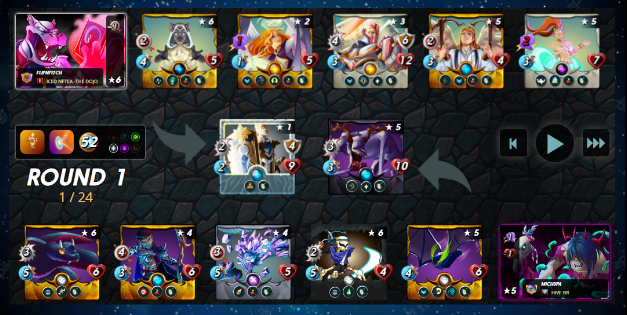 In this second round I had many casualties from important monsters. It won't be easy to win this match, but I managed to kill the opposing tank and the path got a little better.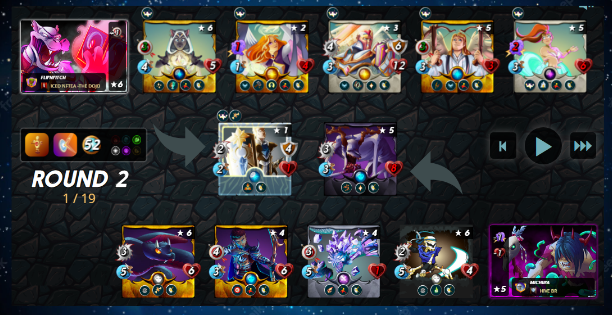 Here, I've already performed much better. I managed to take down their main offensive forces and I can breathe easier. It's being a balanced match and you still don't know who will be victorious.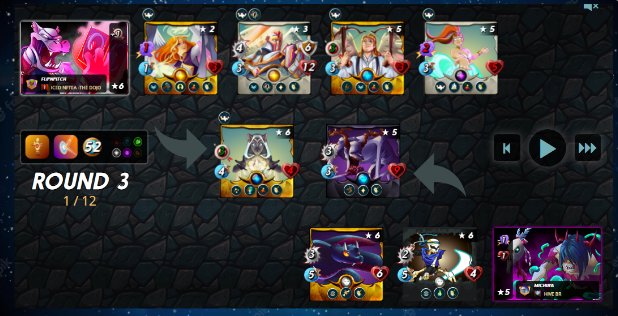 After 7 rounds finally this match comes to an end. My opponent ended up with a very good monster defensively and offensively. I had two fragile monsters to face him, but with a greater offensive force. I was victorious, but this was a very balanced match!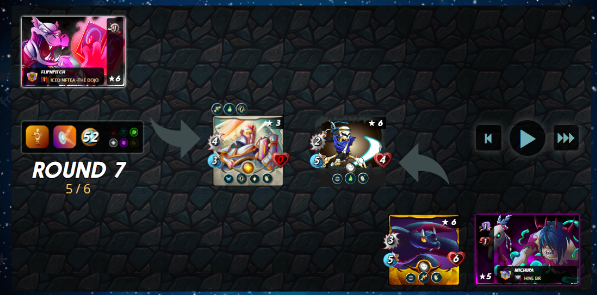 And here I end this post. Thank you for spending some of your time with my words and thoughts. To the next!
---
Click on the image and use my referral link!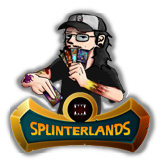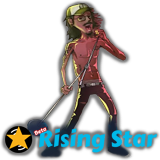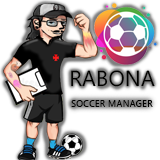 ---
---
Credits:
Thumbnail background image: Source
Image editor: Canva
---
---

---
---