Keeping Track of Splinterlands Rentals vs the Market Using PeakMonsters
Hey guys - my first peakd post so be gentle!
Did you know there is a tool to let you know how close to market prices all your rentals are and where you could be making more?
Step 1. Head to PeakMonsters and look at 'My Cards' - filter on cards that are for rent: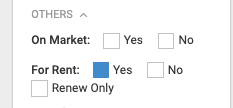 Step 2. Now you have your cards that are up for rent move to 'Bulk' mode. This is important as it reveals the feature we want.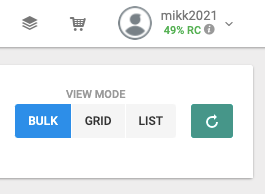 Step 3. I like to sort my cards by 'Listed Price' so I can see my most expensive cards first.

You'll notice I have 3 cards unrented (my most expensive ones) we can hide those by filtering 'Delegated - yes' to only show cards rented out to people or 'No' to show cards that are for rent but not yet rented.
Step 4. This is the money maker - show me how my cards place against the market. Make sure you did Step 2. You now have the below function that compares all your cards to the lowest price on the market.

Step 5. Click 'Compare your rentals' for the magic.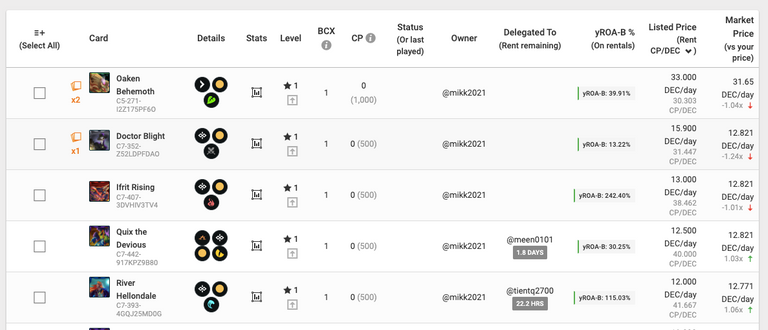 You can see my expensive rentals are just below market so I expect them to rent out soon. Which is good to know. I can also sort by Market Price which allows me to see how under priced my rentals are vs the market. This is especially useful towards the end of the season: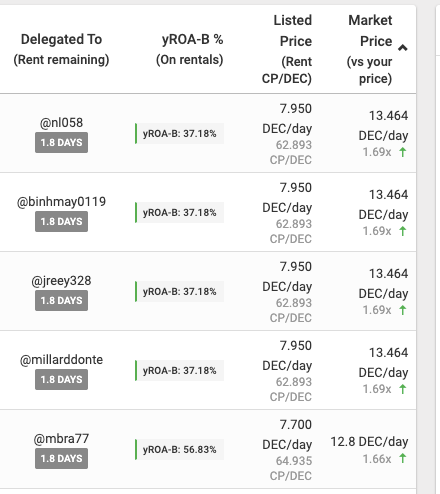 Here we an see I'm missing out on DEC vs the market. Currently renting the top card for 7.95 dec per day but the market price is now 13.4. Missing out on almost 5 DEC (missing out on 69% yield). This rental was put up 2 hours ago (end of season rental market moves quickly)
I previously had card rented out 10 times lower than market rates so cancelled that one card and re-rented at a better price.
Remember there is a cool down for rented/recently used cards.
Hope this was helpful! Something I use a lot and not sure everybody knows.
---
---