End Of Seanson Recap #1
Hey Hivers and Brawlers,
We've reached the end of another season in Splinterlands. Lots happening this season for me. Here's a quick recap.
Season Recap
This is my third season playing again after a long break. Manage to venture into the silver league as I have been playing it safe in bronze, but I reckon my deck is good enough to proceed and play in silver.
Modern or Wild?
New choices to make this season with the introduction of the two new game plays. Modern, limiting decks to untamed and chaos legion. Or wild, which is a free for all from all decks - basically the standard gameplay we are used to.
I opted for wild here as my deck is filled with beta and rewards cards, so this suits me best. Gotta stack those chaos cards to stand a flighting chance in modern.
The Results
Managed to secure 56 reward chests. Not a bad pull, less potions than expected so happy about that. Got quite a few cards, loads of dec and a few merits as well. Have a look to see the full pull...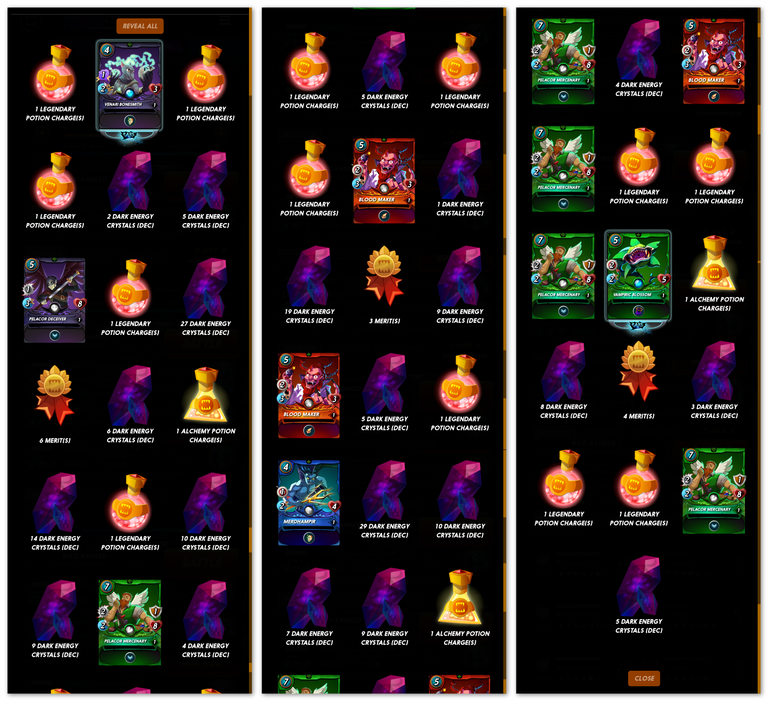 Not too shabby of I must say so myself ...
How's your progress looking?
That's my Splinterlands updat for this season, how did you do? I'm keen to hear where you at and what your preferences are with the new updates.
Pop me a line...
Much love from Sunny Cape Town,
@Mimismartypants
---
---