Reviewing Progress on the LR Alt Account and Seeing How to Make the Most of the Opportunities Available
I started my alt account on Splinterlands in August last year (wow, it's been over a year!) to see how hard it was to build up an account on just the initial $10 investment. A lot has changed since I first started it, making it harder to win DEC (Dark Energy Crystals) and cards, the game's NFTs (None Fungible Tokens). So I stopped doing a regular update, as little changed from week to week once those charges came in. However, I haven't stopped playing on it and I've recently started to take a look at it more of the opportunities it offers that I've never really made the best use of.
The last time I updated I'd made my initial investment back. Today, despite all the changes that investment has grown:

You may notice a little change in the usual make up of that screenshot from my previous posts and that's the income from rentals part, but let's go back and review the events and how I came to this point.
When I first started playing, as you gained wins you gained points and this would take you up the leagues depending on your points rating level.
100-399 = bronze lll
400-699 = bronze ll
700-999 = bronze l
1,000-1,299 = silver lll
1,300-1,599 = silver ll
1,600-1,899 = silver l
1,900-2,199 = gold lll
Etc...
For the all bronze leagues you can only win one chest when you complete your daily quest, but once you get into silver the quest rewards increase with each league level. This means more rewards as your rating increases. A lot of low level bot accounts in the game made it fairly easy to get into the higher leagues with the level one phantom deck you start with and there were a lot of accounts farming those reward chests and cashing out by selling the cards, rather than keeping them to build their deck. So to encourage players to save their cards and not have so much money pouring out of the game, they introduced a power rating based on the DEC burn value of your deck. This meant I was limited to the bronze league and just one reward chest per daily quest completion for the foreseeable future. The growth of the account slowed rapidly at this point, but I forged on.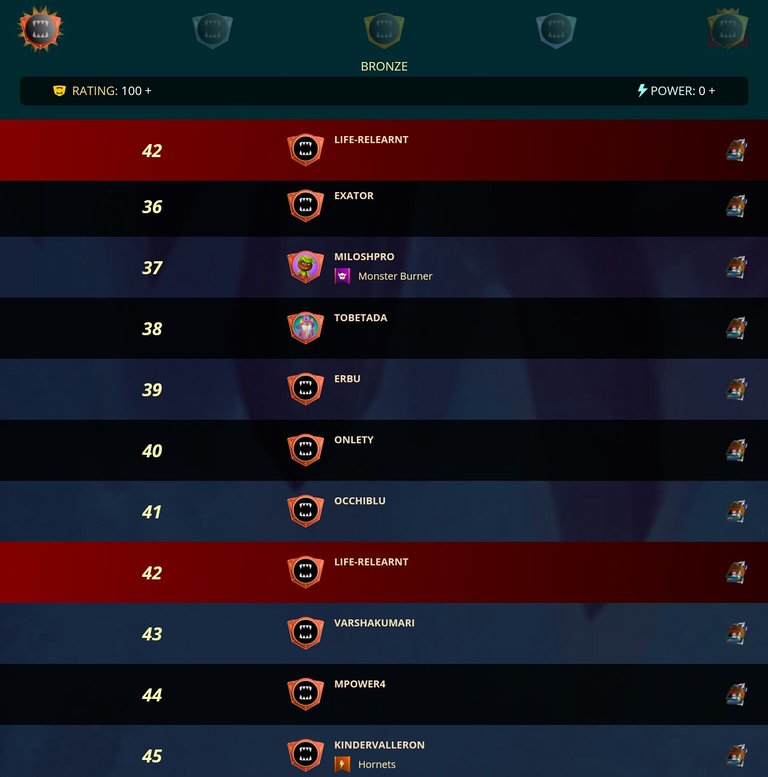 To add a little more of a challenge to the game, I decided to try and see what the highest I could get on the bronze leaderboard was and made it to 42 before something new started happening. You see, something else that was introduced shortly after the power rating was the option to stay in a lower league even if you qualified to go up to the next league. Therefore, many accounts decided to optimise their decks to certain leagues in order to win extra by getting high up on the leaderboard at the end of the season. The top 20 spots on the leaderboard gain extra prizes at this point, usually card packs if they are available, DEC if they aren't. This meant that there were more and more accounts playing that had levelled up decks (you can use up to level 3 common, level 2 rare, level 2 epic and level 1 legendary in bronze league) and a wide range of cards. I've never got anywhere near that position on the leaderboard since, so I decided, instead, to see how high in points rating I could get and 1,384 was the highest while I was still checking it regularly.
A new form of farming came with the rise in value of DEC and accounts were created to farm for that instead. A more recent change to combat this was to stop DEC being won in reward chests in bronze league and replace it with credits, which can only be used to purchase in game and can't be removed from the game. They are also pegged at a value of 1000 credits to one dollar, so they won't fluctuate in value like DEC. I believe the chance of winning cards in chests also decreased for bronze league. DEC can still be won from battles, however, so it's still obtainable in bronze league, at least for the time being. Then, of course, value can still be won in the form of the reward cards, which also hep to level up your power rating.
So those were the changes that have slowed my account growth, but there are other opportunities to grow the account that I hadn't made use of. I had been avoiding renting, because I wanted to keep building my power rating in order to get it high enough for silver league, but it wasn't getting anywhere fast and the prices of cards had been going through the roof due to demand and uptake of the game. I had cards I wasn't using, due to duplication, so I decided to bite the bullet and rent them anyway to increase DEC income and have a better chance of building the deck and my account that way. I don't think many are being rented, because they are just too low level, but I had a second Mylor Crowling that I'd managed to purchase before they got too expensive for me, but I didn't have enough to level him up. That was snapped up immediately for 12 DEC a day, so I'm glad I didn't combine the cards now.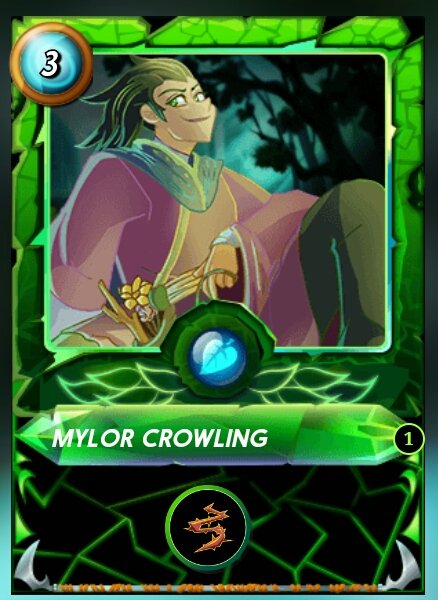 Mylor has shaped up to be a good investment.
In addition to renting, I continue to play my dailies and will try and get extra games in towards the end of the season when my points rating means that my DEC win rate is higher. It's not huge amounts, but it's something and it's lent another aspect to the game.
Then last, but not least, is the SPS airdrop side of the game. I don't get loads for my little account, but it was enough to let me stake something and get fractions of vouchers airdropped to the point where I gained enough to make a voucher and purchase my first pack in the game. It's the new Chaos Legion ones and I'm excited to be able to open it when the countdown for the pre-sale ends. I'll be able to use some of the many potions I've accumulated over time from the rewards chests, but never used because I've never purchased a card pack before. Just as I had enough to get an Azmare Dice, they sold out!
It's been slow progress, but overall there's been a gain. I think I may look into the card renting side for my own use next, to see the efficacy of that for growing the account. It would need to earn me more than I'd spend, but I'm not sure if I'm always active enough for that to work. I often miss days playing or have play time cut short due to other things coming up.
~○♤○~
Previous Updates:
Week 1, week 2, week 3, Week 4, week 5, week 7, week 9, week 11
---
---