First day in Splinterlands
Hello, my name is Miniwash, today is my first day playing spliterlands! After listening to my brother talk about the game and the potential future of it I decided to give it a try. I`ve never documented anything publicly, so this is my first time (cut me some slack!).
My aim with this game is to at first get a feel for the game, the cards, the mechanichs... and also the market, the comunity and most importantly the economics, beacause I want this to become a profitable investment long term. At first I wont spend any money, but I think its going to be unevitable if I want to advance through the different leagues. I wont be spending hundreds of dollars, but maybe 10-20$ a season, no more than 50$ a month, and see where that gets me. This is all going to take place in the new rules affecting Bronze League.

Day 1
We start with a FIRE Quest! With some tips from my brohter it seemed pretty simple to win 5 battles. My reward chest? A not so bad 11 DEC!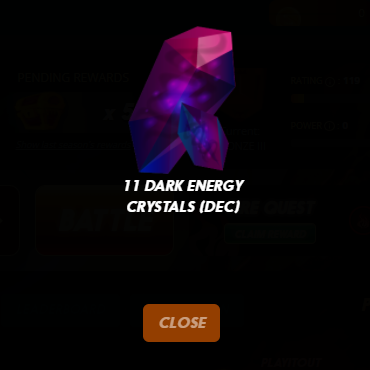 I also managed to reach Bronze III. That seems to be the limit I can achieve with my current power. Hopefully I can get some cards, or rent some to increase the power to get more rewards when the season closes.
After playing until my capture rate reached around 80% I decided to stop until tomorrow, so here are my day 1 results:
Rating:......122
Power:.......0
DEC:..........13.631
Credits:.....0
SPS:..........0


Feel free to comment below and let me know what you think!
---
Total spent:
Spellbook: 10$
---
---
---