Thoughts on the current state of $DEC token and future speculation

After reading this post, I couldn't help but think about just another moonshot opportunity popping it's face from Splinterlands ecosystem through DEC tokens.
As most know that the price of DEC is hanging way below its peg, it could go lower but it's eventually going to recover to its peg and possibly break the peg to the upside.
At the moment of writing this, DEC is worth around $0.0059, there's some upside to be profited from buying at these prices. Many of us remember how DEC shot way past its peg to the upside during the OCT 2021 run, can we see this repeat itself? First, let's look at why it happened and what the odds are now.
Sps airdrop contributed greatly to the price of DEC popping off due to the amount of points allocated to DEC holders from SPS airdrop points. The more DEC one held, the more SPS airdrop points one could attract.
And Ofcourse, SPS was the new shiny thing on the block everyone wanted to have their hands on. So players started to hoard DEC like their life depended on it, at the time, buying DEC was a win win because as it pumped you made money and you were also being airdropped SPS tokens, DEC went ballistic and pumped past $8.
Today though, the ball game is different, SPS airdrop which is the biggest incentive to hold DEC is ending in about 16 days, I expect DEC to dump some more, cheaper DEC leads to cheaper Packs as Packs in the internal market are always sold for 4,000DEC irrespective of the price of DEC. Cheaper Packs also likely leads to cheaper cards as more cards may flood the market.
From this junction, we can see DEC plays an important role and needs to regain the peg. The first step to recovery can be found in the last official update from Splinterlands team,
The plan is that all of the current DEC rewards for ranked battles - including tokens awarded for ranked battle wins and in focus/season reward chests - will be replaced with SPS tokens. This way there will no longer be a huge supply of DEC tokens entering the market from ranked battle rewards which will help stabilize the price around the value at which we accept them in the shop.
source
Yep, close the major DEC faucet, while they continue to be used in buying packs. The market will absorb whatever amount of dump as people take advantage of the lower prices to buy cheap Packs and dump some on the open market where people like me are patiently waiting to pick them up just because they're cheaper and we are looking to maximize-on-budget
Eventually equilibrium will be reached and the peg will hold again. So will we see a ballistic high DEC in future? iDono, it'll be depend on the state of the general market and other implementations that will require DEC, as for now the opportunity lies in accumulating these dips and just sitting on it till the market takes a turn which it will. This is my current view on the state of DEC.
Amongst these assets which do you think is the next moonshot?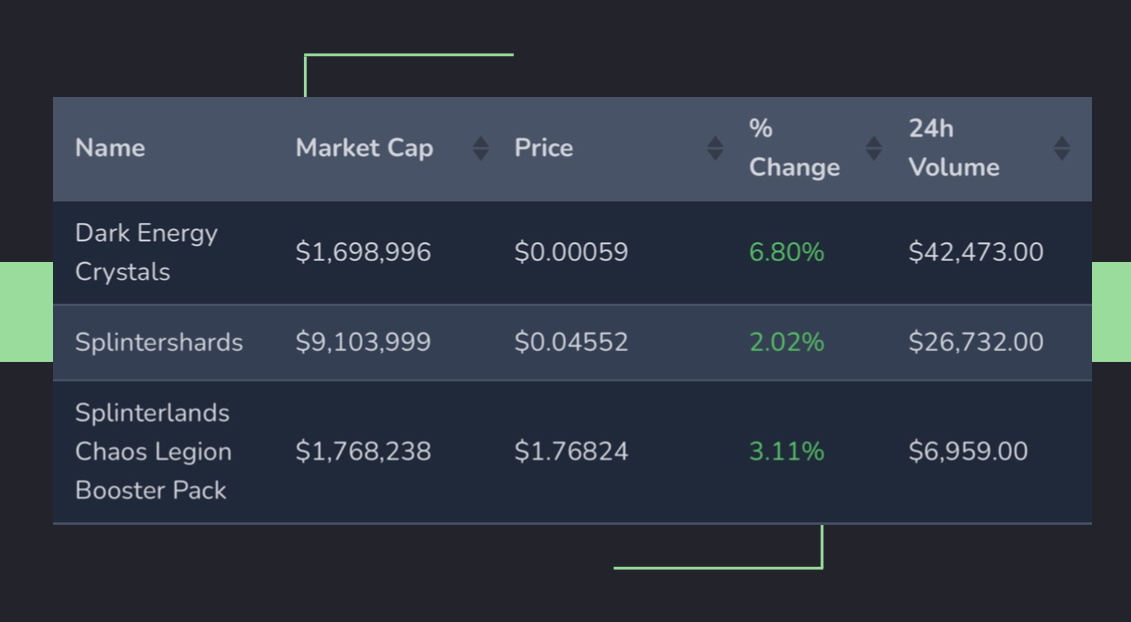 Posted Using LeoFinance Beta
---
---