FINALLY BOUGHT LEVEL 5 TYRUS PALADIUM FOR $37 A RARE LIFE SUMMONER FROM BETA EDITION
Hello Splinterland warriors!
How are you all guys hope you will be blessed and fine. In today's post, I will be sharing a summoner card from the beta edition which i bought yesterday from the MARKET with an upgraded version of level 5 and Ready to use in my battles.
---
TYRUS PALADIUM
---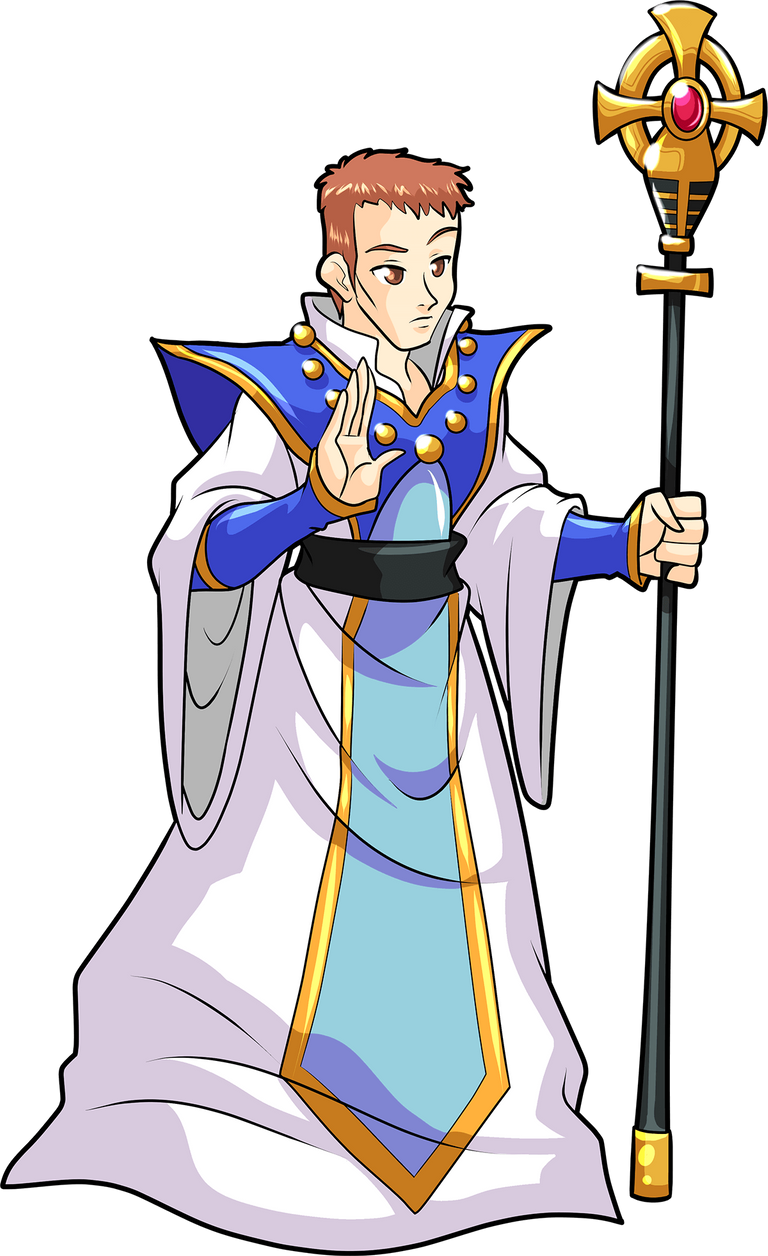 A Khymerian prophecy says that a chosen hero will rise from humble beginnings to wield the Silver Shield and the Silver Sword, uniting the world against evil. Read more
Well, finally upgraded all summoners to level 5 and it was the only summoner from life splinter which was not upgraded while the level 3 life summoner is still had in my collection that i will sell out now for upgrading this card which i bought at a cheap price yesterday from the market it cost $37 investment and i got some DEC from rental income half of the DEC like 23k DEC i earned from my rental income and rest of the money i invested from the hive and bought DEC which cost me nearly 50+ hive and 23k DEC total DEC needed was 49k and now i can use it my battles for which i will remove the card from renting in the new season.

---
TWO BCX LEVEl 3 & 5
---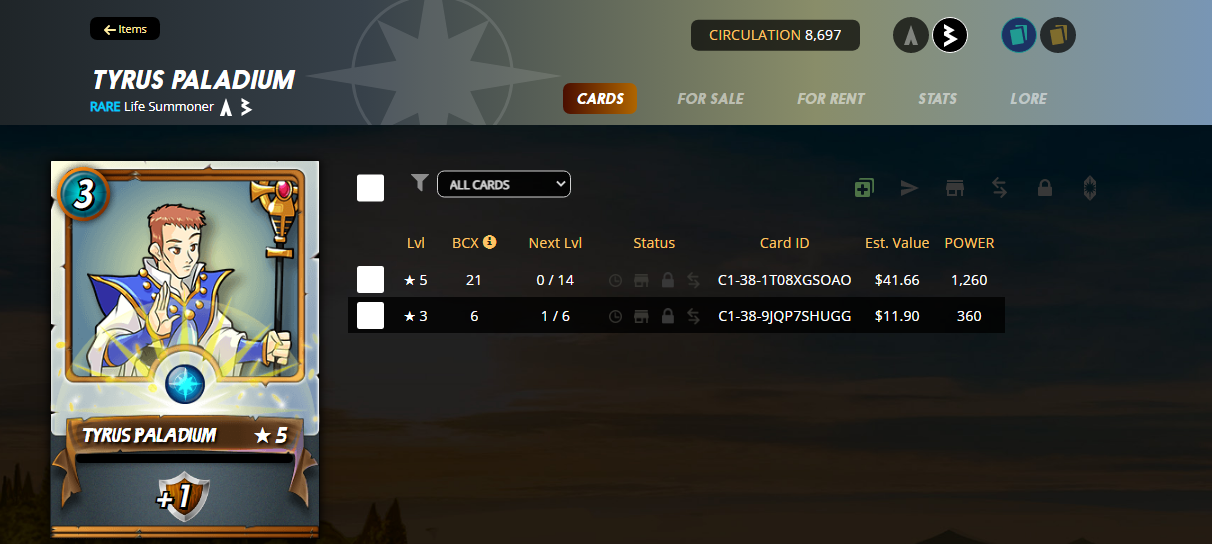 Well, here you can see two BCXs the one i removed from the renting and will place for sale in the market to get back some investment like the current price is nearly $12 for level 3 but i will put it for $15 to get some investment back and the level 5 will be cheaper for me if sell out the level 3 summoner then it will be worth $25 for me because i will get back some money by selling out the level 3 summoner of life splinter. My next target is to upgrade the chaos legion summoner of earth and will sell out the beta summoner of level 5.

---
COMPARISON WITH CL LIFE SUMMONER
---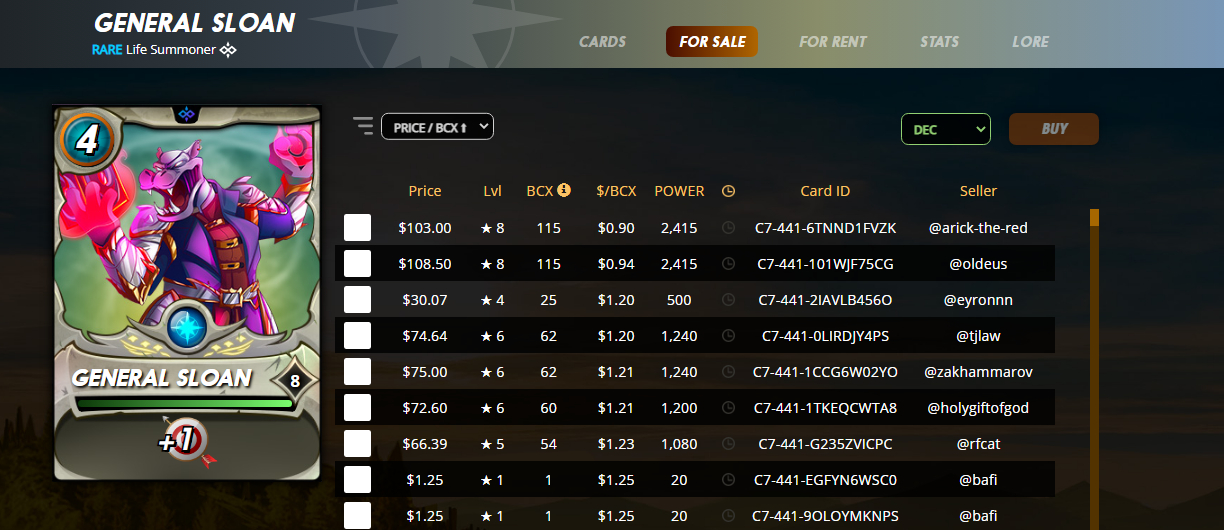 Well, you know the difference between chaos legion and beta edition summoners some are good and some are useless but most of the chaos legion summoners are good in comparison with the old edition summoners that is why the prices of these cards are high but still, i like the beta edition life summoner which cost 3 mana and adding one armor to all friendly monsters while the chaos legion summoner cost 4 mana and adds one ranged attack to all friendly team but if i was buying the level 5 version of chaos legion summoner it would cost $48 while from the beta edition, it cost $37 and cost per BCX was $1.8 while you can buy the chaos legion summoner for $1.25 nearly per BCX this is because of the edition difference that it needs 21 BCX for level 5 while the new cards and summoner need 40 BCX for level 5.

All images are from the Splinterlands website

If you are new to this game then signup here to play the game click here for signup
---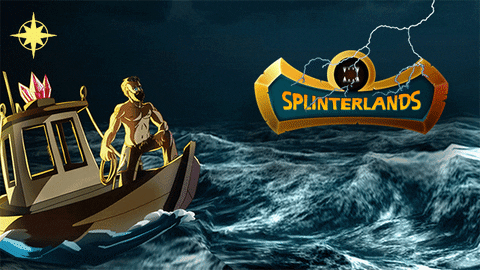 ---
Thanks For visiting my Blog
Best Regards @moeenali
---
---