GOT AN EPIC GOLD INSIDIOUS WARLOCK OF DEATH SPLINTER | FOCUS REWARDS
Hello Splinterland warriors!
How are you all guys hope you will be blessed and fine. In today's post, I will be sharing a chaos legion pack opening and an epic card which i got from the chaos legion pack in gold foil worth something after a long time i got this epic gold foil card from the CL pack.
WILD TIRE ADVANCEMENT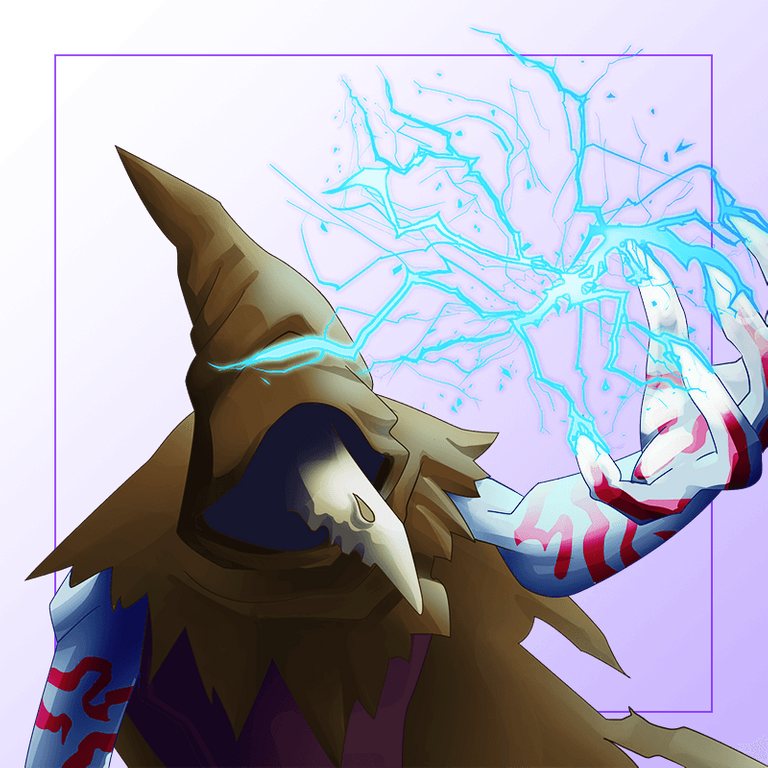 Insidious Warlocks are a faction of the Chaos Legion specialized in death magic. Wherever they go, there is a cold chill and the shadows seem somehow darker. Read more
This is the first ever epic gold from the chaos legion edition as i got some epic gold from the recent edition like metica headhunter and one other from the water splinter but from the chaos legion edition i got this one INSIDIOUS WARLOCK for the first time which is a death monster with magic attack and has some cool abilities that will work for you in the battlefield as i have used this card in my battles it worked great in the equalizer ruleset by getting the void ability from the mimosa legendary summoner.

ABILITIES AND MARKET PRICE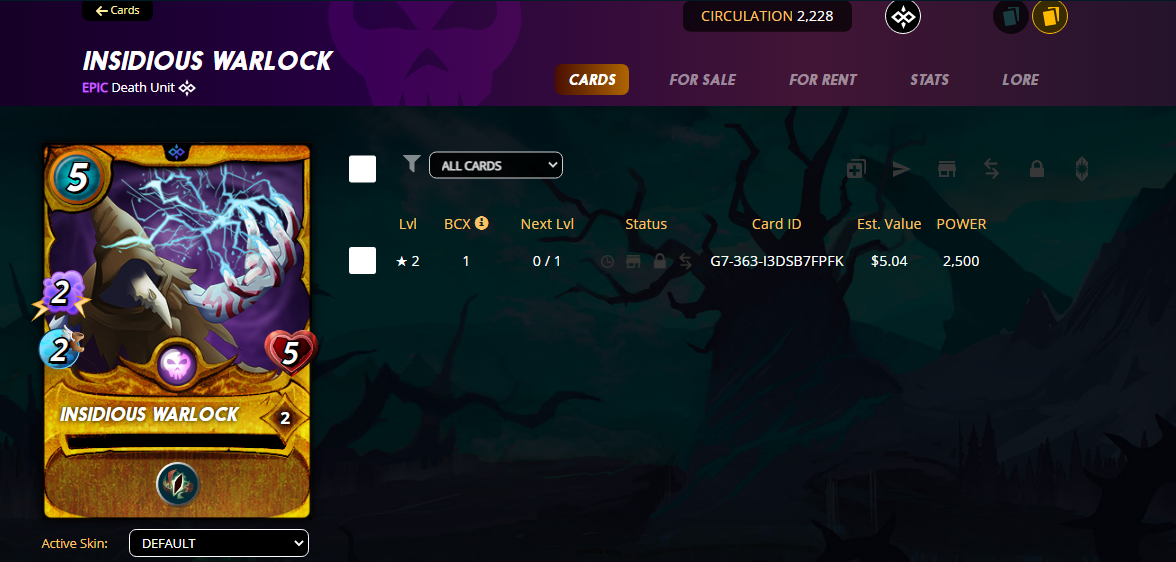 The total circulation supply of this card is 2228 and i am the 2228 lucky players who got this card that you can see that its market price is $5 worth which is not a bad price. However, it cost a 5 mana cap and two abilities with recharge and blind ability that will give a magic attack with 5 health so not a bad card for me which i used so many times, and the recharge ability worked great by vanishing the monster by giving 3x damage after two rounds.

WORTHY CHAOS PACK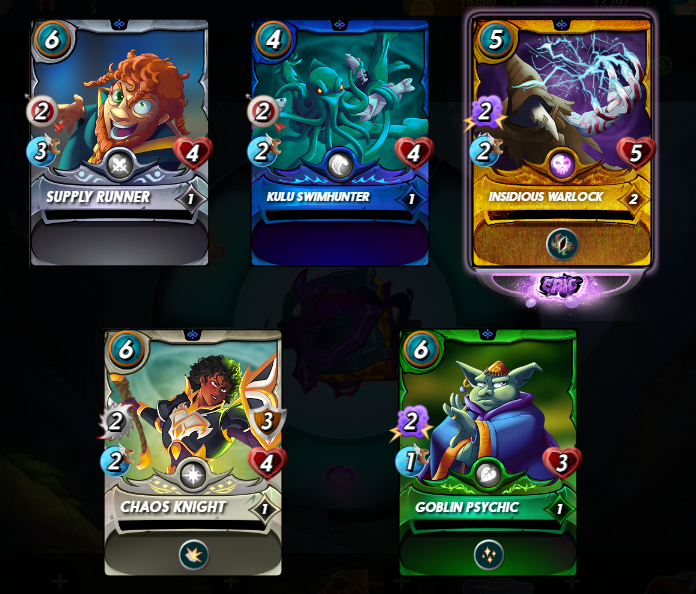 Here is the worthy chaos legion pack opening which returned my investment back as i have bought 4 packs of chaos legion recently each pack cost me 4.3 hive and got some nice cards including two common gold from one pack while in the next pack i got this epic gold worth $5 which returned the pack buying investment cost i can easily sell this card for $5 and can earn 10 hive with so you can say that i doubled my investment as i have invested only 4 hive and can easily get the 10 hive so 6 hive profit by selling this card at the current price of the hive.

FOCUS REWARDS OF GOLD 1 LEAGUE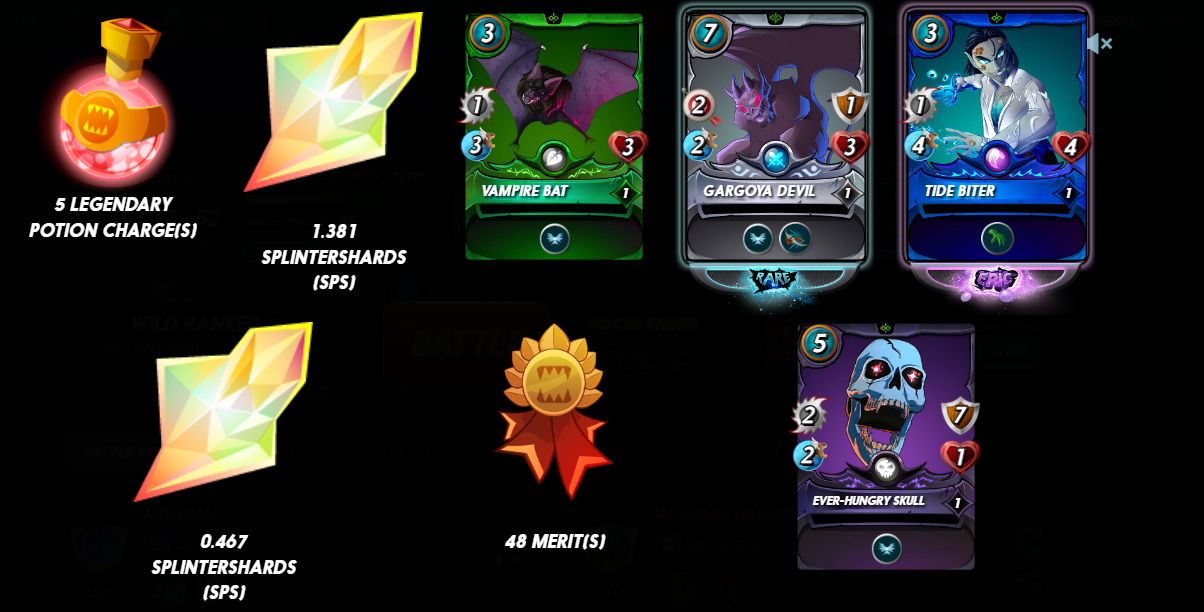 Yesterday i made 8 loot chests for the daily focus rewards and got these rewards in th gold 1 league i am playing in the gold league and soon will touch the next league if possible otherwise the gold 1 league will be the final league because only 1 day left in the season end but i made some nice loot chests in the current season but don't know about the rewards hope it will be good. I will share some rift watcher cards in the next posts as i opened 12 packs of rift watchers which i bought with my hive investment and almost invested 56 hives or $27 soon i will be sharing the new cards in the upcoming posts.


All images are from the Splinterlands website

If you are new to this game then signup here to play the game click here for signup
---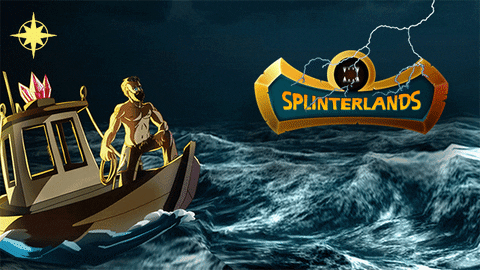 ---
Thanks For visiting my Blog
Best Regards @moeenali
---
---