RELENOR CLEAVER A RARE GLADIUS CARD TO LEVEL 2 | BRAWL RESULT AND GLADIUS PACK | QUEST REWARDS

Hello Splinterland warriors!
How are you all guys hope you will be blessed and fine. In today's post, I will be sharing the Quest rewards of today along with Gladius pack opening and brawl result with a gladius card that i converted to level 2.
RELENOR CLEAVER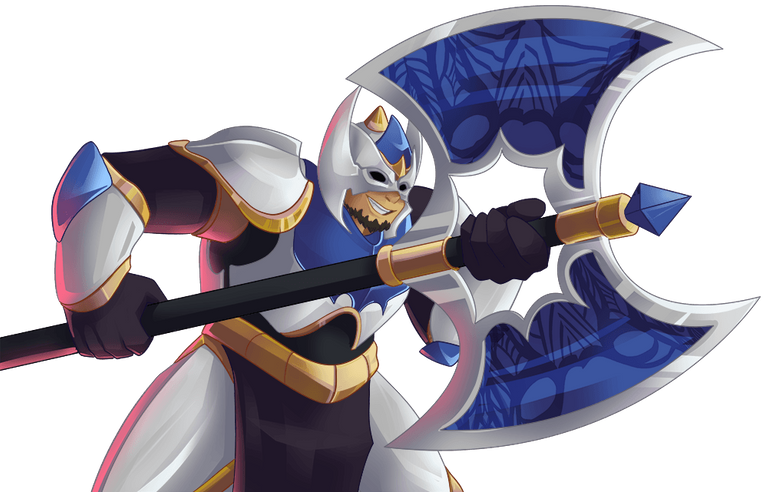 The Cleavers are the only family of ΛZMΛRÉ Axemasters who have ventured away from their homes on the edges of the jungle. Many members of this family have even made names for themselves in other Splinters.Read more
The card is not new as i already explained before but today i just upgrade this card to the next level by combining 5 BCX which is a rare card from the water splinter that we can only use in high mana battles because of its high mana but will give you some nice perks, especially in a ruleset where monsters need to hit the armor before reducing health so this monster has some cool armor and it increased at level 2 with 1 life so, not a bad card for gladius high mana battles.


ABILITIES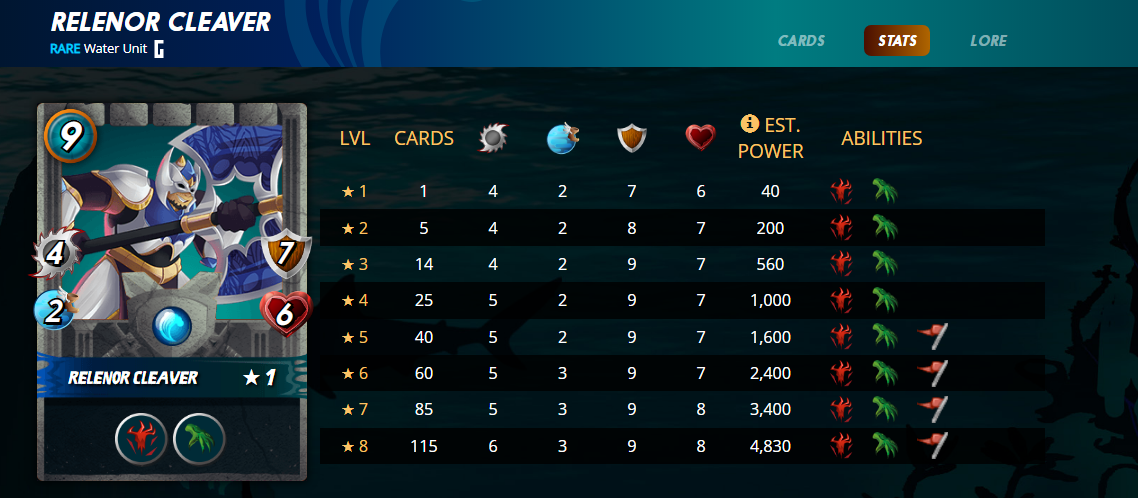 Well, new players don't know about these cards because these cards are not available in the market for sale nor you can buy it from black or third party market but you can only get these gladius edition cards from the packs that you can get with earned merits by participating in brawls. Look out for the abilities of this card which has some cool armor with an awesome melee attack with reach ability and inspiring at level 5 with bloodlust to gain and increase its Stats each round.

BRAWL RESULT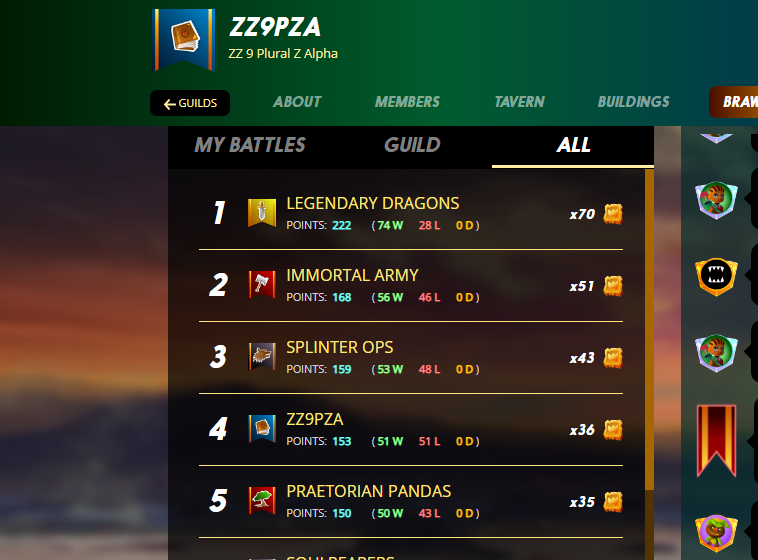 Well, yesterday one more brawl result came and we finished this time with a little bit improvement and got the 4th place that you can see in the snap and got 2000 merits enough for buying a gladius pack that cost 2000 merits and i went for buying one pack but got nothing good only cards. However, the brawl frays opened so late last time and this time it will come late so I will not be available because its almost 12 AM here i will be sleeping when the new frays are opened and theesame it happened in the last frays due to the which i joined the level 8 fray and won only 3 battles out of 7 but still got some nice merits.

PACK OPENING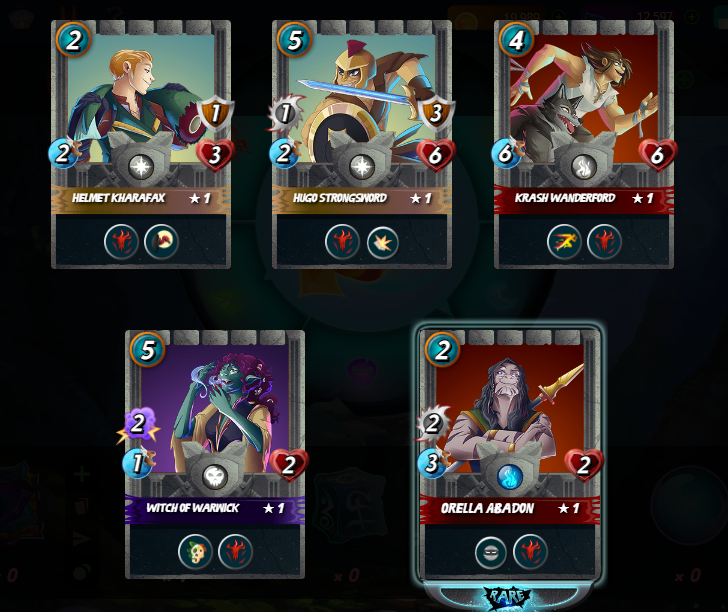 Here you can see the pack that i bought by paying 2000 merits and got these cards which are the same as the last previous pack result opening and did not get new cards from the gladius edition to hope the next one will bring something good. I am going to upgrade these cards one by one at least to level 3 for the brawls battle in which some are almost near to level 3 and just need one or two BCX for upgrading it to level 3.

QUEST REWARDS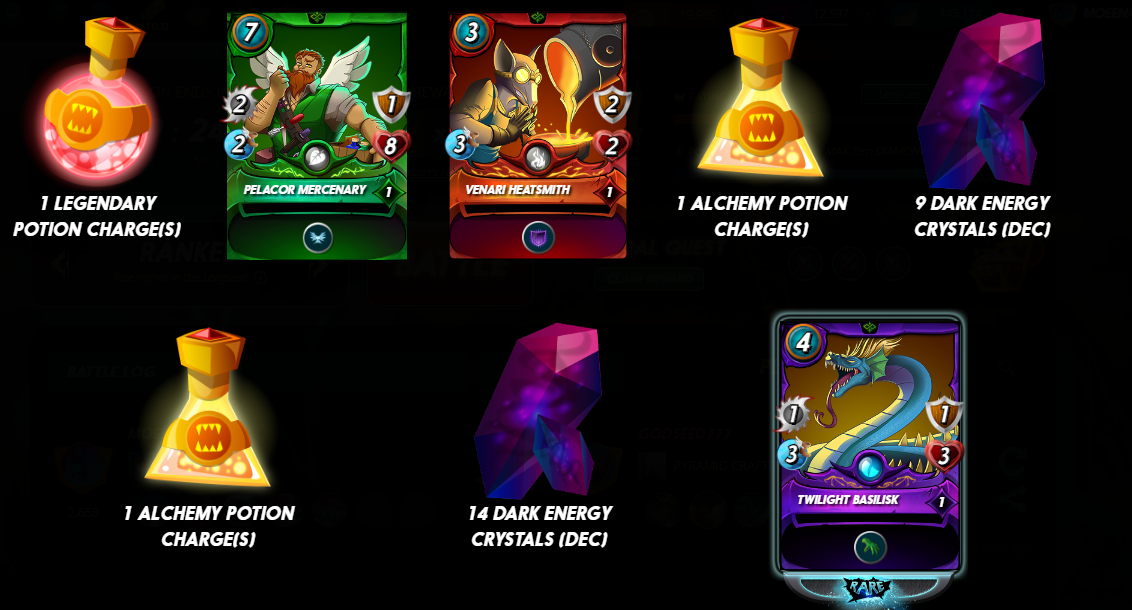 Here is the quest rewards of today that i completed in gold 1 league and earned some nice rating today with neutral quest now my rating is above 2600 and soon I will cross the bridge from gold to diamond league. The rewards from today's quest are not good but got only one rare dragon monster while rest of the cards and potion are normal as usual.

All images and animations are from the Splinterlands blogs and website

If you are new to this game then signup here to play the game click here for signup
---
---
Thanks For visiting my Blog
Best Regards @moeenali
---
---