UPGRADED 6 CARDS TO NEXT LEVEL INCLUDING EPIC, RARE AND COMMON CARDS
Hello Splinterland warriors!
How are you all guys hope you will be blessed and fine. In today's post, I will share the cards that i upgraded to the next level which includes epic, rare, and common cards from different families.
DHAMPIR INFILTRATOR TO LEVEL 5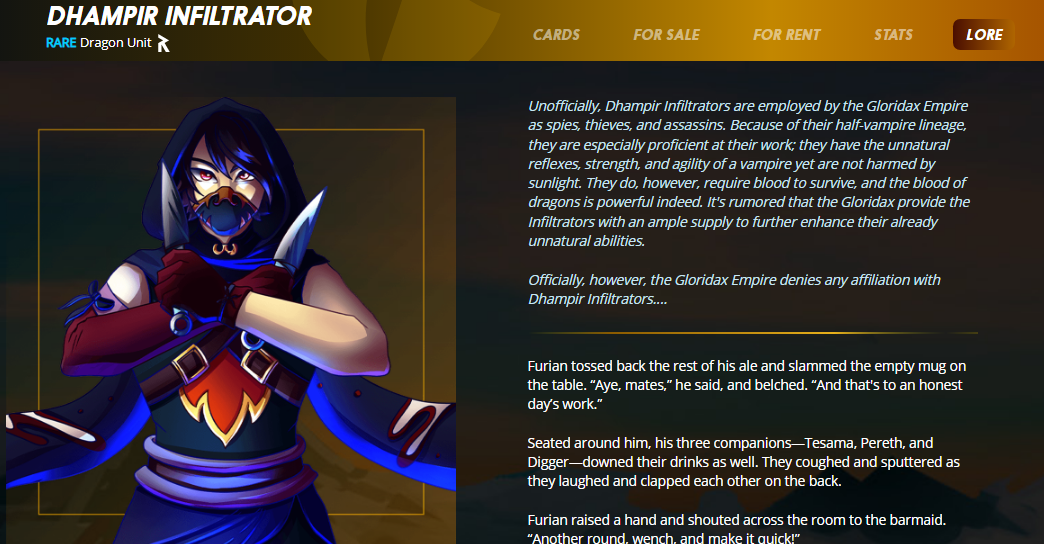 DHAMPIR INFILTRATOR is a new reward card which recently added to the reward system along with the old reward distribution system now we are getting both the rewards so this card is an awesome beast when i got this card i realized that i should upgrade this card as soon as possible because of its double strike attack and cripple ability while i got only 4 BCX so far from the rewards i asked from my brother he had 7 BCX which he sent me while i went to monstermarket and bought the remaining BCX to make this card at level 4 where the melee attack increased but it was not enough as i have level 4 epic dragon summoner so i can use a more upgraded version of this card so i bought more BCX and upgrade this card to level 5 and then the cripple ability unlocked which cost only $2 investment.

CARD 1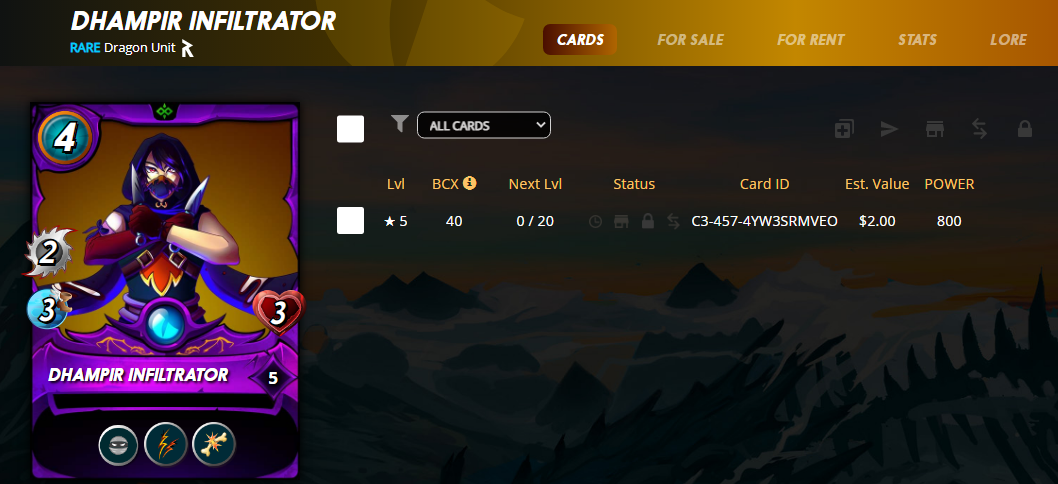 Well, i already explained this card above but i am showing the upgraded version here which is at level 5 with sneak double strike and cripple ability unlocked while the total worth of this card at level 5 is $2 having 800 Collection power increased by this card.

CARD 2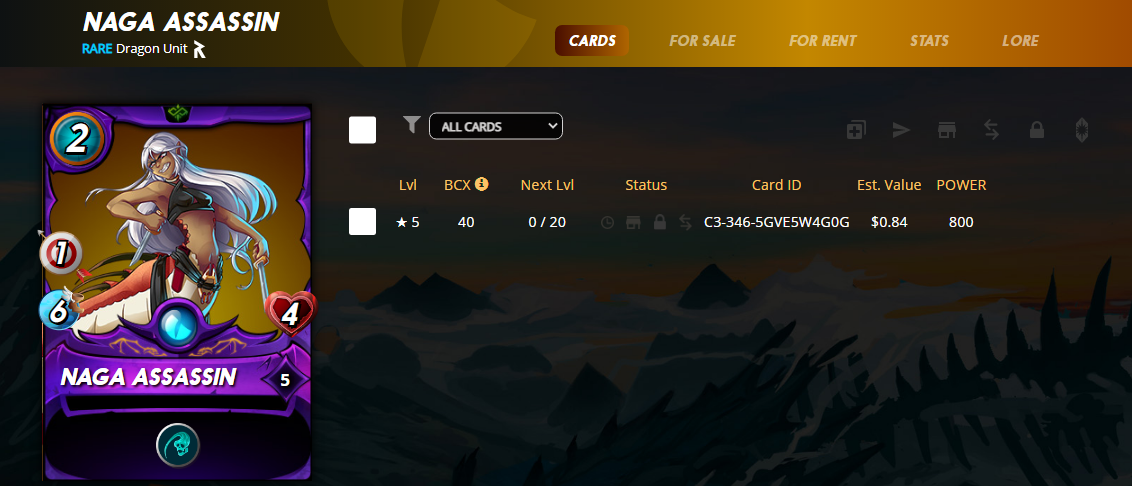 NAGA ASSASSIN is upgraded to level 5 from level 4 just to increase the speed of this card from 5 to 6 by combining 15 more BCX to level 4 card and only unlocked the speed with backfire ability as it is a low mana card which i can use in my dragon splinter so i upgraded it for the speed increment to missing attacks from the enemy monsters and the total value of this card is 80 cents all are free from the game earning rewards.

CARD 3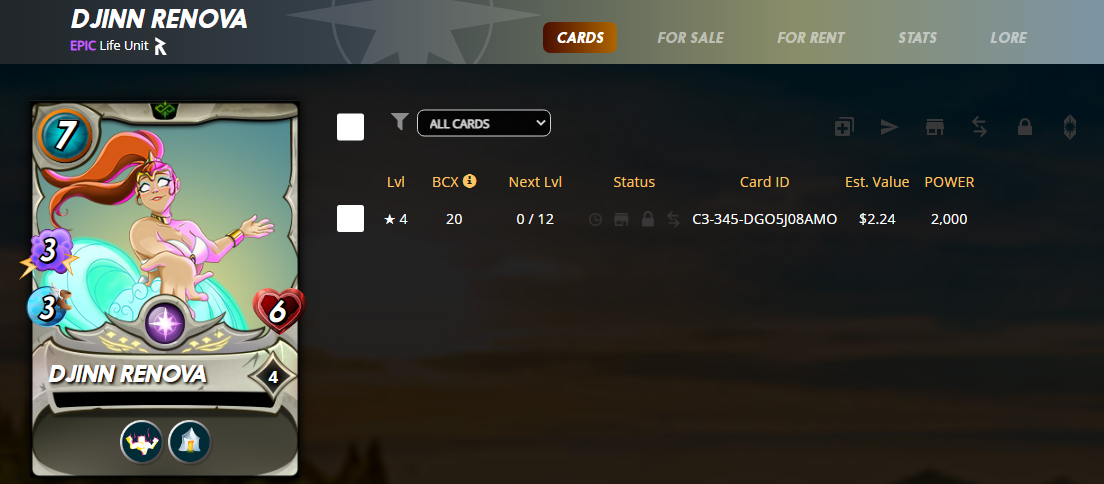 DJINN RENOVA to level 4 from level 3 i went for this card to make it level 4 while only 5 BCX were needed which i transferred from my alt account and converted this card to level 4 for the triage ability with 3 magic attacks and 6 life while it is a high mana monster that cost 7 mana. Unfortunately, i have a level 3 life summoner so i can not use the upgraded version but i will prefer to use the dragon splinter for this card has worth $2.24 from the game earning.

CARD 4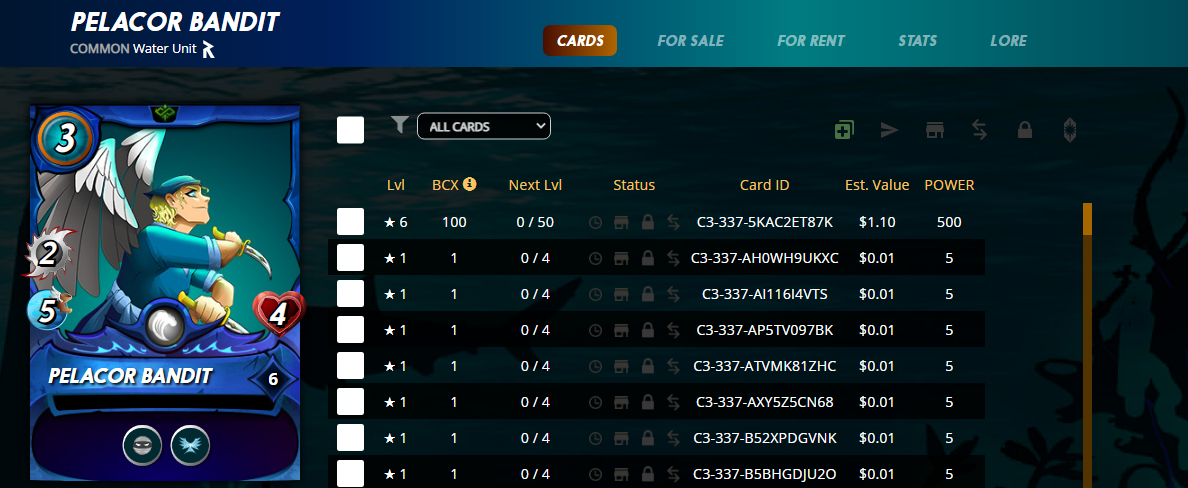 PELACOR BANDIT is converted to level 6 by combining 100 BCX which is a common card and this one is also for the speed increment as i have at level 5 before with enough melee attack and life but at level 6 the speed increased so this is also a great card worth $1.10 free from the rewards which have 500 Collection power.

CARD 5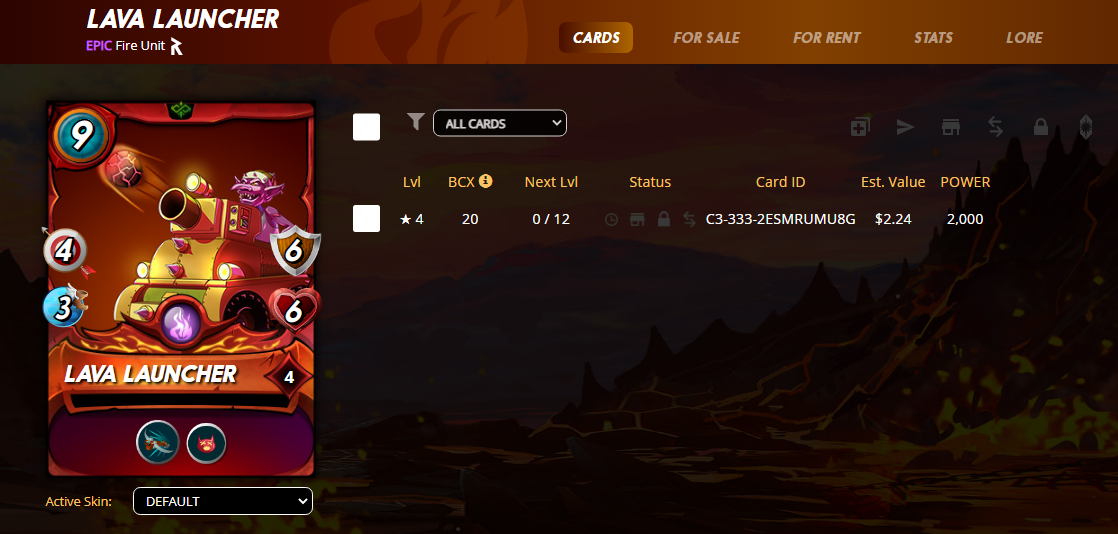 LAVA LAUNCHER to level 4 which is an epic reward card worth $2.24 value with 2000 collection power or dec burning value with two awesome abilities for the fire splinter also it is a fire beast for high mana battles which cost 9 mana and has 4 ranged attack with close-ranged ability while the stun has been unlocked now that i will use for the knockout ruleset.

CARD 6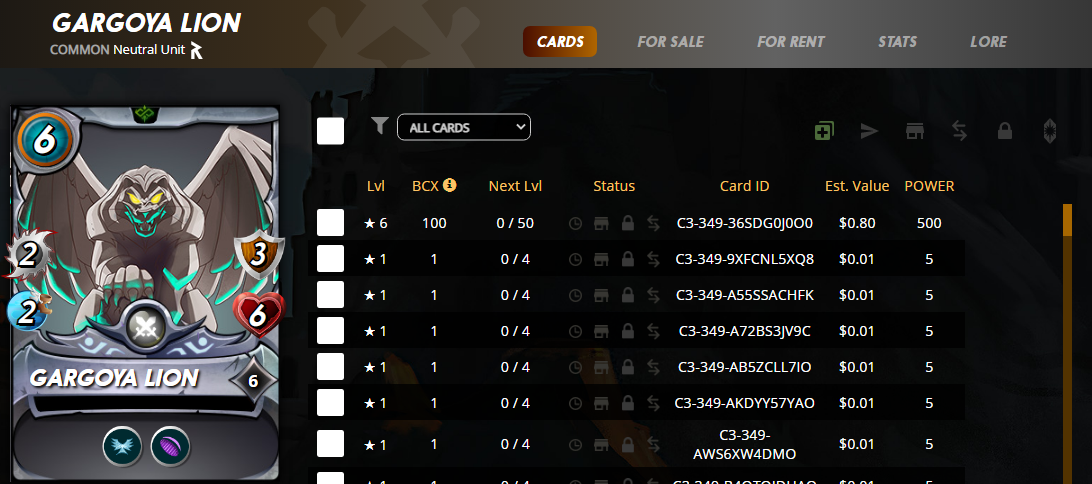 GARGOYA LION the last one is from the neutral family with void and flying ability with melee attack that you can use in all splinter as i upgraded this card to level 5 before but at level 6 the armor get increased from this card and i combined 40 more BCX with 60 BCX of level 5 to make this card level 6 for armor increment worth 80 cents.
Well, i will upgrade rest of the cards to next level though i am going to invest in the liquidity pools currently i have added some SPS and hive in the liquidity pools to get some profit from my investment while today i added the vouchers liquidity and will increase my SPS by providing more liquidity to the pools and will reinvest the profit in the game to upgrade my cards.


All images are from the Splinterlands website

If you are new to this game then signup here to play the game click here for signup
---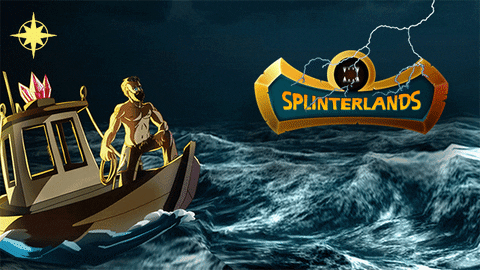 ---
Thanks For visiting my Blog
Best Regards @moeenali
---
---