I Won the YGG SPL WEEKEND CHALLENGE Twice In a Row!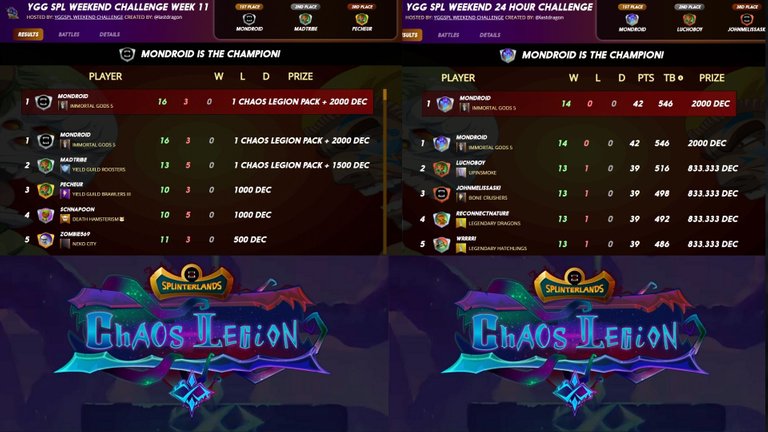 Introduction
Heck yeah! I'm so happy about this! I've finished 3rd before and had a few other nice finishes but this was my first time winning it all in front of the YGG crowd. Crazy enough, I followed it up with another win the very next week!
That's 4000 DEC and a Chaos Legion pack just from these two tournaments!
Unfortunately the YGG guys took a break from live streaming for the second tournament, I would have loved to hear what they had to say about the back to back wins on the live stream but we did get a 24 hour any time tournament instead of the usual single elimination one.
I heavily prefer the single elimination tournament since it's like a live event being streamed / casted with everyone on twitch compared to the nature of battles slowly occurring over a 24 hour period.
On the plus side though, far more people can participate that way and the numbers definitely showed that as 341 people joined the 24 hour while "only" 206 joined the Single Elimination tournament.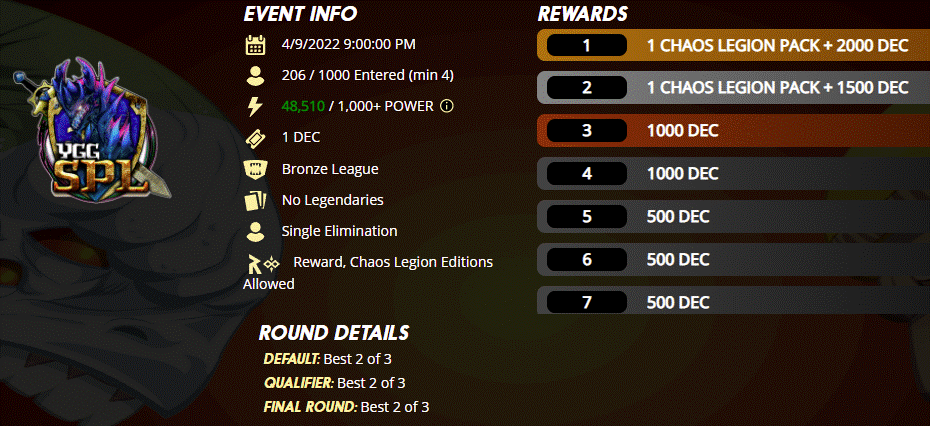 Tournament Rules and Overview
If you've been following me for a while you know the drill by now, these are Bronze level tournaments, No legendaries, only Reward and Chaos Legion cards, which is kind of my specialty!
I'm not exactly sure WHY it is but for some reason I am really good at this format. I do alright in other tournament types but this is the only one where I'm like upset if I don't place really well.
With so many people entering these tournaments, it takes the right amount of skill and luck to get all the way to the end. The first one being best 2 out of 3 you can afford to lose one game and still advance each series but with the 24 hour any time tournament you can't really lose at all because someone will probably run the table.
For this recap I'll go over the Grand Final from the first tournament and then a few battles from the second one.

Key Cards For This Format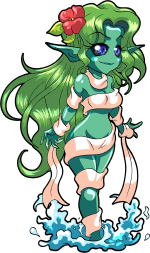 Wood Nymph
Is a really nice support monster for the Earth team. She deals magic damage which pairs really well with Obsidian and she also has the powerful tank heal ability.
Since the Earth team also has Goblin Psychic you can sometimes run a double healer set up which can go great with Grund and various other strong units you want to give some staying power to.
She's a bit fragile so try to keep her safe from any sneaks or opportunity attackers.

---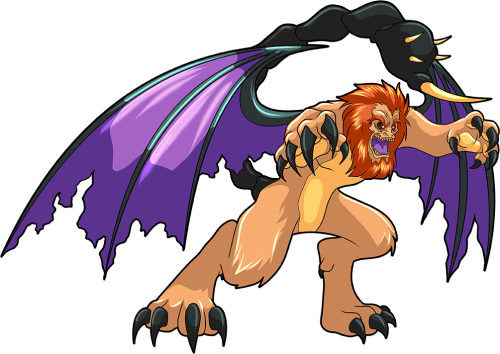 Manticore
Is a powerful dragon with flying and reach. It works best in the second spot / off tank position where it can strike safely but has decent HP for when it reaches the front line.
It pairs well with Daria Dragonscale, an epic summoner who unlocks some very powerful strategies
Very good in Earthquake and little league rulesets.
---

Djinn Chwala
Is a very strong tank against melee enemies due to it's high health, armor, and thorns ability that returns 2 damage when struck in Melee.
If you can isolate the enemy's front line tank by playing a taunt in the back line or it's just a low mana battle it can pay dividends.
Great in Melee favorable rulesets like Melee Mayhem, Equal Opportunity, Super Sneak, and Melee Only.
---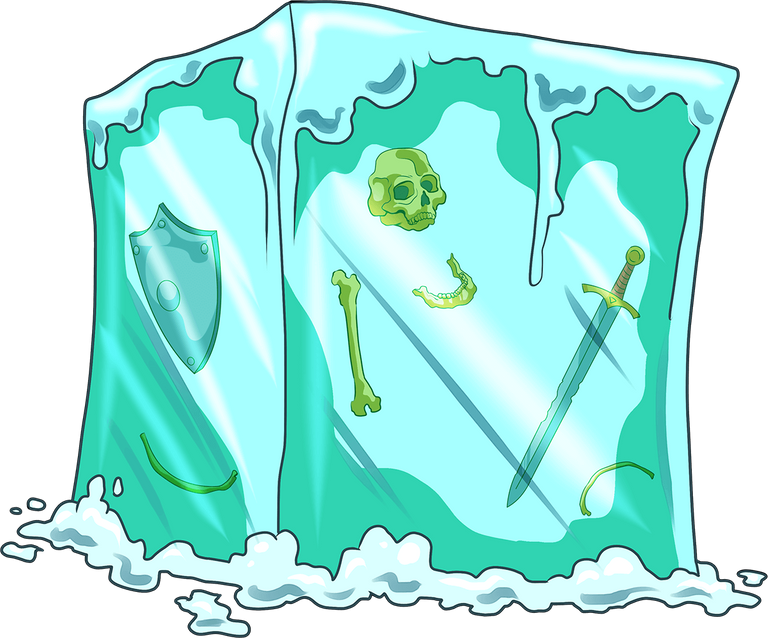 Gelatinous Cube
Is a big ol body on the battlefield and while it can't attack it has a huge health pool for 6 mana.
Because it has the scavenger ability it can grow even bigger as more and more monsters die, friend or foe alike, it doesn't matter.
Especially good meat shield in the No Melee ruleset when you can't use more traditional tanks.

Tournament #1 Grand Final vs Madtribe


Link To The Battle Here🍒
---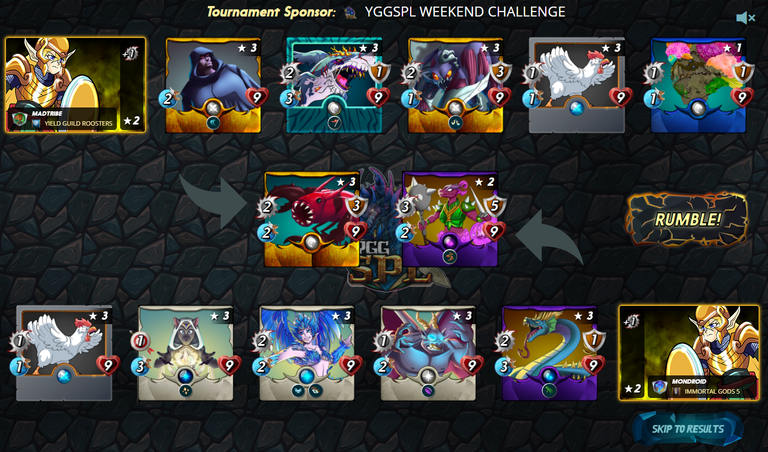 ---
Given the Melee Mayhem ruleset I decided to go with the Djinn Chwala as a heavily armored front line tank with thorns which of course means playing Daria Dragonscale as my summoner. Since I knew I was bumping everyone's health to 9 from the equalizer I wanted to pair him with the tank heal from Venari Crystalsmith.
From there I added as much cheap melee damage as I could afford to fill out the rest of the lineup.
Madtribe played Daria as well but he built a much different team. Demented Shark gives his team an extra inspire effect for +1 melee attack while the Disintegrator has Demoralize. When you think about it, that's a two damage difference almost across the board so I'm going to need a lot of heals to make up for it.


He smokes me here and while the thorns idea made sense, his monsters are just doing so much damage than they don't actually take that much Thorns damage and ultimately my healer was super ineffective because you'll notice she always acts first, she's the fastest monster in the battle.
Basically she takes her turn, heals nothing, then he has enough damage to kill my monster from full health to zero in one round. She takes her turn, heals nothing, he kills my monster from full health.
I could have played just about any other melee monster and I would have been better off, Doh!
So now I need to bounce back in game 2 to force a game 3.


Link To The Battle Here🍒
---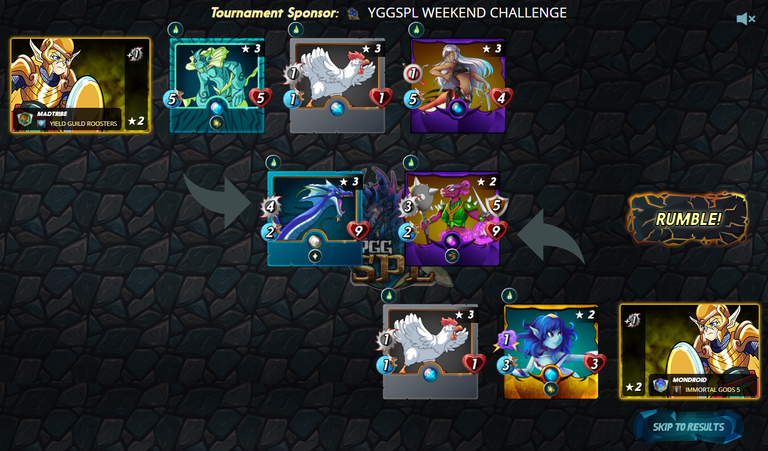 ---
As I looked at the rules and the different options available it was pretty clear that Seamonster plus a cleanse to remove the poison was probably the best strategy. Then I realized with Dragon open that Djinn Chwala would hit for four under Daria, deal two thorns damage when attacked so we're up to six damage and the River Nymph would get a couple shots off for another damage giving me seven total.
From there I was able to calculate that if Seamonster has nine HP and goes first since it's reverse speed, it takes seven and would be at two health, then it heals for three to go to five in round two. Since we have seven damage still we can kill it and I figured this was the optimal team so I locked it in.


Sure enough Madtribe goes for the Seamonster play but one thing I hadn't realized is that Kelp Initiate has cleanse at level 3 where I was thinking I had to play River Nymph. It didn't end up changing the outcome but I definitely learned something new.
Other than that surprise, the battle goes as expected and we burst the Seamonster down in two rounds. Then we just have to clean up the Kelp Initiate and there will be no elimination for me this time!


Link To The Battle Here🍒
---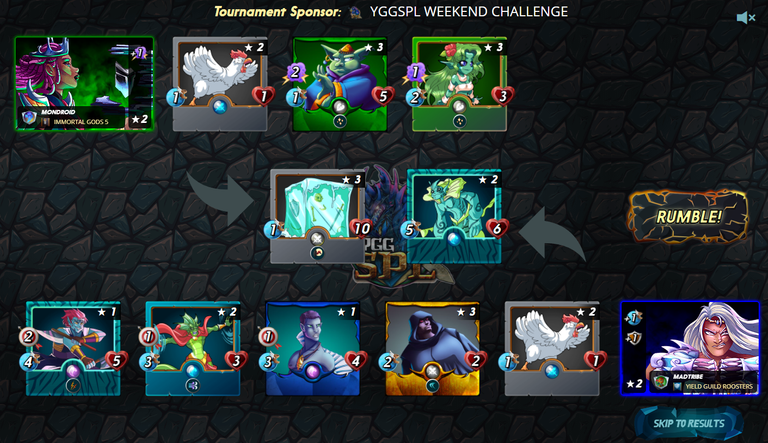 ---
With Weak Magic and 20 mana my first instinct was to play Water with Axemaster and you can throw a bunch of cheap blockers in front where you know at minimum it will take one hit to break the armor from Kelya and another hit to kill.
When you look at Madtribes team, it's almost identical to what I was going to play. But then the gears started turning and I thought, that team only does 6 damage. If he goes for that and I play double tank heal with the Gelatinous Cube, he just never gets through and we can take our time wiping out the little guys.
I knew with the No Melee rule there weren't any options for Sneak and at the time I wasn't sure if there was a Snipe option but my clock was down to two seconds so I just had to hit submit and went for it.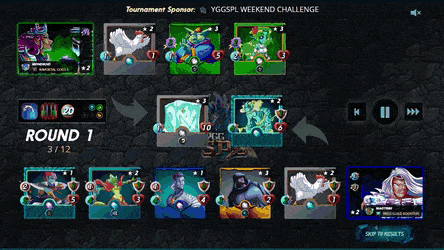 LET'S Fn GO!!!
It ends up being exactly like I thought and that Water team can't do anything about my Gelatinous Cube!
It's hard to beat that feeling of taking down a tournament that's being live streamed on Twitch with the commentators and my friends hyping me up in chat. The community for this game is so damn awesome and I love being apart of it!
Madtribe was there as well so we said gg's to each other and I told him I was impressed to see him in the final as he beat some strong players himself to get there.
All in all it was a ton of fun and a really nice payday for me!

Tournament #2
I got really lucky with my group as it didn't have any of the big names I'm use to seeing in tournaments and that's what makes it kind of a let down. Since it's only one round, none of the other players near the top even got a chance to face me if they weren't already in my group.
It would have been nice to have a second round so the top 50 could advance and face each other but all I can do is win the games in front of me and that's what I intended to do so let's go over some battles!


Link To The Battle Here🍒
---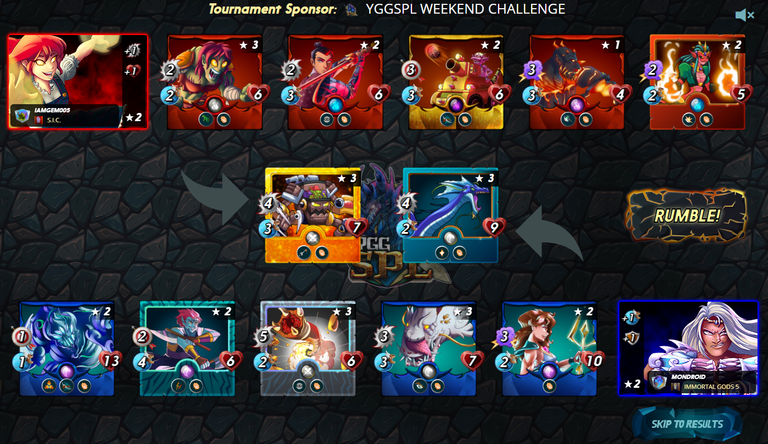 ---
We have a high mana battle at 56 with the Unprotected and Spreading Fury Rules. Normally I don't think Kelya is that great in Unprotected as half her summoner bonus is that +1 armor but at the same time, Fire and Death have a hard time making use of the 56 mana and speed is still really good in Spreading Fury.
Seamonster doesn't rely on armor too much and gets its survivability from it's heal ability so I think it makes sense here. I like to pair it with Wavebrood as it'll force the enemy to split up their damage with his Taunt ability, keeping Seamonster from getting bursted down which will allow him to heal more.
From there I just picked the best remaining Water monsters as mana wasn't an issue.
Here you can see the problem with the Fire team. Radiated Brute and Tenyii Striker are good cards but they're only 5 mana so then my opponent tries to compensate with Goblin Mech and Lava Launcher but they lost all their armor due to the rules.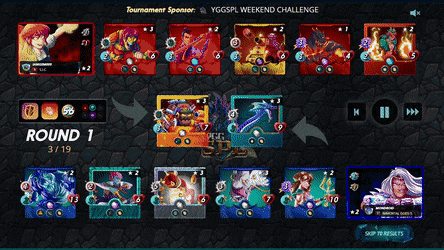 Enrage is always a tricky rule to predict as damage and speed can spike so significantly but everything worked out well for me here. Seamonster and Wavebrood did a good job protecting the squishier monsters in the lineup and we won pretty easily.


Link To The Battle Here🍒
---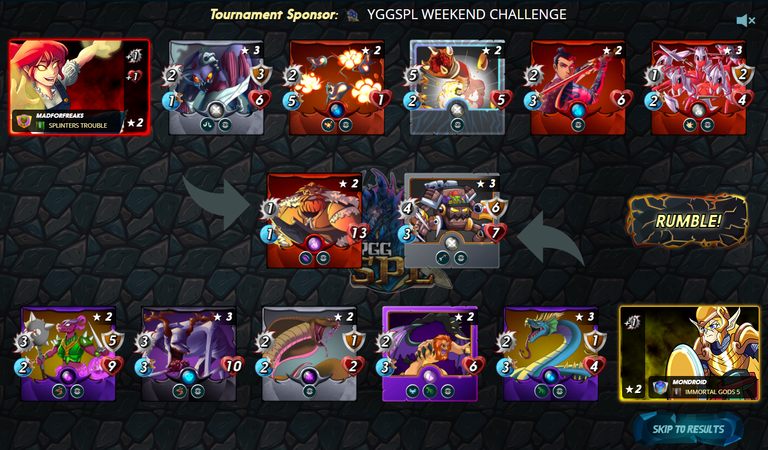 ---
When I see the Super Sneak Rule along with Broken Arrows I'm immediately thinking about a heavy Melee lineup using Daria Dragonscale's +1 melee attack buff.
I decided to play Dragons + Death so I could put two Thorn monsters in the back with Djinn Chawala and Cursed Windeku. I find if you only do one Thorn monster, sure you'll do some thorns damage but it will be mostly meaningless as it's all spread out. With two, you're much more likely to start killing things.
My opponent has a pretty solid Fire team. I actually don't mind Tusk the Wide as melee will aim for the back spot while magic will go for the front. However, my Goblin Mech is going to have a field day with him.
He also won't get much value out of his Exploding Rats who should die instantly to the first thorns hit.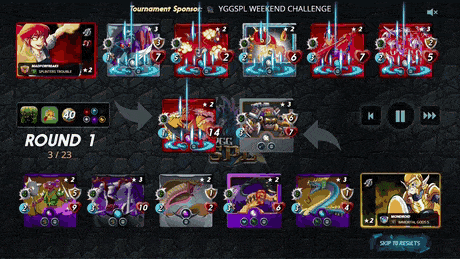 The Thorns damage worked out pretty well as it does kill his Exploding Rats in one hit and softened up the rest of his team. Djinn Chwala is able to eat up a ton of hits and we just run right through the rest of the enemy team, nice!


Link To The Battle Here🍒
---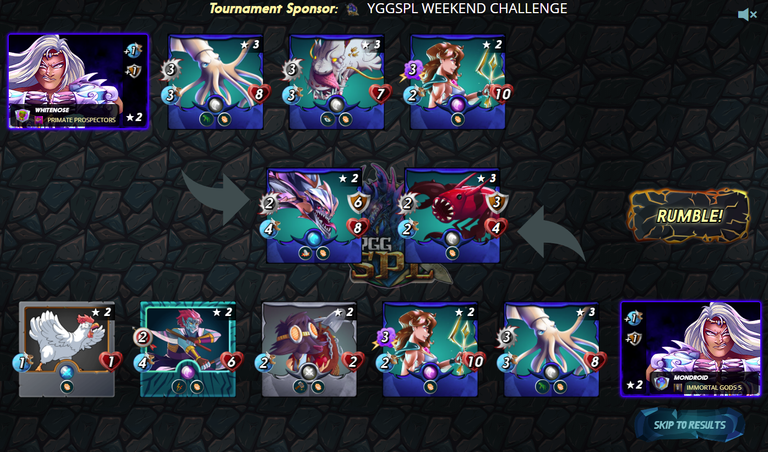 ---
My next opponent, Whitenose, had the best record in our group after me. They only lost two games in total so let's take a look at the battle.
First off, I'm not a big fan of Diemonshark at the Bronze level as 8 mana for 2 damage is pretty weak. For example, my Cruel Sethropod is 3 mana and also does 2 damage and sure it's not as beefy or fast but I'm saving 5 mana in the process.
We both have Flying Squid and Nerissa but with the mana I saved I'm able to get Axemaster and a Scavo Hireling to his Deep Lurker.
Let's see how it plays out.


My Cruel Sethropod actually lasted longer than the Diemonshark did and then we just have so much extra damage from Axemaster with repair that we get super far ahead and take the win.

Wrap Up
So yeah, I'll have to talk to the YGG guys and see what they say on the live stream next Saturday when they find out I won the their tournament in back to back fashion and I try for three in a row!
That's it for me, thanks for hanging out and I hope you enjoyed this double tournament recap! I had a lot of fun playing all of these battles and writing about them for you.
If you enjoy this kind of content feel free to follow. I aim for at least two posts a week and usually try for a third and would love to have you around!

Link To My Intro and $3,500 to $10,000 Challenge
Start Date January 7th 2022

Initial Investment $3,500

Estimated Account Value $3,151

Card Power 109,505

Target Account Value $10,000

Target Card Power 250,000

End Date : Unknown

Latest Blog Posts
$3,500 to $10,000 Challenge End of Season Account Update #3

🚀Wanna play Splinterlands?🚀
💰💰💰Join Here!💰💰💰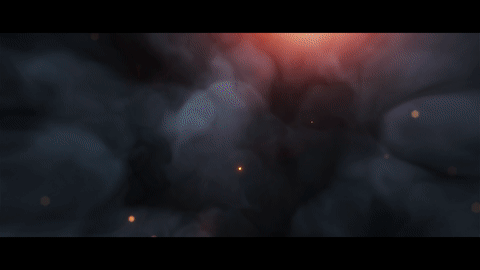 Cya next time!
---
---