Mondroid's Take On The New Reward Cards And The Impact They'll Have On The Silver Meta.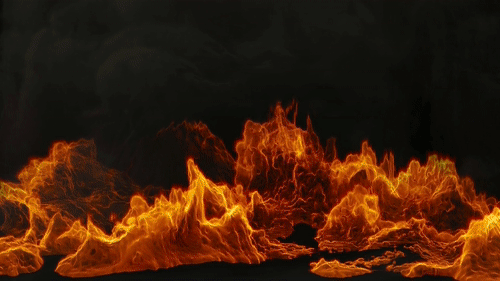 Splinterlands dropped the stats for the 12 new reward cards that will be coming out down the road and after studying them for a bit I'm ready to talk about how useful I think these cards will be.
One thing I noticed is that a lot of these cards really start to shine at the Gold and Diamond level which makes sense from a design perspective. They want people leveling the cards up to eliminate some of the supply and incentivize players to go to higher leagues.
I'm a Silver player who plays for at least top 25 on the Leaderboard and will primarily be thinking about these cards from a top Silver level perspective first and foremost.
Keep in mind when pushing leaderboard, you are only using the best of the best options so one of these could be the second best choice which makes it a good card, but I'm never going to use it over the best card so they will either be given a "Very Playable", "Playable" or "Not Playable" rating.
Very Playable means I envision a number of different scenarios where the card is the absolute best choice available while unplayable means there's so few situations I would consider using the card that it's almost irrelevant. If it's just playable, it's some where in the middle.
This post was inspired by @bravetofu and his post here.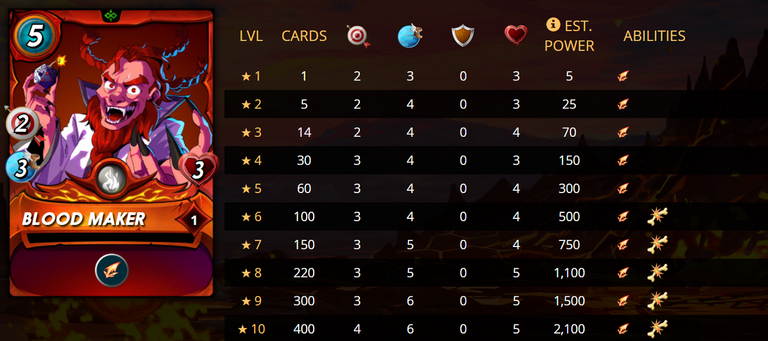 ---
Blood Maker is an interesting card, the obvious comparison is Ferexia General who has snipe instead of scatter shot which is nice because you have an idea of where your attacks are going.
The Scatter shot does bypass taunt which means you have a decent shot of taking out something squishy your opponent thought was safe. This could end up being quite common in the Yodin vs Yodin mirror where Magnor (who has taunt) is often played as the front liner to protect squishy cards like Serpentine Spy.
There's also no reason you couldn't just play both this card AND Ferexia General as they're 5 mana each and if you fit with Yodin you're going to see the battle field.
Playable.



---
This honestly looks like it could be the most powerful monster in the game when paired with Yodin Zaku who's arguably the best summoner in the game.
Compare this card with Lira the Dark from the Death team who doesn't get to play with Zaku and it doesn't make any sense to me.
Life Leach with blast is just insane and since she has opportunity it's possible she'll be stealing life from 3 targets each turn. You can't kill her with opportunity since she has camouflage and at later levels she even gets affliction and the same swiftness as Lira.
About the only negative I can even see is that at 8 mana you won't be able to play her all the time but I'll certainly be trying to get her in.
Very playable!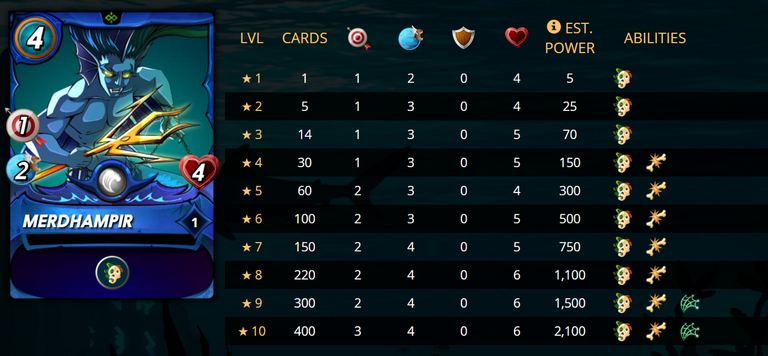 ---
On the surface I like this card, Life Leach is great in blast but also the unarmored ruleset since this is a ranged attacker. Then there's little league and No Melee where you're always struggling to find tanks.
For 4 mana, if you put this guy in the 5th position, he could grow pretty large by the time he gets to the front, buying time for your Axemaster to finish the job for example.
The problem is, I don't see myself wanting to play Water where this guy would excel. Lorna Shine and Mylor Crowley are always going to be my preferred little league and low mana options. Kelya provides armor where this guy would rather play in unarmored.
You could also say Kulu Swimhunter is just a better card as it has +1 speed and 2 more HP at the same level without needing to life steal and I almost never play Kulu Swimhunter.
Maybe the new legendary Water summoner will change things up but for right now I don't see it.
Not playable.



---
At first glance, I really didn't like this card but after thinking about it more I see some potential here.
First of all, sometimes Flying Squid is just too damn expensive at 7 mana and since it doesn't have blind at this level, there's a real advantage to having a 3 mana guy with Reach so you can still get your Diemonshark, Deep Lurker, and River Hellondale to Inspire everyone at a lower mana point for the Kelya melee water team.
He also hits 3 damage for 3 mana with said Inspire and any time a card is doing as much damage as it costs in mana I'm interested.
Add in the reflect shield and he isn't going to kill himself on thorns and if they happen to have any blast, a reach monster in the second position is the perfect spot to be. Kelya already does half way decent against Yodin so this is just another tool in the toolbox.
Very Playable!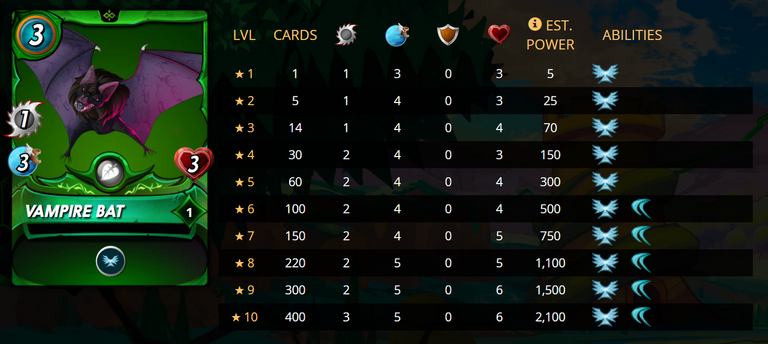 ---
This is the first card I won't have to spend much time on as at a Silver level I just don't see any way I'd ever play this guy outside of maybe Earthquake + Little League?
When it gets Evasion in Gold it's use cases goes way up but I don't like it in Silver.
Not Playable.



---
I love this guy, the Meta for Silver league is magic reflect + amplify and the key offenders are Pelacor Conjurer, Failed Summoner, and Lord Arianthus, all monsters without attack the oppress can proc against.
It also nearly guarantees you will never lose to Llama Kron so I'm already seeing two major use cases for this guy.
I wish he was 4 mana but then it would be a no brainer to play him every time so even though he's a little expensive, you're paying a little more to counter the meta.
Playable!



---
This may be a bit surprising but I don't see myself playing this card very often.
For 7 mana, his health and armor are pitiful so he can't really front line unless you're going to put Shieldbearer in the back and I'm not a big fan of putting melee taunts in the back row, though it can work.
Further more, one of the best melee rulesets is Equal Opportunity but sadly he'll just be focused down immediately with such low HP.
Force Field just owns him and he can't penetrate armor yet so in a Life mirror where you have Adelade, Lone Boatman, and Chanseus repairing he can't get through.
But the real reason I don't think this guy is playable is that any of the melee favored rulesets he'd be good in I'm just going to play Mylor Crowley or even Tarsa, he doesn't do enough for Life to suddenly make me think they're the Splinter to play with Melee Only for example.
The True Strike does allow him to dumpster Phantom of the Abyss if a Water player thinks they're safe with it's high speed, evasion, and flying in the back for Super Sneak but other than that niche case, there's too many weaknesses you have to cover up and to few situations where it'd be worth it to do so.
Not Playable.



---
Like Jared Scar, this card looks great in Gold and Diamond, once it has it's full package of abilities but at the Silver level he seems just okay.
I think he could end up on some low mana teams where you have something like Pelacor Conjurer, Chicken, Fiend, Vulguine, Stitch Leach, Dax Paragon, with Lorna Shine.
For 12 mana you get magic reflect + amplify, 6 monsters with Divine Shield, and when your first 3 die + any you killed from the other team, Vulguine lands in the front spot with 6-8 HP after scavenging up.
The problem is, Celestial Harpy is just always going to be better for the same 2 mana spent in my mind. Harpy attacks from anywhere so it doesn't have to wait to get to the front line and the battle may already be decided by the time Vulguine gets to do anything.
At 13 mana you have to plan for Llama + Flesh Golem so you don't have the luxury of making half your lineup fodder just to ramp him up, I think it's a bit too cute to be useful.
Not Playable.


---
I don't play Death much in Silver and it's not that it's a weak splinter or anything, I just haven't really put in the time to figure out when it excels and with what units.
My first instinct is that I don't really like this card.
I know, I know, stun is OP and we finally have something in Bronze / Silver that can proc the Heavy Hitters rule but as I've said before, Magic Reflect + Amplify is the meta in Silver and even if you stun Pelacor Conjurer, Failed Summoner, Lord Arianthus, etc which are very common tanks in Silver, it's not going to matter much while this guy kills himself on the reflect after turn 2.
Once he has Immunity and Reflect Shield I'd put him way higher but for Silver I'm not that excited for a 2 speed, magic, stunner who goes down to 1 damage in the Thaddius Brood mirror match.
Not playable.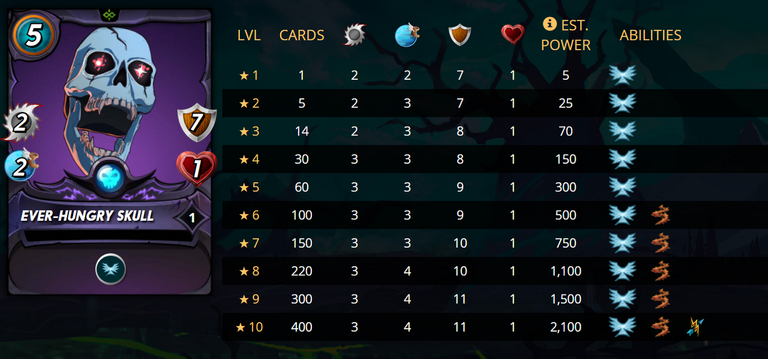 This is another one that just doesn't move the needle much for me. I do think it has it uses, Death is a good candidate for the Equalizer rule as they have a lot of glass cannons, life leachers, and so on where you'd want to play the Ever-Hungry Skull.
Death is also very weak against opportunity attacks as they have some good tanks but a lot of their best units are vulnerable so Ever-Hungry Skull might be able to help with that.
I just wish it had Reach, then I'd be head over heels for this thing but with no way to attack outside of specific rules and only having 1 HP, he's situational at best.
With that said, where he excels, he's great.
Playable.



---
I feel like such a Debbie Downer / Negative Nancy because my first thought when I saw this card is that at 3 health, it kills itself with one attack against Mylor Thorns + Amplify so that's a major weakness given Mylor is one of the top summoners.
However, if you can avoid running into that meat grinder, this card is obviously very strong and it meets my 4 damage for 4 mana metric. With Daria Dragonscale or any of the inspires this card is dropping bombs.
If you pair it with something like Silvershield Assassin and Silvershield Knight while your opponent doesn't have appropriate sneak counter measures you're just going to destroy them so despite the obvious thorns weakness, this card is very strong and one I'm really excited for.
Very Playable.



---
I'm definitely a Broken Record at this point but there really isn't much here from a Silver level perspective.
About the only use I see for this guy is sticking him next to your taunt or your tank in the blast ruleset to make use of his Reflect Shield skill and that certainly has value but that feels really lack luster for a Legendary.
Normally this would be an easy not playable for me but I could envision a situation where he is meta in the Yodin vs Yodin mirror match. Since Magnor has Taunt, he'll direct attacks to the front where you can drop Kinjo in the second spot, negating the blast damage. If he becomes a must in that matchup, he has to be...
Playable.
At Diamond I really like that he has Amplify. If you look at the Amplify cards that currently exist, they're almost ALL magic monsters which creates a situation for example where I want to amplify Pelacor Conjurer or Failed Summoners magic reflect, but then when the other team does the same, the magic amplify creatures kill themselves on the magic reflect creatures.
Since Kinjo is melee, you can get an Amplify that won't kill itself on magic reflect so while I'm not a Diamond level player, that seems like it might be useful.

---

Most of these cards get better at Gold and especially Diamond. It was most likely designed that way on purpose to encourage people to level up the cards and play at the higher ranks if they can.
Based on which cards I think will be most impactful or that I'll use the most my top 5 looks like this
Countess Sinesh
Vampiric Blossom
Tide Biter
Dhampir Infiltrator
Blood Maker
Remember, this has more to do with the Silver Leaderboard meta and the competition from cards that already exist, than each individual card judged on it's own merits.
Blood Maker is a good example, if you can get him for free in your rewards, I would use him over Ferexia General as it's a good card and when you factor in price, there's a big difference between free and the cheapest single BCX being $10.62.
Thanks for reading and I hope you enjoyed my take on the new reward cards at a Silver level.

Latest Blog Posts
My Guide to the New Ranked Rewards System
Share Your Battle Weekly Challenge Dragons!
Epic Silver Battles Episode Two : Mondroid vs Schnapoon!
Beginner's Guide, How To Spend Your First $1,000 For Ranked Play
Share Your Battle : Time Mage Edition
I Won The YGG SPL WEEKEND CHALLENGE Twice In a Row!

🚀Wanna play Splinterlands?🚀
💰💰💰Join Here!💰💰💰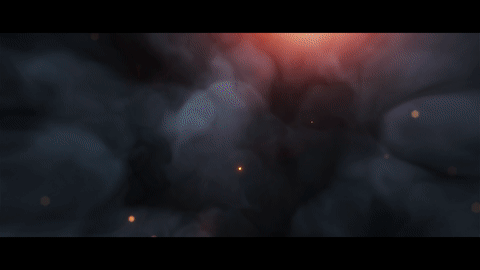 Cya next time!
---
---