Monster Curator Is Growing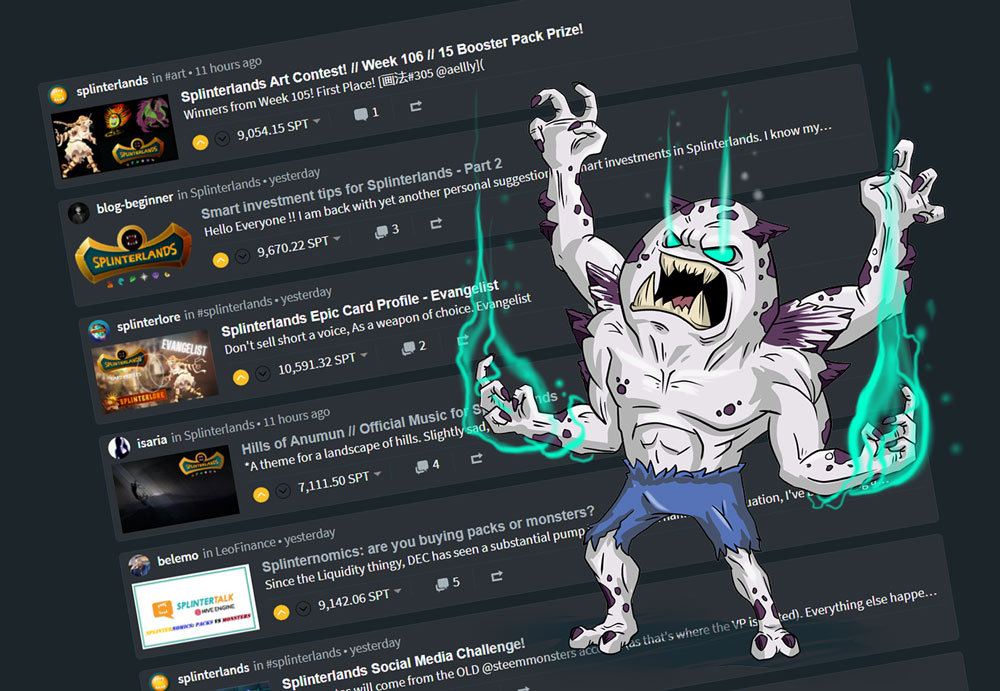 We are loving Splinterlands and the Splintertalk tribe with its SPT token. One day we will use it to buy and sell fanart as in-game skins for Splinterlands cards. In the meantime we are putting SPT into your hands when you create cool content about the game. Monster Curator is growing and more than 18 million SPT are already delegated to our curation service - that is nearly 39% of the entire staked SPT.

SPT Curation
We are trying to spread SPT into as many deserving hands as possible with our upvotes. Our curators are checking daily all new posts on https://www.splintertalk.io/created. This way we are able to track all posts using the valid tags of #splinterlands, #spt and #steemmonsters.
We are looking for all interesting things related to Splinterlands, for example Battle Challenges, tutorials, monster fan art, monster music, monster lore, market tips, statistics and whatever else could be of interest for the Splinterlands community.
Our upvote weight depends on the effort you put into your posts and the importance for the game and ecosystem. Unique thumbnails, text formatting, graphic dividers and meaningful titles will help you to catch out attention and receive a monster upvote.

Curation Team
Our team of curators has grown further and we welcome @sanjeev021 to join @monster-curator.
We have started to reward our voluntary curators with occassional SPT comment upvotes for the time they invest to read and curate your Splinterlands content.

SPT Market
As there is currently no other usecase for SPT than curating Splinterlands content and the promised fanart in-game shop still being far away on the games roadmap, the trading volume of the token is as low as can be expected.
However, as stakeholders are holding on to their SPT, the selling depth on the market continuous to stay low: There are currently less than 800k SPT available for sale, out of the 10 million liquid SPT (47.5 million SPT are staked out of 57.5 million circulating supply). Buying it all would make the price moon.

In the past month, the SPT price has been growing from 0.00056 Hive to 0.00167 Hive - a 200% growth. Admittedly, there is not much depth on the buying side either. At least at 0.00075 Hive we see a significant 1.2 million SPT buy wall. At this rate, the SPT price will potentially stay very volatile but investors are speculating on the tokens future demand via the fanart shop.

Monster Revenue
SPT stakeholders can delegate their SPT to us and earn daily payouts from our curation rewards. We share 100% of our returns with our delegaters.
In the past 14 days our delegaters have earned a return of over 2% of their stake, which results in an expected annual return of about 50% in SPT tokens (*). This means you will probably be able to grow your stake in the Splintertalk tribe by more than half of what you have delegated to us within the first year. If you stake your returns and delegate them back to us, you can even compound your return and reach even higher numbers.
*This number will go down over time, as the inflation sinks by 0.5% every six months. It also depends on how many other SPT stakeholders besides the @monster-curator investors are using their SPT voting power regularly.
---
So what are you still waiting for?
Posted Using LeoFinance Beta
---
---