Bids for Rentals: Overview of PeakMonsters Auto Rentals feature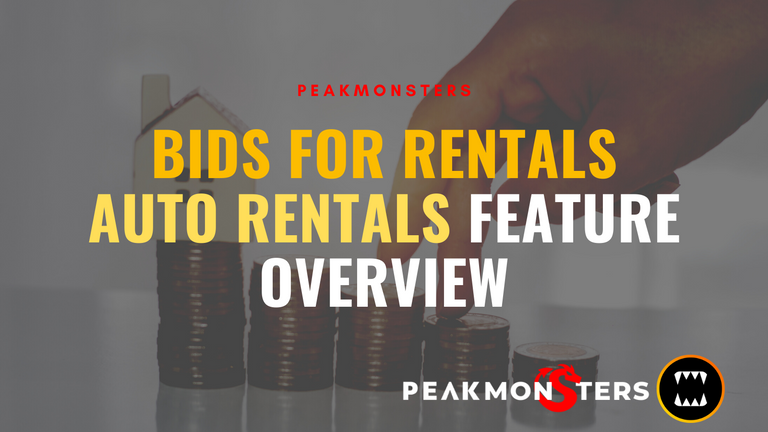 With the continued growth of Splinterlands, the number of renters and the competition in the rental market has also increased. At the moment, it is often difficult to get good rental deals without "getting lucky" or waiting and spamming that reload button for far too long.
In this post, we will take a look at the upcoming PeakMonsters feature called Auto Rentals. With this feature, we now have a good chance to get good deals in the rental market, without wasting so much time in the process.
IMPORTANT NOTE: This feature is not yet available in the PeakMonsters website. This post is made to give an overview of what to expect and to share how useful this awesome feature is. I'll update this post once this feature is available in beta and in the main PeakMonsters website.
---
What is Auto Rentals?
Auto Rentals is essentially a bidding feature for renting. Instead of manually waiting for cheaper cards to be listed for rent, you now just have to set the parameters (price, foil, and level) of the card that you want to rent, then the auto rentals feature will do the rest for you.

Auto Rental for Card bids interface
For example, you want to rent a Level 1 Selenia Sky for less than 30 DEC/day. However, upon checking the listed cards for rent, the cheapest one is priced at 48.9 DEC/day. With auto rentals, you just have to place a bid for Selenia Sky at your desired price, and wait for someone to list at a price that will match your bid.
Note: A cheaper listing compared to your bid price is also considered as a match. Continue reading to see this in action!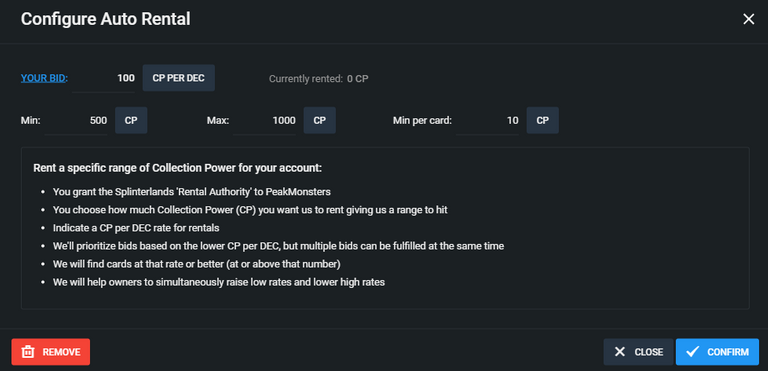 Auto Rental for CP bids interface
Aside from renting specific cards, you can also utilize the Auto Rentals feature to bid for collection power (CP). This feature will help you boost your CP easily by renting cards for you, based on the parameters that you have specified.
---
Why should you use Auto Rentals?
To SAVE TIME AND MONEY. As an avid renter, I can't stress enough how time-consuming it is to wait for a good deal that you are not sure will ever come. With the auto rentals feature, you don't have to spam the reload button anymore. You can simply place your bids, go back after a while, then check which bids are completed and adjust accordingly.

Aren't you tired of not having a fair chance to get that cheapest chicken?
Pretty sure that most of us are familiar with the frustration that comes with trying to rent the cheapest chicken available. Even with the countless reloads that we do, it is just too difficult to grab that zero mana monster with ease. Now with Auto Rentals, we don't have to feel that frustration anymore. We just have to place our bids with a realistic price, and wait patiently.
The example shown in the image above took me less than a minute to setup the bid of 2.5 DEC, then it got a match after 12 minutes.
Overall, Auto Rentals is a perfect tool for those who want to get good deals while saving time.
---
Examples of Auto Rentals in action
Let us now take a look at how awesome this feature is in action!
Card Bidding
For this example, I want to rent a Level 4 Gold Foil Haunted Spider for 10.2 DEC/day. This card is less common compared to chicken, so I am expecting to wait a lot longer compared to my chicken success.

Inputted parameters for Haunted Spider
As you can see, filling out the auto rental parameters is quite straightforward. We just have to make sure that we have inputted the proper details.
After 3 hours, I finally got a match!

Saw the rental match using PeakMonsters My Explorer
So I checked how much I was able to rent Haunted Spider using Auto Rentals. To my surprise, I was able to rent it at 5.9 DEC/day -- much cheaper than my planned 10.2 DEC/day!

Current Haunted Spider rental c/o Auto Rental feature
As you can see, I got a better deal for Haunted Spider, even without closely monitoring the Renter's board. That's a huge win on my book!
---
Collection Power Bid
For this part, I have tried out the other feature within Auto Rentals called CP Bid. This feature is mainly for those who are renting for the sole purpose of increasing their Collection Power.

CP Bid interface
As you can see in the above image, our bid parameters for this one is quite lenient:
100 CP per DEC spent

I made it this way to get cards quickly.

Minimum of 10 CP per card rented.
Minimum CP that I want to get: 500
Maximum CP that I want to get: 1,000
After confirming the transaction, I was able to rent a total of 595 CP in just 6 minutes.

Cards rented with the CP Bid feature
Upon reviewing all the cards that I have rented, everything is within our parameter of at least 100 CP per DEC for the rental. Just by simply using the CP Bid feature, I was able to rent cheap cards to increase my CP, and it also took me less than a minute to set-up my CP bid.
---
There you have it! I hope you enjoyed the overview for this game changer feature by PeakMonsters. Let me know in the comments section how are you planning to use Auto Rentals once it is released.
---

CREDITS
All the cool-looking dividers used are made by @flauwy
@Peakmonsters for this awesome feature; screenshots in this post are taken from the PeakMonsters website
Cover photo made in Canva

---
---