Brawl update: I got lucky with the Starter Cards Switch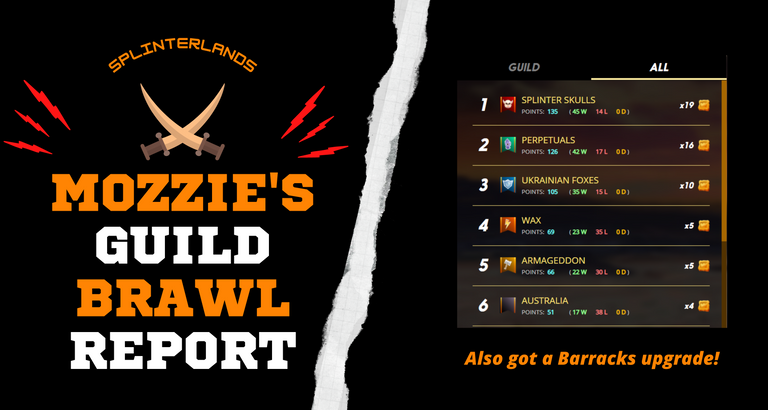 Overall guild performance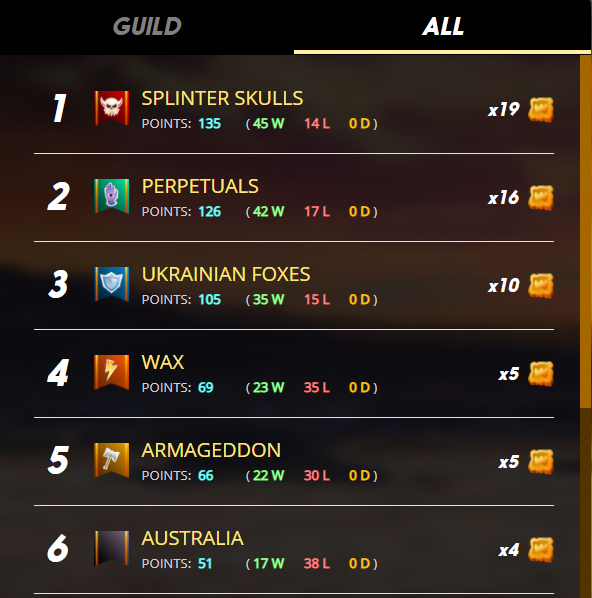 For this brawl, our awesome guild got the top spot with a standing of 45 wins, 14 losses, and 0 draw. With that, we got x19 CROWNS, and each participating member got a whopping 877 Merits!
I did not get any battles for this brawls, so I was literally freeloading with the merits that I got. To set some expectations, don't expect to see any match from me in this post. This is more of an update rather than a battle sharing post.

No battles for me in this brawl!
After the recent switch of starter cards from Beta to Chaos Legion, there has been some adjustments necessary on the Alpha/Beta fray participants. Given that our Guild is participating in Tier 1, it is very common for participants of this fray (myself included) to rely on the starter cards to comply with the requirements for the brawl. So when the switch happened, a lot of the players became ineligible to have a match because we did not have enough alpha/beta cards with us.
At the time of the transition, I am kind of sure that I did not have any Alpha/Beta Summoner with me so that means that I should have DQ-ed from the Fray. I'm not really sure what happened, but I was expecting not to get any Merits in this brawl. Luckily, I still got full merits for this one!
I haven't decided yet if I will continue participating in the Alpha/Beta Novice fray as it might be too expensive to rent for 2 days every time there is a brawl. Let's see what happens!

My Guildmates did an awesome job!
Now ready for some Gladius Cards action!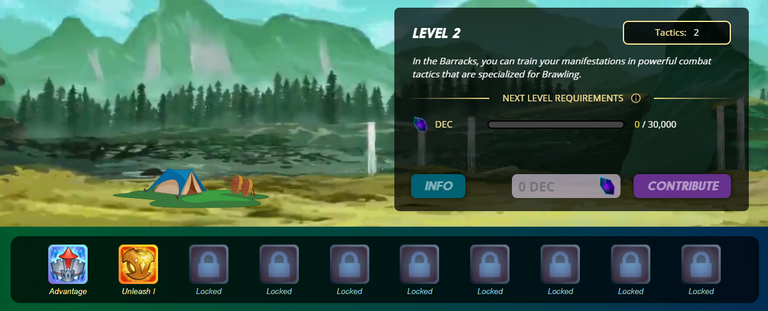 Barracks Level 2 for Splinter Skulls!
Okay, this might be the main reason why I am willing to rent for a bit of a steep price just to join the Alpha/Beta fray in the upcoming brawl. We can now use our Gladius cards! It took quite a bit of time to get our Barracks to Level 2, but we are all very happy that we now did it. We can now use our Gladius Cards and see that Bloodlust in action (on our side). Pretty sure that this will change a lot of strategizing for our battles in the future.
Opened 1 Gladius Case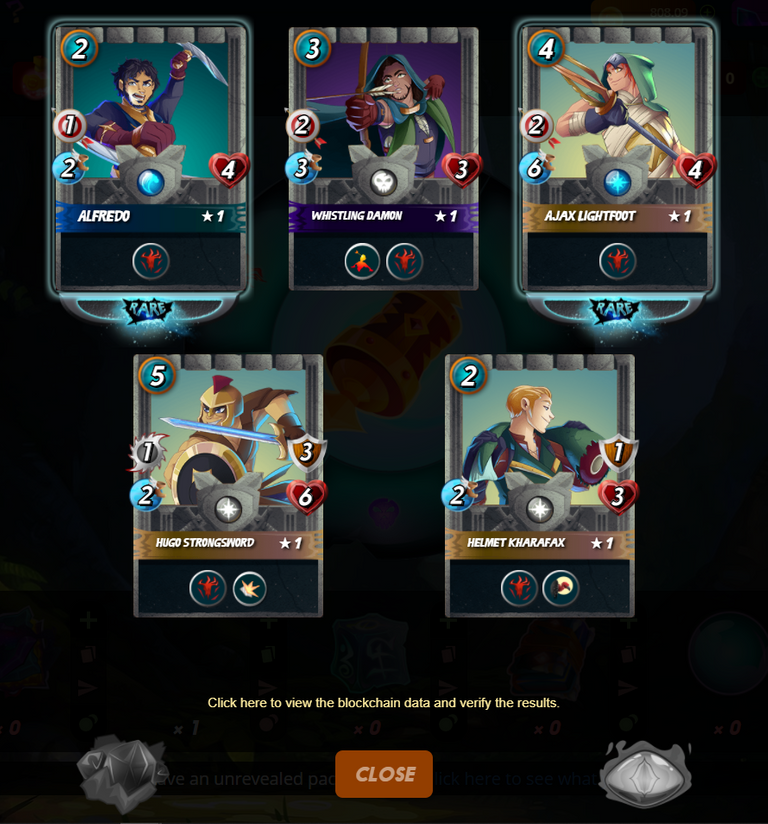 Nothing fancy in this case
Because of the great run by my guildmates in the previous brawl, I was able to Buy 1 Gladius case after I got the merits. I opened it right away, and there is nothing fancy inside it. The most interesting one for me is probably Ajax Lightfoot because of the 6 Speed and Bloodlust.
In any case, I am still happy to open a Gladius Case as it always gives "free CP" that helps gradually build up my Collection. Will definitely post a battle soon using some of my Gladius cards.
---
There you have it! Thank you for reading this far, and I hope you enjoyed reading about my experience in this guild brawl.
Haven't started playing Splinterlands yet? Click HERE to join the fun!

CREDITS
All the awesome looking dividers used in this post are made by flauwy
@kennysgaminglife and HivePizza guild for the idea to make guild brawl reports
Logos and images from Splinterlands
Cover photo made in Canva

---
---