Collection of posts about Splinterlands ECONOMICS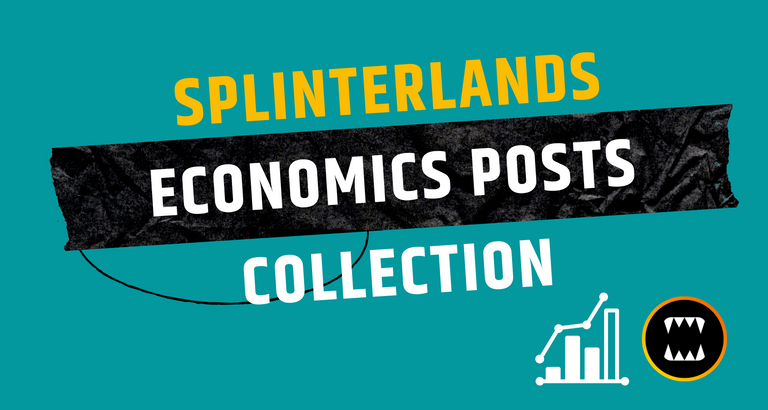 This collection compiles insightful Splinterlands posts that are focused on the games' economy. Since there are very few posts discussing about the Splitnerlands economy at the moment, expect this collection to be updated right away whenever I see a good post about the topic. I am also looking forward to discuss about Splinterlands economics in one of my future posts. Give me some more time to do substantial research on the topic.
If there are posts that you think I missed out for this collection, feel free to leave it in the comments section. I will take a loot at it ASAP. Thank you!

https://peakd.com/hive-167922/@mozzie5/getting-the-best-bang-for-your-buck-in-sps-airdrop-points
Learn which Splinterlands assets give you the highest SPS airdrop points per dollar spent
https://peakd.com/splinterlands/@marcuswahl/splinterlands-golden-currency-balance-economy-analysis
Talks about the different currencies in the game, with a focus on the governance token, SPS
https://peakd.com/splinterlands/@peakmonsters/peakpodcast-2
This 2019 post includes a 2-hour video focused on Splinterlands economics
https://peakd.com/hive-126911/@jarvie/the-fantasy-of-10001-dec
Explains why the idea of 1000:1 DEC peg is no longer possible
https://peakd.com/hive-126911/@jarvie/how-many-chaos-legion-should-there-be-long-answer
Detailed discussion about how many Chaos Legion packs should be released
https://peakd.com/hive-167922/@kevinnag58/burning-splinterlands-cards-for-dec
Good discussion on the impact of burning Splinterlands cards to card prices
https://peakd.com/hive-13323/@failingforwards/i-want-power-the-most-dollar-effective-way-to-boost-your-splinterland-power-via-market-economics
Provides discussion & examples on efficient ways to increase collection power
https://peakd.com/spt/@imno/the-rapidly-changing-economics-of-splinterlands
Food for thought about the current situation of supply for different cards vs. number of users
https://peakd.com/steemmonsters/@byzantinist/splinterlands-game-economy-analysis-how-bots-are-making-tournaments-unsustainable
This 2020 post discusses the author's thoughts on the impact of bots on tournaments
---
---