Djinn Oshannus Spreading its Fury!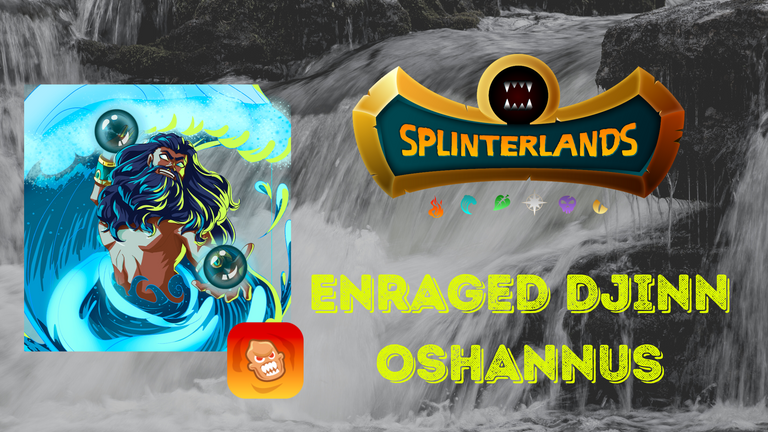 Similar to previous set of reward cards (hey there, Lord Arianthus), there are a couple of cards that stand out in the current rewards print. Among all these, my favorite is Djinn Oshannus. As someone who has been playing in Gold League, Oshannus' speed and forcefield ability makes it an awesome addition to the lineup and an excellent tank with magic damage.
In this match, I will be sharing with you why Djinn Oshannus is the perfect tank in Spreading Fury ruleset.

STRATEGY TIME
MATCH DETAILS

This match was fought with Spreading Fury ruleset. Since we were given 46 mana to work with, this is plenty enough to be creative in our lineup.
---
MY LINEUP AND TEAM PLACEMENT
| Summoner | First position | Second position | Third position |
| --- | --- | --- | --- |
| | | | |
| Fourth position | Fifth position | Sixth position |
| --- | --- | --- |
| | | |
Summoner: Kelya Frendul
The choice was only between running a General Sloan or Kelya Frendul deck. Since higher speed usually trumps this ruleset, I opted to go for Kelya and I also wanted to play Djinn Oshannus in this match.
Position 1: Djinn Oshannus
Djinn Oshannus is the star of this match. This card stands out in a lot of rulesets and Spreading Fury is one of them. With its forcefield ability, it is the perfect tank for this ruleset, where most monsters tick up their corresponding attack damage to at least 5. Aside from that, the speed boost from spreading fury and its phase ability makes it a tough opponent even for magical enemies.
Position 2: Flying Squid
What is a better Position 2 monster than Flying Squid? I loved adding Flying Squid in this match mainly because of its Blind ability that is perfect in supporting my frontline.
Position 3: Deeplurker
Deeplurker is a staple for me when running a Water deck. With its opportunity and poison ability, this is a great monster for picking up some of the monsters in my enemy's backline.
Position 4: River Hellondale
Not really a fan of River Hellondale (it's just too squishy for me), but I figured that I should give it a try on this match to support my melee monsters and to lengthen the life of my Wave Brood with its Inspire and Resurrect ability.
Position 5: Doctor Blight
In my opinion, Doctor Blight is the best card in Chaos Legion. Its flexibility and usefulness on most rulesets is just too good to pass on. In this match, I opted to add it due to the Poison and Scavenger ability. Scavenger ability goes well with Resurrect as it add an additional health count.
Position 6: Wave Brood
In this match, my main goal is to last long enough to win, I don't need to have the highest damage output overall. I was mainly relying on Deeplurker and the poison ability from Deeplurker and Blight to do the work. Hence, that's why I opted to have a Taunt monster instead since this will greatly help me in letting my other damaging monsters survive longer.

MATCH RESULTS AND VERDICT
Upon seeing the lineup, I was a bit wary if I would win this match given that a Sand Worm can easily obliterate my Wave Brood. By the end of Round 1, Wave Brood was already resurrected and is now down to 1 health and 1 shield.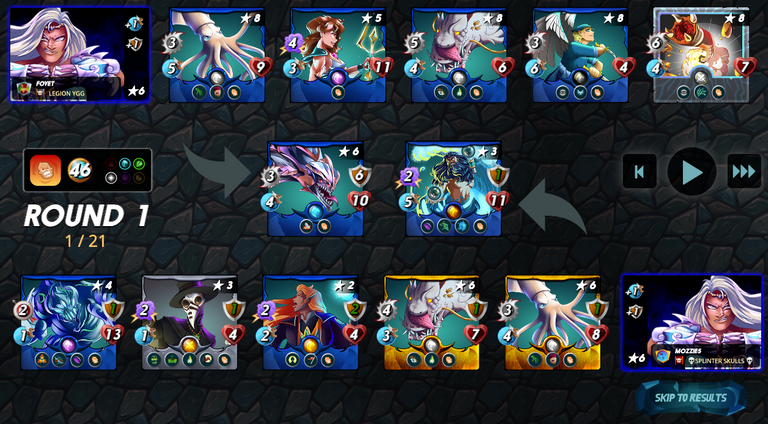 Match replay link
Luckily, the Djinn Oshannus tank worked greatly. Aside from that, we also got lucky with Poison procs and misses from Blind. By Round 7, it became a Sand Worm with 9 attack and 8 speed vs. Doctor Blight. Good thing that Sand Worm does not have Phase or else.. the battle would have ended differently.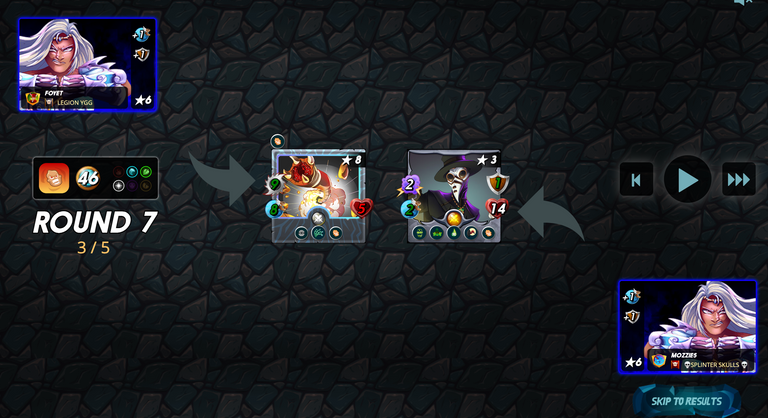 The match ended at Round 9, with Doctor Blight only standing quite strong at 6 health. The build up of Blight's health over time is one of the reasons why I love using this card, despite having a high mana cap for this match. The Scavenger ability turns it into a killing machine tank with its Poison and Scavenger ability.
---
Match Conclusion
What a fun win! One of the best moments for me when playing Splinterlands is when a strategy pans out properly. If I did not opt for an Oshannus tank, I would have been obliterated easily by all these 5+ attack enraged monsters.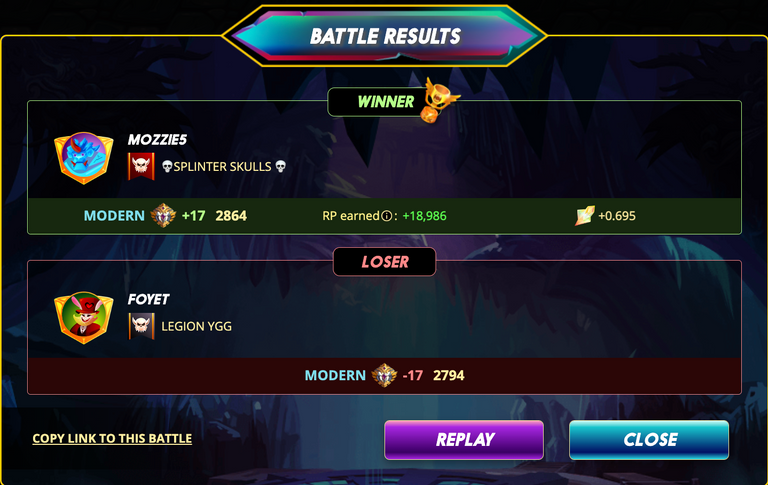 It was also quite fulfilling to win a very close match 😉
There you have it! I hope you enjoyed this match. In case you missed the previous replay link, click HERE to watch DJINN OSHANNUS in action.
---

CREDITS
Splinterlands for the game-related images, game screenshots, and lore.
chrisroberts for the well-written and fun to read lore across Splinterlands
flauwy for the nice-looking dividers
Cover photo made in Canva

Haven't started playing Splinterlands yet? Click here to join!
---
---