Renting Cards Quickly for Chaos Legion Tournament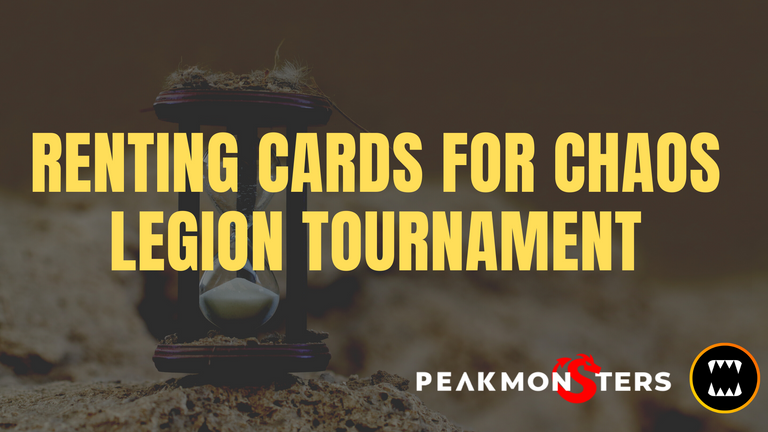 If you are someone who also likes participating in various Splinterlands tournaments, but don't have a significant amount of collection to compete -- this post is for you. In this post, I will be sharing with you how you can easily rent all the Chaos Legion cards that you need for the Chaos Legion (CL) Novice Tournament. While this post is focused on the said tournament, you can still do the similar steps shown below for other tournaments, you just have to make some adjustments in the filters accordingly.

Tournament Rules
The rules for this tournament are simple -- No Legendaries, Novice League Level Caps, and Chaos Legion Cards ONLY may be used.

Chaos Legion Novice Tournament (Screenshot taken at 10:20PM)
For those who are not familiar with these rules, here is what each of those rules mean for us:
Novice League Level Caps: Only level 1 cards are allowed to be used.
Chaos Legion Edition: Only cards from the recently released Chaos Legion set can be used
No Legendaries: No Legendary cards can be used in the tournament.

I love playing in No Legendaries tournaments as this will lessen the surprises for us, and lower our rental costs quite a bit.
What are we looking for to rent?
The aspect that I love the most in joining Chaos Legion Novice Tournaments is that all the Common and Rare cards are already included in the starter set. This simply means that the number of cards that we have to rent are a lot less, and we will only have to rent or buy Chaos Legion Edition Epic cards (those are not included in the starter set).

Renting Quickly for the Tournament
To make the entire rental process a lot easier and faster, we rented using PeakMonsters. With the various filters available in the platform, it is much easier to look for the card that we need. Not to mention the significant advantage of being able to Select all the cards that you want first, before having to rent all those in one go. This saves us a lot of time as we will not have to do the transactions repeatedly.
Step 1: Apply filters in Rent Tab
To proceed with renting our cards for the tournament, we first have to click on Rent tab that can be found in the upper left corner of PeakMonsters platform.


Rent tab in PeakMonsters
After that, you will see the Renter's Board interface, which contains the cards that you can rent and FILTERS on the right side. We will now be focusing on the filters that you should be applying to quickly rent the cards that you need.
As mentioned earlier, we are only interested in renting Chaos Legion Epic cards. To quickly do this, see the applied filters below.
Applied filters to rent Epic Chaos Legion cards
Filters applied:
Edition: ☑️ Chaos Legion (will only show cards from CL edition)
General: ☑️ Regular (will only show Regular foil cards)
Rarity: ☑️ Epic (will only show Epic cards)
Playable: ☑️ Exclude (will not show cards that you can already play)
---
Step 2: Rent all the cards shown
After applying filters shown in the previous step, we can now rent all the cards that are in the screen. To rent these cards, simply click on the Add to Cart icon for each card and check out by clicking on the cart in the upper right part of the screen.
Renting not Playable Chaos Legion Epic cards
After clicking on the cart icon, a pop-up similar to the one below will show. 1Adjust the rental duration, and click on your preferred payment method (DEC or CREDITS).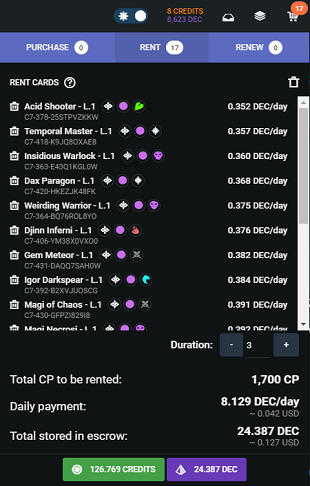 Cart interface
---
Step 3: Reload to double check if everything is rented
After renting the cards added in the cart, we can double check if we have successfully rented all the cards that we have added. To do that, simply click on the Reload button (upper-right corner of Renter's board), then check if there is a card remaining based on the applied filters. As you can see in the image below, we were not able to rent Magi Necrosi successfully in our previous batch of rental.

Unsuccessful rental of one card
Other method to check: My Explorer
Aside from reloading the renter's board with filters applied, you can also check if the cards were successfully rented using My Explorer.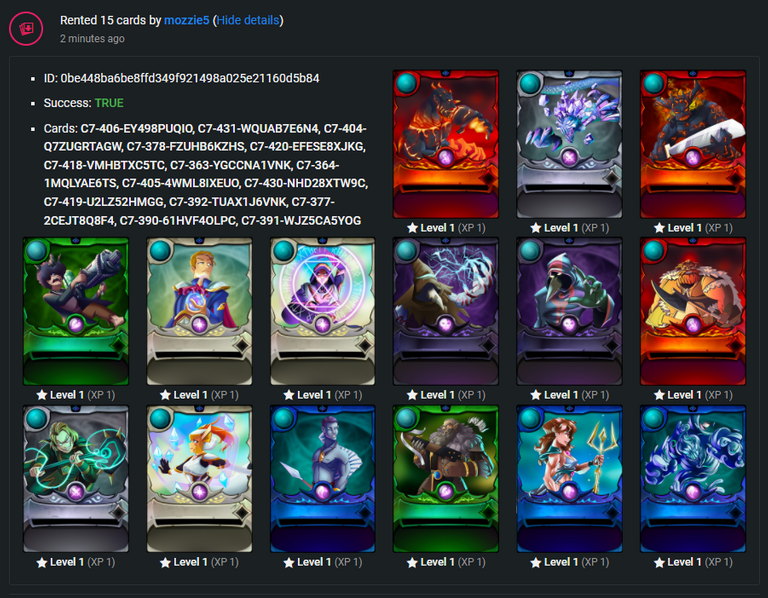 Rented Cards shown in My Explorer
If the rental pushed through, you will be able to see a log similar to the one above in the My Explorer page.

Final Thoughts
Some of you may be wondering, why should I use a third-party market when I can still rent similar cards without using? I don't know about you, but I always love saving my time and energy, especially when an alternative is available.
In this tournament, I almost forgot sending in my team (realized it 40 minutes before the deadline) due to the busy holidays season. If I did not go for the quick and easy route, I might have missed sending in some teams or I would be rushing so much through it -- which will make me perform a lot worse.

I did not make it to the second round, but at least I got a profit on this one right?
There you have it! I hope this post somehow helps players who are just getting started in renting Splinterlands cards using PeakMonsters.

PeakMonsters and Splinterlands links:
Other Social Media accounts:

---
---