RENTING for my daily focus with PeakMonsters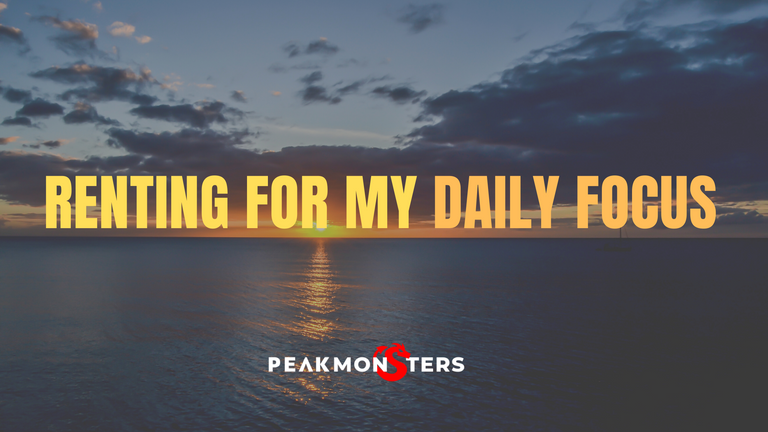 Ever since the ranked rewards got an update, I found myself playing a lot more because of the increased competitiveness of the matches. This has also led me to renting more cards and levelling up my game. As someone who has limited budget at the moment, I am mainly focused on renting cards for play and buying cards from the earnings that I get from my daily grind. With this, PeakMonsters has been helping me tremendously in making this journey as easy as possible.
In this post, I will be sharing with you my favorite features on PeakMonsters Renter's Board that makes my daily grind A LOT easier.
Let's get started!

Favorites Filter
There are a lot of filters that makes renting in PeakMonsters a lot easier for its users. The filter that has helped me a lot in my daily grind is the Favorites filter.
Favorites
Do you have cards that you rent often or you'd like to mark? Check out the favorites filter!
Personally, I like marking my go-to cards as favorites to make it a lot easier to rent the cards that I need. This makes the Renter's Board a lot less overwhelming too since it is already filtered only with the cards that I am interested in.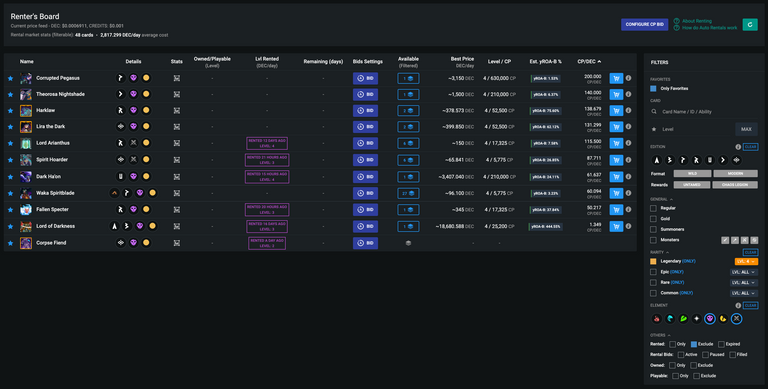 Favorites filter on Renter's Board
How to use Favorites?
To use the favorites filter, you just have to follow these two easy steps:
Click on the star icon on the left part of the card that you want to add as Favorite
Tick the Only Favorites option under the Filters section
To make renting easier, I always prefer to use the Favorites filter along with other filters. Here is the list of other filters that I use with favorites:
Rarity with Levels - this makes it easier to rent depending on the league that I am playing
Element - To focus on my Splinter for the day
Rented: Exclude - Removes the cards that I am already renting from the list
Auto Rentals
Next, we have the Auto Rentals feature! I love using Auto Rentals especially with the new ranked system. Since the current structure is based on a daily focus Splinter, what I do is place an Auto Rental bid for the cards that I want to rent, then go back after 12 hours has passed. This way, I get to let my energy capture rate regenerate and I also allot time for my bids to be filled. This also allows me to have a routine in playing, and do more productive things on a daily basis!
Using the Auto Rentals feature for renting cards will help you stick to your rental budget. At the same time, it can also give you better deals than what you have initially anticipated.

Cards with Active Bids
We have active bids for three cards that we are interested in. Let us hope that we get those cards before we start playing to get our chests!
Searching by Ability
Lastly, we have the Ability Search feature. I feel like this is one of the underrated filters on PeakMonsters. I always use this whenever I am looking for certain abilities to see if I can add something to my mix of rented cards. For example, if I am not yet sure if I have enough cards to counter a likely magic deck from my opponent, I will look for cards that has the void or silence ability.
To search for cards with specific abilities, simply type the ability on the field highlighted in the image below.

As you can see, the image above shows us Death & Neutral cards that have the Silence ability.
There you have it! I hope this post helped you in becoming more familiar with PeakMonsters features that can help you in your daily grind.
Haven't started playing Splinterlands yet? Click HERE to join the fun!

PeakMonsters and Splinterlands links:

---
---