Lava Spider - Splinterlands Monster Review with a Battle.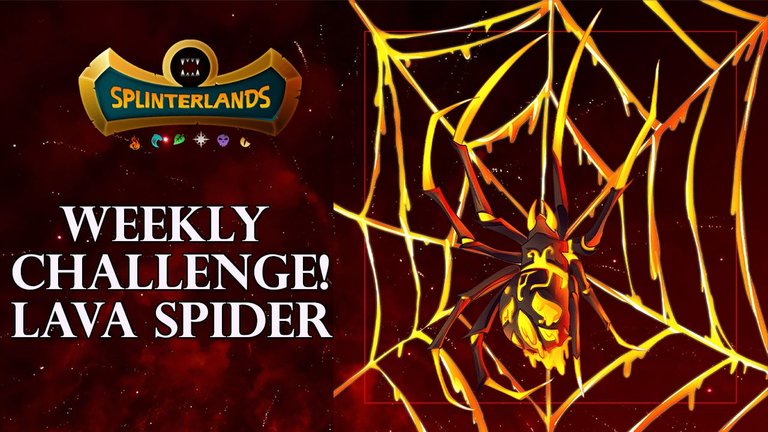 This week's battle challenge focuses on the Lava Spider. Lava Spider is a fire team monster with ranged and snipe ability. It is very effective in low-mana cap battles and snipe quest. This time I'm going to showcase one of my battle using this monster.
THEME: LAVA SPIDER
Edition: CHAOS LEGION
Rarity: COMMON
Element: FIRE
Attack: RANGE
Abilities: Snipe
The Lava Spider Overview
Lava Spider is common fire monster from Chaos Legion edition. This monster has ranged attack, as a result it can't attack from the front position unless the battle ruleset has any special ruleset. Lava Spider has a special ability at the 1st level that's called snipe (Targets enemy Monsters with Ranged, Magic, or no attack that are not in the first position). It is very solid card with decent amount of HP and overall good stats. It is great if you have Jodin Zaku summoner but I don' have it.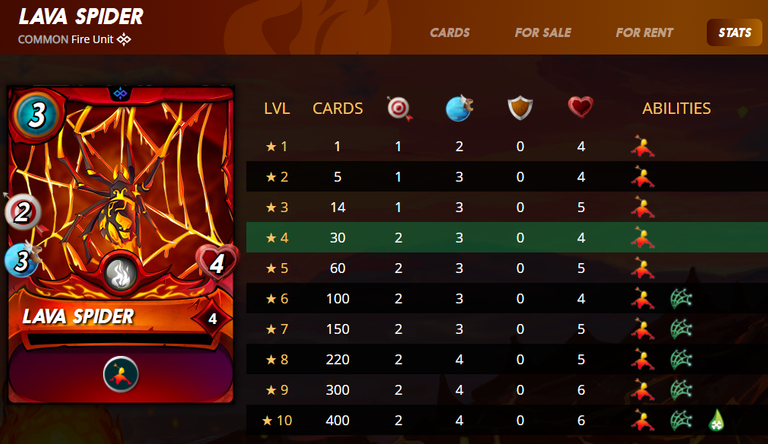 Key abilities:
Snipe - Targets enemy Monsters with Ranged, Magic, or no attack that are not in the first position) it is available from level 1.
Snare - When attacking enemies with Flying, removes the Flying ability and cannot miss. It is very usefull in earthquake ruleset. Lava Spider unlock this ability at level 6.
Poison - Attacks have a chance to apply poison, which does automatic damage to the target at the beginning of each round after the poison is applied. The Poison ability is triggered 50% of the time. Poison does damage at the end of the turn and is not affected by shield or void. This is super strong ability that's why it is only available at max level.



My strategy and lineup
The ruleset of the battle is as follow:
Reverse Speed - monsters with the lowest Speed attack first and have the highest chance of evading attacks.
Odd Ones Out - only monsters with odd mana cost may be used in battles.
Mana Cap of 27.
Available Splinters - Fire, Water and Dragon.

Usually for Reverse Speed the strategy will be to place some monsters with 1 speed because they attack first. There are 3 splinters available for this ruleset: water, fire and dragon. From water I only have Kelya Frendul at lvl 3 (+1 speed and armor) and from Dragon Splinter Summoner: Quix the Devious (- 1 speed and ranged). Both of them doesn't fit this ruleset that's why I choose fire summoner Tarsa (+1 melee and Health).
My main goal was to put high HP monsters in front with HUGE amount of melle attack plus shield and void. My backline monsters with snipe in order to take down my opponent monsters. My second tank monster on 2sc position was Radiadent Brute to make additional damage to opponet tank together with my tank Grum Flameblade. On 3rd position I put Radiated Schorcher in case to keep my backline safer. 4th position was for Serpentine Spy with only 1 HP and 2+1 melee attack. Put it in the middle in order to surrvive as lon as possible on the battlefied.

Round 1
My opponet chose all mosters with 1 speed (smart move in revers speed) but also used Creeping Ooze and gave me advantage -1 speed. All of opponent monsters attack my tank Grum Flameblade. He is super effective agains all kind of damage: ranged, melee and magic due to shield,void and high HP.
My tank easly survive first round. He lost armor but left with 12 HP at the end of ropund. My monster killed his Creeping Ooze and Albatross. My Lava Spider hit Captain's Ghost and reduced his HP from 7 to 5.
Is it enought to win the battle? Check it below!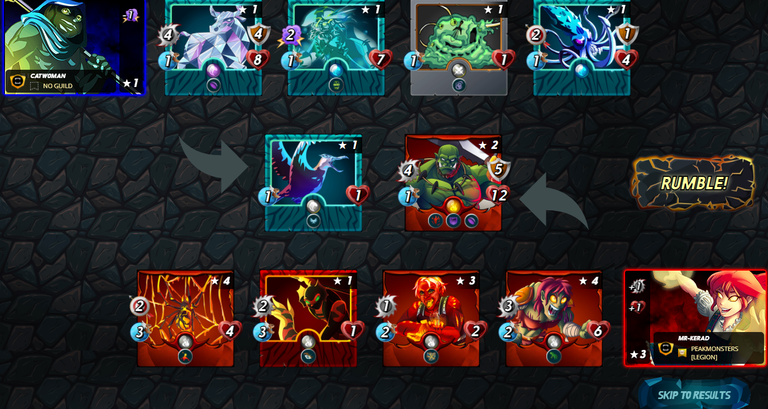 Round 2
In second round my tank was hit 3 times and left with 5 HP. Then my 1st and 2 sc position monsters attacks his tank and easly defeted him. Unfortunatly my backline missed one shoot and Giant Squid left with 2 HP.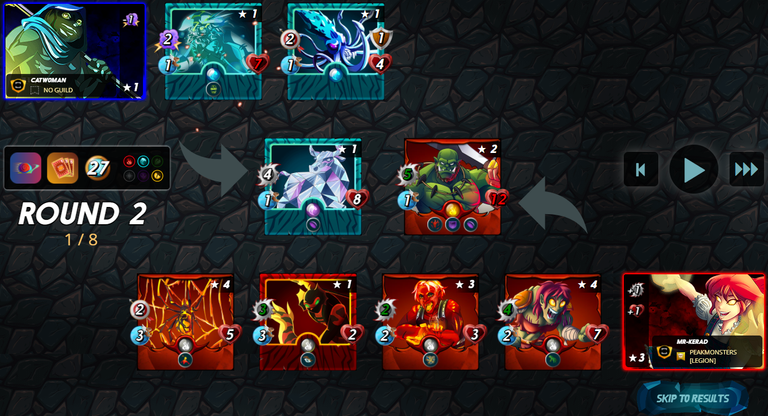 Round 3
My tank killed his tank with one shoot. Then my backline monster made one more hit and battle was over.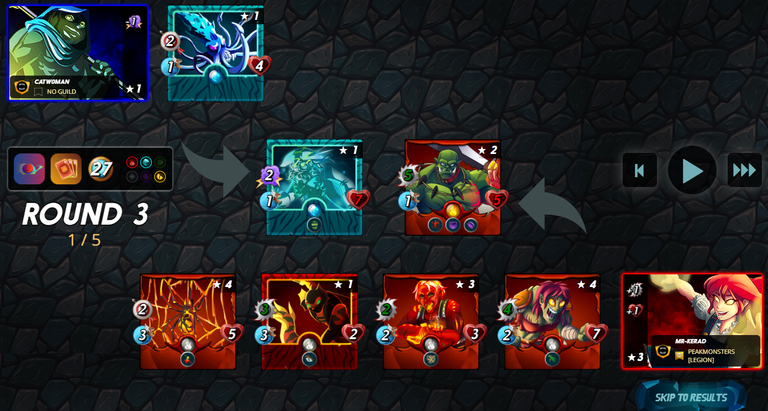 Battle Results
This was battle in gold III league. You can see how much DEC can you get once you reach this level. I am in the guild so have extra bonus for every win batttle. If you want to see full battle you can find it at this link.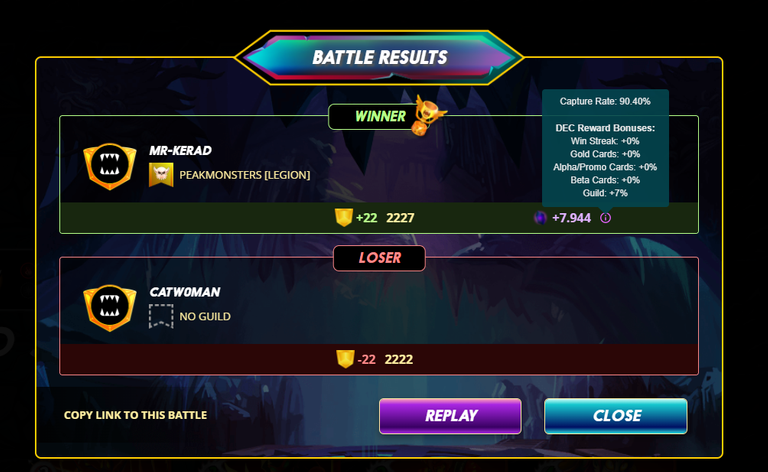 Did my strategy work? What I would do differently next time?
Yes. Definitly my strategy worked as planned. Putting strong tank in front is very effective, my backline mosters can easly make many attacks without any damage.
What do I like about Lava Spider most?
Lava Spider is super usefull in snipe ruleset. It is also be very solid monster at higher levels once it get snare and poison.
What I do not like?
This monster is overall very good. So only positives no negatives.
If you don't have account yet join The Splinterlands
Thank you for taking the time to read my post, i hope you enjoy it.
Keep imroving your deck!!!
Regards @mr-kerad
---
---