SHARE YOUR BATTLE Weekly Challenge! CARRION SHADE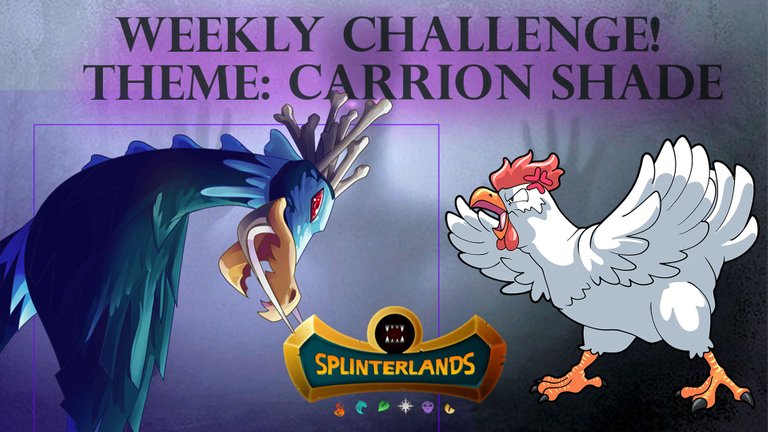 This week's battle challenge featured card Carrion Shade. This one mana monster from death splinter can fill almost every free spot. Carrion Shade is fast monster with melee attack and flying ability at lvl. 3. It is very effective in low-mana cap battles and earthquake ruleset. How to use him effectivly? Let's check it out!!!
THEME: CARRION SHADE
Edition: CHAOS LEGION
Rarity: COMMON
Element: DEATH
Attack: MELEE
Abilities: Flying

The Carrion Shade Overview
Carrion Shade is common death monster from Chaos Legion edition. This monster has melee attack. As a result he can only attack from the front position, unless the battle ruleset has any special cindition. Carrion Shade has a special ability at the 3rd level that's called flying (increase dodge chance aginst no-flying monsters and makes him untouchable in earthquake ruleset). It is very solid card in low-mana batlles. Carrion Shade is like Furiouse Chicken but costs only 0.03$ per BCX. If you don't have 0 mana monsters, then Carrion Shade can be good alternative.
Key abilities:
Flying - Has an increased chance of evading by +25% Melee or Ranged attacks from Monsters who do not have the Flying ability. This ability is also very effective in erthquake ruleset (Non-flying Monsters take 2 Melee damage at the end of each round).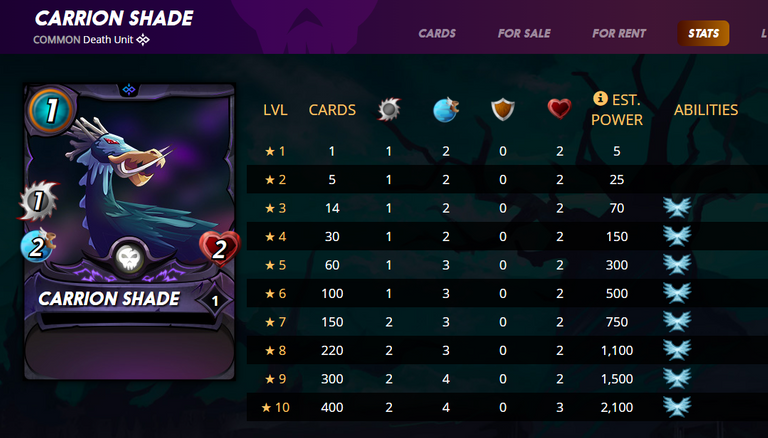 How to use Carrion Shade?
There are diffrent strategies for low mana monsters. You can use him in many position in your team. Which one is the best? It depends from many factors. Here are the most common:
As a front monster in Tank position
One of the most straight forward use of Carrion Shade is placing him at the front. As a result he absorbs the first attacks by your opponent. Especially useful when facing speedy or opportunity opponents like monsters from Fire and Water element. You can easily put him in front your opponent, they will hit him instead of other monsters. In earthquake ruleset, the Carrion Shade might even have a chance to survive couple rounds and protect rest of your team!
As the last card
Lot of peaople use Double Sneak monsters. Placing a 1 mana Carrion Shade at the back can protect you from sneak in almost all ruleset. With flying, your Carrion Shade is going to dodge some attacks. As a result your opponent can miss first attack and waste another one to kill him. This strategy can save HP of other key monters in your team.
Any other position
If not in the front or back position, then where? The Carrion Shade is useful in almost any position in your team. When you have an empty slot available, just put the Carrion Shade there to absorb at least one attack from your opponent. If you use other monsters with Scavenger ability (Gains 1 max health each time any monster dies) that even better combo. If he dies your monster HP will increase.

My strategy and lineup
The ruleset of the battle is as follow:
Blast - Does additional damage to Monsters adjacent to the target Monster.
Little League - Only Monsters & Summoners that cost 4 Mana or less may be used in battles.
Mana Cap of 19.
Available Splinters - Life, Death and Earth.

Usually for Blast the strategy will be to place some monsters with high speed. There are 3 splinters available for this ruleset: earth, life and death. Earth is super efective for reverse speed due to lots of 1 speed monsters available. Life is also not very fast. As a result death is the only choice for super fast monsters. I chose all mosters with at least 3 speed. In addition I use Creeping Ooze with slow to make my opponet slower by 1. Carrion Shade in this case was my tank monster. He has 3 speed plus flying, so I expected him to miss couple attacks. Is it enought to win the battle? Check it below!
Remember!!! Life Leech Monster's health increases each time it damages an enemy Monster's health in proportion to the damage dealt!!! If you use it with Blast then it work much better!!!

See example below!!!

Round 1
You can see that I have two monsters with Life Leach. Carrion Shade is my tank to keep my Leech monster alive. I put Ozze on the second spot for this same reason. Once my Life Leach monster hit opponent tank then It also hit to adjascent card. This strategy give them double Leech. Even when my opponent chose monster with magic reflect it wasn't enought to kill them. My Carrion Shade took two hits before he dies, then one shot to Ooze and first round is over.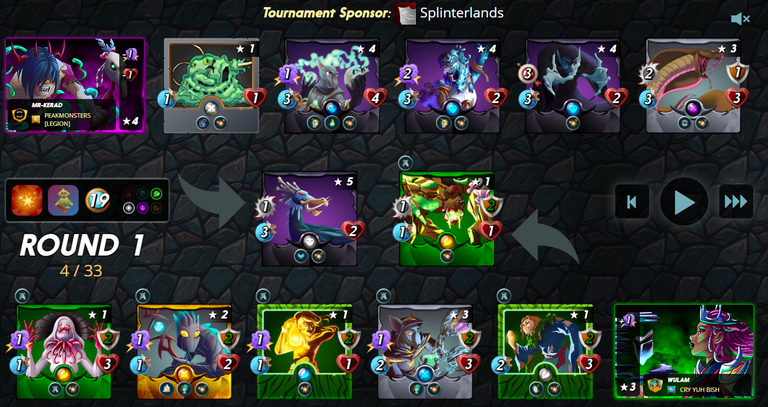 Round 2
In the second round I begin first due to 3 speed. My opponent monsters have only 2, 1 and 1. As a result all my monsters hit before my opponent has chance to attack. This is crucial to win. If you kill your opponent monsters, then they cannot attack anymore. The rule goes as follow: Kill first before you get killed.

Battle Results
That was battle in tournament "SILVERSHIELD KNIGHTS ARE RECRUTING". You cannot see how much DEC I earned because in tournaments all members fight for rewards. The higher you get in ranking the higher rewards you can get. It is worth to join tournaments even of you play in bronze. The prizes are very good!!!
Do you want to see it online? Link to the » Full Battle!!!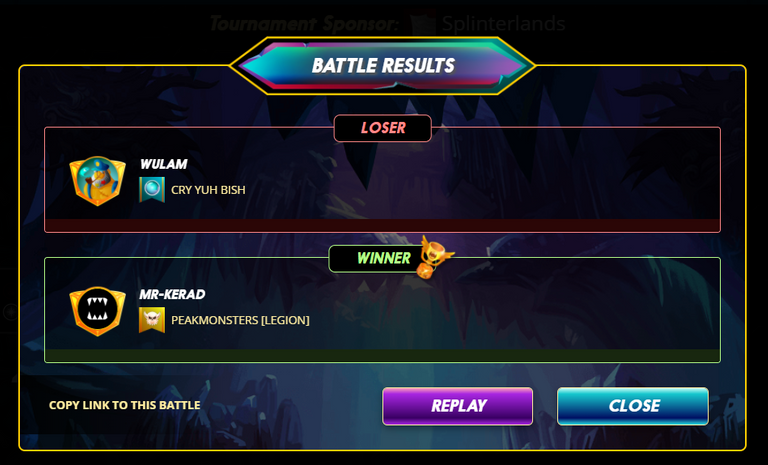 Did my strategy work? What I would do differently next time?
Yes. Definitly my strategy worked as planned. I use two low mana monster in front. As a result my backline archers and magic attackers could easly make many attacks and win.
What do I like about Carrion Shade most?
Carrion Shade is a better one mana card than Cursed Slimeball from death splinter. It is also very cheap so everyone can afford to get one. Price for Furiouse Chicken or Corpse Fiend are high compared to Carrion Shade, so this is a nice 1 mana to have. It is effective with abilities like Scavenger so that other monster can grow when this one dies. He's also good card in Melee Attacks from Anywhere, Opportunity, Armored Up, Earthquake and Equalizer.
What I do not like?
I don't recommend him in high mana battles, or when more useful card is available for example Creeping Ooze (same mana but has slow ability), but If you have both and enought mana to use them together, they can make nice combo.

If you don't have account yet join The Splinterlands

Thank you for taking the time to read my post, i hope you enjoy it.
Keep imroving your deck!!!
Regards @mr-kerad


---
---