SHARE YOUR BATTLE Weekly Challenge! CHAOS KNIGHT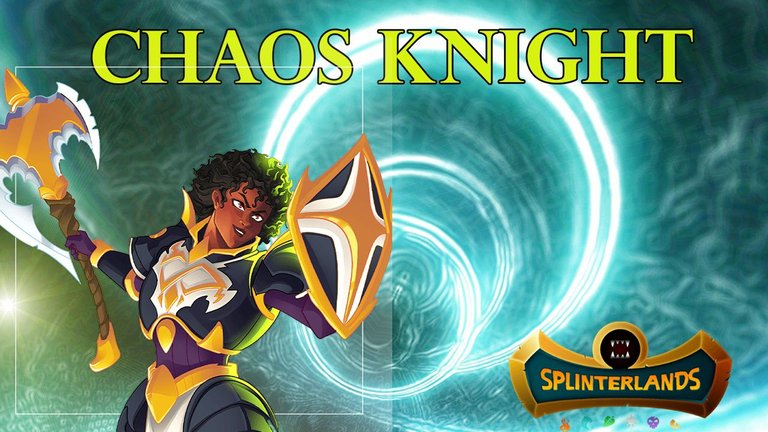 Chaos Knight is the star of this week's battle challenge. Chaos Knight is a life element monster with melee attack. It is very effective against melee and ranged monsters due to shield and armor. I'm going to showcase one of my battle using this monster. Let's see how good is Chaos Knight.
THEME: CHAOS KNIGHT
Edition: CHAOS LEGION
Rarity: COMMON
Element: LIFE
Attack: MELEE
Abilities: Shield

The Chaos Knight Overview
Chaos Knight is common life monster from Chaos Legion edition. This monster has melee attack, as a result it can only attack from the front position unless the battle ruleset has any special condition. Chaos Knight has a special ability at the 1st level that's called Shield (Reduced damage from Melee and Ranged attacks). It is very solid card with armor and overall good stats. It is great if you expect melee and ranged attacks monster on the enemy side.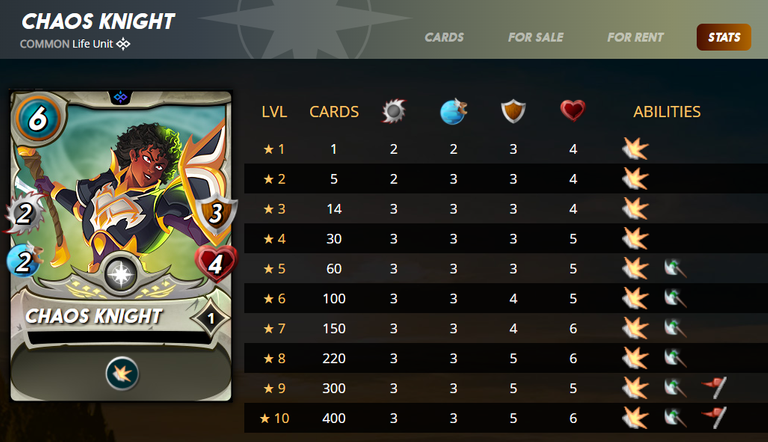 Key abilities:
Shield (level 1) - Reduced damage from Melee and Ranged attacks. Attack damage gets halved (rounded up), except attack 1 which deals 0 damage. It also reduces the Thorns damage to 1 and cancel Redemption damage.
Giant Killer (level 5) - Does double damage against targets that cost 10 or more mana.
Inspire (level 9) - Gives all friendly Monsters +1 Melee attack. You can use the "Inspire" ability twice in one battle, your Melee attacks will be catastrophic for the enemy.

My strategy and lineup
The ruleset of the battle is as follow:
Fog of War - Monsters lose the Sneak and Snipe abilities.
Heavy Hitters - All Monsters have the Knock Out ability.
Mana Cap of 44.
Available Splinters - Life and Death.

A good tank and a balanced line up of Magic and Ranged monsters is the trick to win in this ruleset. Use monsters with Opportunity or focus mainly to hit tank moster with all your attacks. Keep your monsters in an ascending order of their HP. It is also very important to use armor up ability to prevent from being killed to fast. Why? Opportunity ability is available for monsters with melee and ranged attacks only.
Second ruleset is Heavy Hitter. If you use a monster with "Stun" ability. There is a 50% chance that your monster with Stun will be able to stun enemy monsters, but if successful, all your monsters will deal double damage to that stunned opponent. I don't have stun monsters to choose from available splinters so I decided to put Chaos Knight in front and all backline monsters with ranged attack. At the back row is Shielbearer with taunt ability to keep magic attacker out of my tank. Chaos Knight is weak against magic so it is better to protect him.

Round 1
My opponet chose all mosters with melee attack mainly, so Choas Knght is untachable due to armor and shield. I used shieldbearer at the back row to take so damage. Djinn Renowa is on the second position with Triage to heals the friendly back-line Monster that has taken the most damage. The trird spot is for Adelade Brightwing which has ressurect and repair ability. The 4th position is for Venari Crystalsmith, this is the only life monster with tank heal abitity. Then Pelacor Arbalest and his powerful double strike attack.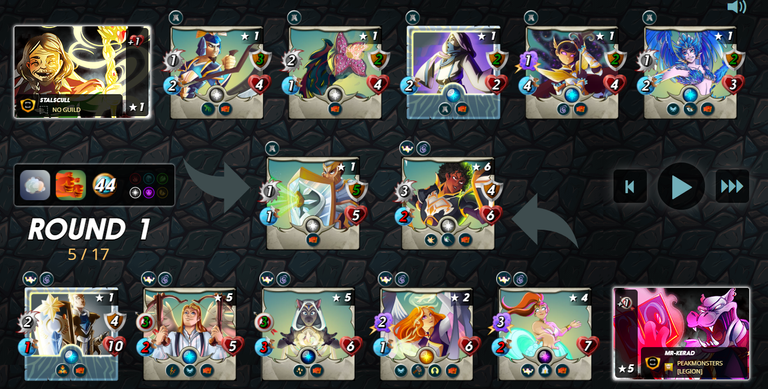 Round 2
In the second round my opponent tank was defeated very easly. My full team was is made of tank heal and back-line heal plus repair ability. If you combine all of these abilities it is very difficult to make any damage. In the third round my monsters hit enemy monster and put down three of them in one round. I like to use strategy to focus on the one enemy monster at the same time. In this case all my monsters hit opponent tank.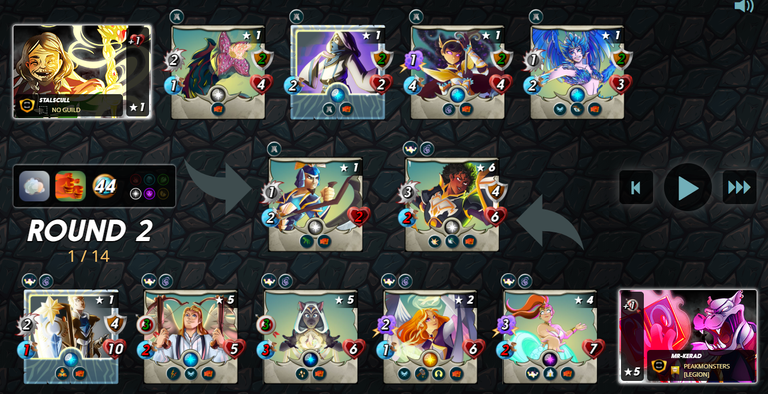 Round 3
Two opponent monsters left. It was quick and easy battle. In this fight I face level 1 summoner on my opponent side. Even If I would face stronge opponent I should win it as well. This lineup is also very strong and effective.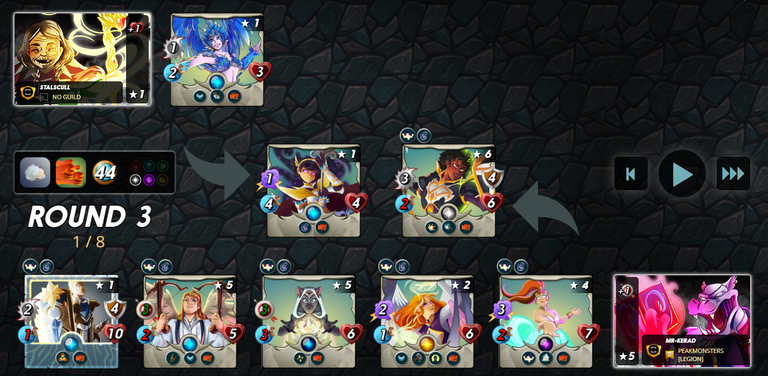 Battle Results
This was battle in gold III league. You can see how much DEC can you get once you reach this level. I am in the guild so have extra bonus for every win batttle.
Do you want to see this fight? Watch Full Battle Online!!!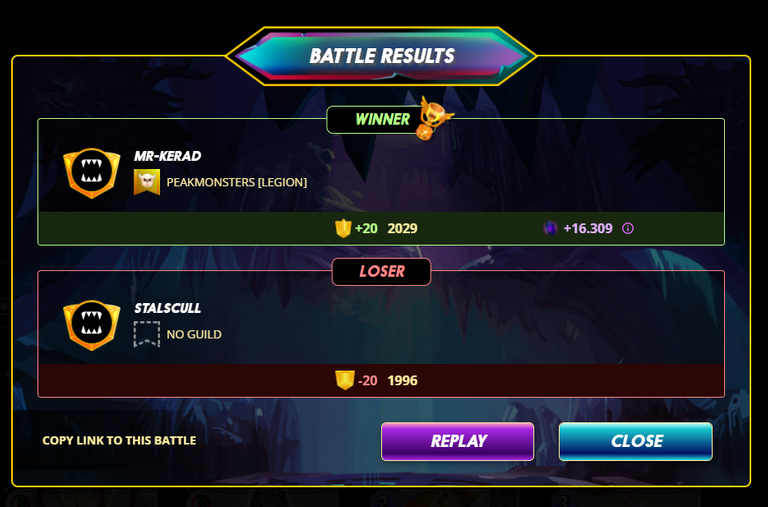 Did my strategy work? What I would do differently next time?
Yes. Definitly my strategy worked as planned. Chaos Knight is a strong tank. He protects whole team, so my backline mosters could easly make many attacks without any damage.
What do I like about Chaos Knight most?
Chaos Knight is super strong agains melee and ranged attack. It is almost impossible to go through his shield and armor. If I expect these attacks I use it quite often.
What I do not like?
Chaos Knight is very weak agains magic attacks monster. It has no ability that protect him. Chaos Knight can be easly defeated If face Obsidian monster with magic.

If you don't have account yet join The Splinterlands

Thank you for taking the time to read my post, i hope you enjoy it.
Keep imroving your deck!!!
Regards @mr-kerad



---
---