SHARE YOUR BATTLE Weekly Challenge! DISINTEGRATOR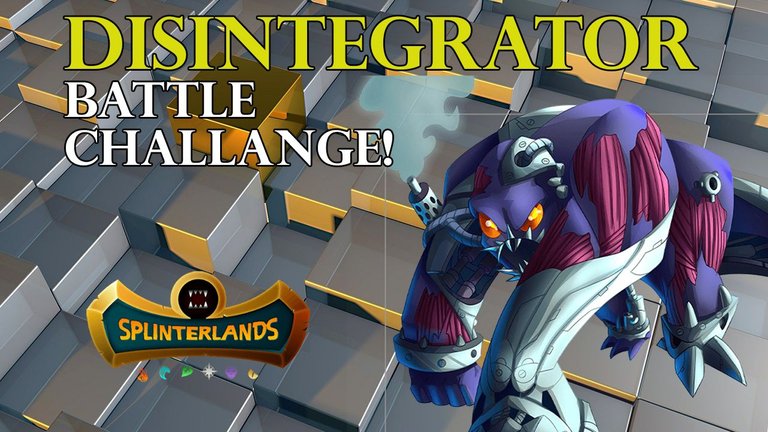 This week's battle challenge focuses on the Disintegrator. Disintegrator is a neutral monster with melee and demoralize ability. It can be used in most of the battles. It is mainly very effective in all melee rulesets. I'm going to showcase one of my fight using this monster.
THEME: DISINTEGRATOR
Edition: CHAOS LEGION
Rarity: COMMON
Element: NEUTRAL
Attack: MELEE
Abilities: Demoraliz

The Disintegrator Overview
Disintegrator is common neutral monster from Chaos Legion edition. This monster has melee attack, as a result it can only attack from the front position unless the battle ruleset has any special ruleset. Disintegrator has a special ability at the 1st level that's called Demoralize (reduce by 1 melee attack of all enemy monsters). It is very solid card with decent amount of HP, armor and overall good stats.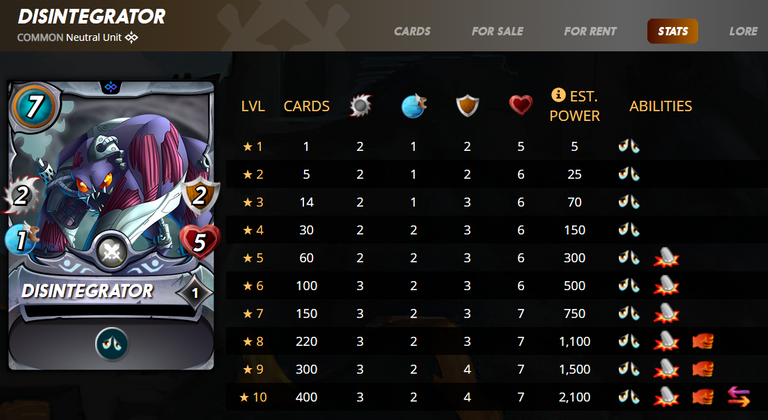 Key abilities:
Demoralize - Reduces the Melee attack of all enemy Monsters by 1. It is available from level 1.
Knock Out - Does double damage when attacking an enemy that is stunned. Disintegrator unlock this ability at level 5.
Trample - When a Monster with Trample hits and kills its target, it will perform another attack on the next Monster on the enemy Team. The Trample ability often works best when the first two Monsters on your team both have it. It can be used from level 8.
Retaliate - When hit with a Melee attack, Monsters with Retaliate have a chance of attacking their attacker. You have a 50% chance of activation. If you need it you must have max level.

The ruleset of the battle
Heal Out - All healing abilities are removed from Monsters and Summoners.
Up Close & Personal - Only Monsters with Melee attack may be used in battles.
Mana Cap of 36.
Available Splinters - Water, Earth, Life, Death and Dragon.

Usually for Up Close & Personal Ruleset the strategy will be to place some monsters with armor. It is recommended to use abilities like retaliate and thorns to make additional attack.

Round 1
I chose Dragon Splinter for this battle due to Djinn Chawala thorns ability. I also add Death Splinter which has Cursed Windeku with this ability. Disintegrator has Demoralize (-1 melee for opponents monsters) that's why I put him in the middle. My plan was to keep him alive for very long time. In addition I use Crypt Beetle at the back with Shield ability.
Is it enought to win the battle? Check it below!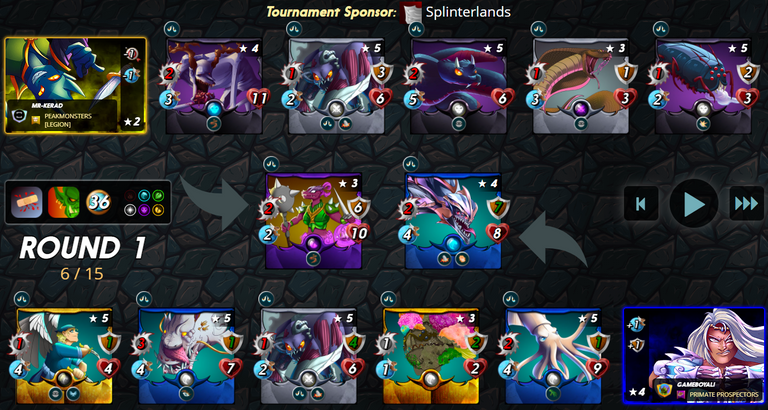 Round 2
This line up can keep my monsters alive for many rounds. Disintegrator plus Crypt Beetle with shield are super effective. My opponent cannot make any dame to make backline monsters. Deeplurker with Opportunity ability is the only monster that make damage to my team.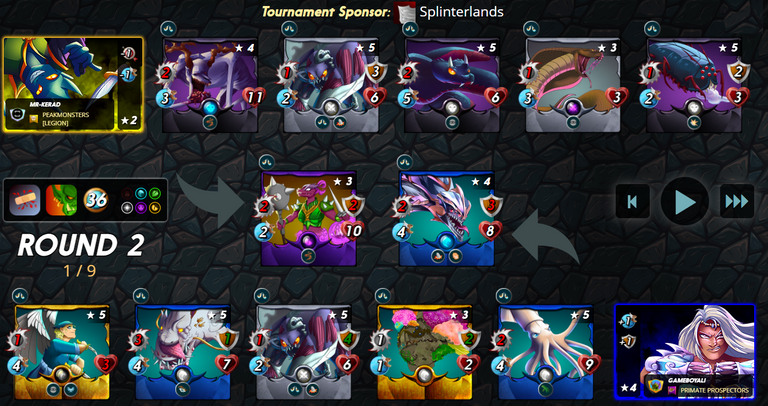 Round 3
Uraseus is dead due to low HP. Deeplurker killed him in two rounds. Now It is the turn for Crypt Beetle. This monster with support of Disintegrator can take many hits. My front monster with thorns remover armor from my opponent tank and second position monster. I can finally hit directly to opponent HP.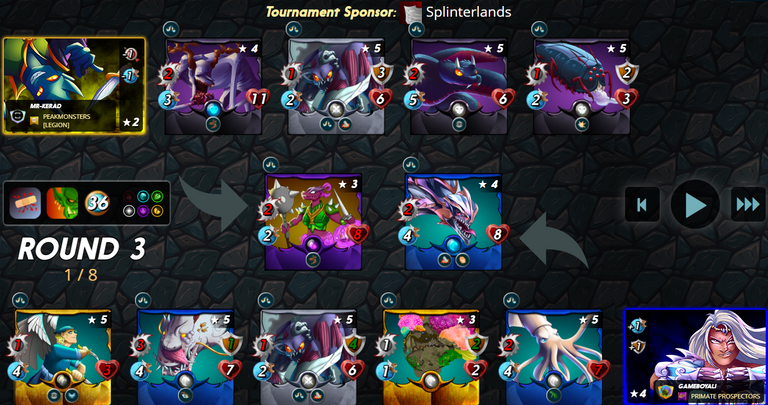 Round 4
My sneak monster killed Pelacor Bandit in this round. My tank was hit and also dies but made also damage from thorns.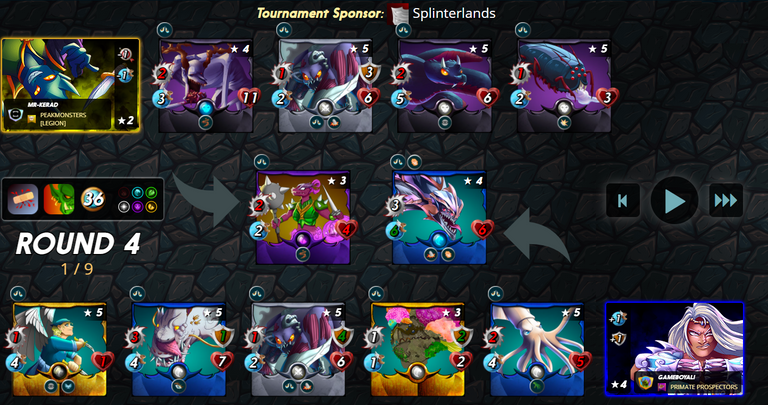 Round 5
In this round I killed two of the strongest monsters on my opponent team: Diemonshark and Flying Squid. Now It is the time to finish rest of them. You can see that my Crypt Beetle is still alive.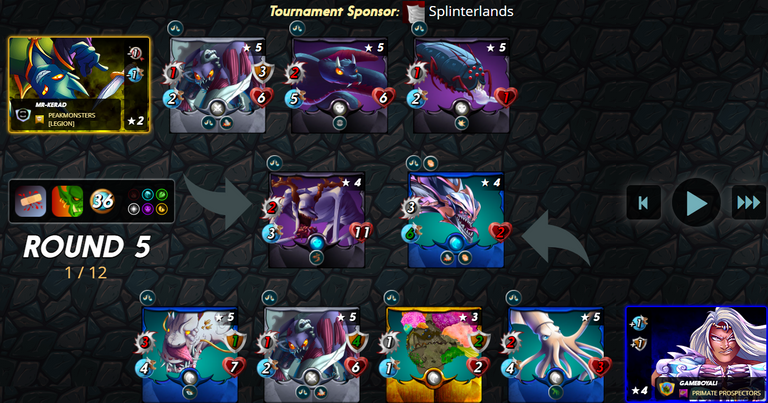 Round 6
My opponent has low attack so cannot make lots of damage. I still have my tank with thorn. In this ruleset it help a lot. He hurts himself by attacking me.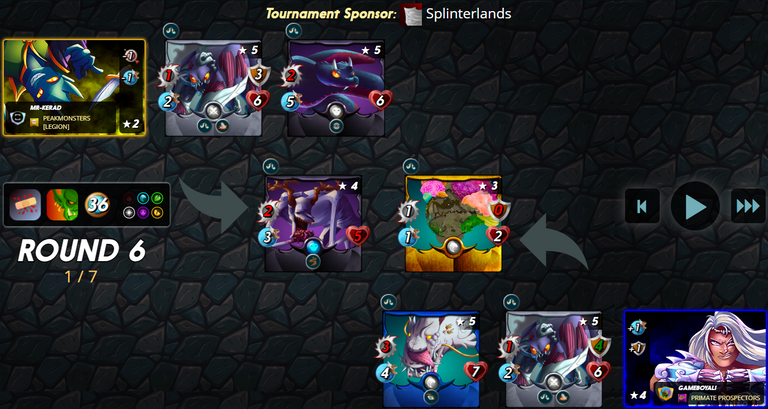 Round 7
Finally, I killed Deeplurker in this round. At the end of round I have two monster whilst my opponent only one.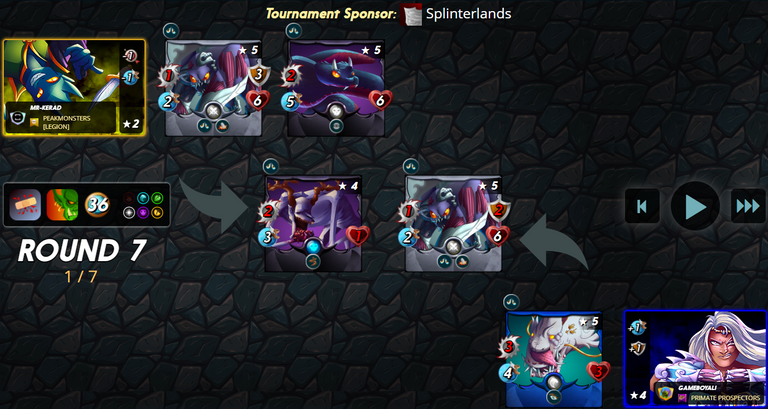 Round 8
We both have Disintegrator as a tank monster. I have also Silent Sha-Vi with sneak attack. It is only matter of time to win this battle.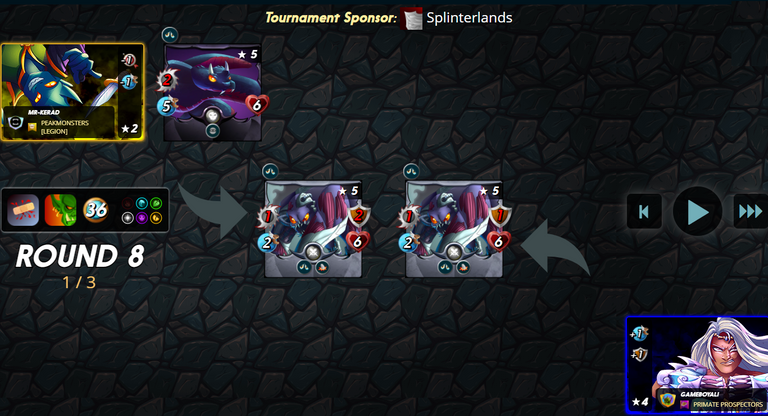 Battle Results
This was battle in silver tournament. Thanks for the match. You cannot see how much DEC I earned because in tournaments all members fight for rewards. The higher you get in ranking the higher rewards you can get. It is worth to join tournaments even of you play in bronze. The prizes are very good!!!
Do you want to see it online? Link to the » Full Battle!!!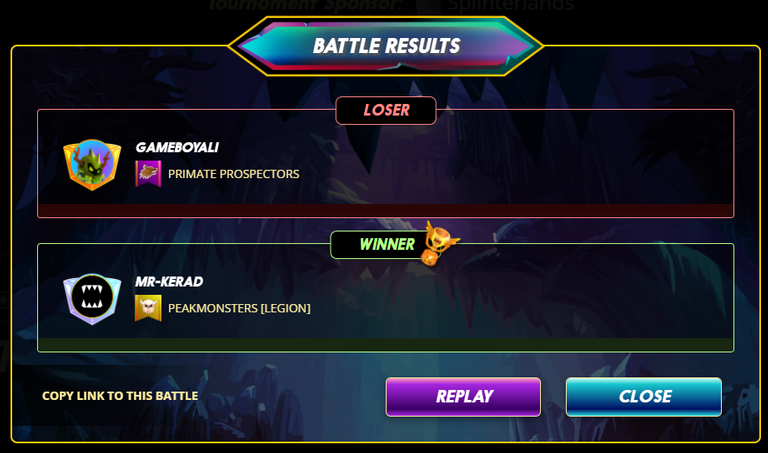 Did my strategy work? What I would do differently next time?
Yes. Definitly my strategy worked as planned. Disintegrator is my favourite monster in almost all melee ruleset. It works good with other monsters that have shield ability.
What do I like about Disintegrator most?
Disintegrator is super usefull in melee ruleset. It is also be very solid monster at higher levels once it gets all abilities. I can use him in many battles due to fact that is NEUTRAL monster.
What I do not like?
This monster is overall very good but do not recommend to use him agains magic monsters.

If you don't have account yet join The Splinterlands

Thank you for taking the time to read my post, i hope you enjoy it.
Keep imroving your deck!!!
Regards @mr-kerad


---
---